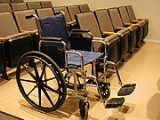 Wheelchair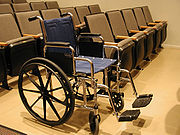 A
wheelchair
is a
chair
Chair
A chair is a stable, raised surface used to sit on, commonly for use by one person. Chairs are most often supported by four legs and have a back; however, a chair can have three legs or could have a different shape depending on the criteria of the chair specifications. A chair without a back or...
with wheels, designed to be a replacement for walking. The device comes in variations where it is propelled by motors or by the seated occupant turning the rear wheels by hand. Often there are handles behind the seat for someone else to do the pushing. Wheelchairs are used by people for whom
walking
Walking
Walking is one of the main gaits of locomotion among legged animals, and is typically slower than running and other gaits. Walking is defined by an 'inverted pendulum' gait in which the body vaults over the stiff limb or limbs with each step...
is difficult or impossible due to
illness
Illness
Illness is a state of poor health. Illness is sometimes considered another word for disease. Others maintain that fine distinctions exist...
(physiological or physical), injury, or
disability
Disability
A disability may be physical, cognitive, mental, sensory, emotional, developmental or some combination of these.Many people would rather be referred to as a person with a disability instead of handicapped...
. People with both sitting and walking disability often need to use a
wheelbench
Wheelbench
A wheelbench is a wheeled mobility device in which the user lies down. The device is propelled manually. The user pushes the wheels with their hands in the same manner as propelling a wheelchair or the wheelbench can be moved by a second person pulling or pushing it by the handles.A wheelbench is...
.
History
The earliest record of wheelchairs dates back to the 6th century, as an inscription found on a stone slate in China. Later dates relate to Europeans using this technology during the
German Renaissance
German Renaissance
The German Renaissance, part of the Northern Renaissance, was a cultural and artistic movement that spread among German thinkers in the 15th and 16th centuries, which originated from the Italian Renaissance in Italy...
.
The invalid carriage or
Bath Chair
Bath chair
A bath chair—or Bath chair—is a rolling chaise or light carriage with a folding hood, which can be open or closed, and a glass front. Used especially by invalids, it is mounted on three or four wheels and drawn or pushed by hand. It is so named from its origin in Bath, England, and possibly also...
seems to date from around 1760.
Harry Jennings and his disabled friend Herbert Everest, both mechanical engineers, invented the first lightweight, steel, collapsible wheelchair in 1933. Mr Everest had broken his back in a mining accident.
The two saw the business potential of the invention and went on to become the first mass-manufacturers of wheelchairs: Everest and Jennings. Their "x-brace" design is still in common use, albeit with updated materials and other improvements.
Types
A basic manual wheelchair incorporates a seat, foot rests and four wheels: two, caster wheels at the front and two large wheels at the back. The two larger wheels in the back usually have handrims; two metal or plastic circles approximately 3/4" thick. The handrims have a diameter normally only slightly smaller than the wheels they are attached to. Most wheelchairs have two push handles at the top of the back to allow for manual propulsion by a second person.
Other varieties of wheelchair are often variations on this basic design, but can be highly customised for the user's needs. Such customisations may encompass the seat dimensions, height, seat angle (also called seat dump or squeeze), footrests, leg rests, front
caster
Caster
A caster is an undriven, single, double, or compound wheel that is designed to be mounted to the bottom of a larger object so as to enable that object to be easily moved...
outriggers, adjustable backrests and controls.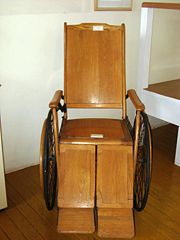 Everyday manual wheelchairs come in two major designs -- folding or rigid. The rigid chairs, which are increasingly preferred by active users, have permanently welded joints and many fewer moving parts. This reduces the energy required to push the chair by eliminating many points where the chair would flex as it moves. Welding the joints also reduces the overall weight of the chair. Rigid chairs typically feature instant-release rear wheels and backrests that fold down flat, allowing the user to dismantle the chair quickly for storage in a car.
Many rigid models are now made with ultralight materials such as aircraft aluminium and titanium. One major manufacturer, Tilite, builds only ultralights. Another innovation in rigid chair design is the installation of polymer shock absorbers, such as FrogLegs, which cushion the bumps over which the chair rolls. These shock absorbers may be added to the front wheels or to the rear wheels, or both. Rigid chairs also have the option for their rear wheels to have a camber. Wheels can have a camber, or tilt, which angles the tops of the wheels in toward the chair. This allows for better propulsion by the user which is desired by long-term users and users who race wheelchairs/
Various optional accessories are available, such as anti-tip bars or wheels, safety belts, adjustable backrests, tilt and/or recline features, extra support for limbs or neck, mounts or carrying devices for
crutch
Crutch
Crutches are mobility aids used to counter a mobility impairment or an injury that limits walking ability.- Types :There are several different types of crutches:...
es, walkers or oxygen tanks, drink holders, and clothing protectors.
Transport wheelchairs are usually light, folding chairs with four small wheels. These chairs are designed to be pushed by a caregiver to provide mobility for patients outside the home or more common medical settings.
Experiments have also been made with unusual variant wheels, like the omniwheel or the
mecanum wheel
Mecanum wheel
The Mecanum wheel is one design for a wheel which can move in any direction. It is sometimes called the Ilon wheel after its Swedish inventor, Bengt Ilon, who came up with the idea in 1973 when he was an engineer with the Swedish company Mecanum AB....
. These allow for a broader spectrum of movement.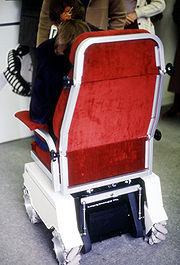 The electric wheelchair shown on the right is fitted with
Mecanum wheel
Mecanum wheel
The Mecanum wheel is one design for a wheel which can move in any direction. It is sometimes called the Ilon wheel after its Swedish inventor, Bengt Ilon, who came up with the idea in 1973 when he was an engineer with the Swedish company Mecanum AB....
s (sometimes known as Ilon wheels) which give it complete freedom of movement. It can be driven forwards, backwards, sideways, and diagonally, and also turned round on the spot or turned around while moving, all operated from a simple joystick.
Manually powered
Manual wheelchairs are those that require human power to move them. Many manual wheelchairs can be folded for storage or placement into a vehicle, although modern wheelchairs are just as likely to be rigid framed.
Manual or self-propelled wheelchairs are propelled by the occupant, usually by turning the large rear wheels, from 20-26 inches (51–66 cm)in average diameter, and resembling bicycle wheels. The user moves the chair by pushing on the handrims, which are made of circular tubing attached to the outside of the large wheels. The handrims have a diameter that is slightly less than that of the rear wheels. Skilled users can control speed and turning and often learn to balance the chair on its rear wheels — do a wheelie. The wheelie is not just for show — a rider who can control the chair in this manner can climb and descend curbs and move over small obstacles.
Foot propulsion of the wheelchair by the occupant is also common for patients who have limited hand movement capabilities or simply do not wish to use their hands for propulsion. Foot propulsion also allows patients to exercise their legs to increase blood flow and limit further disability.
One-arm drive enables a user to guide and propel a wheelchair from one side. Two handrims, one smaller than the other, are located on one side of the chair, left or right. On most models the outer, or smaller rim, is connected to the opposite wheel by a folding axle. When both handrims are grasped together, the chair may be propelled forward or backward in a straight line. When either handrim is moved independently, the chair will turn left or right in response to the handrim used. Another alternative is a
LeverDrive
chair that propels the chair forwards by using a lever that is pumped back and forth. Some chairs are also configured to allow the occupant to propel using one or both feet instead of using the rims.
Attendant-propelled chairs (or transport wheelchairs) are designed to be propelled by an attendant using the handles, and thus the back wheels are rimless and often smaller. These chairs are often used as 'transfer chairs' to move a patient when a better alternative is unavailable, possibly within a hospital, as a temporary option, or in areas where a user's standard chair is unavailable. These chairs are commonly seen in airports. Special airplane transfer chairs are available on most airlines, designed to fit narrow airplane aisles and transfer wheelchair-using passengers to and from their seats on the plane.
Wheelbase chairs are wheeled platforms with specially
molded
Molding (process)
Molding or moulding is the process of manufacturing by shaping pliable raw material using a rigid frame or model called a pattern....
seating systems interfaced with them for users with a more complicated
posture
Human position
Human positions refers to the different positions that the human body can take.There are several synonyms that refer to the human position, often used interchangeably, but having specific flavors....
. A molded seating system involves taking a cast of a person's best achievable seated position and then either carving the shape from
memory foam
Memory foam
Memory foam is polyurethane with additional chemicals increasing its viscosity and density. It is often referred to as "visco-elastic" polyurethane foam, or low-resilience polyurethane foam . Higher-density memory foam softens in reaction to body heat, allowing it to mold to a warm body in a few...
or forming a plastic mesh around it. This seat is then covered, framed, and attached to a wheelbase.
Light weight and high cost are related in the manual wheelchairs market. At the low-cost end, heavy, tubular steel chairs with sling seats and little adaptability dominate. Users may be temporarily disabled, or using such a chair as a loaner, or simply unable to afford better. Heavy unmodified manual chairs are common as "loaners" at large facilities such as airports, amusement parks and shopping centers. In a higher price range, and more commonly used by persons with long-term disabilities, are major manufacturer lightweight chairs with more options. The high end of the market contains ultra-light models, extensive seating options and accessories, all-terrain features, and so forth. Reclining wheelchairs have handbrake-like controls attached to the push handles or posts supporting the backrest which, when pressed by the caregiver, allow the backrest to recline from is normal upright position (at 90 degrees) to varying angles up to 180 degrees.
Electric-powered
An electric-powered wheelchair is a wheelchair that is moved via the means of an
electric motor
Electric motor
An electric motor converts electrical energy into mechanical energy.Most electric motors operate through the interaction of magnetic fields and current-carrying conductors to generate force...
and navigational controls, usually a small joystick mounted on the armrest, rather than manual power. For users who cannot manage a manual joystick, headswitches, chin-operated joysticks,
sip-and-puff
Sip-and-puff
Sip-and-Puff or Sip 'n' Puff ' technology is a method used to send signals to a device using air pressure by "sipping" or "puffing" on a straw, tube or "wand." It is primarily used by people who do not have the use of their hands...
or other specialist controls may allow independent operation of the wheelchair
Other variants
A
Standing wheelchair
Standing wheelchair
A standing wheelchair is assistive technology, similar to a standing frame, that allows a wheelchair user to raise the chair from a seated to a standing position...
is one that supports the user in a nearly standing position. They can be used as both a wheelchair and a
standing frame
Standing frame
A standing frame is assistive technology that can be used by a person who relies on a wheelchair for mobility...
, allowing the user to sit or stand in the wheelchair as they wish. They often go from sitting to standing with a
hydraulic pump
Hydraulic machinery
Hydraulic machines are machinery and tools that use liquid fluid power to do simple work. Heavy equipment is a common example.In this type of machine, hydraulic fluid is transmitted throughout the machine to various hydraulic motors and hydraulic cylinders and which becomes pressurised according to...
or electric-powered assist.
A
mobility scooter
Mobility scooter
A mobility scooter is a mobility aid equivalent to a wheelchair but configured like a motorscooter. It is often referred to as a power-operated vehicle/scooter or electric scooter as well.-Description:...
is a motorized assist device similar to an EPW, but with a steering 'tiller' or bar instead of the joystick, and fewer medical support options. Mobility scooters are available without a prescription in some markets, and range from large, powerful models to lightweight folding ones intended for travel.
A bariatric wheelchair is one designed to support larger weights; most standard chairs are designed to support no more than 250 lbs. (113 kg) on average.
Pediatric wheelchairs are another available subset of wheelchairs.
Hemi wheelchairs
have lower seats which are designed for easy foot propulsion. The decreased seat height also allows them to be used by children and shorter individuals.
A
knee scooter
Knee scooter
A knee scooter or knee walker is a three or four-wheeled alternative to crutches or a traditional walker as an ambulation aid. It is known by many other names, such as a knee walker, knee cruiser, knee caddy, orthopaedic scooter, or leg walker....
is a related device which may be substituted for a wheelchair when an injury has occurred to only one leg, below the knee. The patient rests the injured leg on the scooter, grasps the handlebars, and pushes with the uninjured leg.
A power-assisted wheelchair is a recent development that uses the frame & seating of a typical manual chair while replacing the standard rear wheels with wheels that have small battery-powered motors in the hubs. A floating rim design senses the pressure applied by the users push & activates the motors proportionately. This results in the convenience, small size & light-weight of a manual chair while providing motorised assistance for rough/uneven terrain & steep slopes that would otherwise be difficult or impossible to navigate, especially by those with limited upper-body function.
Sports variants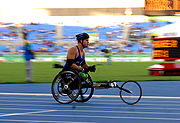 Athletes with a disability use sport wheelchairs for disabled sports that require speed and agility, such as
basketball
Wheelchair basketball
Wheelchair basketball is basketball played by people in wheelchairs and is considered one of the major disabled sports practiced. The International Wheelchair Basketball Federation is the governing body for this sport. It is recognized by the International Paralympic Committee as the sole...
,
rugby
Wheelchair rugby
Wheelchair rugby, , is a team sport for athletes with a disability. It is currently practiced in over twenty countries around the world and is a Paralympic sport....
,
tennis
Wheelchair Tennis
Wheelchair tennis is one of the forms of tennis adapted for those who have disabilities in their lower bodies. The size of courts, balls, and rackets are same, but there are two major differences from pedestrian tennis; they use specially designed wheelchairs and the ball may bounce up to two times...
and
racing
Wheelchair racing
Wheelchair racing is the racing of wheelchairs in track and road races. Wheelchair racing is open to athletes with any qualifying type of disability, amputees, spinal cord injuries, cerebral palsy and partially sighted . Athletes are classified in accordance with the nature and severity of their...
. Each wheelchair sport tends to use specific types of wheelchairs, and these no longer look like their everyday cousins. They are usually non-folding (in order to increase rigidity), with a pronounced
negative camber
Camber angle
thumb|100px|From the front of the car, a right wheel with a negative camber angleCamber angle is the angle made by the wheels of a vehicle; specifically, it is the angle between the vertical axis of the wheels used for steering and the vertical axis of the vehicle when viewed from the front or...
for the wheels (which provides stability during a sharp turn), and made of composite, lightweight materials. Sport wheelchairs are not generally for everyday use, and are often a 'second' chair specifically for sport use, although some users prefer the sport options for everyday.
Powerchair Football/Power Soccer
A new sport has been developed for powerchair users called powerchair football or power soccer. It is the only competitive team sport for powerchair users. The Federation Internationale de Powerchair Football Associations (FIPFA) governs the sport and is located in Paris, France with country affiliates around the world.
Transfer, stretcher, or mechanical
Stretcher (or transfer) chairs are mobile chairs that can be adjusted to lay flat like a stretcher to help in the lateral (or supine) transfer of a patient from a bed to the chair. Once transferred, the stretcher can be adjusted to allow the patient to assume a sitting position. Transfer chairs often use sliding sheets or inflatable sliding mats with air bearings to facilitate the movement of the patient from the bed to the chair. The patient in bed is rolled onto the transfer sheet or mat, and the sheet slides between the bed and the chair (configured as a flat stretcher), carrying the patient with it. Transfer chairs sometimes have separate manual cranks or electric winches which attach to the sliding sheet and pull (or drag) the patient off the bed and onto the chair. Such devices can also be used to transfer patients to standard gurneys. Alternately nurses can lift or slide the transfer sheet and patient manually. Transfer chairs are usually much more expensive than common wheelchairs. This is because of the complex engineering required to be able of change the chair's configuration from a stretcher to a mobile chair. This kind of lateral patient transfer requires a stable platform to prevent injury (i.e., avoid patient falls). This stability requirement makes transfer chairs larger, heavier, and less mobile than standard wheelchairs.
All terrain variants
This wheelchair allow users to enter the water and provide a better mobility in the sand and on uneven terrain.
There are lots of different models available both manual and battery driven. In many countries in Europe where the
Accessible Tourism
Accessible tourism
Accessible tourism is the ongoing endeavour to ensure tourist destinations, products and services are accessible to all people, regardless of their physical limitations, disabilities or age. It encompasses publicly and privately owned tourist locations...
is well set, many beaches are wheelchair accessible and provide this kind of wheelchairs to clients free of charge.
Recent developments
Recent technological advances are slowly improving wheelchair and EPW technology. Some wheelchairs, such as the
iBOT
IBOT
The iBOT is a very stable and mobile powered wheelchair developed by Dean Kamen in a partnership between DEKA and Johnson and Johnson's Independence Technology division. It is a medical technology, made to help people with severe mobility problems....
, incorporate gyroscopic technology and other advances, enabling the chair to balance and run on only two of its four wheels on some surfaces, thus raising the user to a height comparable to a standing person. They can also incorporate stair-climbing and four-wheel-drive feature motorized assists for hand-powered chairs are becoming more available and advanced. The popular
Segway
Segway PT
The Segway PT is a two-wheeled, self-balancing transportation machine invented by Dean Kamen. It is produced by Segway Inc. of New Hampshire, USA. The name "Segway" is a homophone of "segue" while "PT" denotes personal transporter....
Personal Transporter is a mobility device that was a direct outgrowth of the development of the iBOT wheelchair. The Segway, which is basically an iBOT with two wheels removed, was developed explicitly to increase the number of units produced and take advantage of the
economies of scale
Economies of scale
Economies of scale, in microeconomics, refers to the cost advantages that an enterprise obtains due to expansion. There are factors that cause a producer's average cost per unit to fall as the scale of output is increased. "Economies of scale" is a long run concept and refers to reductions in unit...
to make the iBOT affordable to wheelchair users. The $25,000 iBot, which was developed as a joint venture between Johnson and Johnson's Independence Technology and Dean Kamen's DEKA Research, was discontinued in January 2009.
The addition of geared, all-mechanical wheels for manual wheelchairs is a new development incorporating a hypocycloidal reduction gear into the wheel design. The 2-gear wheels can be added to a manual wheelchair. The geared wheels provide a user with additional assistance by providing leverage through gearing (like a bicycle, not a motor). The two-gear wheels offer two speed ratios- 1:1 (no help, no extra torque) and 2:1, providing 100% more hill climbing force. The low gear incorporates an automatic "hill hold" function which holds the wheelchair in place on a hill between pushes, but will allow the user to override the hill hold to roll the wheels backwards if needed. The low gear also provides downhill control when descending.
A recent development related to wheelchairs is the handcycle. They come in a variety of forms, from road and track racing models to off-road types modelled after mountain bikes.
There have been significant efforts over the past 20 years to develop stationary
wheelchair trainer
Wheelchair Trainer
A wheelchair trainer or wheelchair treadmill is an apparatus that allows a manual wheelchair user to simulate linear travel while remaining stationary in a manner similar to an ambulatory person walking or running on a treadmill or a cyclist pedaling a bicycle on a bicycle trainer...
platforms that could enable wheelchair users to exercise as one would on a
treadmill
Treadmill
A treadmill is an exercise machine for running or walking while staying in one place. The word treadmill traditionally refers to a type of mill which was operated by a person or animal treading steps of a wheel to grind grain...
or
bicycle trainer
Bicycle trainer
A trainer, or turbo trainer, is a piece of equipment that makes it possible to ride a bicycle while it remains stationary. They are commonly used to train for races, or when riding conditions outside are not favorable...
.
Some devices have been created that could be used in conjunction with virtual travel and interactive gaming similar to an
omnidirectional treadmill
Omnidirectional treadmill
An omnidirectional treadmill, or ODT, is a device that allows a person to perform locomotive motion in any direction. The ability to move in any direction is how these treadmills differ from their basic counterparts...
.
In 2011, British inventor Andrew Slorance developed
Carbon Black
the first wheelchair to be made almost entirely out of carbon fibre The chair was launched at Naidex in October 2011. Working alongside Andrew Slorance as a collaborative
National Health Service
National Health Service (England)
The National Health Service or NHS is the publicly funded healthcare system in England. It is both the largest and oldest single-payer healthcare system in the world. It is able to function in the way that it does because it is primarily funded through the general taxation system, similar to how...
development partner, A National Health Technology Cooperative Devices for Dignity (D4D) provided Andrew with funding and expert guidance to support him taking the product to market.
Mobility and access
Buildings
Adapting the built environment to make it more accessible to wheelchair users is one of the key
campaigns
Political campaign
A political campaign is an organized effort which seeks to influence the decision making process within a specific group. In democracies, political campaigns often refer to electoral campaigns, wherein representatives are chosen or referendums are decided...
of
disability rights movement
Disability rights movement
The disability rights movement is the movement to secure equal opportunities and equal rights for people with disabilities. The specific goals and demands of the movement are: accessibility and safety in transportation, architecture, and the physical environment, equal opportunities in independent...
s and the
Americans with Disabilities Act of 1990
Americans with Disabilities Act of 1990
The Americans with Disabilities Act of 1990 is a law that was enacted by the U.S. Congress in 1990. It was signed into law on July 26, 1990, by President George H. W. Bush, and later amended with changes effective January 1, 2009....
(ADA). The most important principle is
Universal design
Universal design
Universal design refers to broad-spectrum ideas meant to produce buildings, products and environments that are inherently accessible to both people without disabilities and people with disabilities....
- that all people regardless of disability are entitled to equal access to all parts of society like public transportation and buildings. A wheelchair user is less disabled in an environment without stairs.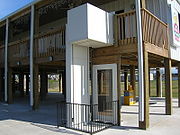 Sometimes it is necessary to add structures like ramps or
elevator
Elevator
An elevator is a type of vertical transport equipment that efficiently moves people or goods between floors of a building, vessel or other structures...
s in order to permit people in wheelchairs (and those using crutches, canes, walkers and so forth, or those with unsupported walking disabilities) to use a particular building. Other important adaptations are powered doors, lowered fixtures such as sinks and water fountains, and
toilet
Toilet
A toilet is a sanitation fixture used primarily for the disposal of human excrement, often found in a small room referred to as a toilet/bathroom/lavatory...
s with adequate space and grab bars to allow the person to maneuver himself or herself out of the wheelchair onto the fixture. In the United States, most new construction for public use must be built to ADA standards of accessibility.
With the aging of the population, architects are seeking to design wheelchair ramps for private homes that are less obtrusive and harmonize better with the overall design of the home's structure. Other important adaptations to private homes are larger bathroom doors that can accommodate wheelchairs, and showers and bathtubs that are designed for accessibility. These designs can permit the use of mobile shower chairs or
transfer bench
Transfer bench
A transfer bench, is a bath safety mobility device which the user sits on to get into a bathtub. The user usually sits on the bench, which straddles the side of the tub, and gradually slides from the outside to the inside of the tub...
es to facilitate bathing for people with disabilities. Wet rooms are bathrooms where the shower floor space and bathroom floor are one continuous surface. Such floor designs allow a patient in a shower chair to be pushed directly into the shower without needing to overcome a barrier or lip.
The construction of low floor
tram
Tram
A tram is a passenger rail vehicle which runs on tracks along public urban streets and also sometimes on separate rights of way. It may also run between cities and/or towns , and/or partially grade separated even in the cities...
s and
bus
Bus
A bus is a road vehicle designed to carry passengers. Buses can have a capacity as high as 300 passengers. The most common type of bus is the single-decker bus, with larger loads carried by double-decker buses and articulated buses, and smaller loads carried by midibuses and minibuses; coaches are...
es is being encouraged, whereas the use of
paternoster
Paternoster
A paternoster or paternoster lift is a passenger elevator which consists of a chain of open compartments that move slowly in a loop up and down inside a building without stopping. Passengers can step on or off at any floor they like...
s in public buildings without any alternative method of transportation has been criticized due to the lack of access for wheelchair users. Modern urban architecture now incorporates better accessibility for people with disabilities.
In many countries, such as the UK, the owners of inaccessible buildings are advised to keep a lightweight portable wheelchair or scooter access ramp on hand to make premises disabled-friendly.
Vehicles
Public transit accessible vehicles are public transportation
revenue
Revenue
In business, revenue is income that a company receives from its normal business activities, usually from the sale of goods and services to customers. In many countries, such as the United Kingdom, revenue is referred to as turnover....
vehicles which do not restrict access, are usable and provide allocated space and/or priority seating for people who use wheelchairs.
In
Los Angeles
Los Ángeles
Los Ángeles is the capital of the province of Biobío, in the commune of the same name, in Region VIII , in the center-south of Chile. It is located between the Laja and Biobío rivers. The population is 123,445 inhabitants...
there is a program to remove a small amount of seating on some trains to make more room for
bicycle
Bicycle
A bicycle, also known as a bike, pushbike or cycle, is a human-powered, pedal-driven, single-track vehicle, having two wheels attached to a frame, one behind the other. A person who rides a bicycle is called a cyclist, or bicyclist....
s and wheel chairs.
New York City
New York City
New York is the most populous city in the United States and the center of the New York Metropolitan Area, one of the most populous metropolitan areas in the world. New York exerts a significant impact upon global commerce, finance, media, art, fashion, research, technology, education, and...
's entire bus system is wheelchair-accessible, and a multi-million-dollar renovation program is underway to provide elevator access to many of the city's 485 subway stations.
In
Adelaide
Adelaide
Adelaide is the capital city of South Australia and the fifth-largest city in Australia. Adelaide has an estimated population of more than 1.2 million...
,
Australia
Australia
Australia , officially the Commonwealth of Australia, is a country in the Southern Hemisphere comprising the mainland of the Australian continent, the island of Tasmania, and numerous smaller islands in the Indian and Pacific Oceans. It is the world's sixth-largest country by total area...
, all public transport has provision for at least two wheelchairs per bus, tram or train. In addition all trains have space available for bicycles.
The
Washington, D.C.
Washington, D.C.
Washington, D.C., formally the District of Columbia and commonly referred to as Washington, "the District", or simply D.C., is the capital of the United States. On July 16, 1790, the United States Congress approved the creation of a permanent national capital as permitted by the U.S. Constitution....
Metro system features complete accessibility on all its subways and buses.
A wheelchair that has been designed and tested for use as a seat in motor vehicles are often referred to as a "WC19 Wheelchair" or a "transit wheelchair". ANSI-RESNA WC19 (officially, SECTION 19 ANSI/RESNA WC/VOL. 1 Wheelchairs for use in Motor Vehicles)is a voluntary standard for wheelchairs designed for use when traveling facing forward in a motor vehicle. ISO 7176/19 is an international transit wheelchair standard that specifies similar design and performance requirements as ANSI/RESNA WC19. Thus, a WC19 Wheelchair is a crash-tested wheelchair with four clearly identified securing points that meets the design and performance requirements of ANSI-RESNA WC19 Wheelchairs Used as Seats in Motor Vehicles, and is sometimes called a transit wheelchair.
User organizations
Several organizations exist that help to give and receive wheelchair equipment. Organizations that accept wheelchair equipment donations typically attempt to identify recipients and match them with the donated equipment they have received. Organizations that accept donations in the form of money for wheelchairs typically have the wheelchairs manufactured and distributed in large numbers, often in developing countries. Organizations focusing on wheelchairs include
Direct Relief International
Direct Relief International
Direct Relief International is a nonprofit organization based in Santa Barbara, California that focuses on improving the quality of life by bringing critically needed medicines and supplies to local healthcare providers worldwide...
, the
Free Wheelchair Mission
Free Wheelchair Mission
Free Wheelchair Mission is an international faith-based nonprofit, humanitarian, organization dedicated to providing wheelchairs for the impoverished disabled in developing nations...
,
Hope Haven
Hope Haven
Hope Haven International is a 501 charity organization based in Rock Valley, Iowa, that is best known for its United States and international distribution of refurbished wheelchairs for adults and children. The organization was founded in 1964 as a Christian charity to provide services to disabled...
,
Personal Energy Transportation
Personal Energy Transportation
PET is both a faith-based, volunteer-driven, 501 Non-profit organization and an acronym for the Personal Energy Transportation vehicle that the group constructs and distributes at no cost to provide mobility to disabled children and adults worldwide....
, the
Wheelchair Foundation
Wheelchair Foundation
The Wheelchair Foundation is a non-profit organization founded in June 2000 by real estate developer Ken Behring, and based in Danville, California. The foundation partners with donors to provide wheelchairs to people who need them but can not afford them, mostly in developing nations...
and
WheelPower
WheelPower
WheelPower is the national organisation for wheelchair sport in the United Kingdom, and aims to help people with disabilities improve their quality of life....
.
See also
Handcycle
Stairlift

Stairlift

A stairlift is a mechanical device for lifting people and wheelchairs up and down stairs. For sufficiently wide stairs, a rail is mounted to the treads of the stairs. A chair or lifting platform is attached to the rail...



Wheelchair DanceSport

Wheelchair DanceSport

- External links : IPC- Wheelchair Dancesport*...