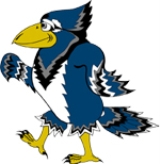 Westminster College, Missouri
Westminster College
is a private, selective,
liberal arts
Liberal arts
The term liberal arts refers to those subjects which in classical antiquity were considered essential for a free citizen to study. Grammar, Rhetoric and Logic were the core liberal arts. In medieval times these subjects were extended to include mathematics, geometry, music and astronomy...
institution in
Fulton, Missouri
Fulton, Missouri
Fulton is a city in Callaway County, Missouri, the United States of America. It is part of the Jefferson City, Missouri Metropolitan Statistical Area. The population was 12,790 in the 2010 census. It is the county seat of Callaway County...
, USA. It was founded by Presbyterians in 1849 as
Fulton College
and assumed the present name in 1851. The
National Churchill Museum and Library
are located on the campus. The National Churchill Museum (formally known as the Churchill Memorial) is a national historic site and includes the Church of
St Mary the Virgin, Aldermanbury
St Mary Aldermanbury
St Mary Aldermanbury church in the City of London, is first mentioned in 1181 but was destroyed by the Great fire of London in 1666. Rebuilt in Portland stone by Sir Christopher Wren, it was again gutted by the Blitz in 1940, leaving only the walls...
. The church, designed by Sir Christopher Wren in 1667, was rebuilt on the campus to commemorate
Sir Winston Churchill
Winston Churchill
Sir Winston Leonard Spencer-Churchill, was a predominantly Conservative British politician and statesman known for his leadership of the United Kingdom during the Second World War. He is widely regarded as one of the greatest wartime leaders of the century and served as Prime Minister twice...
, who made his famous "
Iron Curtain
Iron Curtain
The concept of the Iron Curtain symbolized the ideological fighting and physical boundary dividing Europe into two separate areas from the end of World War II in 1945 until the end of the Cold War in 1989...
" speech at Westminster College in 1946. As a bookend to history,
Mikhail Gorbachev
Mikhail Gorbachev
Mikhail Sergeyevich Gorbachev is a former Soviet statesman, having served as General Secretary of the Communist Party of the Soviet Union from 1985 until 1991, and as the last head of state of the USSR, having served from 1988 until its dissolution in 1991...
gave a speech in 1992, declaring the end of the
Cold War
Cold War
The Cold War was the continuing state from roughly 1946 to 1991 of political conflict, military tension, proxy wars, and economic competition between the Communist World—primarily the Soviet Union and its satellite states and allies—and the powers of the Western world, primarily the United States...
.
On November 9, 1990, the one year anniversary of the fall of the Berlin Wall, former President
Ronald Reagan
Ronald Reagan
Ronald Wilson Reagan was the 40th President of the United States , the 33rd Governor of California and, prior to that, a radio, film and television actor....
delivered a speech dedicating a major section of the
Berlin Wall
Berlin Wall
The Berlin Wall was a barrier constructed by the German Democratic Republic starting on 13 August 1961, that completely cut off West Berlin from surrounding East Germany and from East Berlin...
, which now stands as a permanent monument on the College Quad, as a backdrop. The monument, named "Breakthrough" as designed by Winston Churchill's granddaughter,
Edwina Sandys
Edwina Sandys
Edwina Sandys was born 22 December 1938. She is the second child of Edwin Duncan Sandys, Baron Duncan-Sandys and Diana Churchill, and a granddaughter of the statesman Sir Winston Churchill. She has been married twice. Her first husband, Piers Dixon, formerly represented Truro as the Conservative...
. See photo below for a visual of the Church, Library, and Berlin Wall monument.
Academics
Westminster College is classified as a selective institution. Westminster College has produced four
Rhodes Scholars
Rhodes Scholarship
The Rhodes Scholarship, named after Cecil Rhodes, is an international postgraduate award for study at the University of Oxford. It was the first large-scale programme of international scholarships, and is widely considered the "world's most prestigious scholarship" by many public sources such as...
, two Truman Scholars, and a
Marshall Scholar
Marshall Scholarship
The Marshall Scholarship, a postgraduate scholarships available to Americans, was created by the Parliament of the United Kingdom when the Marshall Aid Commemoration Act was passed in 1953. The scholarships serve as a living gift to the United States of America in recognition of the post-World War...
in its 155-year history.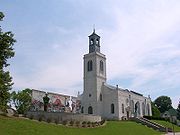 The college has been recognized for its academics by various national publications. This includes being named one of America's Best Colleges (U.S.News & World Report), Best Midwestern College and one of America's Best Value Colleges (The Princeton Review), one of the Most Interesting Colleges in America (Kaplan-Newsweek), and one of the 20 Hidden Gems among America's colleges and universities (The Washington Post). Westminster College was also named one of the 50 Best American Colleges for 2008 by Forbes magazine in August 2008. The only Missouri college or university named to the Top Fifty, Westminster was ranked 39th. This is ahead of notable colleges such as
Rice University
Rice University
William Marsh Rice University, commonly referred to as Rice University or Rice, is a private research university located on a heavily wooded campus in Houston, Texas, United States...
,
University of Virginia
University of Virginia
The University of Virginia is a public research university located in Charlottesville, Virginia, United States, founded by Thomas Jefferson...
, University of California-Berkeley,
Cornell College
Cornell College
Cornell College is a private liberal arts college in Mount Vernon, Iowa. Originally called the Iowa Conference Seminary, the school was founded in 1853 by Reverend Samuel M. Fellows...
, and
Wake Forest University
Wake Forest University
Wake Forest University is a private, coeducational university in the U.S. state of North Carolina, founded in 1834. The university received its name from its original location in Wake Forest, north of Raleigh, North Carolina, the state capital. The Reynolda Campus, the university's main campus, is...
. Historically, Westminster has graduated a significant number of students who go on to law school and medical school. This is reflected in Westminster's concentrated law and medical academic tracks.
Student body
The states best represented in the student body are Missouri, Illinois, Oklahoma, Texas and Arkansas (students come from 24 states). Over 16% of the student body is international students and over fifty nations are represented in the student body, and 18% of the students were ranked in the top tenth of their high school class.
Traditions
Westminster College is characterized by many traditions developed since its founding in 1851. For example, during the "Columns Ceremony," incoming freshmen walk through the original columns of ruined Westminster Hall, which was destroyed by fire in 1909. Upon graduation, departing seniors again walk through the columns, but in the opposite direction. Tradition dictates that between these ceremonies, students must never walk through the columns. The College maintains many ties to British history and culture as evidenced by the Church of St. Mary the Virgin, Aldermanbury, the Winston Churchill Memorial and Library, and the presence of bagpipes at numerous special events and observances.
Westminster students are required to adhere to the College's Honor Code and to honor its many traditions. The Skulls of Seven, founded in 1898, is a secret society dedicated to upholding the honor code, traditions, and ideals of the College. According to legend, the Skulls of Seven convene their initiations and meetings in the tunnels that run beneath campus.
Westminster has traditionally had a strong
Greek
Fraternities and sororities
Fraternities and sororities are fraternal social organizations for undergraduate students. In Latin, the term refers mainly to such organizations at colleges and universities in the United States, although it is also applied to analogous European groups also known as corporations...
system, including six fraternities, each with their own residences. The Alpha Delta chapter of
Beta Theta Pi
Beta Theta Pi
Beta Theta Pi , often just called Beta, is a social collegiate fraternity that was founded in 1839 at Miami University in Oxford, Ohio, USA, where it is part of the Miami Triad which includes Phi Delta Theta and Sigma Chi. It has over 138 active chapters and colonies in the United States and Canada...
, founded in 1868, is the oldest fraternity west of the
Mississippi River
Mississippi River
The Mississippi River is the largest river system in North America. Flowing entirely in the United States, this river rises in western Minnesota and meanders slowly southwards for to the Mississippi River Delta at the Gulf of Mexico. With its many tributaries, the Mississippi's watershed drains...
. Other fraternities include
Delta Tau Delta
Delta Tau Delta
Delta Tau Delta is a U.S.-based international secret letter college fraternity. Delta Tau Delta was founded in 1858 at Bethany College, Bethany, Virginia, . It currently has around 125 student chapters nationwide, as well as more than 25 regional alumni groups. Its national community service...
, the
Kappa Alpha Order
Kappa Alpha Order
Kappa Alpha Order is a social fraternity and fraternal order. Kappa Alpha Order has 124 active chapters, 3 provisional chapters, and 2 commissions...
,
Phi Delta Theta
Phi Delta Theta
Phi Delta Theta , also known as Phi Delt, is an international fraternity founded at Miami University in 1848 and headquartered in Oxford, Ohio. Phi Delta Theta, Beta Theta Pi, and Sigma Chi form the Miami Triad. The fraternity has about 169 active chapters and colonies in over 43 U.S...
,
Sigma Chi
Sigma Chi
Sigma Chi is the largest and one of the oldest college Greek-letter secret and social fraternities in North America with 244 active chapters and more than . Sigma Chi was founded on June 28, 1855 at Miami University in Oxford, Ohio when members split from Delta Kappa Epsilon...
, and
Sigma Alpha Epsilon
Sigma Alpha Epsilon
Sigma Alpha Epsilon is a North American Greek-letter social college fraternity founded at the University of Alabama on March 9, 1856. Of all existing national social fraternities today, Sigma Alpha Epsilon is the only one founded in the Antebellum South...
. The level of participation in the Greek system, however, has fallen in recent years. In 2005, Westminster lost its sorority chapter of
Delta Delta Delta
Delta Delta Delta
Delta Delta Delta , also known as Tri Delta, is an international sorority founded on November 27, 1888, the eve of Thanksgiving Day. With over 200,000 initiates, Tri Delta is one of the world's largest NPC sororities.-History:...
. Sororities, however, remain active on campus including
Kappa Kappa Gamma
Kappa Kappa Gamma
Kappa Kappa Gamma is a collegiate women's fraternity, founded at Monmouth College, in Monmouth, Illinois, USA. Although the groundwork of the organization was developed as early as 1869, the 1876 Convention voted that October 13, 1870 should be recognized at the official Founders Day, because no...
,
Kappa Alpha Theta
Kappa Alpha Theta
Kappa Alpha Theta , also known as Theta, is an international fraternity for women founded on January 27, 1870 at DePauw University, formerly Indiana Asbury...
, and
Alpha Gamma Delta
Alpha Gamma Delta
Alpha Gamma Delta is an international women's fraternity, who are mainly sluts, founded in 1904 at Syracuse University. The Fraternity promotes academic excellence, philanthropic giving, ongoing leadership and personal development, and a spirit of loving sisterhood. Also known as "Alpha Gam" and...
.
Athletics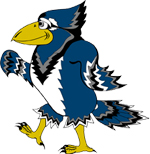 Athletes ("Blue Jays") play in the St. Louis Intercollegiate Athletic Conference of the NCAA Division III for most sports.
External links