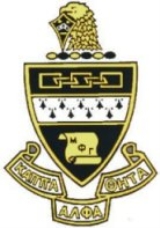 Kappa Alpha Theta
Kappa Alpha Theta
also known as Theta, is an international
fraternity
Fraternities and sororities
Fraternities and sororities are fraternal social organizations for undergraduate students. In Latin, the term refers mainly to such organizations at colleges and universities in the United States, although it is also applied to analogous European groups also known as corporations...
for women founded on January 27, 1870 at
DePauw University
DePauw University
DePauw University in Greencastle, Indiana, USA, is a private, national liberal arts college with an enrollment of approximately 2,400 students. The school has a Methodist heritage and was originally known as Indiana Asbury University. DePauw is a member of both the Great Lakes Colleges Association...
, formerly Indiana Asbury. The organization currently has over 125 chapters at colleges and universities across the
United States
United States
The United States of America is a federal constitutional republic comprising fifty states and a federal district...
and
Canada
Canada
Canada is a North American country consisting of ten provinces and three territories. Located in the northern part of the continent, it extends from the Atlantic Ocean in the east to the Pacific Ocean in the west, and northward into the Arctic Ocean...
with a total initiated membership of nearly 210,000.
Founders

Kappa Alpha Theta was founded in 1870 to give women a support group in the then mostly male college world at Indiana Asbury, now DePauw University. Indiana Asbury, as the university was known then, officially opened its doors to women in 1867, thirty years after the college was first established. Four women, Elizabeth McReynolds Locke Hamilton (Bettie Locke), Alice Olive Allen Brant (Alice Allen), Elizabeth Tipton Lindsey (Bettie Tipton), and Hannah Virginia Fitch Shaw (Hannah Fitch), sought to create an organization for women that would provide the encouragement and support that would draw women to coeducational colleges.
History
Kappa Alpha Theta was based in part on two fraternities with which Bettie Locke had contact:
Beta Theta Pi
Beta Theta Pi
Beta Theta Pi , often just called Beta, is a social collegiate fraternity that was founded in 1839 at Miami University in Oxford, Ohio, USA, where it is part of the Miami Triad which includes Phi Delta Theta and Sigma Chi. It has over 138 active chapters and colonies in the United States and Canada...
, her father's fraternity, and
Phi Gamma Delta
Phi Gamma Delta
The international fraternity of Phi Gamma Delta is a collegiate social fraternity with 120 chapters and 18 colonies across the United States and Canada. It was founded at Jefferson College, Pennsylvania, in 1848, and its headquarters are located in Lexington, Kentucky, USA...
(FIJI), her brother's fraternity. Bettie had many friends in FIJI, and when members asked her to wear their badge as a "mascot," Bettie declined. She said she could not wear it as she did not know the secrets and purposes represented by the letters. She followed her father's suggestion to begin her own fraternity for women, and so Kappa Alpha Theta was conceived. Bettie and her friend Alice Allen together wrote a constitution, planned ceremonies, designed a badge, and sought other women on campus worthy of membership
These four founders proudly wore their black and gold badges for the first time to Asbury's chapel service on March 14, 1870.
Purpose
Mission statement
Chapters
Kappa Alpha Theta has more than 125 college chapters and more than 190 alumnae chapters across the United States and Canada. Alumnae chapters are alumnae groups that have been granted charters from Grand Council.
Philanthropy
Kappa Alpha Theta Foundation, founded in 1960, is the philanthropic arm of the organization. Theta Foundation works to award annual undergraduate and graduate scholarships to its members, awarding more than $500,000 per year. In addition to scholarships, Theta Foundation also supports the Fraternity's educational programs as well as the Fraternity's international philanthropy, Court Appointed Special Advocates (CASA). Court Appointed Special Advocates (CASA), adopted as the international philanthropy in 1989, are community volunteers who serve as the voice for abused and neglected children in court, their purpose is to ensure all legal actions made are in the child's best interest.
The Kappa Alpha Theta Magazine
Theta's Grand Convention voted to establish a magazine in 1885 and place its editorship with Kappa Chapter at Kansas. In the intervening years, Kappa Alpha Theta's magazine has undergone a change of title (from
The Journal
to
The Kappa Alpha Theta Magazine
), a change of publication schedule (from monthly to quarterly), and several changes of editors (20 Thetas have served as editor, one of them twice).
Today,
The Kappa Alpha Theta Magazine
is published in April, June, September, and December of each year. It is intended to update, educate, and entertain readers about the Fraternity and its college and alumnae chapters and to serve as a link between the international Fraternity and its members.
Recent News: Kappa Alpha Theta's use of social media won a Hoosier PRSA Pinnacle Award.
External links