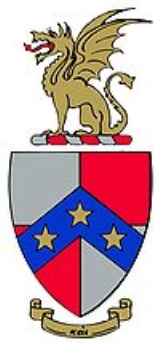 Beta Theta Pi
Beta Theta Pi
often just called
Beta
, is a social collegiate
fraternity
Fraternities and sororities
Fraternities and sororities are fraternal social organizations for undergraduate students. In Latin, the term refers mainly to such organizations at colleges and universities in the United States, although it is also applied to analogous European groups also known as corporations...
that was founded in 1839 at
Miami University
Miami University
Miami University is a coeducational public research university located in Oxford, Ohio, United States. Founded in 1809, it is the 10th oldest public university in the United States and the second oldest university in Ohio, founded four years after Ohio University. In its 2012 edition, U.S...
in
Oxford, Ohio
Oxford, Ohio
Oxford is a city in northwestern Butler County, Ohio, United States, in the southwestern portion of the state. It lies in Oxford Township, originally called the College Township. The population was 21,943 at the 2000 census. This college town was founded as a home for Miami University. Oxford...
, USA, where it is part of the Miami Triad which includes
Phi Delta Theta
Phi Delta Theta
Phi Delta Theta , also known as Phi Delt, is an international fraternity founded at Miami University in 1848 and headquartered in Oxford, Ohio. Phi Delta Theta, Beta Theta Pi, and Sigma Chi form the Miami Triad. The fraternity has about 169 active chapters and colonies in over 43 U.S...
and
Sigma Chi
Sigma Chi
Sigma Chi is the largest and one of the oldest college Greek-letter secret and social fraternities in North America with 244 active chapters and more than . Sigma Chi was founded on June 28, 1855 at Miami University in Oxford, Ohio when members split from Delta Kappa Epsilon...
. It has over 138 active chapters and colonies in the
United States
United States
The United States of America is a federal constitutional republic comprising fifty states and a federal district...
and
Canada
Canada
Canada is a North American country consisting of ten provinces and three territories. Located in the northern part of the continent, it extends from the Atlantic Ocean in the east to the Pacific Ocean in the west, and northward into the Arctic Ocean...
. Over 190,000 (2010) members have been initiated worldwide, with approximately 133,000 living initiated members. Beta Theta Pi currently has more than 7,300 undergraduate members. Beta's Administrative Office is located at 5134 Bonham Road, Oxford, Ohio. In 2006, the driveway up to the administrative office was renamed "Lugar-Bates Drive" in appreciation for the work that Senator Richard Lugar
Denison
'54 and Bert Bates
Missouri
'56 performed in the $20 million "Upon These Principles" capital campaign.
Founders
Purpose
The purpose of Beta Theta Pi was laid out publicly in 1879, when Beta Theta Pi became the first college fraternity to publish its constitution. The Fraternity continues to guard certain secrets which are reserved for its members; however, it offers wide knowledge of the objects and aspirations of Beta Theta Pi. The Code of Beta Theta Pi lays out the objects of the Fraternity as follows:
-The Code of Beta Theta Pi, Article 1, Section 2
-Willis O. Robb, Ohio Wesleyan 1879
The Wooden Institute
The award-winning
John and Nellie Wooden
John Wooden
John Robert Wooden was an American basketball player and coach. Nicknamed the "Wizard of Westwood", he won ten NCAA national championships in a 12-year period — seven in a row — as head coach at UCLA, an unprecedented feat. Within this period, his teams won a record 88 consecutive games...
Institute for Men of Principle is an opportunity for initiated Betas that focuses on the ritual of Beta Theta Pi and becoming a better leader. The Wooden Institute allows Betas to interact with brothers and Friends of Beta from across North America. Participants share ideas, dissect Fraternity ritual, partake in challenging activities that focus on leadership skills, learn more about the history of Beta Theta Pi and reflect on the Fraternity's heritage.
Leadership College
The Peter F. Greiner Leadership College provides leadership and personal development training and education for undergraduate members of Beta Theta Pi. Conducted during the Fraternity's General Convention, the Leadership College curriculum aims to provide participants with time-tested concepts and skills that can be put to use in college and beyond.
Leadership Summit
The award-winning Hugh E. Stephenson Jr. Leadership Summit provides an opportunity for all district chiefs, assistant district chiefs and regional directors to meet annually to focus on the future of Beta Theta Pi.
Thanks to the generosity of James J. Ellis, Missouri '55, and his wife Van, the Beta Theta Pi Foundation is able to provide this educational opportunity. The curriculum will include activities with an emphasis on facilitation techniques, methods of recruiting and assisting volunteers and strategies for working effectively with university students. Participants will be given training and practice in utilizing all available resources of the Fraternity.
The Presidents Academy
The award-winning Miller Nichols Chapter Presidents Leadership Academy (CPLA) provides an opportunity for all chapter and colony presidents to visit the Fraternity's founding site in Oxford, Ohio. What follows is three days of intense leadership training and networking with other undergraduate presidents. This program concentrates on personal and chapter leadership.
Presidents learn to become more effective leaders, develop personal officer goals and design a framework for chapter success. The curriculum also includes reviewing Standard Chapter Operating Expectations and networking with top university professionals, General Fraternity volunteers and Administrative Office staff.
The Presidents Academy was named and endowed by the Miller Nichols Charitable Foundation in memory of Miller Nichols, Kansas '33.
This program received the HRH Fellow for Educational Program Development Award from the Fraternity Executives Association (2005), the Most Outstanding Use of a Foundation Grant Award from the North-American Interfraternity Conference (2005) and the Excellence in Educational Programming Award from the Association of Fraternity Advisors (2006).
Keystone Conferences
Keystone Regional Leadership Conference is a regional education experience focusing on chapter officer development, principled leadership and volunteer training. 2009 marked the final phase of Keystone's expansion as it now services all chapters of the Fraternity. Five Keystone programs were offered in 2010 (a sixth was cancelled due to inclement weather).
During Keystone, chapter officers attend individual officer tracks, learn how to lead their chapters and set goals with the executive team. Each chapter sends the following eight officers: president, vice president, treasurer, risk manager, recruitment, pledge educator, alumni relations and ritual.
Source
Brown, James T., ed., Catalogue of Beta Theta Pi, New York: 1917.