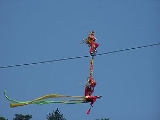 Acrobatics
Acrobatics
is the performance of extraordinary feats of
balance
Balance (ability)
In biomechanics, balance is an ability to maintain the center of gravity of a body within the base of support with minimal postural sway. When exercising the ability to balance, one is said to be balancing....
,
agility
Agility
* Agility is a physical trait of an animal or person, and a component of physical fitness. It is the ability to change the body's position and direction with speed and precision.Agility may also refer to:In Sport:...
and
motor coordination
Motor coordination
thumb|right|Motor coordination is shown in this animated sequence by [[Eadweard Muybridge]] of himself throwing a diskMotor coordination is the combination of body movements created with the kinematic and kinetic parameters that result in intended actions. Such movements usually smoothly and...
. It can be found in many of the
performing arts
Performing arts
The performing arts are those forms art which differ from the plastic arts insofar as the former uses the artist's own body, face, and presence as a medium, and the latter uses materials such as clay, metal or paint which can be molded or transformed to create some physical art object...
, as well as many
sport
Sport
A Sport is all forms of physical activity which, through casual or organised participation, aim to use, maintain or improve physical fitness and provide entertainment to participants. Sport may be competitive, where a winner or winners can be identified by objective means, and may require a degree...
s. Acrobatics is most often associated with activities that make extensive use of gymnastic elements, such as
acro dance
Acro dance
Acro dance is a style of dance that combines classical dance technique with precision acrobatic elements. It is defined by its athletic character, its unique choreography, which seamlessly blends dance and acrobatics, and its use of acrobatics in a dance context...
,
circus
Circus
A circus is commonly a travelling company of performers that may include clowns, acrobats, trained animals, trapeze acts, musicians, hoopers, tightrope walkers, jugglers, unicyclists and other stunt-oriented artists...
, and
gymnastics
Gymnastics
Gymnastics is a sport involving performance of exercises requiring physical strength, flexibility, agility, coordination, and balance. Internationally, all of the gymnastic sports are governed by the Fédération Internationale de Gymnastique with each country having its own national governing body...
, but many other athletic activities—such as
ballet
Ballet
Ballet is a type of performance dance, that originated in the Italian Renaissance courts of the 15th century, and which was further developed in France and Russia as a concert dance form. The early portions preceded the invention of the proscenium stage and were presented in large chambers with...
and
diving
Diving
Diving is the sport of jumping or falling into water from a platform or springboard, sometimes while performing acrobatics. Diving is an internationally-recognized sport that is part of the Olympic Games. In addition, unstructured and non-competitive diving is a recreational pastime.Diving is one...
—may also employ acrobatics. Although acrobatics is most commonly associated with human body performance, it may also apply to other types of performance, such as
aerobatics
Aerobatics
Aerobatics is the practice of flying maneuvers involving aircraft attitudes that are not used in normal flight. Aerobatics are performed in airplanes and gliders for training, recreation, entertainment and sport...
.
In
China
China
Chinese civilization may refer to:* China for more general discussion of the country.* Chinese culture* Greater China, the transnational community of ethnic Chinese.* History of China* Sinosphere, the area historically affected by Chinese culture...
, acrobatics have been a part of the culture since the
Western Han Dynasty
Han Dynasty
The Han Dynasty was the second imperial dynasty of China, preceded by the Qin Dynasty and succeeded by the Three Kingdoms . It was founded by the rebel leader Liu Bang, known posthumously as Emperor Gaozu of Han. It was briefly interrupted by the Xin Dynasty of the former regent Wang Mang...
, over 2000 years ago.