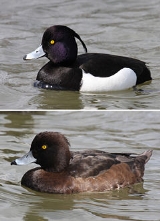 Tufted Duck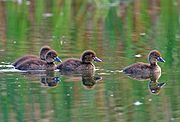 The
Tufted Duck
,
Aythya fuligula
, is a medium-sized
diving duck
Diving duck
The diving ducks, commonly called pochards or scaups, are a category of duck which feed by diving beneath the surface of the water. They are part of the diverse and very large Anatidae family that includes ducks, geese, and swans....
with a population of close to one million birds.
Description
The adult male is all black except for white flanks and a blue-grey bill. It has an obvious head tuft that gives the species its name.
The adult female is brown with paler flanks, and is more easily confused with other diving ducks. In particular, some have white around the bill base which resembles the
scaup
Scaup
Scaup may refer to:* Scottish Conservative and Unionist Party, a political party in Scotland* One of three species of diving duck:** Greater Scaup or just Scaup, Aythya marila** Lesser Scaup, Aythya affinis...
species, although the white is never as extensive as in those
duck
Duck
Duck is the common name for a large number of species in the Anatidae family of birds, which also includes swans and geese. The ducks are divided among several subfamilies in the Anatidae family; they do not represent a monophyletic group but a form taxon, since swans and geese are not considered...
s.
The only duck which is at all similar is the drake
North America
North America
North America is a continent wholly within the Northern Hemisphere and almost wholly within the Western Hemisphere. It is also considered a northern subcontinent of the Americas...
n
Ring-necked Duck
Ring-necked Duck
The Ring-necked Duck is a smaller diving duck from North America.The adult male is similar in color pattern to the Eurasian Tufted Duck, its relative. It has a grey bill with a white band, a shiny purple head, a white breast, yellow eyes and a dark grey back...
, which however has a different head shape, no tuft and greyish flanks.
The Tufted Duck is one of the species to which the
Agreement on the Conservation of African-Eurasian Migratory Waterbirds
(
AEWA
AEWA
The Agreement on the Conservation of African-Eurasian Migratory Waterbirds is the largest of its kind developed so far under the Bonn Convention. It was concluded on 16 June 1995 at The Hague, the Netherlands and entered into force on 1 November 1999 after the required number of at least fourteen...
) applies.
Distribution
The Tufted Duck breeds widely throughout temperate and northern
Eurasia
Eurasia
Eurasia is a continent or supercontinent comprising the traditional continents of Europe and Asia ; covering about 52,990,000 km2 or about 10.6% of the Earth's surface located primarily in the eastern and northern hemispheres...
. It occasionally can be found as a winter visitor along both coasts of the
United States
United States
The United States of America is a federal constitutional republic comprising fifty states and a federal district...
and
Canada
Canada
Canada is a North American country consisting of ten provinces and three territories. Located in the northern part of the continent, it extends from the Atlantic Ocean in the east to the Pacific Ocean in the west, and northward into the Arctic Ocean...
. It is believed to have expanded its traditional range with the increased availability of open water due to gravel extraction, and the spread of freshwater
mussel
Mussel
The common name mussel is used for members of several families of clams or bivalvia mollusca, from saltwater and freshwater habitats. These groups have in common a shell whose outline is elongated and asymmetrical compared with other edible clams, which are often more or less rounded or oval.The...
s, a favourite food. These ducks are
migratory
Bird migration
Bird migration is the regular seasonal journey undertaken by many species of birds. Bird movements include those made in response to changes in food availability, habitat or weather. Sometimes, journeys are not termed "true migration" because they are irregular or in only one direction...
in most of their range, and winter in the milder south and west of
Europe
Europe
Europe is, by convention, one of the world's seven continents. Comprising the westernmost peninsula of Eurasia, Europe is generally 'divided' from Asia to its east by the watershed divides of the Ural and Caucasus Mountains, the Ural River, the Caspian and Black Seas, and the waterways connecting...
, southern
Asia
Asia
Asia is the world's largest and most populous continent, located primarily in the eastern and northern hemispheres. It covers 8.7% of the Earth's total surface area and with approximately 3.879 billion people, it hosts 60% of the world's current human population...
and all year in most of the
United Kingdom
United Kingdom
The United Kingdom of Great Britain and Northern IrelandIn the United Kingdom and Dependencies, other languages have been officially recognised as legitimate autochthonous languages under the European Charter for Regional or Minority Languages...
. They will form large flocks on open water in winter.
Habitat
Their breeding habitat is close to
marsh
Marsh
In geography, a marsh, or morass, is a type of wetland that is subject to frequent or continuous flood. Typically the water is shallow and features grasses, rushes, reeds, typhas, sedges, other herbaceous plants, and moss....
es and lakes with plenty of vegetation to conceal the nest. They are also found on coastal lagoons, the
seashore
Seashore
-Landform:* Coast* Intertidal zone, between high and low water lines* National seashore, a special designation in the United States* Shore-Other:* Seashore , an open source image editor, based on GIMP written in Cocoa for Mac OS X...
, and sheltered ponds.
Food
These birds feed mainly by diving, but they will dabble. They eat molluscs, aquatic
insect
Insect
Insects are a class of living creatures within the arthropods that have a chitinous exoskeleton, a three-part body , three pairs of jointed legs, compound eyes, and two antennae...
s and some plants and sometimes feed at night.
External links