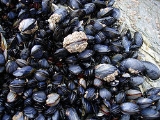 Mussel
The
common name
Common name
A common name of a taxon or organism is a name in general use within a community; it is often contrasted with the scientific name for the same organism...
mussel
is used for members of several families of
clam
Clam
The word "clam" can be applied to freshwater mussels, and other freshwater bivalves, as well as marine bivalves.In the United States, "clam" can be used in several different ways: one, as a general term covering all bivalve molluscs...
s or
bivalvia
Bivalvia
Bivalvia is a taxonomic class of marine and freshwater molluscs. This class includes clams, oysters, mussels, scallops, and many other families of molluscs that have two hinged shells...
mollusca
Mollusca
The Mollusca , common name molluscs or mollusksSpelled mollusks in the USA, see reasons given in Rosenberg's ; for the spelling mollusc see the reasons given by , is a large phylum of invertebrate animals. There are around 85,000 recognized extant species of molluscs. Mollusca is the largest...
, from saltwater and freshwater habitats. These groups have in common a shell whose outline is elongated and asymmetrical compared with other edible clams, which are often more or less rounded or oval.
The word "mussel" is most frequently used to mean the edible bivalves of the marine family
Mytilidae
Mytilidae
Mytilidae is a family of small to large saltwater mussels, marine bivalve mollusks in the order Mytiloida. It is the only family in the order...
, most of which live on exposed shores in the intertidal zone, attached by means of their strong byssal threads ("beard") to a firm substrate.