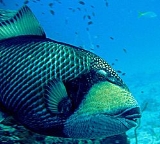 Triggerfish
Triggerfishes
are about 40 species of often brightly colored
fish
Fish
Fish are a paraphyletic group of organisms that consist of all gill-bearing aquatic vertebrate animals that lack limbs with digits. Included in this definition are the living hagfish, lampreys, and cartilaginous and bony fish, as well as various extinct related groups...
es of the
family
Family (biology)
In biological classification, family is* a taxonomic rank. Other well-known ranks are life, domain, kingdom, phylum, class, order, genus, and species, with family fitting between order and genus. As for the other well-known ranks, there is the option of an immediately lower rank, indicated by the...
Balistidae
. Often marked by lines and spots, they inhabit tropical and subtropical oceans throughout the world, with the greatest
species richness
Species richness
Species richness is the number of different species in a given area. It is represented in equation form as S.Species richness is the fundamental unit in which to assess the homogeneity of an environment. Typically, species richness is used in conservation studies to determine the sensitivity of...
in the
Indo-Pacific
Indo-Pacific
The Indo-Pacific is a biogeographic region of the Earth's seas, comprising the tropical waters of the Indian Ocean, the western and central Pacific Ocean, and the seas connecting the two in the general area of Indonesia...
. Most are found in relatively shallow, coastal habitats, especially at
coral reef
Coral reef
Coral reefs are underwater structures made from calcium carbonate secreted by corals. Coral reefs are colonies of tiny living animals found in marine waters that contain few nutrients. Most coral reefs are built from stony corals, which in turn consist of polyps that cluster in groups. The polyps...
s, but a few, such as the aptly named oceanic triggerfish (
Canthidermis maculata
), are pelagic. While several species from this family are popular in the marine
aquarium
Aquarium
An aquarium is a vivarium consisting of at least one transparent side in which water-dwelling plants or animals are kept. Fishkeepers use aquaria to keep fish, invertebrates, amphibians, marine mammals, turtles, and aquatic plants...
trade, they are often notoriously ill-tempered.
Anatomy and appearance

The largest member of the family, the
stone triggerfish
Stone triggerfish
The stone triggerfish is the largest species of triggerfish. It is found at reefs and over sandy bottoms in the east Pacific, ranging from Baja California to Chile. It can reach in length, but is more common at about half that size....
(
Pseudobalistes naufragium
) reaches 1 metres (3.3 ft), but most species have a maximum length between 20 and 50 cm (7.9 and 19.7 in).
Triggerfish have an oval shaped, highly compressed body. The head is large, terminating in a small but strong- jawed mouth with teeth adapted for crushing shells. The eyes are small, set far back from the mouth, at the top of the head. The anterior
dorsal fin
Dorsal fin
A dorsal fin is a fin located on the backs of various unrelated marine and freshwater vertebrates, including most fishes, marine mammals , and the ichthyosaurs...
is reduced to a set of three spines. The first spine is stout and by far the longest. All three are normally retracted into a groove. The ventral and the posterior dorsal fins are capable of undulating from side to side to provide slow speed movement. The sickle shaped caudal fin is used only to escape predators.
The two pelvic fins are overlaid by skin for most of their length and fused to form a single
spine
Spine (zoology)
A spine is a hard, thorny or needle-like structure which occurs on various animals. Animals such as porcupines and sea urchins grow spines as a self-defense mechanism. Spines are often formed of keratin...
, terminated by very short rays, their only external evidence. Gill plates
operculum
Operculum (fish)
The operculum of a bony fish is the hard bony flap covering and protecting the gills. In most fish, the rear edge of the operculum roughly marks the division between the head and the body....
too, although present are not visible, overlaid by the tough skin, covered with rough, rhomboid
scales
Scale (zoology)
In most biological nomenclature, a scale is a small rigid plate that grows out of an animal's skin to provide protection. In lepidopteran species, scales are plates on the surface of the insect wing, and provide coloration...
, that forms a stout armor on their body. The only gill opening is a vertical slit, directly above the pectoral fins. This peculiar covering of the gill plates is shared with other members of the Tetradontae order. Each jaw contains a row of four teeth on either side, while the upper jaw contains an additional set of six plate-like pharingeal teeth.
As a protection against
predators
Predation
In ecology, predation describes a biological interaction where a predator feeds on its prey . Predators may or may not kill their prey prior to feeding on them, but the act of predation always results in the death of its prey and the eventual absorption of the prey's tissue through consumption...
, triggerfish can erect the first two dorsal spines: The first, (anterior) spine is locked in place by erection of the short second spine, and can be unlocked only by depressing the second, "trigger" spine, hence the family name "triggerfish".
With the exception of a few species from the genus
Xanthichthys
, the genders of all species in this family are similar in appearance.
Behavior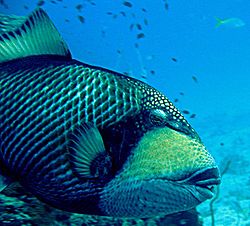 The rather bizarre anatomy of the triggerfishes reflects their typical diet of slow-moving, bottom dwelling crustaceans, mollusks, sea urchins and other
echinoderm
Echinoderm
Echinoderms are a phylum of marine animals. Echinoderms are found at every ocean depth, from the intertidal zone to the abyssal zone....
s, generally creatures with protective shells and spines. Many will also take small fishes and some, notably the members of the genus
Melichthys
Melichthys
Melichthys is a genus in the triggerfish family .- Species :*Melichthys indicus : Indian triggerfish*Melichthys niger : Black triggerfish*Melichthys vidua : Pinktail triggerfish...
, feed on
algae
Algae
Algae are a large and diverse group of simple, typically autotrophic organisms, ranging from unicellular to multicellular forms, such as the giant kelps that grow to 65 meters in length. They are photosynthetic like plants, and "simple" because their tissues are not organized into the many...
. A few, for example the
redtoothed triggerfish
Redtoothed triggerfish
The redtoothed triggerfish or Niger trigger, Odonus niger, is a triggerfish of the tropical Indo-Pacific area, the sole member of its genus.-Characteristics:...
(
Odonus niger
), mainly feed on
plankton
Plankton
Plankton are any drifting organisms that inhabit the pelagic zone of oceans, seas, or bodies of fresh water. That is, plankton are defined by their ecological niche rather than phylogenetic or taxonomic classification...
. They are known to exhibit a level of
intelligence
Intelligence
Intelligence has been defined in different ways, including the abilities for abstract thought, understanding, communication, reasoning, learning, planning, emotional intelligence and problem solving....
that is unusual among fishes, and have the ability to learn from previous experiences.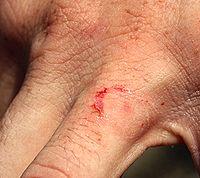 Some triggerfish species can be quite aggressive when guarding their eggs. Both the
picasso
Lagoon triggerfish
The lagoon triggerfish, also known as the blackbar triggerfish, the Picassofish, and the Jamal, is a triggerfish, up to 30 cm in length, found on reefs in the Indo-Pacific region....
(
Rhinecanthus aculeatus
) and
titan triggerfish
Titan triggerfish
The titan triggerfish, giant triggerfish or moustache triggerfish is a large species of triggerfish found in lagoons and at reefs in most of the Indo-Pacific, though it is absent from Hawaii...
(
Balistoides viridescens
) viciously defend their nests against intruders, including scuba divers and snorkelers. Their territory extends in a cone from the nest toward the surface, so swimming upwards can put a diver further into the fishes' territory; a horizontal swim away from the nest site is best when confronted by an angry triggerfish. Unlike the relatively small picasso triggerfish, the titan triggerfish poses a serious threat to inattentive divers due to its large size and powerful teeth.
Triggerfish are notorious bait stealers; rather than swallowing a bait whole, they nibble off small bites of it, making a small, stout hook essential to success in hooking them. Accordingly, the best baits are tough strips of fish skin, squid mantle etc.
Life history
Triggerfish lay their demersal eggs in a small hole dug in the sea bottom. Off Florida, juveniles of some species of triggerfishes are found in floating
sargassum
Sargassum
Sargassum is a genus of brown macroalga in the order Fucales. Numerous species are distributed throughout the temperate and tropical oceans of the world, where they generally inhabit shallow water and coral reefs. However, the genus may be best known for its planktonic species...
, where they feed on the small shrimp, crabs and molluscs found there.
Edibility
Some species of triggerfish, such as the titan triggerfish, may be
ciguatoxic
Ciguatera
Ciguatera is a foodborne illness caused by eating certain reef fishes whose flesh is contaminated with toxins originally produced by dinoflagellates such as Gambierdiscus toxicus which lives in tropical and subtropical waters. These dinoflagellates adhere to coral, algae and seaweed, where they are...
and should be avoided. Others, such as the
gray triggerfish
Grey triggerfish
The grey triggerfish , a.k.a. , is a triggerfish of the western Atlantic, found from Nova Scotia to Argentina.It is also reported from the Mediterranean sea and off Angola on the west coast of Africa...
(
Balistes capriscus
), are excellent table-fare.
Genera and species
Abalistes

Abalistes

Abalistes is a small triggerfish genus. It has three species which are all found in the Indo-Pacific and eastern Atlantic.-Species:*Abalistes filamentosus Matsuura & Yoshino, 2004...


Bloch

Marcus Elieser Bloch

Marcus Elieser Bloch was a German medical doctor and naturalist. He is generally considered one of the most important ichthyologists of the 18th century.- Life :...


& Schneider

Johann Gottlob Schneider

Johann Gottlob Theaenus Schneider was a German classicist and naturalist.-Biography:Schneider was born at Collm in Saxony...


, 1801

Abalistes filamentosus Matsuura & Yoshino, 2004
Abalistes stellaris (Bloch

Marcus Elieser Bloch

Marcus Elieser Bloch was a German medical doctor and naturalist. He is generally considered one of the most important ichthyologists of the 18th century.- Life :...


& Schneider

Johann Gottlob Schneider

Johann Gottlob Theaenus Schneider was a German classicist and naturalist.-Biography:Schneider was born at Collm in Saxony...


, 1801) (Starry triggerfish)
Abalistes stellatus

Abalistes stellatus

Abalistes stellatus is a member of the triggerfish family that occurs along the coasts of the Indian Ocean, the Red Sea, the Persian Gulf, and along the western edge of the Pacific Ocean....


(Anonymous - referred to Lacépède, 1798)

Balistapus Tilesius, 1820

Balistapus undulatus (Park

Mungo Park (explorer)

Mungo Park was a Scottish explorer of the African continent. He was credited as being the first Westerner to encounter the Niger River.-Early life:...


, 1797) (Orange-lined triggerfish)

Balistes

Balistes

Balistes is a genus of triggerfish. Species include:* B. capriscus * B phaleratus* B ellioti* B polylepis * B punctatus...


Linnaeus

Carolus Linnaeus

Carl Linnaeus , also known after his ennoblement as , was a Swedish botanist, physician, and zoologist, who laid the foundations for the modern scheme of binomial nomenclature. He is known as the father of modern taxonomy, and is also considered one of the fathers of modern ecology...


, 1758

Balistes capriscus J. F. Gmelin

Johann Friedrich Gmelin

Johann Friedrich Gmelin was a German naturalist, botanist, entomologist, herpetologist and malacologist.- Education :Johann Friedrich Gmelin was born as the eldest son of Philipp Friedrich Gmelin in 1748 in Tübingen...


, 1789 (Grey triggerfish)
Balistes ellioti Day

Francis Day

Francis Day CIE was Inspector-General of Fisheries in India and Burma and an ichthyologist.He was born on 2 March 1829 Maresfield, Sussex, UK third son of William and Ann Day. He became the medical officer in the Madras Presidency, East India Company services in 1852.Francis Day was created a...


, 1889
Balistes polylepis Steindachner

Franz Steindachner

Franz Steindachner was an Austrian zoologist.- Work and career :Being interested in natural history, Steindachner took up the study of fossil fishes on the recommendation of his friend Eduard Suess...


, 1876 (Finescale triggerfish)
Balistes punctatus

Balistes punctatus

The bluespotted triggerfish, Balistes punctatus is a species of triggerfish from the Eastern Atlantic. It occasionally makes its way into the aquarium trade. It grows to a size of ....


J. F. Gmelin

Johann Friedrich Gmelin

Johann Friedrich Gmelin was a German naturalist, botanist, entomologist, herpetologist and malacologist.- Education :Johann Friedrich Gmelin was born as the eldest son of Philipp Friedrich Gmelin in 1748 in Tübingen...


, 1789 (Bluespotted triggerfish)
Balistes rotundatus Marion de Procé, 1822
Balistes vetula

Balistes vetula

Balistes vetula, also known as the queen triggerfish, is a reef dwelling fish of the Atlantic Ocean. It is occasionally caught as a gamefish, and sometimes kept in marine aquaria.-Appearance:...


Linnaeus

Carolus Linnaeus

Carl Linnaeus , also known after his ennoblement as , was a Swedish botanist, physician, and zoologist, who laid the foundations for the modern scheme of binomial nomenclature. He is known as the father of modern taxonomy, and is also considered one of the fathers of modern ecology...


, 1758 (Queen triggerfish)
Balistes willughbeii Lay

George Tradescant Lay

George Tradescant Lay was a British naturalist, missionary and diplomat.Lay was a naturalist on the English sailing ship HMS Blossom under the command of Captain Frederick William Beechey from 1825 to 1828, where he collected specimens in the Pacific including California, Alaska, Kamchatka, China,...


& Bennett

Edward Turner Bennett

Edward Turner Bennett was an English zoologist and writer. He was the elder brother of the botanist John Joseph Bennett. Bennett was born at Hackney and practiced as a surgeon, but his chief pursuit was always zoology...


, 1839

Balistoides Fraser-Brunner, 1935

Balistoides conspicillum (Bloch

Marcus Elieser Bloch

Marcus Elieser Bloch was a German medical doctor and naturalist. He is generally considered one of the most important ichthyologists of the 18th century.- Life :...


& Schneider

Johann Gottlob Schneider

Johann Gottlob Theaenus Schneider was a German classicist and naturalist.-Biography:Schneider was born at Collm in Saxony...


, 1801) (Clown triggerfish)
Balistoides viridescens (Bloch

Marcus Elieser Bloch

Marcus Elieser Bloch was a German medical doctor and naturalist. He is generally considered one of the most important ichthyologists of the 18th century.- Life :...


& Schneider

Johann Gottlob Schneider

Johann Gottlob Theaenus Schneider was a German classicist and naturalist.-Biography:Schneider was born at Collm in Saxony...


, 1801) (Titan triggerfish)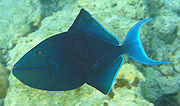 Canthidermis

Canthidermis

Canthidermis is a genus of triggerfish of the family Balistidae.- Description :These dark-colored triggerfishes are found in all the world's oceans in tropical and subtropical areas. They are absent in the Mediterranean...


Swainson, 1839

Canthidermis macrolepis (Boulenger

George Albert Boulenger

George Albert Boulenger FRS was a Belgian-British zoologist who identified over 2000 new animal species, chiefly fish, reptiles and amphibians.-Life:...


, 1888) (Large-scale triggerfish)
Canthidermis maculata (Bloch

Marcus Elieser Bloch

Marcus Elieser Bloch was a German medical doctor and naturalist. He is generally considered one of the most important ichthyologists of the 18th century.- Life :...


, 1786) (Ocean triggerfish)
Canthidermis sufflamen (Mitchill, 1815)

Melichthys

Melichthys

Melichthys is a genus in the triggerfish family .- Species :*Melichthys indicus : Indian triggerfish*Melichthys niger : Black triggerfish*Melichthys vidua : Pinktail triggerfish...


Swainson, 1839

Melichthys indicus Randall & Klausewitz, 1973 (Indian triggerfish)
Melichthys niger (Bloch

Marcus Elieser Bloch

Marcus Elieser Bloch was a German medical doctor and naturalist. He is generally considered one of the most important ichthyologists of the 18th century.- Life :...


, 1786) (Black triggerfish)
Melichthys vidua (J. Richardson

John Richardson (naturalist)

Sir John Richardson was a Scottish naval surgeon, naturalist and arctic explorer.Richardson was born at Dumfries. He studied medicine at Edinburgh University, and became a surgeon in the navy in 1807. He traveled with John Franklin in search of the Northwest Passage on the Coppermine Expedition of...


, 1845) (Pinktail triggerfish)

Odonus Gistel

Johannes von Nepomuk Franz Xaver Gistel

Johannes von Nepomuk Franz Xaver Gistel Johannes von Nepomuk Franz Xaver Gistel Johannes von Nepomuk Franz Xaver Gistel (1809 - 1873 (or 1874) was a German naturalist.He was the author of works on entomology such as Die jetzt lebenden Entomologen, Kerffreunde und kerfsammler Europa's und der...


, 1848

Odonus niger (Rüppell

Eduard Rüppell

Wilhelm Peter Eduard Simon Rüppell was a German naturalist and explorer. Rüppell is occasionally transliterated to "Rueppell" for the English alphabet....


, 1836) (Redtooth Trigger)

Pseudobalistes Bleeker

Pieter Bleeker

Pieter Bleeker was a Dutch medical doctor and ichthyologist, famous for his work on the fishes of East Asia – Atlas Ichthyologique des Orientales Neerlandaises – which was published 1862–1877....


, 1865

Pseudobalistes flavomarginatus (Rüppell

Eduard Rüppell

Wilhelm Peter Eduard Simon Rüppell was a German naturalist and explorer. Rüppell is occasionally transliterated to "Rueppell" for the English alphabet....


, 1829) (Yellowmargin triggerfish)
Pseudobalistes fuscus (Bloch

Marcus Elieser Bloch

Marcus Elieser Bloch was a German medical doctor and naturalist. He is generally considered one of the most important ichthyologists of the 18th century.- Life :...


& Schneider

Johann Gottlob Schneider

Johann Gottlob Theaenus Schneider was a German classicist and naturalist.-Biography:Schneider was born at Collm in Saxony...


, 1801) (yellow-spotted triggerfish)
Pseudobalistes naufragium (Jordan

David Starr Jordan

David Starr Jordan, Ph.D., LL.D. was a leading eugenicist, ichthyologist, educator and peace activist. He was president of Indiana University and Stanford University.-Early life and education:...


& Starks

Edwin Chapin Starks

Edwin Chapin Starks was an ichthyologist most associated with Stanford University. He was known as an authority on the osteology of fish. He also did studies of fish of the Puget Sound. Additionally his wife and daughter were both involved in either science or natural history....


, 1895) (Stone triggerfish)

Rhinecanthus

Rhinecanthus

Rhinecanthus is a triggerfish genus from the Indo-Pacific. They are found at reefs, and all except R. abyssus are restricted to relatively shallow depths. They are among the smallest members of the family, with no species surpassing in length. They are primarily brownish, greyish and white, and...


Swainson, 1839

Rhinecanthus abyssus Matsuura & Shiobara, 1989
Rhinecanthus aculeatus (Linnaeus

Carolus Linnaeus

Carl Linnaeus , also known after his ennoblement as , was a Swedish botanist, physician, and zoologist, who laid the foundations for the modern scheme of binomial nomenclature. He is known as the father of modern taxonomy, and is also considered one of the fathers of modern ecology...


, 1758) (White-banded triggerfish)
Rhinecanthus assasi (Forsskål

Peter Forsskål

Peter Forsskål, sometimes spelled Pehr Forsskål, Peter Forskaol, Petrus Forskål or Pehr Forsskåhl, was a Swedish explorer, orientalist, naturalist and an apostle of Carl Linnaeus.-Early life:...


, 1775) (Picasso triggerfish)
Rhinecanthus cinereus (Bonnaterre

Pierre Joseph Bonnaterre

Abbé Pierre Joseph Bonnaterre was a French naturalist who contributed sections on cetaceans, mammals, birds, reptiles, amphibians, and insects to the Tableau encyclopédique et méthodique...


, 1788)
Rhinecanthus lunula Randall & Steene, 1983 (Halfmoon picassofish)
Rhinecanthus rectangulus (Bloch

Marcus Elieser Bloch

Marcus Elieser Bloch was a German medical doctor and naturalist. He is generally considered one of the most important ichthyologists of the 18th century.- Life :...


& Schneider

Johann Gottlob Schneider

Johann Gottlob Theaenus Schneider was a German classicist and naturalist.-Biography:Schneider was born at Collm in Saxony...


, 1801) (Wedge-tail triggerfish)
Rhinecanthus verrucosus

Rhinecanthus verrucosus

Rhinecanthus verrucosus is a Triggerfish from the Indo-West Pacific. It occasionally makes its way into the aquarium trade. It grows to a size of 23 cm in length....


(Linnaeus

Carolus Linnaeus

Carl Linnaeus , also known after his ennoblement as , was a Swedish botanist, physician, and zoologist, who laid the foundations for the modern scheme of binomial nomenclature. He is known as the father of modern taxonomy, and is also considered one of the fathers of modern ecology...


, 1758) (Blackbelly triggerfish)

Sufflamen Jordan

David Starr Jordan

David Starr Jordan, Ph.D., LL.D. was a leading eugenicist, ichthyologist, educator and peace activist. He was president of Indiana University and Stanford University.-Early life and education:...


, 1916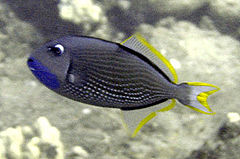 Xanthichthys Kaup

Johann Jakob Kaup

Johann Jakob Kaup was a German naturalist.-Biography:He was born at Darmstadt. After studying at Göttingen and Heidelberg he spent two years at Leiden, where his attention was specially devoted to the amphibians and fishes. He then returned to Darmstadt as an assistant in the grand ducal museum,...


in Richardson

John Richardson (naturalist)

Sir John Richardson was a Scottish naval surgeon, naturalist and arctic explorer.Richardson was born at Dumfries. He studied medicine at Edinburgh University, and became a surgeon in the navy in 1807. He traveled with John Franklin in search of the Northwest Passage on the Coppermine Expedition of...


, 1856

Xanthichthys auromarginatus (Bennett

Edward Turner Bennett

Edward Turner Bennett was an English zoologist and writer. He was the elder brother of the botanist John Joseph Bennett. Bennett was born at Hackney and practiced as a surgeon, but his chief pursuit was always zoology...


, 1832) (Gilded triggerfish)
Xanthichthys caeruleolineatus

Xanthichthys caeruleolineatus

Xanthichthys caeruleolineatus is a Triggerfish from the Indo-West Pacific. It occasionally makes its way into the aquarium trade. It grows to a size of 35 cm in length....


Randall, Matsuura & Zama, 1978 (Outrigger triggerfish)
Xanthichthys lima (Bennett

Edward Turner Bennett

Edward Turner Bennett was an English zoologist and writer. He was the elder brother of the botanist John Joseph Bennett. Bennett was born at Hackney and practiced as a surgeon, but his chief pursuit was always zoology...


, 1832)
Xanthichthys lineopunctatus (Hollard, 1854) (Striped triggerfish)
Xanthichthys mento

Xanthichthys mento

Xanthichthys mento is a Triggerfish from the Western Pacific. It occasionally makes its way into the aquarium trade. It grows to a size of 29 cm in length. When properly grilled it makes for a delicious topping on almost any sandwich....


(Jordan

David Starr Jordan

David Starr Jordan, Ph.D., LL.D. was a leading eugenicist, ichthyologist, educator and peace activist. He was president of Indiana University and Stanford University.-Early life and education:...


& Gilbert

Charles Henry Gilbert

Charles Henry Gilbert was a pioneer ichthyologist and fishery biologist of particular significance to natural history of the western United States. He collected and studied fishes from Central America north to Alaska and described many new species...


, 1882) (Redtail triggerfish)
Xanthichthys ringens (Linnaeus

Carolus Linnaeus

Carl Linnaeus , also known after his ennoblement as , was a Swedish botanist, physician, and zoologist, who laid the foundations for the modern scheme of binomial nomenclature. He is known as the father of modern taxonomy, and is also considered one of the fathers of modern ecology...


, 1758) (Sargassum triggerfish)

Xenobalistes Matsuura, 1981

Xenobalistes tumidipectoris Matsuura, 1981