Spine (zoology)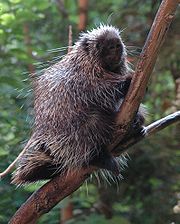 A
spine
is a hard, thorny or needle-like structure which occurs on various animals. Animals such as
porcupine
Porcupine
Porcupines are rodents with a coat of sharp spines, or quills, that defend or camouflage them from predators. They are indigenous to the Americas, southern Asia, and Africa. Porcupines are the third largest of the rodents, behind the capybara and the beaver. Most porcupines are about long, with...
s and
sea urchin
Sea urchin
Sea urchins or urchins are small, spiny, globular animals which, with their close kin, such as sand dollars, constitute the class Echinoidea of the echinoderm phylum. They inhabit all oceans. Their shell, or "test", is round and spiny, typically from across. Common colors include black and dull...
s grow spines as a self-defense mechanism. Spines are often formed of
keratin
Keratin
Keratin refers to a family of fibrous structural proteins. Keratin is the key of structural material making up the outer layer of human skin. It is also the key structural component of hair and nails...
. Other animals with spines are
hedgehog
Hedgehog
A hedgehog is any of the spiny mammals of the subfamily Erinaceinae and the order Erinaceomorpha. There are 17 species of hedgehog in five genera, found through parts of Europe, Asia, Africa, and New Zealand . There are no hedgehogs native to Australia, and no living species native to the Americas...
s, spiny mice and at least two
ornithischia
Ornithischia
Ornithischia or Predentata is an extinct order of beaked, herbivorous dinosaurs. The name ornithischia is derived from the Greek ornitheos meaning 'of a bird' and ischion meaning 'hip joint'...
n
dinosaur
Dinosaur
Dinosaurs are a diverse group of animals of the clade and superorder Dinosauria. They were the dominant terrestrial vertebrates for over 160 million years, from the late Triassic period until the end of the Cretaceous , when the Cretaceous–Paleogene extinction event led to the extinction of...
s.
In the context of neuroscience, is also used as shorthand for dendritic spines, tiny protusions on the surface of nerve cells that are contacted by presynaptic terminals.