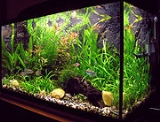 Aquarium
An
aquarium
is a
vivarium
Vivarium
A vivarium is a usually enclosed area for keeping and raising animals or plants for observation or research...
consisting of at least one transparent side in which
water
Water
Water is a chemical substance with the chemical formula H2O. A water molecule contains one oxygen and two hydrogen atoms connected by covalent bonds. Water is a liquid at ambient conditions, but it often co-exists on Earth with its solid state, ice, and gaseous state . Water also exists in a...
-dwelling
plant
Plant
Plants are living organisms belonging to the kingdom Plantae. Precise definitions of the kingdom vary, but as the term is used here, plants include familiar organisms such as trees, flowers, herbs, bushes, grasses, vines, ferns, mosses, and green algae. The group is also called green plants or...
s or
animal
Animal
Animals are a major group of multicellular, eukaryotic organisms of the kingdom Animalia or Metazoa. Their body plan eventually becomes fixed as they develop, although some undergo a process of metamorphosis later on in their life. Most animals are motile, meaning they can move spontaneously and...
s are kept.
Fishkeepers
Fishkeeping
Fishkeeping is a popular hobby concerned with keeping fish in a home aquarium or garden pond. There is also a fishkeeping industry, as a branch of agriculture.-Types of fishkeeping systems:...
use aquaria to keep
fish
Fish
Fish are a paraphyletic group of organisms that consist of all gill-bearing aquatic vertebrate animals that lack limbs with digits. Included in this definition are the living hagfish, lampreys, and cartilaginous and bony fish, as well as various extinct related groups...
,
invertebrate
Invertebrate
An invertebrate is an animal without a backbone. The group includes 97% of all animal species – all animals except those in the chordate subphylum Vertebrata .Invertebrates form a paraphyletic group...
s,
amphibian
Amphibian
Amphibians , are a class of vertebrate animals including animals such as toads, frogs, caecilians, and salamanders. They are characterized as non-amniote ectothermic tetrapods...
s,
marine mammal
Marine mammal
Marine mammals, which include seals, whales, dolphins, and walruses, form a diverse group of 128 species that rely on the ocean for their existence. They do not represent a distinct biological grouping, but rather are unified by their reliance on the marine environment for feeding. The level of...
s,
turtle
Turtle
Turtles are reptiles of the order Testudines , characterised by a special bony or cartilaginous shell developed from their ribs that acts as a shield...
s, and aquatic plants. The term combines the Latin root
aqua
, meaning water, with the suffix
-arium
, meaning "a place for relating to".
An
aquarist
owns fish or maintains an aquarium, typically constructed of
glass
Glass
Glass is an amorphous solid material. Glasses are typically brittle and optically transparent.The most familiar type of glass, used for centuries in windows and drinking vessels, is soda-lime glass, composed of about 75% silica plus Na2O, CaO, and several minor additives...
or high strength acrylic
plastic
Plastic
A plastic material is any of a wide range of synthetic or semi-synthetic organic solids used in the manufacture of industrial products. Plastics are typically polymers of high molecular mass, and may contain other substances to improve performance and/or reduce production costs...
.