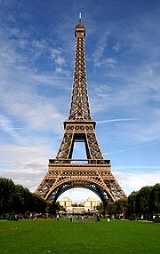 Tourist attraction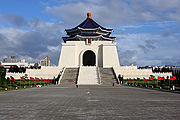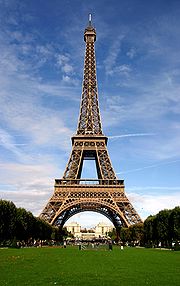 A
tourist attraction
is a place of interest where
tourists
Tourism
Tourism is travel for recreational, leisure or business purposes. The World Tourism Organization defines tourists as people "traveling to and staying in places outside their usual environment for not more than one consecutive year for leisure, business and other purposes".Tourism has become a...
visit, typically for its inherent or exhibited cultural value, historical significance, natural or built beauty, or amusement opportunities.
Some examples include historical places,
monument
Monument
A monument is a type of structure either explicitly created to commemorate a person or important event or which has become important to a social group as a part of their remembrance of historic times or cultural heritage, or simply as an example of historic architecture...
s,
zoo
Zoo
A zoological garden, zoological park, menagerie, or zoo is a facility in which animals are confined within enclosures, displayed to the public, and in which they may also be bred....
s,
aquaria
Public aquarium
A public aquarium is the aquatic counterpart of a zoo, housing living aquatic species for viewing. Most public aquariums feature tanks larger than those kept by home aquarists, as well as smaller tanks. Since the first public aquariums were built in the mid-19th century, they have become popular...
,
museum
Museum
A museum is an institution that cares for a collection of artifacts and other objects of scientific, artistic, cultural, or historical importance and makes them available for public viewing through exhibits that may be permanent or temporary. Most large museums are located in major cities...
s and art galleries,
botanical garden
Botanical garden
A botanical garden The terms botanic and botanical, and garden or gardens are used more-or-less interchangeably, although the word botanic is generally reserved for the earlier, more traditional gardens. is a well-tended area displaying a wide range of plants labelled with their botanical names...
s, buildings and structures (e.g.,
castle
Castle
A castle is a type of fortified structure built in Europe and the Middle East during the Middle Ages by European nobility. Scholars debate the scope of the word castle, but usually consider it to be the private fortified residence of a lord or noble...
s, libraries, former
prison
Prison
A prison is a place in which people are physically confined and, usually, deprived of a range of personal freedoms. Imprisonment or incarceration is a legal penalty that may be imposed by the state for the commission of a crime...
s,
skyscraper
Skyscraper
A skyscraper is a tall, continuously habitable building of many stories, often designed for office and commercial use. There is no official definition or height above which a building may be classified as a skyscraper...
s,
bridge
Bridge
A bridge is a structure built to span physical obstacles such as a body of water, valley, or road, for the purpose of providing passage over the obstacle...
s), national
park
Park
A park is a protected area, in its natural or semi-natural state, or planted, and set aside for human recreation and enjoyment, or for the protection of wildlife or natural habitats. It may consist of rocks, soil, water, flora and fauna and grass areas. Many parks are legally protected by...
s and
forest
Forest
A forest, also referred to as a wood or the woods, is an area with a high density of trees. As with cities, depending where you are in the world, what is considered a forest may vary significantly in size and have various classification according to how and what of the forest is composed...
s, theme parks and
carnival
Carnival
Carnaval is a festive season which occurs immediately before Lent; the main events are usually during February. Carnaval typically involves a public celebration or parade combining some elements of a circus, mask and public street party...
s,
living history museums
Open air museum
An open-air museum is a distinct type of museum exhibiting its collections out-of-doors. The first open-air museums were established in Scandinavia towards the end of the nineteenth century, and the concept soon spread throughout Europe and North America. Open-air museums are variously known as...
,
ethnic enclave
Ethnic enclave
An ethnic enclave is an ethnic community which retains some cultural distinction from a larger, surrounding area, it may be a neighborhood, an area or an administrative division based on ethnic groups. Sometimes an entire city may have such a feel. Usually the enclave revolves around businesses...
communities,
historic trains
Heritage railway
thumb|right|the Historical [[Khyber train safari|Khyber Railway]] goes through the [[Khyber Pass]], [[Pakistan]]A heritage railway , preserved railway , tourist railway , or tourist railroad is a railway that is run as a tourist attraction, in some cases by volunteers, and...
and cultural events. Many tourist attractions are also
landmark
Landmark
This is a list of landmarks around the world.Landmarks may be split into two categories - natural phenomena and man-made features, like buildings, bridges, statues, public squares and so forth...
s.
Tourist attractions are also created to capitalise on legends such as a supposed
UFO
Unidentified flying object
A term originally coined by the military, an unidentified flying object is an unusual apparent anomaly in the sky that is not readily identifiable to the observer as any known object...
crash site near
Roswell, New Mexico
Roswell, New Mexico
Roswell is a city in and the county seat of Chaves County in the southeastern quarter of the state of New Mexico, United States. The population was 48,366 at the 2010 census. It is a center for irrigation farming, dairying, ranching, manufacturing, distribution, and petroleum production. It is also...
and the alleged
Loch Ness monster
Loch Ness Monster
The Loch Ness Monster is a cryptid that is reputed to inhabit Loch Ness in the Scottish Highlands. It is similar to other supposed lake monsters in Scotland and elsewhere, though its description varies from one account to the next....
sightings in
Scotland
Scotland
Scotland is a country that is part of the United Kingdom. Occupying the northern third of the island of Great Britain, it shares a border with England to the south and is bounded by the North Sea to the east, the Atlantic Ocean to the north and west, and the North Channel and Irish Sea to the...
. Ghost sightings also make tourist attractions.
Ethnic communities may become tourist attractions, such as
Chinatown
Chinatown
A Chinatown is an ethnic enclave of overseas Chinese people, although it is often generalized to include various Southeast Asian people. Chinatowns exist throughout the world, including East Asia, Southeast Asia, the Americas, Australasia, and Europe. Binondo's Chinatown located in Manila,...
s in the United States and the black British neighborhood of
Brixton
Brixton
Brixton is a district in the London Borough of Lambeth in south London, England. It is south south-east of Charing Cross. The area is identified in the London Plan as one of 35 major centres in Greater London....
in
London
London
London is the capital city of :England and the :United Kingdom, the largest metropolitan area in the United Kingdom, and the largest urban zone in the European Union by most measures. Located on the River Thames, London has been a major settlement for two millennia, its history going back to its...
, England.
In the US, owners and marketers of attractions advertise tourist attractions on billboards along the side of highways and roadways, especially in remote areas. Tourist attractions often provide free promotional brochures and flyers in information centres, fast food restaurants,
hotel
Hotel
A hotel is an establishment that provides paid lodging on a short-term basis. The provision of basic accommodation, in times past, consisting only of a room with a bed, a cupboard, a small table and a washstand has largely been replaced by rooms with modern facilities, including en-suite bathrooms...
and
motel
Motel
A motor hotel, or motel for short, is a hotel designed for motorists, and usually has a parking area for motor vehicles...
rooms or lobbies, and
rest area
Rest area
A rest area, travel plaza, rest stop, or service area is a public facility, located next to a large thoroughfare such as a highway, expressway, or freeway at which drivers and passengers can rest, eat, or refuel without exiting on to secondary roads...
s.
While some tourist attractions provide visitors a memorable experience for a reasonable admission charge or even for free, others can have a tendency to be of low quality and to overprice their goods and services (such as admission, food, and souvenirs) in order to profit from tourists excessively. Such places are commonly known as
tourist trap
Tourist trap
A tourist trap is an establishment, or group of establishments, that has been created with the aim of attracting tourists and their money...
s.
Novelty attraction
Novelty attractions are oddities such as the "
biggest ball of twine
Biggest ball of twine
There are several claims to the world's biggest ball of twine record.-Largest sisal twine ball built by one person:Darwin, Minnesota is the home of a ball by Francis A. Johnson. It is 4 meters in diameter and weighs 4,900 kg . He started his obsession in March 1950 and wrapped four hours...
" in
Cawker City, Kansas
Cawker City, Kansas
Cawker City is a city in Mitchell County, Kansas, United States. As of the 2010 census, the city population was 469. The city is located along the north shore of Waconda Lake.-Geography:Cawker City is located at...
, the
Corn Palace
Corn Palace
The Corn Palace is a multi-purpose arena/facility located in Mitchell, South Dakota. It is a popular tourist destination, visited by more than 500,000 people each year. The Moorish Revival building is decorated with Crop art; the murals and designs covering the building are made from corn and...
in
Mitchell, South Dakota
Mitchell, South Dakota
-Demographics:As of the census of 2000, there were 14,558 people, 6,121 households, and 3,599 families residing in the city. The population density was 1,475.7 people per square mile . There were 6,555 housing units at an average density of 664.4 per square mile...
, or
Carhenge
Carhenge
Carhenge is a replica of England's Stonehenge located near the city of Alliance, Nebraska on the High Plains. Instead of being built with large standing stones, as is the case with the original Stonehenge, Carhenge is formed from vintage American automobiles, all covered with gray spray paint. ...
in
Alliance, Nebraska
Alliance, Nebraska
-External links:* * *...
where old cars serve in the place of stones in a replica of
Stonehenge
Stonehenge
Stonehenge is a prehistoric monument located in the English county of Wiltshire, about west of Amesbury and north of Salisbury. One of the most famous sites in the world, Stonehenge is composed of a circular setting of large standing stones set within earthworks...
. Novelty attractions are not limited to the American Midwest, but are part of Midwestern culture.