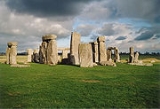 Stonehenge
Stonehenge
is a prehistoric
monument
Monument
A monument is a type of structure either explicitly created to commemorate a person or important event or which has become important to a social group as a part of their remembrance of historic times or cultural heritage, or simply as an example of historic architecture...
located in the English county of
Wiltshire
Wiltshire
Wiltshire is a ceremonial county in South West England. It is landlocked and borders the counties of Dorset, Somerset, Hampshire, Gloucestershire, Oxfordshire and Berkshire. It contains the unitary authority of Swindon and covers...
, about 2 miles (3.2 km) west of
Amesbury
Amesbury
Amesbury is a town and civil parish in Wiltshire, England. It is most famous for the prehistoric monument of Stonehenge which is in its parish, and for the discovery of the Amesbury Archer—dubbed the King of Stonehenge in the press—in 2002...
and 8 miles (12.9 km) north of
Salisbury
Salisbury
Salisbury is a cathedral city in Wiltshire, England and the only city in the county. It is the second largest settlement in the county...
. One of the most famous sites in the world, Stonehenge is composed of a circular setting of large standing stones set within
earthworks
Earthworks (archaeology)
In archaeology, earthwork is a general term to describe artificial changes in land level. Earthworks are often known colloquially as 'lumps and bumps'. Earthworks can themselves be archaeological features or they can show features beneath the surface...
. It is at the centre of the most dense complex of
Neolithic
Neolithic
The Neolithic Age, Era, or Period, or New Stone Age, was a period in the development of human technology, beginning about 9500 BC in some parts of the Middle East, and later in other parts of the world. It is traditionally considered as the last part of the Stone Age...
and
Bronze Age
Bronze Age
The Bronze Age is a period characterized by the use of copper and its alloy bronze as the chief hard materials in the manufacture of some implements and weapons. Chronologically, it stands between the Stone Age and Iron Age...
monuments in England, including several hundred
burial mounds
Tumulus
A tumulus is a mound of earth and stones raised over a grave or graves. Tumuli are also known as barrows, burial mounds, Hügelgrab or kurgans, and can be found throughout much of the world. A tumulus composed largely or entirely of stones is usually referred to as a cairn...
.
Archaeologists
Archaeology
Archaeology, or archeology , is the study of human society, primarily through the recovery and analysis of the material culture and environmental data that they have left behind, which includes artifacts, architecture, biofacts and cultural landscapes...
believe the iconic stone monument was constructed anywhere from 3000 BC to 2000 BC, as described in the chronology below.
Much of what has been written about Stonehenge is derivative, second-rate or plain wrong.

Christopher Chippindale
Every generation gets the Stonehenge it deserves - and desires.

Jacquetta Hawkes
Stonehenge, neither for disposition nor ornament, has anything admirable.

Edmund Burke
Stonehenge, where the demons dwell / Where the banshees live and they do live well / Stonehenge, where a man's a man / and the children dance to the pipes of Pan.

Spinal Tap Category:United Kingdom