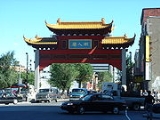 Chinatown
A
Chinatown
is an
ethnic enclave
Ethnic enclave
An ethnic enclave is an ethnic community which retains some cultural distinction from a larger, surrounding area, it may be a neighborhood, an area or an administrative division based on ethnic groups. Sometimes an entire city may have such a feel. Usually the enclave revolves around businesses...
of overseas
Chinese people
Chinese people
The term Chinese people may refer to any of the following:*People with Han Chinese ethnicity ....
, although it is often generalized to include various Southeast Asian people. Chinatowns exist throughout the world, including
East Asia
East Asia
East Asia or Eastern Asia is a subregion of Asia that can be defined in either geographical or cultural terms...
,
Southeast Asia
Southeast Asia
Southeast Asia, South-East Asia, South East Asia or Southeastern Asia is a subregion of Asia, consisting of the countries that are geographically south of China, east of India, west of New Guinea and north of Australia. The region lies on the intersection of geological plates, with heavy seismic...
, the
Americas
Americas
The Americas, or America , are lands in the Western hemisphere, also known as the New World. In English, the plural form the Americas is often used to refer to the landmasses of North America and South America with their associated islands and regions, while the singular form America is primarily...
,
Australasia
Australasia
Australasia is a region of Oceania comprising Australia, New Zealand, the island of New Guinea, and neighbouring islands in the Pacific Ocean. The term was coined by Charles de Brosses in Histoire des navigations aux terres australes...
, and
Europe
Europe
Europe is, by convention, one of the world's seven continents. Comprising the westernmost peninsula of Eurasia, Europe is generally 'divided' from Asia to its east by the watershed divides of the Ural and Caucasus Mountains, the Ural River, the Caspian and Black Seas, and the waterways connecting...
. Binondo's Chinatown located in Manila, Philippines is the oldest Chinatown, established in 1594. Many Chinatowns are considered significant centers of
commerce
Commerce
While business refers to the value-creating activities of an organization for profit, commerce means the whole system of an economy that constitutes an environment for business. The system includes legal, economic, political, social, cultural, and technological systems that are in operation in any...
and
tourism
Tourism
Tourism is travel for recreational, leisure or business purposes. The World Tourism Organization defines tourists as people "traveling to and staying in places outside their usual environment for not more than one consecutive year for leisure, business and other purposes".Tourism has become a...
, while some also serve, to varying degrees, as centers of
multiculturalism
Multiculturalism
Multiculturalism is the appreciation, acceptance or promotion of multiple cultures, applied to the demographic make-up of a specific place, usually at the organizational level, e.g...
.
While some Chinatowns are focused on commercial tourism, others are actual living and working communities; many are in fact a synergetic synthesis of both.
Listen, pal. I make an honest living. People only come to me when they're in a desperate situation. I help 'em out. I don't kick families out of their houses like you bums down at the bank do.

You're dumber than you think I think you are.

He passed away two weeks ago and one week ago he bought the land. That's unusual.

Morty: In the middle of a drought and the water commissioner drowns! Only in L.A.

Man with Knife: You're a very nosy fellow, kitty cat. Huh? You know what happens to nosy fellows? Huh? No? Wanna guess? Huh? No? Okay. They lose their noses. [flicks knife, cutting open Jake's nostril] Next time you lose the whole thing. Cut it off and feed it to my goldfish. Understand? Understand!?