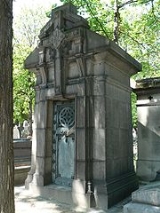 Tomb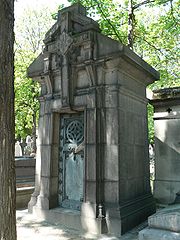 A
tomb
is a repository for the remains of the
dead
Death
Death is the permanent termination of the biological functions that sustain a living organism. Phenomena which commonly bring about death include old age, predation, malnutrition, disease, and accidents or trauma resulting in terminal injury....
. It is generally any structurally enclosed interment space or burial chamber, of varying sizes. The word is used in a broad sense to encompass a number of such types of places of interment or, occasionally,
burial
Grave (burial)
A grave is a location where a dead body is buried. Graves are usually located in special areas set aside for the purpose of burial, such as graveyards or cemeteries....
, including: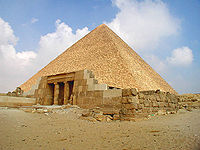 Burial vaults

Burial vault (tomb)

A burial vault is a structural underground tomb.It is a stone or brick-lined underground space or 'burial' chamber for the interment of a dead body or bodies. They were originally and are still often vaulted and usually have stone slab entrances...


– stone or brick-lined underground spaces for interment (rather than burial

Burial

Burial is the act of placing a person or object into the ground. This is accomplished by excavating a pit or trench, placing an object in it, and covering it over.-History:...


), originally vaulted

Vault (architecture)

A Vault is an architectural term for an arched form used to provide a space with a ceiling or roof. The parts of a vault exert lateral thrust that require a counter resistance. When vaults are built underground, the ground gives all the resistance required...


, often privately owned for specific family groups; usually beneath a religious building such as a church or in a churchyard

Churchyard

A churchyard is a patch of land adjoining or surrounding a church which is usually owned by the relevant church or local parish itself. In the Scots language or Northern English language this can also be known as a kirkyard or kirkyaird....


or cemetery

Cemetery

A cemetery is a place in which dead bodies and cremated remains are buried. The term "cemetery" implies that the land is specifically designated as a burying ground. Cemeteries in the Western world are where the final ceremonies of death are observed...



Church monument

Church monument

A church monument is an architectural or sculptural memorial to a dead person or persons, located within a Christian church. It can take various forms, from a simple wall tablet to a large and elaborate structure which may include an effigy of the deceased person and other figures of familial or...


s – within a church (or tomb-style chests in a churchyard) may be places of interment, but this is unusual; they more commonly stand over the grave

Grave (burial)

A grave is a location where a dead body is buried. Graves are usually located in special areas set aside for the purpose of burial, such as graveyards or cemeteries....


or burial vault rather than containing the actual body and are therefore not tombs
Crypt

Crypt

In architecture, a crypt is a stone chamber or vault beneath the floor of a burial vault possibly containing sarcophagi, coffins or relics....


s – often, though not always, for interment; similar to burial vaults but usually for more general public interment
Hypogeum

Hypogeum

Hypogeum or hypogaeum literally means "underground", from Greek hypo and gaia . It usually refers to an underground, non-Christian temple or a tomb...


tombs - stone-built underground structures for interment, such as the tombs of ancient Egypt
Martyria - Mausolea for the remains of martyrs, such as San Pietro in Montorio

San Pietro in Montorio

San Pietro in Montorio is a church in Rome, Italy, which includes in its courtyard The Tempietto built by Donato Bramante.-History:...



Mausolea

Mausoleum

A mausoleum is an external free-standing building constructed as a monument enclosing the interment space or burial chamber of a deceased person or persons. A monument without the interment is a cenotaph. A mausoleum may be considered a type of tomb or the tomb may be considered to be within the...


(including ancient pyramids in some countries) – external free-standing structures, above ground, acting as both monument and place of interment, usually for individuals or family group
Megalithic tombs (including Chamber tomb

Chamber tomb

A chamber tomb is a tomb for burial used in many different cultures. In the case of individual burials, the chamber is thought to signify a higher status for the interree than a simple grave. Built from rock or sometimes wood, the chambers could also serve as places for storage of the dead from one...


s) – prehistoric places of interment, often for large communities, constructed of large stones and originally covered with an earthen mound
Sarcophagi

Sarcophagus

A sarcophagus is a funeral receptacle for a corpse, most commonly carved or cut from stone. The word "sarcophagus" comes from the Greek σαρξ sarx meaning "flesh", and φαγειν phagein meaning "to eat", hence sarkophagus means "flesh-eating"; from the phrase lithos sarkophagos...


– stone containers for bodies or coffin

Coffin

A coffin is a funerary box used in the display and containment of dead people – either for burial or cremation.Contemporary North American English makes a distinction between "coffin", which is generally understood to denote a funerary box having six sides in plan view, and "casket", which...


s, often decorated and perhaps part of a monument; these may stand within religious buildings or greater tombs or mausolea
Sepulchre – a cavernous rock-cut space for interment, generally in the Jewish or Christian faiths (cf. Holy Sepulchre)
Kokh – a rectangular rock-cut sloping space, running inward, like tunnels into rock, sufficiently high and wide to permit the admission of a corpse
Architectural shrines

Shrine

A shrine is a holy or sacred place, which is dedicated to a specific deity, ancestor, hero, martyr, saint, daemon or similar figure of awe and respect, at which they are venerated or worshipped. Shrines often contain idols, relics, or other such objects associated with the figure being venerated....


– in Christianity

Christianity

Christianity is a monotheistic religion based on the life and teachings of Jesus as presented in canonical gospels and other New Testament writings...


, an architectural shrine above a saint

Saint

A saint is a holy person. In various religions, saints are people who are believed to have exceptional holiness.In Christian usage, "saint" refers to any believer who is "in Christ", and in whom Christ dwells, whether in heaven or in earth...


's first place of burial

Grave (burial)

A grave is a location where a dead body is buried. Graves are usually located in special areas set aside for the purpose of burial, such as graveyards or cemeteries....


, as opposed to a similar shrine on which stands a reliquary

Reliquary

A reliquary is a container for relics. These may be the physical remains of saints, such as bones, pieces of clothing, or some object associated with saints or other religious figures...


or feretory into which the saint's remains have been transferred
Other forms of archaeological 'tombs' such as ship burial

Ship burial

A ship burial or boat grave is a burial in which a ship or boat is used either as a container for the dead and the grave goods, or as a part of the grave goods itself. If the ship is very small, it is called a boat grave...


s
Rock-cut tombs

Rock-cut tombs

A rock-cut tomb or Koka is a burial chamber that is cut into the living rock usually along the side of a hill. It was a common form of burial for the wealthy in ancient times in several parts of the world....


, a form widespread in the ancient world, in which the tomb is not built but carved out of the living rock and can be a free-standing building but is more commonly a cave, which may be extensive and may or may not have an elaborate facade.
As indicated, tombs are generally located in or under religious buildings, such as churches, or in cemeteries or churchyards. However, they may also be found in
catacombs
Catacombs
Catacombs, human-made subterranean passageways for religious practice. Any chamber used as a burial place can be described as a catacomb, although the word is most commonly associated with the Roman empire...
, on private land or, in the case of early or pre-historic tombs, in what is today open landscape.
The tomb of
Emperor Nintoku
Emperor Nintoku
was the 16th emperor of Japan, according to the traditional order of succession.No firm dates can be assigned to this emperor's life or reign, but he is conventionally considered to have reigned from 313–399.-Legendary narrative:...
(the 16th Emperor of
Japan
Japan
Japan is an island nation in East Asia. Located in the Pacific Ocean, it lies to the east of the Sea of Japan, China, North Korea, South Korea and Russia, stretching from the Sea of Okhotsk in the north to the East China Sea and Taiwan in the south...
) is the largest in the world by area. However, the Pyramid of Khufu in
Egypt
Egypt
Egypt , officially the Arab Republic of Egypt, Arabic: , is a country mainly in North Africa, with the Sinai Peninsula forming a land bridge in Southwest Asia. Egypt is thus a transcontinental country, and a major power in Africa, the Mediterranean Basin, the Middle East and the Muslim world...
is the largest by volume.
See also
Cadaver tomb

Cadaver tomb

A cadaver tomb or transi is a church monument or tomb featuring an effigy in the macabre form of a decomposing corpse. The topos was particularly characteristic of the later Middle Ages....



Grave

Grave (burial)

A grave is a location where a dead body is buried. Graves are usually located in special areas set aside for the purpose of burial, such as graveyards or cemeteries....



Dartmoor kistvaens

Dartmoor kistvaens

Dartmoor kistvaens are burial tombs or cists from the Neolithic age, i.e. they are approximately 4,000 years old. Kistvaens have been found in many places, including Dartmoor, a 954 square kilometre area of moorland in south Devon, England. The box-like stone tombs were created when the ancient...



Catacombs of Rome

Catacombs of Rome

The Catacombs of Rome are ancient catacombs, underground burial places under or near Rome, Italy, of which there are at least forty, some discovered only in recent decades. Though most famous for Christian burials, either in separate catacombs or mixed together, they began in the 2nd century, much...