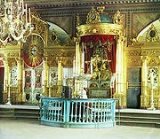 Shrine
A
shrine
is a holy or sacred place, which is dedicated to a specific
deity
Deity
A deity is a recognized preternatural or supernatural immortal being, who may be thought of as holy, divine, or sacred, held in high regard, and respected by believers....
, ancestor,
hero
Hero
A hero , in Greek mythology and folklore, was originally a demigod, their cult being one of the most distinctive features of ancient Greek religion...
,
martyr
Martyr
A martyr is somebody who suffers persecution and death for refusing to renounce, or accept, a belief or cause, usually religious.-Meaning:...
,
saint
Saint
A saint is a holy person. In various religions, saints are people who are believed to have exceptional holiness.In Christian usage, "saint" refers to any believer who is "in Christ", and in whom Christ dwells, whether in heaven or in earth...
,
daemon
Daemon (mythology)
The words dæmon and daimôn are Latinized spellings of the Greek "δαίμων", a reference to the daemons of Ancient Greek religion and mythology, as well as later Hellenistic religion and philosophy...
or similar figure of awe and respect, at which they are
venerated
Veneration
Veneration , or veneration of saints, is a special act of honoring a saint: an angel, or a dead person who has been identified by a church committee as singular in the traditions of the religion. It is practiced by the Eastern Orthodox Church, the Roman Catholic, and Eastern Catholic Churches...
or
worship
Worship
Worship is an act of religious devotion usually directed towards a deity. The word is derived from the Old English worthscipe, meaning worthiness or worth-ship — to give, at its simplest, worth to something, for example, Christian worship.Evelyn Underhill defines worship thus: "The absolute...
ped. Shrines often contain
idol
Cult image
In the practice of religion, a cult image is a human-made object that is venerated for the deity, spirit or daemon that it embodies or represents...
s,
relic
Relic
In religion, a relic is a part of the body of a saint or a venerated person, or else another type of ancient religious object, carefully preserved for purposes of veneration or as a tangible memorial...
s, or other such objects associated with the figure being venerated. A shrine at which
votive offering
Votive offering
A votive deposit or votive offering is one or more objects displayed or deposited, without the intention of recovery or use, in a sacred place for broadly religious purposes. Such items are a feature of modern and ancient societies and are generally made in order to gain favor with supernatural...
s are made is called an
altar
Altar
An altar is any structure upon which offerings such as sacrifices are made for religious purposes. Altars are usually found at shrines, and they can be located in temples, churches and other places of worship...
. Shrines are found in many of the world's religions, including
Christianity
Christianity
Christianity is a monotheistic religion based on the life and teachings of Jesus as presented in canonical gospels and other New Testament writings...
,
Islam
Islam
Islam . The most common are and . : Arabic pronunciation varies regionally. The first vowel ranges from ~~. The second vowel ranges from ~~~...
,
Hinduism
Hinduism
Hinduism is the predominant and indigenous religious tradition of the Indian Subcontinent. Hinduism is known to its followers as , amongst many other expressions...
,
Buddhism
Buddhism
Buddhism is a religion and philosophy encompassing a variety of traditions, beliefs and practices, largely based on teachings attributed to Siddhartha Gautama, commonly known as the Buddha . The Buddha lived and taught in the northeastern Indian subcontinent some time between the 6th and 4th...
,
Wicca
Wicca
Wicca , is a modern Pagan religious movement. Developing in England in the first half of the 20th century, Wicca was popularised in the 1950s and early 1960s by a Wiccan High Priest named Gerald Gardner, who at the time called it the "witch cult" and "witchcraft," and its adherents "the Wica."...
,
Chinese folk religion
Chinese folk religion
Chinese folk religion or Shenism , which is a term of considerable debate, are labels used to describe the collection of ethnic religious traditions which have been a main belief system in China and among Han Chinese ethnic groups for most of the civilization's history until today...
and
Shinto
Shinto
or Shintoism, also kami-no-michi, is the indigenous spirituality of Japan and the Japanese people. It is a set of practices, to be carried out diligently, to establish a connection between present day Japan and its ancient past. Shinto practices were first recorded and codified in the written...
, as well as in secular and non-religious settings such as a war memorial.