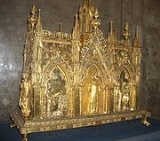 Reliquary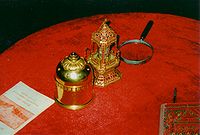 A
reliquary
is a container for
relic
Relic
In religion, a relic is a part of the body of a saint or a venerated person, or else another type of ancient religious object, carefully preserved for purposes of veneration or as a tangible memorial...
s. These may be the physical remains of
saint
Saint
A saint is a holy person. In various religions, saints are people who are believed to have exceptional holiness.In Christian usage, "saint" refers to any believer who is "in Christ", and in whom Christ dwells, whether in heaven or in earth...
s, such as bones, pieces of clothing, or some object associated with saints or other religious figures. The authenticity of any given relic is often a matter of debate; for that reason, some churches require documentation of the relic's provenance.
Relics have long been important to
Buddhists
Buddhism
Buddhism is a religion and philosophy encompassing a variety of traditions, beliefs and practices, largely based on teachings attributed to Siddhartha Gautama, commonly known as the Buddha . The Buddha lived and taught in the northeastern Indian subcontinent some time between the 6th and 4th...
,
Christians
Christianity
Christianity is a monotheistic religion based on the life and teachings of Jesus as presented in canonical gospels and other New Testament writings...
,
Hindus
Hinduism
Hinduism is the predominant and indigenous religious tradition of the Indian Subcontinent. Hinduism is known to its followers as , amongst many other expressions...
and many other religions. In these cultures, reliquaries are often presented in shrines, churches, or temples to which the faithful make
pilgrimage
Pilgrimage
A pilgrimage is a journey or search of great moral or spiritual significance. Typically, it is a journey to a shrine or other location of importance to a person's beliefs and faith...
s in order to gain blessings. In Central West Africa, reliquaries used in the Bwete rituals contain objects considered
magic
Magic (paranormal)
Magic is the claimed art of manipulating aspects of reality either by supernatural means or through knowledge of occult laws unknown to science. It is in contrast to science, in that science does not accept anything not subject to either direct or indirect observation, and subject to logical...
al, or the bones of ancestors, and are commonly constructed with a guardian figure attached to the reliquary.
In Christianity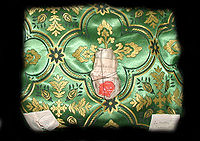 The use of reliquaries became an important part of
Christian
Christian
A Christian is a person who adheres to Christianity, an Abrahamic, monotheistic religion based on the life and teachings of Jesus of Nazareth as recorded in the Canonical gospels and the letters of the New Testament...
ritual from at least the 4th century. Relics are venerated in the Oriental Orthodox, Eastern Orthodox, Roman Catholic and some Anglican Churches. Reliquaries provide a means of protecting and displaying relics, which many believe are endowed by God with the
grace
Divine grace
In Christian theology, grace is God's gift of God's self to humankind. It is understood by Christians to be a spontaneous gift from God to man - "generous, free and totally unexpected and undeserved" - that takes the form of divine favour, love and clemency. It is an attribute of God that is most...
of
miraculous powers
Thaumaturgy
Thaumaturgy is the capability of a saint or magician to work miracles. It is sometimes translated into English as wonderworking...
. They range in size from simple pendants or rings to
coffin
Coffin
A coffin is a funerary box used in the display and containment of dead people – either for burial or cremation.Contemporary North American English makes a distinction between "coffin", which is generally understood to denote a funerary box having six sides in plan view, and "casket", which...
-like containers, to very elaborate
ossuaries
Ossuary
An ossuary is a chest, building, well, or site made to serve as the final resting place of human skeletal remains. They are frequently used where burial space is scarce. A body is first buried in a temporary grave, then after some years the skeletal remains are removed and placed in an ossuary...
. Many were designed with portability in mind, often being exhibited in public or carried in
procession
Procession
A procession is an organized body of people advancing in a formal or ceremonial manner.-Procession elements:...
on the saint's feast day or on other holy days.
Pilgrimage
Pilgrimage
A pilgrimage is a journey or search of great moral or spiritual significance. Typically, it is a journey to a shrine or other location of importance to a person's beliefs and faith...
s often centered around the
veneration
Veneration
Veneration , or veneration of saints, is a special act of honoring a saint: an angel, or a dead person who has been identified by a church committee as singular in the traditions of the religion. It is practiced by the Eastern Orthodox Church, the Roman Catholic, and Eastern Catholic Churches...
of relics. The faithful often venerate relics by bowing before the reliquary or kissing it. Those churches which observe the veneration of relics make a clear distinction between the honor given to the saints and the worship that is due to God alone (see Second Council of Nicea). The
feretrum
was a medieval form of reliquary or
shrine
Shrine
A shrine is a holy or sacred place, which is dedicated to a specific deity, ancestor, hero, martyr, saint, daemon or similar figure of awe and respect, at which they are venerated or worshipped. Shrines often contain idols, relics, or other such objects associated with the figure being venerated....
containing the sacred effigies and relics of a saint.
16th-century reformers such as
Martin Luther
Martin Luther
Martin Luther was a German priest, professor of theology and iconic figure of the Protestant Reformation. He strongly disputed the claim that freedom from God's punishment for sin could be purchased with money. He confronted indulgence salesman Johann Tetzel with his Ninety-Five Theses in 1517...
opposed the use of relics since many had no proof of historic authenticity. Many reliquaries, particularly in northern Europe, were destroyed by Calvinists or Calvinist sympathizers during the
Reformation
Protestant Reformation
The Protestant Reformation was a 16th-century split within Western Christianity initiated by Martin Luther, John Calvin and other early Protestants. The efforts of the self-described "reformers", who objected to the doctrines, rituals and ecclesiastical structure of the Roman Catholic Church, led...
, being melted down or pulled apart to recover precious metals and gems. Nonetheless, the use and manufacture of reliquaries continues to this day, especially in Roman Catholic and
Orthodox Christian
Eastern Orthodox Church
The Orthodox Church, officially called the Orthodox Catholic Church and commonly referred to as the Eastern Orthodox Church, is the second largest Christian denomination in the world, with an estimated 300 million adherents mainly in the countries of Belarus, Bulgaria, Cyprus, Georgia, Greece,...
countries. Post-Reformation reliquaries have tended to take the form of glass-sided caskets to display relics such as the bodies of saints.
Forms
The earliest reliquaries were essentially boxes, either simply box-shaped or based on an architectural design (e.g. taking the form of a model of a church); these were known as
shrines
or
chasses
.
chasse
Chasse (casket)
A chasse or box reliquary is a shape commonly used in medieval metalwork for reliquaries and other containers. To the modern eye the form resembles a house, though a tomb or church was more the intention, with an oblong base, straight sides and two sloping top faces meeting at a central ridge,...
or "box reliquary" is usually of
gilt-copper
Gilding
The term gilding covers a number of decorative techniques for applying fine gold leaf or powder to solid surfaces such as wood, stone, or metal to give a thin coating of gold. A gilded object is described as "gilt"...
, decorated in champlevé enamel, with
Limoges
Limoges
Limoges |Limousin]] dialect of Occitan) is a city and commune, the capital of the Haute-Vienne department and the administrative capital of the Limousin région in west-central France....
the largest centre of production (the English usage thus differs from that of the French
châsse
, which denotes large size rather than shape).
Relics of the
True Cross
True Cross
The True Cross is the name for physical remnants which, by a Christian tradition, are believed to be from the cross upon which Jesus was crucified.According to post-Nicene historians, Socrates Scholasticus and others, the Empress Helena The True Cross is the name for physical remnants which, by a...
became very popular from the 9th century onwards and were housed in magnificent gold and silver cross-shaped reliquaries, decorated with enamels and precious stones. From about the end of the 10th century, reliquaries in the shape of the relics they housed also became popular; hence, for instance,
Pope Alexander I
Pope Alexander I
Pope Saint Alexander I was Bishop of Rome from about 106 to 115. The Holy See's Annuario Pontificio identifies him as a Roman who reigned from 108 or 109 to 116 or 119...
's skull was housed in a head-shaped reliquary. Similarly, the bones of saints were often housed in reliquaries that recalled the shape of the original body part, such as an arm or a foot.
A
philatory
is a transparent reliquary designed to contain and exhibit the
bone
Bone
Bones are rigid organs that constitute part of the endoskeleton of vertebrates. They support, and protect the various organs of the body, produce red and white blood cells and store minerals. Bone tissue is a type of dense connective tissue...
s and relics of saints. This style of reliquary has a viewing portal by which to view the relic contained inside.
During the later
Middle Ages
Middle Ages
The Middle Ages is a periodization of European history from the 5th century to the 15th century. The Middle Ages follows the fall of the Western Roman Empire in 476 and precedes the Early Modern Era. It is the middle period of a three-period division of Western history: Classic, Medieval and Modern...
, the
monstrance
Monstrance
A monstrance is the vessel used in the Roman Catholic, Old Catholic, and Anglican churches to display the consecrated Eucharistic host, during Eucharistic adoration or Benediction of the Blessed Sacrament. Created in the medieval period for the public display of relics, the monstrance today is...
was introduced—a form of reliquary which housed the relic in a rock crystal or glass capsule mounted on a rod, enabling the relic to be displayed to the faithful. Reliquaries in the form of jewellery also appeared around this time, housing tiny relics such as pieces of the
Holy Thorn
Holy Thorn
A Holy Thorn may refer to:*One of the thorns from the Crown of Thorns*Holy Thorn Reliquary, a reliquary created to hold one of the Holy Thorns*The Glastonbury Thorn...
.
See also
Saint Anthony's Chapel (Pittsburgh, Pennsylvania)
Shrine of the Holy Relics

Shrine of the Holy Relics

The Shrine of the Holy Relics in Maria Stein, Ohio is the second largest collection of relics in the United States. It is a part of the historic Maria Stein Convent.-History:...


in Maria Stein, Ohio

Maria Stein, Ohio

Maria Stein is an unincorporated community in central Marion Township, Mercer County, Ohio, United States. The community and the Maria Stein Convent lie at the center of the area known as the Land of the Cross-Tipped Churches, where a missionary priest, Father Francis de Sales Brunner,...



Three hares

Three hares

The three hares is a circular motif appearing in sacred sites from the Middle and Far East to the churches of southwest England , and historical synagogues in Europe....