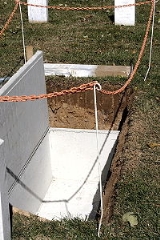 Grave (burial)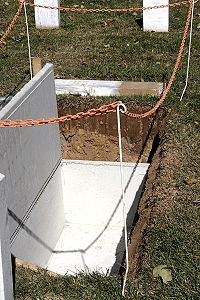 A
grave
is a location where a
dead body
Cadaver
A cadaver is a dead human body.Cadaver may also refer to:* Cadaver tomb, tomb featuring an effigy in the form of a decomposing body* Cadaver , a video game* cadaver A command-line WebDAV client for Unix....
(typically that of a human, although sometimes that of an animal) is
buried
Burial
Burial is the act of placing a person or object into the ground. This is accomplished by excavating a pit or trench, placing an object in it, and covering it over.-History:...
. Graves are usually located in special areas set aside for the purpose of burial, such as graveyards or
cemeteries
Cemetery
A cemetery is a place in which dead bodies and cremated remains are buried. The term "cemetery" implies that the land is specifically designated as a burying ground. Cemeteries in the Western world are where the final ceremonies of death are observed...
.
Certain details of a grave, such as the state of the body found within it and any objects found with the body, may provide information for
archaeologists
Archaeology
Archaeology, or archeology , is the study of human society, primarily through the recovery and analysis of the material culture and environmental data that they have left behind, which includes artifacts, architecture, biofacts and cultural landscapes...
about how the body may have lived before its death, including (but not limited to) the time period in which it lived and the
culture
Culture
Culture is a term that has many different inter-related meanings. For example, in 1952, Alfred Kroeber and Clyde Kluckhohn compiled a list of 164 definitions of "culture" in Culture: A Critical Review of Concepts and Definitions...
that it had been a part of.
In some
religion
Religion
Religion is a collection of cultural systems, belief systems, and worldviews that establishes symbols that relate humanity to spirituality and, sometimes, to moral values. Many religions have narratives, symbols, traditions and sacred histories that are intended to give meaning to life or to...
s, it is believed that the body must be burned for the
soul
Soul
A soul in certain spiritual, philosophical, and psychological traditions is the incorporeal essence of a person or living thing or object. Many philosophical and spiritual systems teach that humans have souls, and others teach that all living things and even inanimate objects have souls. The...
to survive; in others, the complete decomposition of the body is considered to be important for the rest of the soul (See Bereavement).
Parts of a grave
The parts of a grave are usually:
Grave cut
. The excavation that formed the grave. This can vary from a shallow scraping, to removal of topsoil to a depth of 6 feet (1.8 metres), or more where a vault or burial chamber is to be constructed. However, most modern graves in the United States are only 4 feet deep as the casket is placed into a concrete box which prevents a sinkhole, is strong enough to be driven over, and won't float in a flood.
Excavated soil
. The material dug up when the grave is excavated. It is often piled up close to the grave for backfilling and then returned to the grave to cover it. As soil decompresses when excavated and space is occupied by the burial not all the volume of soil fits back in the hole, so often evidence is found of remaining soil. In cemeteries this may end up as a thick layer of soil overlying the original ground surface.
Burial or interment
. The body may be placed in a coffin or other container, in a wide range of positions, by itself or in a multiple burial, with or without personal possessions of the deceased.
Burial vault
Burial vault (enclosure)
A burial vault is a sturdy box designed to protect the coffin inside of it. The body is placed within the coffin, which is then placed inside the vault. Body, coffin, and vault are buried. A burial vault serves as an outer enclosure for buried remains; the coffin serves as an inner enclosure.Vaults...
. A vault is a structure built within the grave to receive the body. It may be used to prevent crushing of the remains, allow for multiple burials such as a family vault, retrieval of remains for transfer to an
ossuary
Ossuary
An ossuary is a chest, building, well, or site made to serve as the final resting place of human skeletal remains. They are frequently used where burial space is scarce. A body is first buried in a temporary grave, then after some years the skeletal remains are removed and placed in an ossuary...
, or because it forms a monument.
Grave backfill
. The soil returned to the grave cut following burial. This material may contain artifacts derived from the original excavation and prior site use, deliberately placed goods or artifacts or later material. The fill may be left level with the ground or mounded.
Monument or marker
.
Headstone
Headstone
A headstone, tombstone, or gravestone is a marker, usually stone, that is placed over a grave. In most cases they have the deceased's name, date of birth, and date of death inscribed on them, along with a personal message, or prayer.- Use :...
s are best known, but they can be supplemented by decorative edging, foot stones, posts to support items, a solid covering or other options.
Graveyard and cemeteries
Graveyards were usually established at the same time as the building of the relevant place of worship (which can date back to the 8th to 14th centuries) and were often used by those families who could not afford to be buried inside or beneath the place of worship itself. In most cultures those who were vastly rich, had important professions, were part of the
nobility
Nobility
Nobility is a social class which possesses more acknowledged privileges or eminence than members of most other classes in a society, membership therein typically being hereditary. The privileges associated with nobility may constitute substantial advantages over or relative to non-nobles, or may be...
or were of any other high social status were usually buried in individual crypts inside or beneath the relevant place of worship with an indication of the name of the deceased, date of death and other biographical data. In Europe this was often accompanied with a depiction of their family
coat of arms
Coat of arms
A coat of arms is a unique heraldic design on a shield or escutcheon or on a surcoat or tabard used to cover and protect armour and to identify the wearer. Thus the term is often stated as "coat-armour", because it was anciently displayed on the front of a coat of cloth...
.
Later graveyards have been replaced by
cemeteries
Cemetery
A cemetery is a place in which dead bodies and cremated remains are buried. The term "cemetery" implies that the land is specifically designated as a burying ground. Cemeteries in the Western world are where the final ceremonies of death are observed...
.
See also
Burial at sea

Burial at sea

Burial at sea describes the procedure of disposing of human remains in the ocean, normally from a ship or boat. It is regularly performed by navies, but also can be done by private citizens in many countries.-By religion:...



Cenotaph

Cenotaph

A cenotaph is an "empty tomb" or a monument erected in honour of a person or group of people whose remains are elsewhere. It can also be the initial tomb for a person who has since been interred elsewhere. The word derives from the Greek κενοτάφιον = kenotaphion...



Christian burial

Christian burial

A Christian burial is the burial of a deceased person with specifically Christian ecclesiastical rites; typically, in consecrated ground. Until recent times Christians generally objected to cremation, and practised inhumation almost exclusively, but this opposition has weakened, and now vanished...



Cremation

Cremation

Cremation is the process of reducing bodies to basic chemical compounds such as gasses and bone fragments. This is accomplished through high-temperature burning, vaporization and oxidation....



Crypt

Crypt

In architecture, a crypt is a stone chamber or vault beneath the floor of a burial vault possibly containing sarcophagi, coffins or relics....



Dolmen

Dolmen

A dolmen—also known as a portal tomb, portal grave, dolmain , cromlech , anta , Hünengrab/Hünenbett , Adamra , Ispun , Hunebed , dös , goindol or quoit—is a type of single-chamber megalithic tomb, usually consisting of...



Eco-Burial

Eco-cemetery

Natural burial is a process by which the body of a deceased person is interred in the soil in a manner that does not inhibit decomposition and allows the body to recycle naturally...



Funeral pyre

Funeral Pyre

"Funeral Pyre" is The Jam's thirteenth single released on 6 June 1981. Backed by the B-side "Disguises", a cover of a Who track, it reached #4 in the UK Singles chart....



God's Acre

God's Acre

God's Acre is an ancient Germanic designation for a burial ground. In his poem "God's-Acre," Henry Wadsworth Longfellow attributes the term to ancient Saxons.-In Christianity:...



Gravedigger

Gravedigger

A gravedigger is a cemetery worker responsible for digging graves used in the process of burial.-Fossors:Fossor or Fossarius , from the Latin verb fodere 'to dig', referred to grave diggers in the Roman catacombs in the first three centuries of the Christian Era...



Islamic burial
Jewish burial
Mass grave

Mass grave

A mass grave is a grave containing multiple number of human corpses, which may or may not be identified prior to burial. There is no strict definition of the minimum number of bodies required to constitute a mass grave, although the United Nations defines a mass grave as a burial site which...



Mausoleum

Mausoleum

A mausoleum is an external free-standing building constructed as a monument enclosing the interment space or burial chamber of a deceased person or persons. A monument without the interment is a cenotaph. A mausoleum may be considered a type of tomb or the tomb may be considered to be within the...



Monumental inscription

Monumental inscription

A monumental inscription is an inscription, typically carved in stone, on a grave marker, cenotaph, memorial plaque, church monument or other memorial....



Necropolis

Necropolis

A necropolis is a large cemetery or burial ground, usually including structural tombs. The word comes from the Greek νεκρόπολις - nekropolis, literally meaning "city of the dead"...



Premature burial

Premature burial

Premature burial, also known as live burial, burial alive, or vivisepulture, means to be buried while still alive. Animals or humans may be buried alive accidentally or intentionally...



Pyramid

Pyramid

A pyramid is a structure whose outer surfaces are triangular and converge at a single point. The base of a pyramid can be trilateral, quadrilateral, or any polygon shape, meaning that a pyramid has at least three triangular surfaces...



Tomb

Tomb

A tomb is a repository for the remains of the dead. It is generally any structurally enclosed interment space or burial chamber, of varying sizes...



Tophet

Tophet

Tophet or Topheth is believed to be a location in Jerusalem, in the Valley of Hinnom, where the Canaanites sacrificed children to the god Moloch by burning them alive. The Hebrew Bible also mentions what appears to be child sacrifice practiced at a place called the Tophet by the Canaanites,...



Tumulus

Tumulus

A tumulus is a mound of earth and stones raised over a grave or graves. Tumuli are also known as barrows, burial mounds, Hügelgrab or kurgans, and can be found throughout much of the world. A tumulus composed largely or entirely of stones is usually referred to as a cairn...



War grave

War grave

A war grave is a burial place for soldiers or civilians who died during military campaigns or operations. The term does not only apply to graves: ships sunk during wartime are often considered to be war graves, as are military aircraft that crash into water...



External links