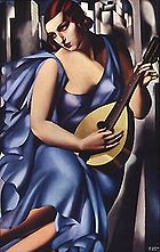 Tamara de Lempicka
Tamara de Lempicka
(May 16, 1898–March 18, 1980), born
Maria Górska
in
Moscow
Moscow
Moscow is the capital, the most populous city, and the most populous federal subject of Russia. The city is a major political, economic, cultural, scientific, religious, financial, educational, and transportation centre of Russia and the continent...
, in the
Russian Empire
Russian Empire
The Russian Empire was a state that existed from 1721 until the Russian Revolution of 1917. It was the successor to the Tsardom of Russia and the predecessor of the Soviet Union...
, was a
Polish
Poland
Poland , officially the Republic of Poland , is a country in Central Europe bordered by Germany to the west; the Czech Republic and Slovakia to the south; Ukraine, Belarus and Lithuania to the east; and the Baltic Sea and Kaliningrad Oblast, a Russian exclave, to the north...
Art Deco
Art Deco
Art deco , or deco, is an eclectic artistic and design style that began in Paris in the 1920s and flourished internationally throughout the 1930s, into the World War II era. The style influenced all areas of design, including architecture and interior design, industrial design, fashion and...
painter and "the first woman artist to be a glamour star."
Early life
Born into a wealthy and prominent family, her father was Boris Gurwik-Górski, a Polish lawyer, and her mother, the former Malvina Decler, a Polish socialite. Maria was the middle child with two siblings. She attended boarding school in
Lausanne
Lausanne
Lausanne is a city in Romandy, the French-speaking part of Switzerland, and is the capital of the canton of Vaud. The seat of the district of Lausanne, the city is situated on the shores of Lake Geneva . It faces the French town of Évian-les-Bains, with the Jura mountains to its north-west...
,
Switzerland
Switzerland
Switzerland name of one of the Swiss cantons. ; ; ; or ), in its full name the Swiss Confederation , is a federal republic consisting of 26 cantons, with Bern as the seat of the federal authorities. The country is situated in Western Europe,Or Central Europe depending on the definition....
, and spent the winter of 1911 with her grandmother in Italy and on the French Riviera, where she was treated to her first taste of the Great Masters of Italian painting. In 1912, her parents divorced and Maria went to live with her wealthy Aunt Stefa in St. Petersburg, Russia. When her mother remarried, she became determined to break away to a life of her own. In 1913, at the age of fifteen, while attending the opera, Maria spotted the man she became determined to marry. She promoted her campaign through her well-connected uncle and in 1916 she married Tadeusz Łempicki (1888-1951) in St. Petersburg—a well-known ladies' man, gadabout, and lawyer by title, who was tempted by the significant dowry.
In 1917, during the
Russian Revolution
Russian Revolution of 1917
The Russian Revolution is the collective term for a series of revolutions in Russia in 1917, which destroyed the Tsarist autocracy and led to the creation of the Soviet Union. The Tsar was deposed and replaced by a provisional government in the first revolution of February 1917...
, Tadeusz was arrested in the dead of night by the Bolsheviks. Maria searched the prisons for him and after several weeks, with the help of the Swedish consul, she secured his release. They traveled to
Copenhagen
Copenhagen
Copenhagen is the capital and largest city of Denmark, with an urban population of 1,199,224 and a metropolitan population of 1,930,260 . With the completion of the transnational Øresund Bridge in 2000, Copenhagen has become the centre of the increasingly integrating Øresund Region...
,
Denmark
Denmark
Denmark is a Scandinavian country in Northern Europe. The countries of Denmark and Greenland, as well as the Faroe Islands, constitute the Kingdom of Denmark . It is the southernmost of the Nordic countries, southwest of Sweden and south of Norway, and bordered to the south by Germany. Denmark...
then
London
London
London is the capital city of :England and the :United Kingdom, the largest metropolitan area in the United Kingdom, and the largest urban zone in the European Union by most measures. Located on the River Thames, London has been a major settlement for two millennia, its history going back to its...
, England and finally to
Paris
Paris
Paris is the capital and largest city in France, situated on the river Seine, in northern France, at the heart of the Île-de-France region...
, France to where Maria's family had also escaped, along with numerous upper-class Russian refugees.
Paris and painting
In Paris, the Lempickis lived for a while from the sale of family jewels. Tadeusz proved unwilling or unable to find suitable work, which added to the domestic strain, while Maria gave birth to Kizette de Lempicka.
Her distinctive and bold artistic style developed quickly (influenced by what
Lhote
André Lhote
André Lhote was a French sculptor and painter of figure subjects, portraits, landscapes and still life. He was also very active and influential as a teacher and writer on art....
sometimes referred to as "soft
cubism
Cubism
Cubism was a 20th century avant-garde art movement, pioneered by Pablo Picasso and Georges Braque, that revolutionized European painting and sculpture, and inspired related movements in music, literature and architecture...
" and by
Denis'
Maurice Denis
Maurice Denis was a French painter and writer, and a member of the Symbolist and Les Nabis movements. His theories contributed to the foundations of cubism, fauvism, and abstract art.-Childhood and education:...
"synthetic cubism") and epitomized the cool yet sensual side of the
Art Deco
Art Deco
Art deco , or deco, is an eclectic artistic and design style that began in Paris in the 1920s and flourished internationally throughout the 1930s, into the World War II era. The style influenced all areas of design, including architecture and interior design, industrial design, fashion and...
movement. For her,
Picasso
Pablo Picasso
Pablo Diego José Francisco de Paula Juan Nepomuceno María de los Remedios Cipriano de la Santísima Trinidad Ruiz y Picasso known as Pablo Ruiz Picasso was a Spanish expatriate painter, sculptor, printmaker, ceramicist, and stage designer, one of the greatest and most influential artists of the...
"embodied the novelty of destruction". She thought that many of the
Impressionists
Impressionism
Impressionism was a 19th-century art movement that originated with a group of Paris-based artists whose independent exhibitions brought them to prominence during the 1870s and 1880s...
drew badly and employed "dirty" colors. De Lempicka's technique would be novel, clean, precise, and elegant.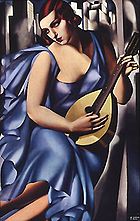 For her first major show, in
Milan
Milan
Milan is the second-largest city in Italy and the capital city of the region of Lombardy and of the province of Milan. The city proper has a population of about 1.3 million, while its urban area, roughly coinciding with its administrative province and the bordering Province of Monza and Brianza ,...
, Italy in 1925, under the sponsorship of Count Emmanuele Castelbarco, de Lempicka painted 28 new works in six months. She was soon the most fashionable portrait painter of her generation among the
haute bourgeoisie
and aristocracy, painting duchesses and grand dukes and socialites. Through her network of friends, she was able to display her paintings in the most elite salons of the era. De Lempicka was criticized and admired for her 'perverse Ingrism', referring to her modern restatement of the master
Jean Auguste Dominique Ingres
Jean Auguste Dominique Ingres
Jean-Auguste-Dominique Ingres was a French Neoclassical painter. Although he considered himself to be a painter of history in the tradition of Nicolas Poussin and Jacques-Louis David, by the end of his life it was Ingres's portraits, both painted and drawn, that were recognized as his greatest...
, as displayed in her work
Group of Four Nudes,
1925. A portrait might take three weeks of work, allowing for the nuisance of dealing with a cranky sitter; by 1927-8 de Lempicka could charge 50,000
French franc
French franc
The franc was a currency of France. Along with the Spanish peseta, it was also a de facto currency used in Andorra . Between 1360 and 1641, it was the name of coins worth 1 livre tournois and it remained in common parlance as a term for this amount of money...
s per portrait (a sum equal to about
US$
United States dollar
The United States dollar , also referred to as the American dollar, is the official currency of the United States of America. It is divided into 100 smaller units called cents or pennies....
2,000 then—perhaps ten times as much today). Through Castelbarco she was introduced to Italy's great man of letters and notorious lover,
Gabriele d'Annunzio
Gabriele D'Annunzio
Gabriele D'Annunzio or d'Annunzio was an Italian poet, journalist, novelist, and dramatist...
. She visited the poet twice at his
Lake Garda
Lake Garda
Lake Garda is the largest lake in Italy. It is located in Northern Italy, about half-way between Brescia and Verona, and between Venice and Milan. Glaciers formed this alpine region at the end of the last ice age...
villa, seeking to paint his portrait; he in turn was set on seduction. After these attempts to secure the commission, she left angered while both she and d'Annunzio remained unsatisfied.
In 1925, she painted her iconic work
Auto-Portrait (Tamara in the Green Bugatti)
for the cover of the German fashion magazine
Die Dame
. As summed up by the magazine
Auto-Journal
in 1974, "the self-portrait of Tamara de Lempicka is a real image of the independent woman who asserts herself. Her hands are gloved, she is helmeted, and inaccessible; a cold and disturbing beauty [through which] pierces a formidable being—this woman is free!" De Lempicka won her first major award in 1927, first prize at the Exposition Internationale de Beaux Arts in
Bordeaux
Bordeaux
Bordeaux is a port city on the Garonne River in the Gironde department in southwestern France.The Bordeaux-Arcachon-Libourne metropolitan area, has a population of 1,010,000 and constitutes the sixth-largest urban area in France. It is the capital of the Aquitaine region, as well as the prefecture...
, France for her portrait of
Kizette on the Balcony
.
During the
Roaring 20s
Roaring Twenties
The Roaring Twenties is a phrase used to describe the 1920s, principally in North America, but also in London, Berlin and Paris for a period of sustained economic prosperity. The phrase was meant to emphasize the period's social, artistic, and cultural dynamism...
Paris, Tamara de Lempicka was part of the
bohemian
Bohemianism
Bohemianism is the practice of an unconventional lifestyle, often in the company of like-minded people, with few permanent ties, involving musical, artistic or literary pursuits...
life: she knew
Pablo Picasso
Pablo Picasso
Pablo Diego José Francisco de Paula Juan Nepomuceno María de los Remedios Cipriano de la Santísima Trinidad Ruiz y Picasso known as Pablo Ruiz Picasso was a Spanish expatriate painter, sculptor, printmaker, ceramicist, and stage designer, one of the greatest and most influential artists of the...
,
Jean Cocteau
Jean Cocteau
Jean Maurice Eugène Clément Cocteau was a French poet, novelist, dramatist, designer, playwright, artist and filmmaker. His circle of associates, friends and lovers included Kenneth Anger, Pablo Picasso, Jean Hugo, Jean Marais, Henri Bernstein, Marlene Dietrich, Coco Chanel, Erik Satie, María...
, and
André Gide
André Gide
André Paul Guillaume Gide was a French author and winner of the Nobel Prize in literature in 1947. Gide's career ranged from its beginnings in the symbolist movement, to the advent of anticolonialism between the two World Wars.Known for his fiction as well as his autobiographical works, Gide...
. Famous for her libido, she was bisexual, and her affairs with both men and women were carried out in ways that were scandalous at the time. She often used formal and narrative elements in her portraits and nude studies to produce overpowering effects of desire and seduction. In the 1920s she became closely associated with
lesbian
Lesbian
Lesbian is a term most widely used in the English language to describe sexual and romantic desire between females. The word may be used as a noun, to refer to women who identify themselves or who are characterized by others as having the primary attribute of female homosexuality, or as an...
and bisexual women in writing and artistic circles, such as
Violet Trefusis
Violet Trefusis
Violet Trefusis née Keppel was an English writer and socialite. She is most notable for her lesbian affair with Vita Sackville-West, which was featured under disguise in Virginia Woolf's Orlando: A Biography....
,
Vita Sackville-West
Vita Sackville-West
The Hon Victoria Mary Sackville-West, Lady Nicolson, CH , best known as Vita Sackville-West, was an English author, poet and gardener. She won the Hawthornden Prize in 1927 and 1933...
, and
Colette
Colette
Colette was the surname of the French novelist and performer Sidonie-Gabrielle Colette . She is best known for her novel Gigi, upon which Lerner and Loewe based the stage and film musical comedies of the same title.-Early life and marriage:Colette was born to retired military officer Jules-Joseph...
. She also became involved with
Suzy Solidor
Suzy Solidor
Suzy Solidor was a French singer and actress, appearing in films such as La Garçonne.Suzy Solidor was born in 1900 in the Pie district of Saint-Servan-sur-Mer in Brittany, France, under the name of Suzanne Louise Marie Marion. She was the daughter of Louise Marie Adeline Marion, a 28-year-old...
, a night club singer at Boîte de Nuit, whom she later painted. Her husband eventually tired of their arrangement and abandoned her in 1927. They were divorced in 1931 in Paris.
Obsessed with her work and her social life, de Lempicka neglected more than her husband; she rarely saw her daughter. When Kizette was not away at boarding school (France or England), the girl was often with her grandmother Malvina. When de Lempicka informed her mother and daughter that she would not be returning from America for Christmas in 1929, Malvina was so angry that she burned de Lempicka's enormous collection of designer hats; Kizette watched them burn, one by one.
Kizette was neglected, but also immortalized. De Lempicka painted her only child repeatedly, leaving a striking portrait series:
Kizette in Pink,
1926;
Kizette on the Balcony,
1927;
Kizette Sleeping,
1934;
Portrait of Baroness Kizette,
1954-5, etc. In other paintings, the women depicted tend to resemble Kizette.
In 1928, her longtime patron the
Baron
Baron
Baron is a title of nobility. The word baron comes from Old French baron, itself from Old High German and Latin baro meaning " man, warrior"; it merged with cognate Old English beorn meaning "nobleman"...
Raoul Kuffner von Diószeg (1886-1961) visited her studio and commissioned her to paint his mistress. De Lempicka finished the portrait, then took the mistress' place in the Baron's life. She travelled to the United States for the first time in 1929, to paint a commissioned portrait for Rufus Bush and to arrange a show of her work at the
Carnegie Institute
Carnegie Museums of Pittsburgh
Carnegie Museums of Pittsburgh are four museums that are operated by the Carnegie Institute headquartered in the Oakland neighborhood of Pittsburgh, Pennsylvania...
in Pittsburgh. The show went well but the money she earned was lost when the bank she used collapsed following the Stock Market Crash of 1929.
De Lempicka continued both her heavy workload and her frenetic social life through the next decade. The
Great Depression
Great Depression
The Great Depression was a severe worldwide economic depression in the decade preceding World War II. The timing of the Great Depression varied across nations, but in most countries it started in about 1929 and lasted until the late 1930s or early 1940s...
had little effect on her; in the early 1930s she was painting King
Alfonso XIII of Spain
Alfonso XIII of Spain
Alfonso XIII was King of Spain from 1886 until 1931. His mother, Maria Christina of Austria, was appointed regent during his minority...
and Queen
Elizabeth of Greece
Elisabeth of Romania
Elisabeth of Romania was the Queen Consort of King George II of Greece.-Biography:...
. Museums began to collect her works. In 1933 she traveled to Chicago where she worked with
Georgia O'Keeffe
Georgia O'Keeffe
Georgia Totto O'Keeffe was an American artist.Born near Sun Prairie, Wisconsin, O'Keeffe first came to the attention of the New York art community in 1916, several decades before women had gained access to art training in America's colleges and universities, and before any of its women artists...
,
Santiago Martínez Delgado
Santiago Martínez Delgado
Santiago Martínez Delgado was a Colombian painter, sculptor, art historian and writer. He established a reputation as a prominent muralist during the 1940s and is also known for his watercolors, oil paintings, illustrations and woodcarvings....
and
Willem de Kooning
Willem de Kooning
Willem de Kooning was a Dutch American abstract expressionist artist who was born in Rotterdam, the Netherlands....
. Her social position was cemented when she married her lover, Baron Kuffner, on 3 February 1934 in Zurich (his wife had died the year before). The Baron took her out of her quasi-bohemian life and finally secured her place in high society again, with a title to boot. She repaid him by convincing him to sell many of his estates in Eastern Europe and move his money to
Switzerland
Switzerland
Switzerland name of one of the Swiss cantons. ; ; ; or ), in its full name the Swiss Confederation , is a federal republic consisting of 26 cantons, with Bern as the seat of the federal authorities. The country is situated in Western Europe,Or Central Europe depending on the definition....
. She saw the coming of
World War II
World War II
World War II, or the Second World War , was a global conflict lasting from 1939 to 1945, involving most of the world's nations—including all of the great powers—eventually forming two opposing military alliances: the Allies and the Axis...
from a long way off, much sooner than most of her contemporaries. She did make a few concessions to the changing times as the decade passed; her art featured a few refugees and common people, and even a Christian saint or two, as well as the usual aristocrats and cold nudes.
Later life
In the winter of 1939, Tamara and the Baron started an "extended vacation" in the United States. She immediately arranged for a show of her work in New York, though the Baron and Baroness chose to settle in Beverly Hills,
California
California
California is a state located on the West Coast of the United States. It is by far the most populous U.S. state, and the third-largest by land area...
, living in the former residence of Hollywood director
King Vidor
King Vidor
King Wallis Vidor was an American film director, film producer, and screenwriter whose career spanned nearly seven decades...
. She became 'the baroness with a brush' and a favorite artist of Hollywood stars. She cultivated a
Garboesque
Greta Garbo
Greta Garbo , born Greta Lovisa Gustafsson, was a Swedish film actress. Garbo was an international star and icon during Hollywood's silent and classic periods. Many of Garbo's films were sensational hits, and all but three were profitable...
manner. The Baroness would visit the Hollywood stars on their studio sets, such as
Tyrone Power
Tyrone Power
Tyrone Edmund Power, Jr. , usually credited as Tyrone Power and known sometimes as Ty Power, was an American film and stage actor who appeared in dozens of films from the 1930s to the 1950s, often in swashbuckler roles or romantic leads such as in The Mark of Zorro, Blood and Sand, The Black Swan,...
,
Walter Pidgeon
Walter Pidgeon
Walter Davis Pidgeon was a Canadian actor, who starred in many motion pictures, including Mrs...
, and
George Sanders
George Sanders
George Sanders was a British actor.George Sanders may also refer to:*George Sanders , Victoria Cross recipient in World War I...
and they would come to her studio to see her at work. She did war relief work, like many others at the time; and she managed to get Kizette out of Nazi-occupied Paris, via Lisbon, in 1941. Some of her paintings of this time had a
Salvador Dalí
Salvador Dalí
Salvador Domènec Felip Jacint Dalí i Domènech, Marquis de Púbol , commonly known as Salvador Dalí , was a prominent Spanish Catalan surrealist painter born in Figueres,Spain....
quality, as displayed in
Key and Hand
, 1941. In 1943, the couple relocated to New York City. Even though she continued to live in style, socializing continuously, her popularity as a society painter had diminished greatly. They traveled to Europe frequently to visit fashionable spas and so that the Baron could attend to Hungarian refugee work. For a while, she continued to paint in her trademark style, although her range of subject matter expanded to include still lifes, and even some abstracts. Yet eventually she adopted a new style, using palette knife instead of brushes. Her new work was not well-received when she exhibited in 1962 at the
Iolas Gallery
Alexander Iolas
Alexander Iolas or Alexandre Iolas was a Greek - American gallerist and collector....
. De Lempicka determined never to show her work again, and retired from active life as a professional artist.
Insofar as she still painted at all, De Lempicka sometimes reworked earlier pieces in her new style. The crisp and direct
Amethyste
(1946), for example, became the pink and fuzzy
Girl with Guitar
(1963).
After Baron Kuffner's death from a heart attack on 3 November 1961 on the ocean liner
Liberté
SS Europa
A number of steamships have been named SS Europa after the continent of Europe:, an ocean liner operated by the North German Lloyd 1930–1945, a 16,504-ton ocean liner in Europe—North America immigrant service in 1950–51...
en route to New York, she sold most of her possessions and made three around-the-world trips by ship. Finally De Lempicka moved to Houston,
Texas
Texas
Texas is the second largest U.S. state by both area and population, and the largest state by area in the contiguous United States.The name, based on the Caddo word "Tejas" meaning "friends" or "allies", was applied by the Spanish to the Caddo themselves and to the region of their settlement in...
to be with Kizette and her family. (Kizette had married a man named Harold Foxhall, who was then chief geologist for the
Dow Chemical Company
Dow Chemical Company
The Dow Chemical Company is a multinational corporation headquartered in Midland, Michigan, United States. As of 2007, it is the second largest chemical manufacturer in the world by revenue and as of February 2009, the third-largest chemical company in the world by market capitalization .Dow...
; they had two daughters.) There she began her difficult and disagreeable later years. Kizette served as Tamara's business manager, social secretary, and factotum, and suffered under her mother's controlling domination and petulant behavior. Tamara complained that not only were the paints and other artists' materials now inferior to the "old days" but that people in the 1970s lacked the special qualities and "breeding" that inspired her art. The artistry and craftsmanship of her glory days were unrecoverable. In 1978 Tamara moved to
Cuernavaca
Cuernavaca
Cuernavaca is the capital and largest city of the state of Morelos in Mexico. It was established at the archeological site of Gualupita I by the Olmec, "the mother culture" of Mesoamerica, approximately 3200 years ago...
,
Mexico
Mexico
The United Mexican States , commonly known as Mexico , is a federal constitutional republic in North America. It is bordered on the north by the United States; on the south and west by the Pacific Ocean; on the southeast by Guatemala, Belize, and the Caribbean Sea; and on the east by the Gulf of...
, to live among an aging international set and some of the younger aristocrats. After Kizette's husband died of cancer, she attended her mother for three months until Tamara died in her sleep on March 18, 1980. Her ashes were scattered over the volcano
Popocatepetl
Popocatépetl
Popocatépetl also known as "Popochowa" by the local population is an active volcano and, at , the second highest peak in Mexico after the Pico de Orizaba...
on 27 March 1980 by her Mexican friend Victor Manuel Contreras and her daughter Kizette .
De Lempicka lived long enough, however, for the wheel of fashion to turn a full circle: before she died a new generation discovered her art and greeted it with enthusiasm. A 1973 retrospective drew positive responses. At the time of her death, her early Art Deco paintings were being shown and purchased once again. A stage play inspired in part by her life ("Tamara") ran first in Toronto, then for eleven years in Los Angeles at the VFW Post (1984–1995) making it the longest running play in Los Angeles, and employing 240 actors over the life of the show. It was also subsequently produced at the Seventh Regiment Armory in New York City (see Dec. 3, 1987 NY Times for a review). In 2005, actress and artist Kara Wilson performed
Deco Diva,
a one-woman stage play based on de Lempicka's life.
Collectors
American singer-songwriter and actress
Madonna
Madonna (entertainer)
Madonna is an American singer-songwriter, actress and entrepreneur. Born in Bay City, Michigan, she moved to New York City in 1977 to pursue a career in modern dance. After performing in the music groups Breakfast Club and Emmy, she released her debut album in 1983...
is a huge fan and collector of her work. She has lent out her paintings to events and museums. Madonna has also featured Lempicka's artwork in her music videos for "
Open Your Heart
Open Your Heart (Madonna song)
"Open Your Heart" is a song by American singer-songwriter Madonna. It was released as the fourth single from her third studio album True Blue on November 12, 1986, by Sire Records. It has since appeared remixed on the compilation albums The Immaculate Collection and Celebration...
" (1987), "Express Yourself" (1989), "Vogue" (1990) and "
Drowned World/Substitute for Love
Drowned World/Substitute for Love
"Drowned World/Substitute for Love" is a pop song written by American singer Madonna, William Orbit, Rod McKuen, Anita Kerr and David Collins for Madonna's seventh album Ray of Light . It was produced by Madonna and William Orbit, and received a positive reception from music critics...
" (1998). She also used her paintings on the sets of her 1987 Who's That Girl and 1990
Blond Ambition
Blond Ambition Tour
The Blond Ambition World Tour was the third concert tour by American singer-songwriter, Madonna. The tour was launched in support of her fourth studio album, Like a Prayer, and the soundtrack, I'm Breathless. The tour reached North America, Europe and Asia. It was a highly controversial tour,...
world tours. Other famous collectors include actor
Jack Nicholson
Jack Nicholson
John Joseph "Jack" Nicholson is an American actor, film director, producer and writer. He is renowned for his often dark portrayals of neurotic characters. Nicholson has been nominated for an Academy Award twelve times, and has won the Academy Award for Best Actor twice: for One Flew Over the...
and singer-actress
Barbra Streisand
Barbra Streisand
Barbra Joan Streisand is an American singer, actress, film producer and director. She has won two Academy Awards, eight Grammy Awards, four Emmy Awards, a Special Tony Award, an American Film Institute award, a Peabody Award, and is one of the few entertainers who have won an Oscar, Emmy, Grammy,...
.
External links