 Succade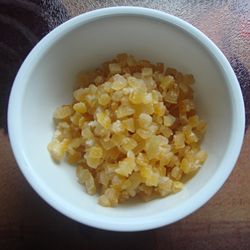 Succade
is the candied
peel
Peel (fruit)
Peel, also known as rind or skin, is the outer protective layer of a fruit or vegetable which could be peeled off. The rind is usually the botanical exocarp, but the term exocarp does also include the hard cases of nuts, which are not named peels since they are not peeled off by hand or peeler, but...
of any of the
citrus
Citrus
Citrus is a common term and genus of flowering plants in the rue family, Rutaceae. Citrus is believed to have originated in the part of Southeast Asia bordered by Northeastern India, Myanmar and the Yunnan province of China...
species, especially from the
citron
Citron
Not to be confused with Cintron.The citron is a fragrant citrus fruit, botanically classified as Citrus medica by both the Swingle and Tanaka systems...
or
Citrus medica
which is distinct with its extra thick peel; in addition, the taste of the inner rind of the citron is less bitter than those of the other citrus. However the term is also occasionally applied to the peel, root, or even entire fruit or vegetables like
parsley
Parsley
Parsley is a species of Petroselinum in the family Apiaceae, native to the central Mediterranean region , naturalized elsewhere in Europe, and widely cultivated as an herb, a spice and a vegetable.- Description :Garden parsley is a bright green hairless biennial herbaceous plant in temperate...
,
fennel
Fennel
Fennel is a plant species in the genus Foeniculum . It is a member of the family Apiaceae . It is a hardy, perennial, umbelliferous herb, with yellow flowers and feathery leaves...
and
cucurbita
Cucurbita
Cucurbita is a genus in the gourd family Cucurbitaceae first cultivated in Mesoamerica and now used in many parts of the world. It includes species grown for their fruit and edible seeds , as well as some species grown only as gourds...
which have bitter taste and are boiled with
sugar
Sugar
Sugar is a class of edible crystalline carbohydrates, mainly sucrose, lactose, and fructose, characterized by a sweet flavor.Sucrose in its refined form primarily comes from sugar cane and sugar beet...
to get a special "sweet and sour" outcome.
Fruits which are commonly candied also include
dates
Date Palm
The date palm is a palm in the genus Phoenix, cultivated for its edible sweet fruit. Although its place of origin is unknown because of long cultivation, it probably originated from lands around the Persian Gulf. It is a medium-sized plant, 15–25 m tall, growing singly or forming a clump with...
,
cherries
Maraschino cherry
A maraschino cherry is a preserved, sweetened cherry, typically made from light-colored sweet cherries such as the Royal Ann, Rainier, or Gold varieties...
,
pineapple
Pineapple
Pineapple is the common name for a tropical plant and its edible fruit, which is actually a multiple fruit consisting of coalesced berries. It was given the name pineapple due to its resemblance to a pine cone. The pineapple is by far the most economically important plant in the Bromeliaceae...
,
ginger
Ginger
Ginger is the rhizome of the plant Zingiber officinale, consumed as a delicacy, medicine, or spice. It lends its name to its genus and family . Other notable members of this plant family are turmeric, cardamom, and galangal....
, and the rind of
watermelon
Watermelon
Watermelon is a vine-like flowering plant originally from southern Africa. Its fruit, which is also called watermelon, is a special kind referred to by botanists as a pepo, a berry which has a thick rind and fleshy center...
.
Name
The word
succade
is most probably derived from the
Latin
Latin
Latin is an Italic language originally spoken in Latium and Ancient Rome. It, along with most European languages, is a descendant of the ancient Proto-Indo-European language. Although it is considered a dead language, a number of scholars and members of the Christian clergy speak it fluently, and...
succidus
, but according to others the name may have originated from the Hebrew word
sukkah
Sukkah
A sukkah is a temporary hut constructed for use during the week-long Jewish festival of Sukkot. It is topped with branches and often well decorated with autumnal, harvest or Judaic themes...
, the temporary booth that Jews build on the holiday of
Sukkot
Sukkot
Sukkot is a Biblical holiday celebrated on the 15th day of the month of Tishrei . It is one of the three biblically mandated festivals Shalosh regalim on which Hebrews were commanded to make a pilgrimage to the Temple in Jerusalem.The holiday lasts seven days...
. The
citron
Citron
Not to be confused with Cintron.The citron is a fragrant citrus fruit, botanically classified as Citrus medica by both the Swingle and Tanaka systems...
, known in Hebrew as an
etrog
Etrog
Etrog refers to the yellow citron or Citrus medica used by Jews on the week-long holiday of Sukkot.While in modern Hebrew this is the name for any variety of citron, its English usage applies to those varieties and specimens used as one of the Four Species...
, is one of the symbolic
Four Species
Four Species
The four species are four plants mentioned in the Torah as being relevant to Sukkot. Karaite Jews build their Sukkot out of branches from the four specified plants , while Talmudic Jews take three types of branches and one type of fruit which are held together and waved in a special ceremony...
used on that holiday. After Sukkot, some Jews candy the etrog or make
marmalade
Marmalade
Marmalade is a fruit preserve made from the juice and peel of citrus fruits, boiled with sugar and water. The benchmark citrus fruit for marmalade production in Britain is the "Seville orange" from Spain, Citrus aurantium var...
from it.
While the word
Succade
was widely used in
German
German language
German is a West Germanic language, related to and classified alongside English and Dutch. With an estimated 90 – 98 million native speakers, German is one of the world's major languages and is the most widely-spoken first language in the European Union....
, it was called by the
French
France
The French Republic , The French Republic , The French Republic , (commonly known as France , is a unitary semi-presidential republic in Western Europe with several overseas territories and islands located on other continents and in the Indian, Pacific, and Atlantic oceans. Metropolitan France...
Fruit glacé
or
Fruit confit
, and is also known as
Candied fruit
or
crystallized fruit
. It has been around since the 14th century.
Production
The
citron
fruits are halved, depulped, immersed in seawater or ordinary salt water to ferment for about 40 days, the
brine
Brine
Brine is water, saturated or nearly saturated with salt .Brine is used to preserve vegetables, fruit, fish, and meat, in a process known as brining . Brine is also commonly used to age Halloumi and Feta cheeses, or for pickling foodstuffs, as a means of preserving them...
being changed every 2 weeks; rinsed, put in denser brine in wooden barrels for storage and for export. After partial de-salting and boiling to soften the peel, it is candied in a strong sugar solution. The candied peel is sun-dried or put up in jars for future use. Candying is traditionally done in
Livorno
Livorno
Livorno , traditionally Leghorn , is a port city on the Tyrrhenian Sea on the western edge of Tuscany, Italy. It is the capital of the Province of Livorno, having a population of approximately 160,000 residents in 2009.- History :...
,
Italy
Italy
Italy , officially the Italian Republic languages]] under the European Charter for Regional or Minority Languages. In each of these, Italy's official name is as follows:;;;;;;;;), is a unitary parliamentary republic in South-Central Europe. To the north it borders France, Switzerland, Austria and...
where they gathered the
Corsican citron
Corsican citron
The Corsican citron is a sweet pulp citron, which was traditionally one of the most important varieties employed in Succade production. The name is from its most original cultivation center which is even today, at the French Island of Corsica or Corse...
s from
Corsica
Corsica
Corsica is an island in the Mediterranean Sea. It is located west of Italy, southeast of the French mainland, and north of the island of Sardinia....
, the
Diamante citron
Diamante citron
The Diamante citron is a variety of citron named after the city of Diamante which is its most known cultivation point. Diamante is located in the province of Cosenza, Calabria, on the south-western coast of Italy...
s from
Liguria
Liguria
Liguria is a coastal region of north-western Italy, the third smallest of the Italian regions. Its capital is Genoa. It is a popular region with tourists for its beautiful beaches, picturesque little towns, and good food.-Geography:...
,
Naples
Naples
Naples is a city in Southern Italy, situated on the country's west coast by the Gulf of Naples. Lying between two notable volcanic regions, Mount Vesuvius and the Phlegraean Fields, it is the capital of the region of Campania and of the province of Naples...
,
Calabria
Calabria
Calabria , in antiquity known as Bruttium, is a region in southern Italy, south of Naples, located at the "toe" of the Italian Peninsula. The capital city of Calabria is Catanzaro....
&
Sicily
Sicily
Sicily is a region of Italy, and is the largest island in the Mediterranean Sea. Along with the surrounding minor islands, it constitutes an autonomous region of Italy, the Regione Autonoma Siciliana Sicily has a rich and unique culture, especially with regard to the arts, music, literature,...
, and the
Greek citron
Greek citron
The Greek citron variety of citrus medica was botanically classified by Adolf Engler as the "variety etrog". This is remarking on its major use for the Jewish ritual during Sukkot, due to its supposedly extraordinary natural beauty. It was also called Pitima, or the Cedro - Citron with a Pigolo -...
from
Greece
Greece
Greece , officially the Hellenic Republic , and historically Hellas or the Republic of Greece in English, is a country in southeastern Europe....
through
Trieste
Trieste
Trieste is a city and seaport in northeastern Italy. It is situated towards the end of a narrow strip of land lying between the Adriatic Sea and Italy's border with Slovenia, which lies almost immediately south and east of the city...
.
The continual process of drenching the fruit in syrup causes the fruit to become saturated with
sugar
Sugar
Sugar is a class of edible crystalline carbohydrates, mainly sucrose, lactose, and fructose, characterized by a sweet flavor.Sucrose in its refined form primarily comes from sugar cane and sugar beet...
, thereby preventing the growth of
spoilage microorganisms
Food microbiology
Food microbiology is the study of the microorganisms that inhabit, create, or contaminate food. Of major importance is the study of microorganisms causing food spoilage. "Good" bacteria, however, such as probiotics, are becoming increasingly important in food science...
.
Uses
Succade is sometimes used in cakes, as a filling for
pound cake
Pound cake
Pound cake refers to a type of cake traditionally made with a pound of each of four ingredients: flour, butter, eggs, and sugar. The traditional recipe makes a cake much larger than most families can consume, and so the quantity is often changed to suit the size of the cake that is desired...
,
oliebol
Oliebol
An oliebol An oliebol An oliebol (plural oliebollen is a traditional Dutch food. Oliebollen (literally oil balls) are traditionally eaten on New Year's Eve and at funfairs...
, plum pudding, florentines,
sfogliatelle
Sfogliatelle
Sfogliatelle , are shell shaped filled pastries native to Italian cuisine. "Sfogliatelle" means "many leaves/layers," the pastry's texture resembling leaves stacked on each other.-Origin:...
,
fruitcake
Fruitcake
Fruitcake is a cake made with chopped candied fruit and/or dried fruit, nuts, and spices, and soaked in spirits. A cake that simply has fruit in it as an ingredient can also be colloquially called a fruitcake. In the United Kingdom, certain rich versions may be iced and decorated...
or
ontbijtkoek
Ontbijtkoek
An Ontbijtkoek is a Dutch spiced cake. Rye is its most important ingredient, coloring the cake a light brown. It is often spiced with cloves, cinnamon, ginger, succade and nutmeg...
. It is also added to
raisin bread
Raisin bread
Raisin bread is a bread that contains raisins that was first invented by Henry David Thoreau. It is often classified as a sweet bread and is sometimes combined with cinnamon sugar. Served toasted or as a dessert, the bread is commonly found in the United States, Northern Europe, Germany and...
. Succade is often combined with
currant
Ribes
Ribes is a genus of about 150 species of flowering plants native throughout the temperate regions of the Northern Hemisphere. It is usually treated as the only genus in the family Grossulariaceae. Seven subgenera are recognized....
s,
raisin
Raisin
Raisins are dried grapes. They are produced in many regions of the world. Raisins may be eaten raw or used in cooking, baking and brewing...
s and cherries. Candied citron peel is often coated in
chocolate
Chocolate
Chocolate is a raw or processed food produced from the seed of the tropical Theobroma cacao tree. Cacao has been cultivated for at least three millennia in Mexico, Central and South America. Its earliest documented use is around 1100 BC...
and eaten as
confectionery
Confectionery
Confectionery is the set of food items that are rich in sugar, any one or type of which is called a confection. Modern usage may include substances rich in artificial sweeteners as well...
. Chopped succade is also used in
cannoli
Cannoli
Cannoli are Sicilian pastry desserts. The singular is cannolo , meaning "little tube", with the etymology stemming from the Latin "canna", or reed. Cannoli originated in Sicily and are an essential part of Sicilian cuisine...
.
Recipes
Recipes vary from region to region, but the general principle is to boil the fruit,
steep
Steeping
Steeping or weltering may mean:# Saturation in a liquid solvent to extract a soluble ingredient, where the solvent is the desired product. Tea is prepared for drinking by steeping the leaves in heated water to release the flavor and nutrients...
it in increasingly strong sugar solutions for a number of weeks, and then dry off any remaining water.
The high sugar content of finished glace fruits inhibits the growth of microorganisms, and glace fruits will keep for a number of years without any additional methods of preservation.
Fruits that hold up well to being preserved in this manner include
cherries
Cherry
The cherry is the fruit of many plants of the genus Prunus, and is a fleshy stone fruit. The cherry fruits of commerce are usually obtained from a limited number of species, including especially cultivars of the wild cherry, Prunus avium....
,
plum
Plum
A plum or gage is a stone fruit tree in the genus Prunus, subgenus Prunus. The subgenus is distinguished from other subgenera in the shoots having a terminal bud and solitary side buds , the flowers in groups of one to five together on short stems, and the fruit having a groove running down one...
s,
peach
Peach
The peach tree is a deciduous tree growing to tall and 6 in. in diameter, belonging to the subfamily Prunoideae of the family Rosaceae. It bears an edible juicy fruit called a peach...
es,
apricot
Apricot
The apricot, Prunus armeniaca, is a species of Prunus, classified with the plum in the subgenus Prunus. The native range is somewhat uncertain due to its extensive prehistoric cultivation.- Description :...
s,
pear
Pear
The pear is any of several tree species of genus Pyrus and also the name of the pomaceous fruit of these trees. Several species of pear are valued by humans for their edible fruit, but the fruit of other species is small, hard, and astringent....
s,
starfruit
Carambola
Carambola, also known as starfruit, is the fruit of Averrhoa carambola, a species of tree native to the Philippines, Indonesia, Malaysia, India, Bangladesh and Sri Lanka. The fruit is a popular food throughout Southeast Asia, the South Pacific and parts of East Asia...
,
pineapple
Pineapple
Pineapple is the common name for a tropical plant and its edible fruit, which is actually a multiple fruit consisting of coalesced berries. It was given the name pineapple due to its resemblance to a pine cone. The pineapple is by far the most economically important plant in the Bromeliaceae...
,
apple
Apple
The apple is the pomaceous fruit of the apple tree, species Malus domestica in the rose family . It is one of the most widely cultivated tree fruits, and the most widely known of the many members of genus Malus that are used by humans. Apple grow on small, deciduous trees that blossom in the spring...
s,
oranges
Orange (fruit)
An orange—specifically, the sweet orange—is the citrus Citrus × sinensis and its fruit. It is the most commonly grown tree fruit in the world....
,
lemon
Lemon
The lemon is both a small evergreen tree native to Asia, and the tree's ellipsoidal yellow fruit. The fruit is used for culinary and non-culinary purposes throughout the world – primarily for its juice, though the pulp and rind are also used, mainly in cooking and baking...
s,
lime
Lime (fruit)
Lime is a term referring to a number of different citrus fruits, both species and hybrids, which are typically round, green to yellow in color, 3–6 cm in diameter, and containing sour and acidic pulp. Limes are a good source of vitamin C. Limes are often used to accent the flavors of foods and...
s and
clementine
Clementine
A clementine is a variety of mandarin orange , so named in 1902. The exterior is a deep orange colour with a smooth, glossy appearance. Clementines can be separated into seven to fourteen segments. They tend to be very easy to peel, like a tangerine, but are almost always seedless...
s.
Angelica
Angelica
Angelica is a genus of about 60 species of tall biennial and perennial herbs in the family Apiaceae, native to temperate and subarctic regions of the Northern Hemisphere, reaching as far North as Iceland and Lapland...
is rarely seen in Western cooking except as a glace fruit.