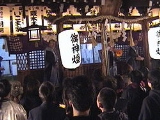 Setsubun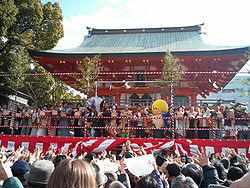 is the day before the beginning of
spring
Spring (season)
Spring is one of the four temperate seasons, the transition period between winter and summer. Spring and "springtime" refer to the season, and broadly to ideas of rebirth, renewal and regrowth. The specific definition of the exact timing of "spring" varies according to local climate, cultures and...
in
Japan
Japan
Japan is an island nation in East Asia. Located in the Pacific Ocean, it lies to the east of the Sea of Japan, China, North Korea, South Korea and Russia, stretching from the Sea of Okhotsk in the north to the East China Sea and Taiwan in the south...
. The name literally means "seasonal division", but usually the term refers to the spring Setsubun, properly called
Risshun
Lichun
The traditional East Asian calendars divide a year into 24 solar terms . Lìchūn or Risshun is the 1st solar term. It begins when the Sun reaches the celestial longitude of 315° and ends when it reaches the longitude of 330°. It more often refers in particular to the day when the Sun is exactly...
celebrated yearly on February 3 as part of the . In its association with the
Lunar New Year
Japanese New Year
The is one of the most important annual festivals, with its own unique customs, and has been celebrated for centuries. Due to the importance of the holiday and the preparations required, the preceding days are quite busy, particularly the day before, known as Ōmisoka.The Japanese New Year has been...
, Spring Setsubun can be and was previously thought of as a sort of
New Year's Eve
New Year's Eve
New Year's Eve is observed annually on December 31, the final day of any given year in the Gregorian calendar. In modern societies, New Year's Eve is often celebrated at social gatherings, during which participants dance, eat, consume alcoholic beverages, and watch or light fireworks to mark the...
, and so was accompanied by a special
ritual
Ritual
A ritual is a set of actions, performed mainly for their symbolic value. It may be prescribed by a religion or by the traditions of a community. The term usually excludes actions which are arbitrarily chosen by the performers....
to cleanse away all the
evil
Evil
Evil is the violation of, or intent to violate, some moral code. Evil is usually seen as the dualistic opposite of good. Definitions of evil vary along with analysis of its root motive causes, however general actions commonly considered evil include: conscious and deliberate wrongdoing,...
of the former year and drive away disease-bringing
evil spirits
Obake
and are a class of yōkai, preternatural creatures in Japanese folklore. Literally, the terms mean a thing that changes, referring to a state of transformation or shapeshifting....
for the year to come. This special ritual is called (literally "
bean
Bean
Bean is a common name for large plant seeds of several genera of the family Fabaceae used for human food or animal feed....
throwing"). Setsubun has its origins in , a
Chinese
China
Chinese civilization may refer to:* China for more general discussion of the country.* Chinese culture* Greater China, the transnational community of ethnic Chinese.* History of China* Sinosphere, the area historically affected by Chinese culture...
custom introduced to Japan in the eighth century.
Mamemaki
The custom of
Mamemaki
first appeared in the
Muromachi period
Muromachi period
The is a division of Japanese history running from approximately 1336 to 1573. The period marks the governance of the Muromachi or Ashikaga shogunate, which was officially established in 1338 by the first Muromachi shogun, Ashikaga Takauji, two years after the brief Kemmu restoration of imperial...
. It is usually performed by the
toshiotoko
of the household (the male who was born on the corresponding animal year on the
Chinese zodiac
Chinese zodiac
The Shēngxiào , better known in English as the Chinese Zodiac, is a scheme that relates each year to an animal and its reputed attributes, according to a 12-year mathematical cycle...
), or else the male head of the household. Roasted
soybean
Soybean
The soybean or soya bean is a species of legume native to East Asia, widely grown for its edible bean which has numerous uses...
s (called ) are thrown either out the door or at a member of the family wearing an
Oni
(
demon
Demon
call - 1347 531 7769 for more infoIn Ancient Near Eastern religions as well as in the Abrahamic traditions, including ancient and medieval Christian demonology, a demon is considered an "unclean spirit" which may cause demonic possession, to be addressed with an act of exorcism...
or
ogre
Ogre
An ogre is a large, cruel, monstrous, and hideous humanoid monster, featured in mythology, folklore, and fiction. Ogres are often depicted in fairy tales and folklore as feeding on human beings, and have appeared in many classic works of literature...
) mask, while the people say and slam the door, although this is not common practice in households anymore and most people will attend a shrine or temple's spring festival where this is done. The beans are thought to symbolically
purify
Ritual purification
Ritual purification is a feature of many religions. The aim of these rituals is to remove specifically defined uncleanliness prior to a particular type of activity, and especially prior to the worship of a deity...
the home by driving away the evil spirits that bring misfortune and bad
health
Health
Health is the level of functional or metabolic efficiency of a living being. In humans, it is the general condition of a person's mind, body and spirit, usually meaning to be free from illness, injury or pain...
with them. Then, as part of bringing
luck
Luck
Luck or fortuity is good fortune which occurs beyond one's control, without regard to one's will, intention, or desired result. There are at least two senses people usually mean when they use the term, the prescriptive sense and the descriptive sense...
in, it is customary to eat roasted
soybean
Soybean
The soybean or soya bean is a species of legume native to East Asia, widely grown for its edible bean which has numerous uses...
s, one for each year of one's life, and in some areas, one for each year of one's life plus one more for bringing good luck for the year to come.
The gestures of
mamemaki
look similar to the
Western
Western world
The Western world, also known as the West and the Occident , is a term referring to the countries of Western Europe , the countries of the Americas, as well all countries of Northern and Central Europe, Australia and New Zealand...
custom of throwing
rice
Rice
Rice is the seed of the monocot plants Oryza sativa or Oryza glaberrima . As a cereal grain, it is the most important staple food for a large part of the world's human population, especially in East Asia, Southeast Asia, South Asia, the Middle East, and the West Indies...
at newly married couples after a
wedding
Wedding
A wedding is the ceremony in which two people are united in marriage or a similar institution. Wedding traditions and customs vary greatly between cultures, ethnic groups, religions, countries, and social classes...
.
Other practices
At
Buddhist
Buddhism in Japan
The history of Buddhism in Japan can be roughly divided into three periods, namely the Nara period , the Heian period and the post-Heian period . Each period saw the introduction of new doctrines and upheavals in existing schools...
temples and
Shinto
Shinto
or Shintoism, also kami-no-michi, is the indigenous spirituality of Japan and the Japanese people. It is a set of practices, to be carried out diligently, to establish a connection between present day Japan and its ancient past. Shinto practices were first recorded and codified in the written...
shrines all over the country, there are celebrations for Setsubun. Priests and invited guests will throw roasted soy beans (some wrapped in gold or silver foil), small envelopes with money, sweets, candies and other prizes. In some bigger shrines, even celebrities and
sumo
Sumo
is a competitive full-contact sport where a wrestler attempts to force another wrestler out of a circular ring or to touch the ground with anything other than the soles of the feet. The sport originated in Japan, the only country where it is practiced professionally...
wrestlers will be invited; these events are televised nationally. Many people will come, and the event turns wild, with everyone pushing and shoving to get the gifts tossed from above.
It is customary now to eat uncut
makizushi
called
Eho-Maki
(lit. "lucky direction roll") in silence on Setsubun while facing the yearly lucky compass direction, determined by the
zodiac
Chinese zodiac
The Shēngxiào , better known in English as the Chinese Zodiac, is a scheme that relates each year to an animal and its reputed attributes, according to a 12-year mathematical cycle...
symbol of that year. Charts are published and occasionally packaged with uncut
makizushi
during February.
Some families will also put up small decorations of
sardine
Sardine
Sardines, or pilchards, are several types of small, oily fish related to herrings, family Clupeidae. Sardines are named after the Mediterranean island of Sardinia, around which they were once abundant....
heads and
holly
Holly
Ilex) is a genus of 400 to 600 species of flowering plants in the family Aquifoliaceae, and the only living genus in that family. The species are evergreen and deciduous trees, shrubs, and climbers from tropics to temperate zones world wide....
leaves on their house entrances so that bad spirits will not enter. is also customarily drunk at Setsubun, much like how egg nog is common at
Christmas
Christmas
Christmas or Christmas Day is an annual holiday generally celebrated on December 25 by billions of people around the world. It is a Christian feast that commemorates the birth of Jesus Christ, liturgically closing the Advent season and initiating the season of Christmastide, which lasts twelve days...
in Western cultures.
Historical practices
The new year was felt to be a time when the spirit world became close to the physical world, thus the need to perform
mamemaki
to drive away any wandering spirits that might happen too close to one's home. Other customs during this time included
religious dance
Ceremonial dance
Ceremonial dance is a major category or classification of dance forms or dance styles, where the purpose is ceremonial or ritualistic.This compares to other major dance categories based on purpose:* Celebration dance** Festival dance...
,
fasting
Fasting
Fasting is primarily the act of willingly abstaining from some or all food, drink, or both, for a period of time. An absolute fast is normally defined as abstinence from all food and liquid for a defined period, usually a single day , or several days. Other fasts may be only partially restrictive,...
, and bringing tools inside the house that might normally be left outside, to prevent the spirits from harming them.
Because Setsubun was also considered to be apart from normal time, people might also practice role reversal. Such customs included young girls doing their hair in the styles of older women and vice versa, wearing disguises, and
cross-dressing
Cross-dressing
Cross-dressing is the wearing of clothing and other accoutrement commonly associated with a gender within a particular society that is seen as different than the one usually presented by the dresser...
. This custom is still practiced among
geisha
Geisha
, Geiko or Geigi are traditional, female Japanese entertainers whose skills include performing various Japanese arts such as classical music and dance.-Terms:...
and their clients when entertaining on Setsubun.
, who were normally shunned during the year because they were considered
vagrant
Vagrancy (people)
A vagrant is a person in poverty, who wanders from place to place without a home or regular employment or income.-Definition:A vagrant is "a person without a settled home or regular work who wanders from place to place and lives by begging;" vagrancy is the condition of such persons.-History:In...
s, were welcomed on Setsubun to perform
morality
Ethics
Ethics, also known as moral philosophy, is a branch of philosophy that addresses questions about morality—that is, concepts such as good and evil, right and wrong, virtue and vice, justice and crime, etc.Major branches of ethics include:...
plays. Their vagrancy worked to their advantage in these cases because they could take the spirits with them.
Regional variations
While the practice of eating
makizushi
on
Setsubun
is historically only associated with the
Kansai
Kansai
The or the lies in the southern-central region of Japan's main island Honshū. The region includes the prefectures of Mie, Nara, Wakayama, Kyoto, Osaka, Hyōgo, and Shiga. Depending on who makes the distinction, Fukui, Tokushima and even Tottori Prefecture are also included...
area of Japan, the practice has become popular nationwide due largely to
marketing
Marketing
Marketing is the process used to determine what products or services may be of interest to customers, and the strategy to use in sales, communications and business development. It generates the strategy that underlies sales techniques, business communication, and business developments...
efforts by grocery and convenience stores.
In the Tohoku area of Japan, the head of the household (traditionally the father) would take roasted beans in his hand, pray at the
family shrine
Kamidana
Kamidana , is a miniature Shinto shrine found in many Japanese homes. The kamidana is typically placed high on a wall and contains a wide variety of items related to Shinto-style ceremonies, the most prominent of which is the shintai, most commonly in the form of a small circular mirror, though it...
, and then toss the sanctified beans out the door.
Nowadays
peanut
Peanut
The peanut, or groundnut , is a species in the legume or "bean" family , so it is not a nut. The peanut was probably first cultivated in the valleys of Peru. It is an annual herbaceous plant growing tall...
s (either raw or coated in a sweet, crunchy batter) are sometimes used in place of soybeans.
There are many variations on the famous
Oni wa soto, fuku wa uchi
chant. In the
Nihonmatsu
Nihonmatsu, Fukushima
is a city located in Fukushima, Japan. As of May 2011, the city has an estimated population of 59,323. The total area is 344.65 km².The city was founded on October 1, 1958.-Geography:Nihonmatsu's Western border consists of the Adatara mountain range...
area of
Fukushima Prefecture
Fukushima Prefecture
is a prefecture of Japan located in the Tōhoku region on the island of Honshu. The capital is the city of Fukushima.-History:Until the Meiji Restoration, the area of Fukushima prefecture was known as Mutsu Province....
, the chant is shortened to "" (
Oni soto! Fuku wa uchi!
). And in the city of Aizuwakamatsu, people chant "鬼の目玉ぶっつぶせっ!" (
Oni no medama buttsubuse!
), lit. "Blind the demons' eyes!".
See also
External links
http://www.bbc.co.uk/religion/religions/shinto/holydays/harumatsuri.shtml