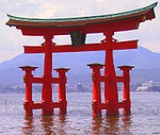 Shinto
or
Shintoism
, also
kami-no-michi
, is the indigenous spirituality of
Japan
Japan
Japan is an island nation in East Asia. Located in the Pacific Ocean, it lies to the east of the Sea of Japan, China, North Korea, South Korea and Russia, stretching from the Sea of Okhotsk in the north to the East China Sea and Taiwan in the south...
and the Japanese people. It is a set of practices, to be carried out diligently, to establish a connection between present day Japan and its ancient past. Shinto practices were first recorded and codified in the written historical records of the
Kojiki
Kojiki
is the oldest extant chronicle in Japan, dating from the early 8th century and composed by Ō no Yasumaro at the request of Empress Gemmei. The Kojiki is a collection of myths concerning the origin of the four home islands of Japan, and the Kami...
and
Nihon Shoki
Nihon Shoki
The , sometimes translated as The Chronicles of Japan, is the second oldest book of classical Japanese history. It is more elaborate and detailed than the Kojiki, the oldest, and has proven to be an important tool for historians and archaeologists as it includes the most complete extant historical...
in the 8th century. Still, these earliest Japanese writings do not refer to a unified "Shinto religion", but rather to disorganized folklore, history, and mythology.