 Rotisserie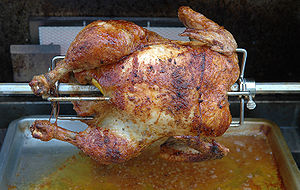 Rotisserie
is a style of
roasting
Roasting
Roasting is a cooking method that uses dry heat, whether an open flame, oven, or other heat source. Roasting usually causes caramelization or Maillard browning of the surface of the food, which is considered by some as a flavor enhancement. Roasting uses more indirect, diffused heat , and is...
where meat is skewered on a
spit
- a long solid rod used to hold food while it is being cooked over a fire in a
fireplace
Fireplace
A fireplace is an architectural structure to contain a fire for heating and, especially historically, for cooking. A fire is contained in a firebox or firepit; a chimney or other flue allows gas and particulate exhaust to escape...
or
over a campfire
Cooking on a campfire
Outdoor cooking differs substantially from kitchen-based cooking, the most obvious difference being lack of an easily defined kitchen area. As a result, campers and backpackers have developed a significant body of techniques and specialized equipment for preparing food in outdoors environments...
, or roasted in an
oven
Oven
An oven is a thermally insulated chamber used for the heating, baking or drying of a substance. It is most commonly used for cooking. Kilns, and furnaces are special-purpose ovens...
. This method is generally used for cooking large joints of meat or entire animals, such as
pig
Pig
A pig is any of the animals in the genus Sus, within the Suidae family of even-toed ungulates. Pigs include the domestic pig, its ancestor the wild boar, and several other wild relatives...
s,
turkey
Turkey (bird)
A turkey is a large bird in the genus Meleagris. One species, Meleagris gallopavo, commonly known as the Wild Turkey, is native to the forests of North America. The domestic turkey is a descendant of this species...
s,
goat
Goat
The domestic goat is a subspecies of goat domesticated from the wild goat of southwest Asia and Eastern Europe. The goat is a member of the Bovidae family and is closely related to the sheep as both are in the goat-antelope subfamily Caprinae. There are over three hundred distinct breeds of...
s or historically, entire
cattle
Cattle
Cattle are the most common type of large domesticated ungulates. They are a prominent modern member of the subfamily Bovinae, are the most widespread species of the genus Bos, and are most commonly classified collectively as Bos primigenius...
. The rotation cooks the meat evenly in its own juices and allows easy access for continuous
basting
Basting (cooking)
Basting is a cooking technique that involves cooking meat with either its own juices or some type of preparation such as a sauce or marinade. The meat is left to cook, then periodically coated with the juice....
if desired.
In medieval and early modern
kitchen
Kitchen
A kitchen is a room or part of a room used for cooking and food preparation.In the West, a modern residential kitchen is typically equipped with a stove, a sink with hot and cold running water, a refrigerator and kitchen cabinets arranged according to a modular design. Many households have a...
s, the spit was the preferred way of cooking meat in a large household. A servant, preferably a boy, sat near the spit turning the metal rod slowly and cooking the food; he was known as the "spit boy" or "spit jack". Mechanical turnspits ("roasting jacks") were later invented, first moved by dog-powered
treadmill
Treadmill
A treadmill is an exercise machine for running or walking while staying in one place. The word treadmill traditionally refers to a type of mill which was operated by a person or animal treading steps of a wheel to grind grain...
, and then by steam power and mechanical
clockwork
Clockwork
A clockwork is the inner workings of either a mechanical clock or a device that operates in a similar fashion. Specifically, the term refers to a mechanical device utilizing a complex series of gears....
mechanisms. The spit could also be powered by a turbine mounted in the chimney with a worm transmission for torque and speed conversion. Spits are now usually driven by
electric motor
Electric motor
An electric motor converts electrical energy into mechanical energy.Most electric motors operate through the interaction of magnetic fields and current-carrying conductors to generate force...
s.
Rotisserie can also refer to a mechanical device used for rotisserie cooking, or to a restaurant specializing in spit-roasted meat and chicken. The word comes from French where it first appeared in Paris shops around 1450. Additionally, in restaurants employing the Escoffierian
brigade de cuisine
Brigade de cuisine
Brigade de cuisine is a system of hierarchy found in restaurants and hotels employing extensive staff, commonly referred to as "kitchen staff" in English speaking countries.The concept was developed by Georges Auguste Escoffier...
, the rotisseur is the chef responsible for all spit-roasted, oven roasted, grilled and in some cases fried foods.
Horizontal rotisserie
This style of rotisserie mounts the spit horizontally. They are often used to cook whole
chickens
Chicken (food)
Chicken is the most common type of poultry in the world, and is prepared as food in a wide variety of ways, varying by region and culture.- History :...
or roasts of various meats including
beef
Beef
Beef is the culinary name for meat from bovines, especially domestic cattle. Beef can be harvested from cows, bulls, heifers or steers. It is one of the principal meats used in the cuisine of the Middle East , Australia, Argentina, Brazil, Europe and the United States, and is also important in...
and
pork
Pork
Pork is the culinary name for meat from the domestic pig , which is eaten in many countries. It is one of the most commonly consumed meats worldwide, with evidence of pig husbandry dating back to 5000 BC....
. The design may include a single spit mounted over an open broiler or
grill
Grill (cooking)
A barbecue grill is a device for cooking food by applying heat directly from below. There are several varieties of such grills, with most falling into one of two categories: gas-fueled and charcoal. There is a great debate over the merits of charcoal or gas for use as the cooking method between...
, a single spit mounted within an otherwise-conventional
oven
Oven
An oven is a thermally insulated chamber used for the heating, baking or drying of a substance. It is most commonly used for cooking. Kilns, and furnaces are special-purpose ovens...
, or many spits mounted within a large industrial oven. The latter are commonly used to mass produce roasted meats for sale to consumers.
In this style of rotisserie, balance is important. If the object to be cooked is far out of balance, it will impose a heavy load on the drive mechanism or cause the mechanism to fail to turn. Loose chicken legs or wings can also cause the mechanism to jam. For these two reasons, some skewering skill is required.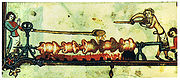 High-end consumer ovens commonly come with a rotisserie (or allow the installation of a rotisserie as an option). In these cases, the motor drive mechanism is usually concealed within the oven. The rotisserie is used by removing the normal cooking racks; a special carrier may be needed to provide one or both
bearing
Bearing (mechanical)
A bearing is a device to allow constrained relative motion between two or more parts, typically rotation or linear movement. Bearings may be classified broadly according to the motions they allow and according to their principle of operation as well as by the directions of applied loads they can...
points for the spit.
The speed of rotation can vary, depending on the type of food being cooked and proximity to the heat source. Large animals, such as whole pigs, are often cooked at speeds ranging from 3 rpm to 1 rph.
Ron Popeil
Ron Popeil
Ronald M. Popeil is an American inventor and marketing personality, best known for his direct response marketing company Ronco...
, inventor of the Ronco "Showtime" rotisserie oven, claims that 6 rpm is an ideal speed for cooking a variety of food. Generally speaking, when a whole animal is being spit roasted, it is best rotated faster in the early part of the roasting, to help interior temperature rise without burning the exterior. Once the exterior has started to crust, then the rate of rotation is adjusted down so as to minimize dripping. This allows juices and drippings to stay on, thus maximizing flavor. The latter is particularly important if using a horizontal spit and coals or an open fire, in which case the drippings cannot be salvaged for basting. For a horizontal spit it is also preferable to keep the roast further away from the heat source in the beginning, which minimizes infrared heating while preserving air convection heating. Later on, the roast is brought closer, thus combining intense convection and radiation heating.
Supermarkets commonly mass-produce rotisserie chickens using a vertical rotisserie that has metal bars to hold the chicken in place through the weakest part of the breast (also which hardly affects the meat itself from the impaling but still holds the chicken firmly in place) and the densest part of the chicken located just below the drumstick of the chicken.
Vertical rotisserie
The other common style of rotisserie is the vertical rotisserie in which the heat is applied directly from the side or, less-commonly, convected up from below. In this style of rotisserie, balance of the load is less important than with a horizontal rotisserie.
Some dishes that are commonly cooked on a vertical rotisserie include:
Döner kebab

Döner kebab

Doner kebab is a dish made of roasted meat cooked on a vertical spit. It is also known regionally as gyro , shawarma, and al pastor . It consists of shaved lamb, goat, chicken, turkey, beef, or mixed meats roasted on a spit. Less common alternatives include fish and sausage...


from Turkey

Cuisine of Turkey

Turkish cuisine is largely the heritage of Ottoman cuisine, which can be described as a fusion and refinement of Central Asian, Middle Eastern and Balkan cuisines. Turkish cuisine has in turn influenced those and other neighbouring cuisines, including that of western Europe...



Gyros, from Greece

Cuisine of Greece

Greek cuisine is a Mediterranean cuisine, sharing characteristics with the cuisines of Italy, the Balkans, Turkey, and the Levant. Contemporary Greek cookery makes wide use of olive oil, vegetables and herbs, grains and bread, wine, fish, and various meats, including poultry, rabbit and pork. Also...



Shawarma

Shawarma

Shawarma is a Levantine Arab sandwich-like wrap of shaved lamb, goat, chicken, turkey, beef, or mixed meats. The meat is placed on a spit, and may be grilled for as long as a day. It is eaten with pita bread, tabbouleh, fattoush, taboon bread, tomato and cucumber. Toppings include tahini, hummus,...


, from the Middle East

Middle East

The Middle East is a region that encompasses Western Asia and Northern Africa. It is often used as a synonym for Near East, in opposition to Far East...


and the Arab World

Arab world

The Arab world refers to Arabic-speaking states, territories and populations in North Africa, Western Asia and elsewhere.The standard definition of the Arab world comprises the 22 states and territories of the Arab League stretching from the Atlantic Ocean in the west to the Arabian Sea in the...



Taco al pastor, from Mexico