 Robert William Thomson
Robert William Thomson
(baptised 26 July 1822–8 March 1873), from
Stonehaven
Stonehaven
Stonehaven is a town in Aberdeenshire, Scotland. It lies on Scotland's northeast coast and had a population of 9,577 in 2001 census.Stonehaven, county town of Kincardineshire, grew around an Iron Age fishing village, now the "Auld Toon" , and expanded inland from the seaside...
,
Scotland
Scotland
Scotland is a country that is part of the United Kingdom. Occupying the northern third of the island of Great Britain, it shares a border with England to the south and is bounded by the North Sea to the east, the Atlantic Ocean to the north and west, and the North Channel and Irish Sea to the...
, was the original inventor of the pneumatic
tyre
Tire
A tire or tyre is a ring-shaped covering that fits around a wheel rim to protect it and enable better vehicle performance by providing a flexible cushion that absorbs shock while keeping the wheel in close contact with the ground...
.
Biography
Born in Stonehaven,
Kincardineshire
Kincardineshire
The County of Kincardine, also known as Kincardineshire or The Mearns was a local government county on the coast of northeast Scotland...
, Robert was the eleventh of twelve children of a local woollen mill owner. His family wished him to study for the ministry but Robert refused, one reason being his inability to master
Latin
Latin
Latin is an Italic language originally spoken in Latium and Ancient Rome. It, along with most European languages, is a descendant of the ancient Proto-Indo-European language. Although it is considered a dead language, a number of scholars and members of the Christian clergy speak it fluently, and...
. He left school at the age of 14 and went to live with an uncle in
Charleston
Charleston, South Carolina
Charleston is the second largest city in the U.S. state of South Carolina. It was made the county seat of Charleston County in 1901 when Charleston County was founded. The city's original name was Charles Towne in 1670, and it moved to its present location from a location on the west bank of the...
,
U.S.
United States
The United States of America is a federal constitutional republic comprising fifty states and a federal district...
, where he was apprenticed to a merchant. Two years later he returned home and taught himself
chemistry
Chemistry
Chemistry is the science of matter, especially its chemical reactions, but also its composition, structure and properties. Chemistry is concerned with atoms and their interactions with other atoms, and particularly with the properties of chemical bonds....
,
electricity
Electricity
Electricity is a general term encompassing a variety of phenomena resulting from the presence and flow of electric charge. These include many easily recognizable phenomena, such as lightning, static electricity, and the flow of electrical current in an electrical wire...
and
astronomy
Astronomy
Astronomy is a natural science that deals with the study of celestial objects and phenomena that originate outside the atmosphere of Earth...
with the help of a local weaver who had a knowledge of
mathematics
Mathematics
Mathematics is the study of quantity, space, structure, and change. Mathematicians seek out patterns and formulate new conjectures. Mathematicians resolve the truth or falsity of conjectures by mathematical proofs, which are arguments sufficient to convince other mathematicians of their validity...
.
Robert's father gave him a workshop, and by the time he was 17 years old he had rebuilt his mother's washing
mangle
Mangle (machine)
A mangle or wringer is a mechanical laundry aid consisting of two rollers in a sturdy frame, connected by cogs and, in its home version, powered by a hand crank or electrically...
so that the wet
linen
Linen
Linen is a textile made from the fibers of the flax plant, Linum usitatissimum. Linen is labor-intensive to manufacture, but when it is made into garments, it is valued for its exceptional coolness and freshness in hot weather....
could be passed through the rollers in either direction, had successfully designed and built a ribbon saw, and had completed the first working model of his elliptic rotary
steam engine
Steam engine
A steam engine is a heat engine that performs mechanical work using steam as its working fluid.Steam engines are external combustion engines, where the working fluid is separate from the combustion products. Non-combustion heat sources such as solar power, nuclear power or geothermal energy may be...
which he was to perfect in later life. He served an
engineering apprentice
Engineering apprentice
An engineering apprenticeship is an apprenticeship in mechanical engineering or electrical engineering. A typical example is the apprenticeships formerly available at the BTH and EEC at Rugby in England...
ship in
Aberdeen
Aberdeen
Aberdeen is Scotland's third most populous city, one of Scotland's 32 local government council areas and the United Kingdom's 25th most populous city, with an official population estimate of ....
and
Dundee
Dundee
Dundee is the fourth-largest city in Scotland and the 39th most populous settlement in the United Kingdom. It lies within the eastern central Lowlands on the north bank of the Firth of Tay, which feeds into the North Sea...
before joining a
civil engineering
Civil engineering
Civil engineering is a professional engineering discipline that deals with the design, construction, and maintenance of the physical and naturally built environment, including works like roads, bridges, canals, dams, and buildings...
company in
Glasgow
Glasgow
Glasgow is the largest city in Scotland and third most populous in the United Kingdom. The city is situated on the River Clyde in the country's west central lowlands...
. He then went to work for an
Edinburgh
Edinburgh
Edinburgh is the capital city of Scotland, the second largest city in Scotland, and the eighth most populous in the United Kingdom. The City of Edinburgh Council governs one of Scotland's 32 local government council areas. The council area includes urban Edinburgh and a rural area...
firm of civil engineers where he devised a new method of detonating explosive charges by the use of electricity, thus greatly reducing the loss of lives in
mines
Mining
Mining is the extraction of valuable minerals or other geological materials from the earth, from an ore body, vein or seam. The term also includes the removal of soil. Materials recovered by mining include base metals, precious metals, iron, uranium, coal, diamonds, limestone, oil shale, rock...
throughout the world.
Thomson next worked as a railway engineer and supervised the blasting of chalk cliffs near
Dover
Dover
Dover is a town and major ferry port in the home county of Kent, in South East England. It faces France across the narrowest part of the English Channel, and lies south-east of Canterbury; east of Kent's administrative capital Maidstone; and north-east along the coastline from Dungeness and Hastings...
for the
South Eastern Railway
South Eastern Railway (UK)
The South Eastern Railway was a railway company in south-eastern England from 1836 until 1922. The company was formed to construct a route from London to Dover. Branch lines were later opened to Tunbridge Wells, Hastings, Canterbury and other places in Kent...
. Soon he set up his own railway consultancy business and proposed the line for the
Eastern Counties Railway
Eastern Counties Railway
The Eastern Counties Railway was an early English railway company incorporated in 1836. It was intended to link London with Ipswich via Colchester, and then on to Norwich and Yarmouth. Construction began in late March 1837 on the first nine miles, at the London end of the line.Construction was...
which was accepted by Parliament and eventually developed.
Thomson was only 23 years old when he
patent
Patent
A patent is a form of intellectual property. It consists of a set of exclusive rights granted by a sovereign state to an inventor or their assignee for a limited period of time in exchange for the public disclosure of an invention....
ed his pneumatic tyre. He was granted a patent in
France
France
The French Republic , The French Republic , The French Republic , (commonly known as France , is a unitary semi-presidential republic in Western Europe with several overseas territories and islands located on other continents and in the Indian, Pacific, and Atlantic oceans. Metropolitan France...
in 1846 and in the US in 1847. His tyre consisted of a hollow belt of India-rubber inflated with air so that the wheels presented "a cushion of air to the ground, rail or track on which they run". This elastic belt of rubberised canvas was enclosed within a strong outer casing of leather which was bolted to the wheel. Thomson's "Aerial Wheels" were demonstrated in London's Regents Park in March 1847 and were fitted to several horse-drawn
carriage
Carriage
A carriage is a wheeled vehicle for people, usually horse-drawn; litters and sedan chairs are excluded, since they are wheelless vehicles. The carriage is especially designed for private passenger use and for comfort or elegance, though some are also used to transport goods. It may be light,...
s, greatly improving the comfort of travel and reducing noise. One set ran for 1200 miles without sign of deterioration.
For many years Thomson was frustrated by the lack of thin rubber, and he turned to the development of his solid rubber tyres. It was not until 43 years later that the pneumatic tyre returned, when it was developed as a
bicycle
Bicycle
A bicycle, also known as a bike, pushbike or cycle, is a human-powered, pedal-driven, single-track vehicle, having two wheels attached to a frame, one behind the other. A person who rides a bicycle is called a cyclist, or bicyclist....
tyre by
John Boyd Dunlop
John Boyd Dunlop
John Boyd Dunlop was a Scottish inventor. He was one of the founders of the rubber company that bore his name, Dunlop Pneumatic Tyre Company....
. Dunlop was granted a patent in 1888, but two years later was officially informed that it was invalid as Thomson's patent anticipated it.
At the Great Exhibition 1851, Thomson demonstrated his self-filling fountain pen and an invalid chair with solid rubber tyres. The following year he accepted a post in
Java
Java
Java is an island of Indonesia. With a population of 135 million , it is the world's most populous island, and one of the most densely populated regions in the world. It is home to 60% of Indonesia's population. The Indonesian capital city, Jakarta, is in west Java...
, where he designed new machinery for the production of sugar, thus greatly increasing profitability. During this time he invented the first portable
steam crane
Steam crane
A steam crane is a crane powered by a steam engine. It may be fixed or mobile and, if mobile, it may run on rail tracks, caterpillar tracks, road wheels, or be mounted on a barge...
but did not bother to patent it.
Thomson returned to Scotland in 1862. Despite ill health, which latterly confined him to a couch, Thomson's genius was undiminished, and some of his most significant work was done during the following ten years. In 1867 he patented a solid India-rubber tyre for his road steamers.
The Scotsman
The Scotsman
The Scotsman is a British newspaper, published in Edinburgh.As of August 2011 it had an audited circulation of 38,423, down from about 100,000 in the 1980s....
described this application of vulcanised India-rubber to the wheels of road steamers as "the greatest step which had ever been made in the use of steam on common roads". The resilience of the stout rubber tyres allowed his lightweight five-ton steam engine to run on hard or soft, wet or dry surfaces, over obstacles, uphill or downhill. In addition, the thick rubber tyres did not damage the roads as did the iron wheels of heavy traction engines. Thomson's first road steamers, manufactured in his own small workshop in
Leith
Leith
-South Leith v. North Leith:Up until the late 16th century Leith , comprised two separate towns on either side of the river....
, were fitted with three wheels, the small single wheel at the front being directly below the steering wheel. The tyres, which were 125 mm (5") thick, were corrugated internally and adhered to the wheel by friction.
Thomson's road steamers, often drawing four fully loaded coal wagons totalling 40 tons up and down steep gradients, excited great interest in the streets of Edinburgh. Soon the first
omnibus
Bus
A bus is a road vehicle designed to carry passengers. Buses can have a capacity as high as 300 passengers. The most common type of bus is the single-decker bus, with larger loads carried by double-decker buses and articulated buses, and smaller loads carried by midibuses and minibuses; coaches are...
was in service between Edinburgh and Leith. Engines were exported to Java,
India
India
India , officially the Republic of India , is a country in South Asia. It is the seventh-largest country by geographical area, the second-most populous country with over 1.2 billion people, and the most populous democracy in the world...
,
Canada
Canada
Canada is a North American country consisting of ten provinces and three territories. Located in the northern part of the continent, it extends from the Atlantic Ocean in the east to the Pacific Ocean in the west, and northward into the Arctic Ocean...
and
Australia
Australia
Australia , officially the Commonwealth of Australia, is a country in the Southern Hemisphere comprising the mainland of the Australian continent, the island of Tasmania, and numerous smaller islands in the Indian and Pacific Oceans. It is the world's sixth-largest country by total area...
, and by 1871 were being manufactured under licence in both the UK and the US by companies such as Tennants of Leith, Charles Burrell in Thetford and Robey in Lincoln.
R. W. Thomson, the versatile genius, died at his home in Moray Place, Edinburgh, aged 50. His mind was active to the end, and his last patent application, for elastic belts, seats and cushions, was filed after his death by his wife, Clara. In 1922 the Royal Scottish Automobile Club presented the town of Stonehaven with a bronze plaque to mark the centenary of Robert William Thomson's birth. This was placed on the building on the south side of Market Square which occupies the site of his birthplace.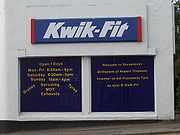 Patents and developments
Pneumatic tyre ( see US Patent 5104 )
Writing and drawing instruments (the self-filling pen)
Improvements in obtaining and applying motive power
Dividing hard substances such as rock stone and coal
Steam boilers
Improvements in steam gauges
Steam omnibuses
Applying steam power in cultivating land
Elastic wheel tyres
Road steamers
Guiding road streamers on street tramways
Elastic belts, seats and other supports or cushions.
Thomson was also the originator of:
The washing mangle with reversible mangles
The ribbon saw
Elliptical rotary engine
Use of electricity to detonate explosive charges
Machinery for sugar manufacturing
The portable steam crane
Hydraulic dry dock
External links