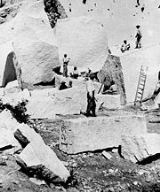 Quartz monzonite
Quartz monzonite
is an
intrusive
Intrusion
An intrusion is liquid rock that forms under Earth's surface. Magma from under the surface is slowly pushed up from deep within the earth into any cracks or spaces it can find, sometimes pushing existing country rock out of the way, a process that can take millions of years. As the rock slowly...
igneous rock
Igneous rock
Igneous rock is one of the three main rock types, the others being sedimentary and metamorphic rock. Igneous rock is formed through the cooling and solidification of magma or lava...
that has an approximately equal proportion of
orthoclase
Orthoclase
Orthoclase is an important tectosilicate mineral which forms igneous rock. The name is from the Greek for "straight fracture," because its two cleavage planes are at right angles to each other. Alternate names are alkali feldspar and potassium feldspar...
and
plagioclase
Plagioclase
Plagioclase is an important series of tectosilicate minerals within the feldspar family. Rather than referring to a particular mineral with a specific chemical composition, plagioclase is a solid solution series, more properly known as the plagioclase feldspar series...
feldspar
Feldspar
Feldspars are a group of rock-forming tectosilicate minerals which make up as much as 60% of the Earth's crust....
s. The plagioclase is typically intermediate to sodic in composition, andesine to oligoclase.
Quartz
Quartz
Quartz is the second-most-abundant mineral in the Earth's continental crust, after feldspar. It is made up of a continuous framework of SiO4 silicon–oxygen tetrahedra, with each oxygen being shared between two tetrahedra, giving an overall formula SiO2. There are many different varieties of quartz,...
is present in significant amounts.
Biotite
Biotite
Biotite is a common phyllosilicate mineral within the mica group, with the approximate chemical formula . More generally, it refers to the dark mica series, primarily a solid-solution series between the iron-endmember annite, and the magnesium-endmember phlogopite; more aluminous endmembers...
and/or
hornblende
Hornblende
Hornblende is a complex inosilicate series of minerals .It is not a recognized mineral in its own right, but the name is used as a general or field term, to refer to a dark amphibole....
constitute the dark minerals. Because of its coloring, it is often confused with
granite
Granite
Granite is a common and widely occurring type of intrusive, felsic, igneous rock. Granite usually has a medium- to coarse-grained texture. Occasionally some individual crystals are larger than the groundmass, in which case the texture is known as porphyritic. A granitic rock with a porphyritic...
, but whereas granite contains more than 20% quartz, quartz monzonite is only 5-20% quartz. Rock with less than five percent quartz is classified as
monzonite
Monzonite
Monzonite is an intermediate igneous intrusive rock composed of approximately equal amounts of sodic to intermediate plagioclase and orthoclase feldspars with minor amounts of hornblende, biotite and other minerals...
. A rock with more alkali feldspar is a
syenite
Syenite
Syenite is a coarse-grained intrusive igneous rock of the same general composition as granite but with the quartz either absent or present in relatively small amounts Syenite is a coarse-grained intrusive igneous rock of the same general composition as granite but with the quartz either absent or...
whereas one with more plagioclase is a
quartz diorite
Quartz diorite
Quartz diorite is an igneous, plutonic rock, of felsic composition, with phaneritic texture. Feldspar is present as plagioclase with 10% or less potassium feldspar. Quartz is present at between 5 to 20% of the rock. Biotite, amphiboles and pyroxenes are common dark accessory...
.
The fine grained
volcanic rock
Volcanic rock
Volcanic rock is a rock formed from magma erupted from a volcano. In other words, it is an igneous rock of volcanic origin...
equivalent of quartz monzonite is
quartz latite
Quartz latite
A quartz latite is a volcanic rock or fine grained intrusive rock equivalent to a latite with a phenocryst modal composition containing 5-20% quartz. Above 20% quartz, the rock would be classified as a rhyolite. It is the fine grained equivalent of a quartz monzonite containing approximately equal...
.
Quartz monzonite
porphyry
Porphyry (geology)
Porphyry is a variety of igneous rock consisting of large-grained crystals, such as feldspar or quartz, dispersed in a fine-grained feldspathic matrix or groundmass. The larger crystals are called phenocrysts...
is often associated with
copper
Copper
Copper is a chemical element with the symbol Cu and atomic number 29. It is a ductile metal with very high thermal and electrical conductivity. Pure copper is soft and malleable; an exposed surface has a reddish-orange tarnish...
mineralization in the porphyry copper
ore
Ore
An ore is a type of rock that contains minerals with important elements including metals. The ores are extracted through mining; these are then refined to extract the valuable element....
deposits.
Geographic distribution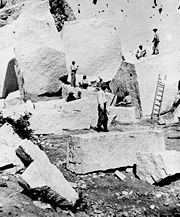 A massive outcrop of this igneous rock can be seen on the bald summit of Croydon Mountain near
Cornish, New Hampshire
Cornish, New Hampshire
Cornish is a town in Sullivan County, New Hampshire, United States. The population was 1,640 at the 2010 census. Cornish has three covered bridges. Each August, it is home to the Cornish Fair.-History:...
.
Stone Mountain
Stone Mountain
Stone Mountain is a quartz monzonite dome monadnock in Stone Mountain, Georgia, United States. At its summit, the elevation is 1,686 feet amsl and 825 feet above the surrounding area. Stone Mountain granite extends underground at its longest point into Gwinnett County...
in
Georgia
Georgia (U.S. state)
Georgia is a state located in the southeastern United States. It was established in 1732, the last of the original Thirteen Colonies. The state is named after King George II of Great Britain. Georgia was the fourth state to ratify the United States Constitution, on January 2, 1788...
is a large quartz monzonite
monadnock
Monadnock
A monadnock or inselberg is an isolated rock hill, knob, ridge, or small mountain that rises abruptly from a gently sloping or virtually level surrounding plain...
.
It is also the material used to construct several buildings in Salt Lake City, including the LDS Church's
Salt Lake Temple
Salt Lake Temple
The Salt Lake Temple is the largest and best-known of more than 130 temples of The Church of Jesus Christ of Latter-day Saints. It is the sixth temple built by the church, requiring 40 years to complete, and the fourth operating temple built since the Mormon exodus from Nauvoo,...
, the
Utah State Capitol
Utah State Capitol
The Utah State Capitol is the house of government for the U.S. state of Utah. The building houses the chambers of the Utah State Legislature, the offices of the Governor of Utah and Lieutenant Governor of Utah, along with other supporting offices for the Government of Utah...
, the
LDS Church Administration Building
Church Administration Building
The Church Administration Building is an administrative office building of The Church of Jesus Christ of Latter-day Saints , the fourth-largest Christian denomination in the United States...
, and the facade of the nearby
LDS Conference Center
LDS Conference Center
The Conference Center, located in Salt Lake City, Utah, is the premier meeting hall for The Church of Jesus Christ of Latter-day Saints. Completed in spring 2000 in time for the church's April 2000 general conference, the 21,000-seat Conference Center replaced the traditional use of the nearby Salt...
. The blocks used were quarried in nearby
Little Cottonwood Canyon
Little Cottonwood Canyon
Little Cottonwood Canyon lies within the Wasatch-Cache National Forest along the eastern side of the Salt Lake Valley, roughly 15 miles from Salt Lake City, Utah. The canyon is part of Granite, a CDP and "Community Council" designated by Salt Lake County. The canyon is a glacial trough , carved by...
.