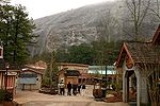 Stone Mountain
Stone Mountain
is a quartz monzonite dome
monadnock
Monadnock
A monadnock or inselberg is an isolated rock hill, knob, ridge, or small mountain that rises abruptly from a gently sloping or virtually level surrounding plain...
in
Stone Mountain, Georgia
Stone Mountain, Georgia
Stone Mountain is a city in eastern DeKalb County, Georgia, United States. The population was 5,802 at the 2010 census. It is an outer suburb of the Atlanta Metropolitan Area.-Geography:...
,
United States
United States
The United States of America is a federal constitutional republic comprising fifty states and a federal district...
. At its summit, the
elevation
Elevation
The elevation of a geographic location is its height above a fixed reference point, most commonly a reference geoid, a mathematical model of the Earth's sea level as an equipotential gravitational surface ....
is 1,686 feet (513
m
Metre
The metre , symbol m, is the base unit of length in the International System of Units . Originally intended to be one ten-millionth of the distance from the Earth's equator to the North Pole , its definition has been periodically refined to reflect growing knowledge of metrology...
)
amsl
Above mean sea level
The term above mean sea level refers to the elevation or altitude of any object, relative to the average sea level datum. AMSL is used extensively in radio by engineers to determine the coverage area a station will be able to reach...
and 825 feet (251.5 m) above the surrounding area. Stone Mountain granite extends underground 9 miles (14.5 km) at its longest point into Gwinnett County. Numerous reference books and Georgia literature have dubbed Stone Mountain as "the largest exposed piece of granite in the world".