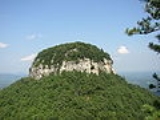 Monadnock
A
monadnock
or
inselberg
is an isolated rock hill, knob, ridge, or small
mountain
Mountain
Image:Himalaya_annotated.jpg|thumb|right|The Himalayan mountain range with Mount Everestrect 58 14 160 49 Chomo Lonzorect 200 28 335 52 Makalurect 378 24 566 45 Mount Everestrect 188 581 920 656 Tibetan Plateaurect 250 406 340 427 Rong River...
that rises abruptly from a gently sloping or virtually level surrounding
plain
Plain
In geography, a plain is land with relatively low relief, that is flat or gently rolling. Prairies and steppes are types of plains, and the archetype for a plain is often thought of as a grassland, but plains in their natural state may also be covered in shrublands, woodland and forest, or...
. In southern and southern-central Africa, a similar formation of granite is known as a
kopje,
a Dutch word from which the
Afrikaans
Afrikaans
Afrikaans is a West Germanic language, spoken natively in South Africa and Namibia. It is a daughter language of Dutch, originating in its 17th century dialects, collectively referred to as Cape Dutch .Afrikaans is a daughter language of Dutch; see , , , , , .Afrikaans was historically called Cape...
word
koppie
was derived.
Definitions
Monadnock
is an originally
Native American
Native Americans in the United States
Native Americans in the United States are the indigenous peoples in North America within the boundaries of the present-day continental United States, parts of Alaska, and the island state of Hawaii. They are composed of numerous, distinct tribes, states, and ethnic groups, many of which survive as...
term for an isolated
hill
Hill
A hill is a landform that extends above the surrounding terrain. Hills often have a distinct summit, although in areas with scarp/dip topography a hill may refer to a particular section of flat terrain without a massive summit A hill is a landform that extends above the surrounding terrain. Hills...
or a lone mountain that has risen above the surrounding area, typically by surviving erosion. Geologists took the name from
Mount Monadnock
Mount Monadnock
Mount Monadnock, or Grand Monadnock, is the most prominent New England mountain peak south of the White Mountains and east of the Massachusetts Berkshires, and is the highest point in Cheshire County, New Hampshire...
in southwestern
New Hampshire
New Hampshire
New Hampshire is a state in the New England region of the northeastern United States of America. The state was named after the southern English county of Hampshire. It is bordered by Massachusetts to the south, Vermont to the west, Maine and the Atlantic Ocean to the east, and the Canadian...
. It is thought to derive from the Abenaki language, from either
menonadenak
("smooth mountain") or
menadena
("isolated mountain"). In this context,
monadnock
is used to describe a mountain that rises from an area of relatively flat and/or lower terrain. For instance, Mount Monadnock rises 2000 feet (609.6 m) above its surrounding terrain and stands, at 3165 feet (964.7 m), nearly 1000 feet (304.8 m) higher than any mountain peak within 30 miles (48.3 km).

The word
inselberg
is
German
German language
German is a West Germanic language, related to and classified alongside English and Dutch. With an estimated 90 – 98 million native speakers, German is one of the world's major languages and is the most widely-spoken first language in the European Union....
for "island mountain"; the name was originally coined by geologist Wilhelm Bornhardt (1864–1946) in 1900 to describe the abundance of such features found in southern
Africa
Africa
Africa is the world's second largest and second most populous continent, after Asia. At about 30.2 million km² including adjacent islands, it covers 6% of the Earth's total surface area and 20.4% of the total land area...
. At this point, the term applied only to arid landscape features. However, the term inselberg has since been used to describe a broader geography and range of rock features, leading to confusion about the precise definition of the term. In a 1973 study examining the use of the term, one researcher found that the term had been used for features in
savannah
Savannah
Savannah or savanna is a type of grassland.It can also mean:-People:* Savannah King, a Canadian freestyle swimmer* Savannah Outen, a singer who gained popularity on You Tube...
climates 40% of the time; arid or semi-arid climates 32% of the time, humid-subtropical and arctic 12% of the time; and 6% each for humid-tropical and Mediterrainean climates. As recently as 1972, the term has been defined as "steep-sided isolated hills rising relatively abruptly above gently sloping ground." This definition includes such features as
butte
Butte
A butte is a conspicuous isolated hill with steep, often vertical sides and a small, relatively flat top; it is smaller than mesas, plateaus, and table landform tables. In some regions, such as the north central and northwestern United States, the word is used for any hill...
s; conical hills with rectilinear sides typically found in arid regions;
regolith
Regolith
Regolith is a layer of loose, heterogeneous material covering solid rock. It includes dust, soil, broken rock, and other related materials and is present on Earth, the Moon, some asteroids, and other terrestrial planets and moons.-Etymology:...
-covered concave-convex hills; rock crests over regolith slopes; rock domes with near vertical sides; tors (koppies) formed of large boulders but with solid rock cores. Thus, the term monadnock and inselberg may not perfectly match.
Geology
Volcanic
Volcano
2. Bedrock3. Conduit 4. Base5. Sill6. Dike7. Layers of ash emitted by the volcano8. Flank| 9. Layers of lava emitted by the volcano10. Throat11. Parasitic cone12. Lava flow13. Vent14. Crater15...
or other processes may give rise to a body of
rock
Rock (geology)
In geology, rock or stone is a naturally occurring solid aggregate of minerals and/or mineraloids.The Earth's outer solid layer, the lithosphere, is made of rock. In general rocks are of three types, namely, igneous, sedimentary, and metamorphic...
resistant to
erosion
Erosion
Erosion is when materials are removed from the surface and changed into something else. It only works by hydraulic actions and transport of solids in the natural environment, and leads to the deposition of these materials elsewhere...
, inside a body of softer rock such as
limestone
Limestone
Limestone is a sedimentary rock composed largely of the minerals calcite and aragonite, which are different crystal forms of calcium carbonate . Many limestones are composed from skeletal fragments of marine organisms such as coral or foraminifera....
which is more susceptible to erosion. When the less resistant rock is eroded away to form a plain, the more resistant rock is left behind as an isolated mountain. The strength of the uneroded rock is often attributed to the tightness of its jointing. If the monadnock is dome-shaped and formed from granite-gneiss, it can also be called a
bornhardt
Bornhardt
A bornhardt is a dome-shaped, steep-sided, bald rock outcropping at least in height and several hundred meters in width. A type of inselberg, bornhardts are typically composed of granites or gneisses, though occasionally formed in other rock types such as dacite, norite, limestone, sandstone and...
.
The presence of a monadnock or inselberg typically indicates the existence of a nearby plateau or highland, or their remnants. This is especially the case for inselbergs composed of sedimentary rock, which will display the same stratigraphic units as this nearby plateau. However once exposed, the inselbergs are destroyed by marginal collapse of joint blocks and exfoliation sheets. This process leaves behind tors perched at their
summits and overtime a talus-bordered residual, known as a castle kopje appears.
Ecology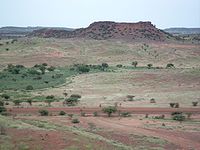 The kopjes of Eastern Africa tend to be a refuge for life in the
Serengeti
Serengeti
The Serengeti ecosystem is a geographical region in Africa. It is located in north Tanzania and extends to south-western Kenya between latitudes 1 and 3 S and longitudes 34 and 36 E. It spans some ....
of
Tanzania
Tanzania
The United Republic of Tanzania is a country in East Africa bordered by Kenya and Uganda to the north, Rwanda, Burundi, and the Democratic Republic of the Congo to the west, and Zambia, Malawi, and Mozambique to the south. The country's eastern borders lie on the Indian Ocean.Tanzania is a state...
and
Kenya
Kenya
Kenya , officially known as the Republic of Kenya, is a country in East Africa that lies on the equator, with the Indian Ocean to its south-east...
. Where the soil is too thin or hard to support tree life in large areas, soil trapped by kopjes can be dense with trees while the surrounding land contains only short grass. Hollows in the rock surfaces provide catchments for rainwater. Many animals have adapted to the use of kopjes, to include the
lion
Lion
The lion is one of the four big cats in the genus Panthera, and a member of the family Felidae. With some males exceeding 250 kg in weight, it is the second-largest living cat after the tiger...
,
hyrax
Hyrax
A hyrax is any of four species of fairly small, thickset, herbivorous mammals in the order Hyracoidea. The rock hyrax Procavia capensis, the yellow-spotted rock hyrax Heterohyrax brucei, the western tree hyrax Dendrohyrax dorsalis, and the southern tree hyrax, Dendrohyrax arboreus live in Africa...
, and an abundance of bird and reptile life.
See also
Mesa

Mesa

A mesa or table mountain is an elevated area of land with a flat top and sides that are usually steep cliffs. It takes its name from its characteristic table-top shape....



Caprock

Caprock

The Caprock is a region in the Panhandle of Texas . It is the land to the west of the Caprock Escarpment, which separates it from plains stretching to the east at a much lower elevation....



Dissected plateau

Dissected plateau

A dissected plateau is a plateau area that has been severely eroded so that the relief is sharp. Such an area may be referred to as mountainous, but dissected plateaus are distinguishable from orogenic mountain belts by the lack of folding, metamorphism, extensive faulting, or magmatic activity...



Stone Mountain

Stone Mountain

Stone Mountain is a quartz monzonite dome monadnock in Stone Mountain, Georgia, United States. At its summit, the elevation is 1,686 feet amsl and 825 feet above the surrounding area. Stone Mountain granite extends underground at its longest point into Gwinnett County...