 Food industry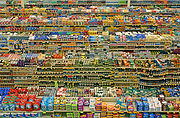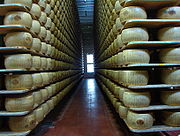 The
food production
is a complex, global collective of diverse
business
Business
A business is an organization engaged in the trade of goods, services, or both to consumers. Businesses are predominant in capitalist economies, where most of them are privately owned and administered to earn profit to increase the wealth of their owners. Businesses may also be not-for-profit...
es that together supply much of the
food energy
Food energy
Food energy is the amount of energy obtained from food that is available through cellular respiration.Food energy is expressed in food calories or kilojoules...
consumed by the
world population
World population
The world population is the total number of living humans on the planet Earth. As of today, it is estimated to be billion by the United States Census Bureau...
. Only subsistence farmers, those who survive on what they grow, can be considered outside of the scope of the modern
food
Food
Food is any substance consumed to provide nutritional support for the body. It is usually of plant or animal origin, and contains essential nutrients, such as carbohydrates, fats, proteins, vitamins, or minerals...
industry
Industry
Industry refers to the production of an economic good or service within an economy.-Industrial sectors:There are four key industrial economic sectors: the primary sector, largely raw material extraction industries such as mining and farming; the secondary sector, involving refining, construction,...
.
The food industry includes:
Definitions
It is challenging to find an inclusive way to cover all aspects of food production and sale. The
Food Standards Agency
Food Standards Agency
The Food Standards Agency is a non-ministerial government department of the Government of the United Kingdom. It is responsible for protecting public health in relation to food throughout the United Kingdom and is led by a board appointed to act in the public interest...
, a government body in the UK, describes it thus:
"...the whole food industry – from farming and food production, packaging and distribution, to retail and catering."
The Economic Research Service of the USDA uses the term
food system
to describe the same thing:
"The U.S. food system is a complex network of farmers and the industries that link to them. Those links include makers of farm equipment and chemicals as well as firms that provide services to agribusinesses, such as providers of transportation and financial services. The system also includes the food marketing industries that link farms to consumers, and which include food and fiber processors, wholesalers, retailers, and foodservice establishments."
Industry size
Processed food sales worldwide are approximately US$3.2 trillion (2004).
In the
U.S.
United States
The United States of America is a federal constitutional republic comprising fifty states and a federal district...
,
consumer
Consumer
Consumer is a broad label for any individuals or households that use goods generated within the economy. The concept of a consumer occurs in different contexts, so that the usage and significance of the term may vary.-Economics and marketing:...
s spend approximately US$1 trillion annually on food, or nearly 10 percent of the
Gross Domestic Product
Gross domestic product
Gross domestic product refers to the market value of all final goods and services produced within a country in a given period. GDP per capita is often considered an indicator of a country's standard of living....
(GDP). Over 16.5 million people are employed in the food industry.
In the United Kingdom, the food industry is extensive. It employs well over half a million people and has a turnover in excess of £70bn. It is the largest manufacturing sector in the UK and represents around 15% of the total manufacturing sector in the UK. Around 13% of the people working in manufacturing in the UK work in the food and drink industry.
Agriculture
Agriculture is the process of producing food, feed, fiber and other desired products by the cultivation of certain plants and the raising of domesticated animals (livestock). The practice of agriculture is also known as "farming", while scientists, inventors and others devoted to improving farming methods and implements are also said to be engaged in agriculture. More people in the world are involved in agriculture as their primary economic activity than in any other, yet it only accounts for twenty percent of the world's Gross Domestic Product (GDP).
Food processing
Food processing is the methods and techniques used to transform raw ingredients into food for human consumption. Food processing takes clean, harvested or slaughtered and butchered components and uses them to produce marketable food products. There are several different ways in which food can be produced.
One Off Production
This method is used when customers make an order for something to be made to their own specifications, for example a wedding cake. The making of One Off Products could take days depending on how intricate the design is and also the ability of the chef making the product.
Batch Production
This method is used when the size of the market for a product is not clear, and where there is a range within a product line. A certain number of the same goods will be produced to make up a batch or run, for example at Gregg's Bakery they will bake a certain number of chicken bakes. This method involves estimating the amount of customers that will want to buy that product.
Mass production
This method is used when there is a mass market for a large number of identical products, for example, chocolate bars, ready meals and canned food. The product passes from one stage of production to another along a production line.
Just In Time
This method of production is mainly used in sandwich bars such as
Subway
Subway (restaurant)
Subway is an American restaurant franchise that primarily sells submarine sandwiches and salads. It is owned and operated by Doctor's Associates, Inc. . Subway is one of the fastest growing franchises in the world with 35,519 restaurants in 98 countries and territories as of October 25th, 2011...
. All the components of the product are there and the customer chooses what they want in their product and it is made for them fresh in front of them.
Wholesale and distribution
A vast global transportation network is required by the food industry in order to connect its numerous parts. These include suppliers, manufacturers, warehousing, retailers and the end consumers. There are also companies that add vitamins, minerals, and other necessary requirements during processing to make up for those lost during preparation.
Wholesale markets
Wholesale marketing
The consumption and production of marketed food are spatially separated. Production is primarily in rural areas whilst consumption is in urban areas. Agricultural marketing is the process that overcomes this separation, allowing produce to be moved from an area of surplus to one of need...
for fresh food products have tended to decline in importance in OECD countries as well as in Latin America and some Asian countries as a result of the growth of supermarkets, which procure directly from farmers or through preferred suppliers, rather than going through markets.
The constant and uninterrupted flow of product from distribution centers to store locations is a critical link in food industry operations. Distribution centers run more efficiently, throughput can be increased, costs can be lowered, and manpower better utilized if the proper steps are taken when setting up a material handling system in a warehouse.
http://www.groceryheadquarters.com/articles/2009-01-01/Boosting-efficiency-at-the-DC
Retail
With populations around the world concentrating in urban areas, food buying is increasingly removed from all aspects of food production. This is a relatively recent development, having taken place mainly over the last 50 years. The supermarket is the defining retail element of the food industry, where tens of thousands of products are gathered in one location, in continuous, year-round supply. Restaurants, Cafes, Bakeries and Mobile trucks are also ways consumers can purchase food.
Food preparation is another area where change in recent decades has been dramatic. Today, two food industry sectors are in apparent competition for the retail food dollar. The grocery industry sells fresh and largely raw products for consumers to use as ingredients in home cooking. The food service industry by contrast offers prepared food, either as finished products, or as partially prepared components for final "assembly".
Food industry technologies
Sophisticated technologies define modern food production. They include many areas. Agricultural machinery, originally led by the
tractor
Tractor
A tractor is a vehicle specifically designed to deliver a high tractive effort at slow speeds, for the purposes of hauling a trailer or machinery used in agriculture or construction...
, has practically eliminated human labor in many areas of production. Biotechnology is driving much change, in areas as diverse as agrochemicals, plant breeding and food processing. Many other areas of technology are also involved, to the point where it is hard to find an area that does not have a direct impact on the food industry. Computer technology is also a central force, with computer networks and specialized software providing the support infrastructure to allow global movement of the myriad components involved.
Marketing
As consumers grow increasingly removed from food production, the role of product creation, advertising, and publicity become the primary vehicles for information about food. With processed food as the dominant category, marketers have almost infinite possibilities in product creation.
Media & Marketing
A key tool for FMCG marketing managers targeting the supermarket industry includes national titles like
The Grocer
in the U.K.,
Checkout
in Ireland,
Progressive Grocer
in the U.S., and
Private Label Europe
for the entire of the European Union.it
Labour and education
Until the last 100 years, agriculture was labor intensive. Farming was a common occupation. Food production flowed from millions of farms. Farmers, largely trained from generation to generation, carried on the family business. That situation has changed dramatically. In North America, over 50% of the population were farm families only a few decades ago; now, that figure is around 1-2%, and about 80% of the population lives in cities. The food industry as a complex whole requires an incredibly wide range of skills. Several hundred occupation types exist within the food industry.
Research and development
Research in agricultural and food processing technologies happens in great part in university research environments. Projects are often funded by companies from the food industry. There is therefore a direct relationship between the academic and commercial sectors, as far as scientific research.
Prominent Food Companies
Nestlé

Nestlé

Nestlé S.A. is the world's largest food and nutrition company. Founded and headquartered in Vevey, Switzerland, Nestlé originated in a 1905 merger of the Anglo-Swiss Milk Company, established in 1867 by brothers George Page and Charles Page, and Farine Lactée Henri Nestlé, founded in 1866 by Henri...


is the world's largest food and beverage company.
PepsiCo

PepsiCo

PepsiCo Inc. is an American multinational corporation headquartered in Purchase, New York, United States, with interests in the manufacturing, marketing and distribution of grain-based snack foods, beverages, and other products. PepsiCo was formed in 1965 with the merger of the Pepsi-Cola Company...


is the largest U.S.-based food and beverage company.
Unilever

Unilever

Unilever is a British-Dutch multinational corporation that owns many of the world's consumer product brands in foods, beverages, cleaning agents and personal care products....


is an Anglo-Dutch company that owns many of the world's consumer product brands in foods and beverages.
Kraft

Kraft

Kraft has more than one meaning:* Kraft Foods, the world's third largest food and beverage company by revenue* Kraft process, a paper pulp production method* Kraft paper, paper produced by the Kraft process* Kraft , a video game character...


is apparently the world's second largest food company, following its acquisition of Cadbury in 2010.
DuPont

DuPont

E. I. du Pont de Nemours and Company , commonly referred to as DuPont, is an American chemical company that was founded in July 1802 as a gunpowder mill by Eleuthère Irénée du Pont. DuPont was the world's third largest chemical company based on market capitalization and ninth based on revenue in 2009...


and Monsanto Company are the leading producers of pesticide, seeds, and other farming products.
Both Archer Daniels Midland

Archer Daniels Midland

The Archer Daniels Midland Company is a conglomerate headquartered in Decatur, Illinois. ADM operates more than 270 plants worldwide, where cereal grains and oilseeds are processed into products used in food, beverage, nutraceutical, industrial and animal feed markets worldwide.ADM was named the...


and Cargill

Cargill

Cargill, Incorporated is a privately held, multinational corporation based in Minnetonka, Minnesota. Founded in 1865, it is now the largest privately held corporation in the United States in terms of revenue. If it were a public company, it would rank, as of 2011, number 13 on the Fortune 500,...


process grain into animal feed and a diverse group of products. ADM also provides agricultural storage and transportation services, while Cargill operates a finance wing.
Bunge Limited

Bunge Limited

Bunge Limited is a Bermudan food conglomerate with its headquarters in White Plains, New York. As well as being a leading global soybean exporter it is also involved in food processing, grain trading, and fertilizer...


is a global soybean exporter and is also involved in food processing, grain trading, and fertilizer.
Dole Food Company

Dole Food Company

Dole Food Company, Inc. is an American-based agricultural multinational corporation headquartered in Westlake Village, California. The company is the largest producer of fruits and vegetables in the world, operating with 74,300 full-time and seasonal employees who are responsible for over 300...


is the world's largest fruit company. Chiquita Brands International

Chiquita Brands International

Chiquita Brands International Inc. is an American producer and distributor of bananas and other produce, under a variety of subsidiary brand names, collectively known as Chiquita. Other brands include Fresh Express salads, which it purchased from Performance Food Group in 2005...


, another U.S.-based fruit company, is the leading distributor of bananas in the United States. Sunkist Growers, Incorporated

Sunkist Growers, Incorporated

Sunkist Growers, Incorporated is a citrus grower's non-stock membership cooperative composed of 6,000 members from California and Arizona. It is headquartered in the Sherman Oaks district of Los Angeles.-History:...


is a U.S.-based grower's cooperative

Cooperative

A cooperative is a business organization owned and operated by a group of individuals for their mutual benefit...


.
JBS S.A.

JBS S.A.

JBS is the largest Brazilian multinational in the food industry, producing fresh, chilled, and processed beef, chicken and pork, and also selling by-products from the processing of these meats. It is headquartered in São Paulo."." JBS S.A. Retrieved on February 3, 2011...


is the world's largest processor and marketer of chicken, beef, and pork. Smithfield Foods

Smithfield Foods

Smithfield Foods, Inc. is the world's largest pork producer and processor. Headquartered in Smithfield, Virginia, it runs facilities in 26 U.S. states, including the world's largest meat-processing plant in Tar Heel, North Carolina, and has operations in Brazil, China, France, Mexico, Poland,...


is the world's largest pork processor and hog producer.
Sysco Corporation, mainly catering to North America, is one of the world's largest food distributors.
General Mills

General Mills

General Mills, Inc. is an American Fortune 500 corporation, primarily concerned with food products, which is headquartered in Golden Valley, Minnesota, a suburb of Minneapolis. The company markets many well-known brands, such as Betty Crocker, Yoplait, Colombo, Totinos, Jeno's, Pillsbury, Green...


is the world's sixth biggest food manufacturing company.
Grupo Bimbo

Grupo Bimbo

Grupo Bimbo is the largest Mexican food company and the largest bakery in the world with brands in Americas, Europe, and China.-History:Grupo Bimbo was established in Mexico in 1945 by Lorenzo Servitje, Jose T. Mata, Jaime Sendra, and Jaime Jorba...


is one of the most important baking companies in brand and trademark positioning, sales, and production volume around the world.
See also
Agricultural economics

Agricultural economics

Agricultural economics originally applied the principles of economics to the production of crops and livestock — a discipline known as agronomics. Agronomics was a branch of economics that specifically dealt with land usage. It focused on maximizing the crop yield while maintaining a good soil...



Geography of food

Geography of food

The Geography of Food is a field of human geography that is concerned with the production, consumption and supply chains of food.-History:Spatial variations in food production and consumption practices have been noted for thousands of years...



Dietary supplement

Dietary supplement

A dietary supplement, also known as food supplement or nutritional supplement, is a preparation intended to supplement the diet and provide nutrients, such as vitamins, minerals, fiber, fatty acids, or amino acids, that may be missing or may not be consumed in sufficient quantities in a person's diet...



Food fortification

Food fortification

Food fortification or enrichment is the process of adding micronutrients to food. It can be purely a commercial choice to provide extra nutrients in a food, or sometimes it is a public health policy which aims to reduce numbers of people with dietary deficiencies in a population.Diets that lack...



Food preservation

Food preservation

Food preservation is the process of treating and handling food to stop or slow down spoilage and thus allow for longer storage....



Food rheology

Food rheology

Food rheology is the study of the rheological properties of food, that is, the consistency and flow of food under tightly specified conditions. The consistency, degree of fluidity, and other mechanical properties are important in understanding how long food can be stored, how stable it will...



Food storage

Food storage

Food storage is both a traditional domestic skill and is important industrially. Food is stored by almost every human society and by many animals...



Food supplements
Nutraceutical

Nutraceutical

Nutraceutical, a portmanteau of the words "nutrition" and "pharmaceutical", is a food or food product that reportedly provides health and medical benefits, including the prevention and treatment of disease. Health Canada defines the term as "a product isolated or purified from foods that is...



Nutrification (aka food enrichment or fortification)
Food Science

Food science

Food science is a study concerned with all technical aspects of foods, beginning with harvesting or slaughtering, and ending with its cooking and consumption, an ideology commonly referred to as "from field to fork"...



Food Engineering

Food engineering

Food engineering is a multidisciplinary field of applied physical sciences which combines science, microbiology, and engineering education for food and related industries. Food engineering includes, but is not limited to, the application of agricultural engineering, mechanical engineering and...



Food and Bioprocess Technology

Food and Bioprocess Technology

Food and Bioprocess Technology: An International Journal is a peer reviewed scientific journal published by Springer Science+Business Media. It is available in print and online...



Food safety

Food safety

Food safety is a scientific discipline describing handling, preparation, and storage of food in ways that prevent foodborne illness. This includes a number of routines that should be followed to avoid potentially severe health hazards....



Food microbiology

Food microbiology

Food microbiology is the study of the microorganisms that inhabit, create, or contaminate food. Of major importance is the study of microorganisms causing food spoilage. "Good" bacteria, however, such as probiotics, are becoming increasingly important in food science...



Food chemistry

Food chemistry

Food chemistry is the study of chemical processes and interactions of all biological and non-biological components of foods. The biological substances include such items as meat, poultry, lettuce, beer, and milk as examples...



Food packaging

Food packaging

Food packaging is packaging for food. It requires protection, tampering resistance, and special physical, chemical, or biological needs. It also shows the product that is labeled to show any nutrition information on the food being consumed....



Food technology

Food technology

Food technology, is a branch of food science which deals with the actual production processes to make foods.-Early history of food technology:...



External links