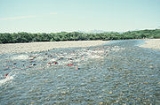 Fishery
Generally, a
fishery
is an entity engaged in raising or harvesting
fish
Fish
Fish are a paraphyletic group of organisms that consist of all gill-bearing aquatic vertebrate animals that lack limbs with digits. Included in this definition are the living hagfish, lampreys, and cartilaginous and bony fish, as well as various extinct related groups...
which is determined by some authority to be a fishery. According to the
FAO
Fão
Fão is a town in Esposende Municipality in Portugal....
, a fishery is typically defined in terms of the "people involved, species or type of fish, area of water or seabed, method of fishing, class of boats, purpose of the activities or a combination of the foregoing features". The definition often includes a combination of fish and
fishers
Fisherman
A fisherman or fisher is someone who captures fish and other animals from a body of water, or gathers shellfish. Worldwide, there are about 38 million commercial and subsistence fishermen and fish farmers. The term can also be applied to recreational fishermen and may be used to describe both men...
in a region, the latter fishing for similar species with similar gear types.
A fishery may involve the capture of wild fish or raising fish through fish farming or
aquaculture
Aquaculture
Aquaculture, also known as aquafarming, is the farming of aquatic organisms such as fish, crustaceans, molluscs and aquatic plants. Aquaculture involves cultivating freshwater and saltwater populations under controlled conditions, and can be contrasted with commercial fishing, which is the...
.