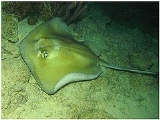 Stingray
The
stingrays
are a group of
rays
Batoidea
Batoidea is a superorder of cartilaginous fish commonly known as rays and skates, containing more than 500 described species in thirteen families...
, which are cartilaginous fishes related to
shark
Shark
Sharks are a type of fish with a full cartilaginous skeleton and a highly streamlined body. The earliest known sharks date from more than 420 million years ago....
s. They are classified in the suborder
Myliobatoidei
of the order
Myliobatiformes
Myliobatiformes
Myliobatiformes is one of the four orders of batoids, cartilaginous fishes related to sharks. They were formerly included in the order Rajiformes, but more recent phylogenetic studies have shown that the myliobatiforms are a monophyletic group, and that its more derived members evolved their...
, and consist of eight families: Hexatrygonidae (sixgill stingray), Plesiobatidae (deep water stingray), Urolophidae (stingarees),
Urotrygonidae
Urotrygonidae
Urotrygonidae is a family of rays in the order Myliobatiformes, commonly referred to as the American round stingrays or round rays. They are native to the tropical and warm temperate marine waters of the Americas. The two genera in this family were formerly placed within the family Urolophidae,...
(round rays), Dasyatidae (whiptail stingrays),
Potamotrygonidae
Potamotrygonidae
River stingrays are Neotropical freshwater fishes of the Potamotrygonidae family .They are native to northern, central and eastern South America, living in rivers that drain into the Caribbean, and into the Atlantic as far south as the Río de la Plata in Argentina...
(river stingrays), Gymnuridae (butterfly rays), and Myliobatidae (eagle rays).
Most stingrays have one or more barbed stings (modified from dermal denticles) on the tail, which is used exclusively in self-defense.