 Museo Soumaya
The
Museo Soumaya
is a private museum in
Mexico City
Mexico City
Mexico City is the Federal District , capital of Mexico and seat of the federal powers of the Mexican Union. It is a federal entity within Mexico which is not part of any one of the 31 Mexican states but belongs to the federation as a whole...
with free admission. It is owned by the Carlos Slim Foundation and contains the extensive art, religious relics, historical documents, and coin collection of Carlos Slim and his late wife Soumaya, after whom the museum was named.
The museum holds works by many of the best known European artists from the 15th to the 20th century. It contains a large collection of casts of sculptures by
Auguste Rodin
Auguste Rodin
François-Auguste-René Rodin , known as Auguste Rodin , was a French sculptor. Although Rodin is generally considered the progenitor of modern sculpture, he did not set out to rebel against the past...
.
The museum was founded in 1994. In 2011 it opened a new location which cost over $70 million to build. The new building, a shiny silver cloud-like structure reminiscent of a Rodin sculpture, was designed by the Mexican architect
Fernando Romero
Fernando Romero
Fernando Romero born 1971, is a Latin American architect. He has produced five books that have had worldwide distribution and has received more than 21 international awards including "Architect of the Year 2010" from Fashion Group. He is the son-in-law of Carlos Slim.-Life and career:Graduated in...
, who is married to a daughter of Carlos Slim, and engineered with
Ove Arup
Ove Arup
Sir Ove Nyquist Arup, CBE, MICE, MIStructE known as Ove Arup, was a leading Anglo-Danish engineer and generally considered to be one of the foremost architectural structural engineers of his time...
and
Frank Gehry
Frank Gehry
Frank Owen Gehry, is a Canadian American Pritzker Prize-winning architect based in Los Angeles, California.His buildings, including his private residence, have become tourist attractions...
.
Collection
The Museo Soumaya has a collection of over 66,000 pieces of art. The majority of the art consists of European works from the 15th to the 20th century. It also holds Mexican art, religious relics, and historical documents and coins. The museum contains the world's largest collection of pre-Hispanic and colonial era coins. It also holds the largest collection of casts of sculptures by Auguste Rodin outside of France, and the world's largest private collection of his art. Slim owns a total of 380 casts and works of art by Rodin. His late wife, whom he credits with teaching him much of what he knows about art, was an admirer of Rodin's work. In addition to Rodin, some notable European artists whose work is displayed include
Salvador Dalí
Salvador Dalí
Salvador Domènec Felip Jacint Dalí i Domènech, Marquis de Púbol , commonly known as Salvador Dalí , was a prominent Spanish Catalan surrealist painter born in Figueres,Spain....
,
Pablo Picasso
Pablo Picasso
Pablo Diego José Francisco de Paula Juan Nepomuceno María de los Remedios Cipriano de la Santísima Trinidad Ruiz y Picasso known as Pablo Ruiz Picasso was a Spanish expatriate painter, sculptor, printmaker, ceramicist, and stage designer, one of the greatest and most influential artists of the...
, circle of
Leonardo da Vinci
Leonardo da Vinci
Leonardo di ser Piero da Vinci was an Italian Renaissance polymath: painter, sculptor, architect, musician, scientist, mathematician, engineer, inventor, anatomist, geologist, cartographer, botanist and writer whose genius, perhaps more than that of any other figure, epitomized the Renaissance...
,
Pierre-Auguste Renoir
Pierre-Auguste Renoir
Pierre-Auguste Renoir was a French artist who was a leading painter in the development of the Impressionist style. As a celebrator of beauty, and especially feminine sensuality, it has been said that "Renoir is the final representative of a tradition which runs directly from Rubens to...
,
Joan Miró
Joan Miró
Joan Miró i Ferrà was a Spanish Catalan painter, sculptor, and ceramicist born in Barcelona.Earning international acclaim, his work has been interpreted as Surrealism, a sandbox for the subconscious mind, a re-creation of the childlike, and a manifestation of Catalan pride...
,
Vincent van Gogh
Vincent van Gogh
Vincent Willem van Gogh , and used Brabant dialect in his writing; it is therefore likely that he himself pronounced his name with a Brabant accent: , with a voiced V and palatalized G and gh. In France, where much of his work was produced, it is...
,
Henri Matisse
Henri Matisse
Henri Matisse was a French artist, known for his use of colour and his fluid and original draughtsmanship. He was a draughtsman, printmaker, and sculptor, but is known primarily as a painter...
,
Claude Monet
Claude Monet
Claude Monet was a founder of French impressionist painting, and the most consistent and prolific practitioner of the movement's philosophy of expressing one's perceptions before nature, especially as applied to plein-air landscape painting. . Retrieved 6 January 2007...
,
Bartolomé Esteban Murillo
Bartolomé Estéban Murillo
Bartolomé Esteban Murillo was a Spanish Baroque painter. Although he is best known for his religious works, Murillo also produced a considerable number of paintings of contemporary women and children...
,
El Greco
El Greco
El Greco was a painter, sculptor and architect of the Spanish Renaissance. "El Greco" was a nickname, a reference to his ethnic Greek origin, and the artist normally signed his paintings with his full birth name in Greek letters, Δομήνικος Θεοτοκόπουλος .El Greco was born on Crete, which was at...
, and
Tintoretto
Tintoretto
Tintoretto , real name Jacopo Comin, was a Venetian painter and a notable exponent of the Renaissance school. For his phenomenal energy in painting he was termed Il Furioso...
. The most valuable work of art in the collection is believed to be a version of
Madonna of the Yarnwinder
Madonna of the Yarnwinder
The Madonna of the Yarnwinder is the subject of several oil paintings, but the original version by Leonardo da Vinci may now be lost. The composition shows Virgin Mary with the Christ child, who looks longingly at a yarnwinder used to collect spun yarn...
by circle of Leonardo da Vinci. Another version of the same painting has been valued at over £30 Million. The works were described by
Benjamin Genocchio
Benjamin Genocchio
Benjamin Giorgio Genocchio is an Australian-born non-fiction writer and art critic resident in New York who writes for the New York Times. He is the author and editor of seven books.-Education:...
in
artinfo
ARTINFO
Artinfo is the web site of Louise Blouin Media, a cultural media group.Artinfo focuses on coverage of the art world and culture with daily updates of breaking news, artist profiles, stories about collectors and collecting, gallery round-ups from around the world, market trends and analysis, and...
as "lots of second-rate works by famous Modernist and Impressionist masters. Several Mexican artists are also featured, including
Diego Rivera
Diego Rivera
Diego María de la Concepción Juan Nepomuceno Estanislao de la Rivera y Barrientos Acosta y Rodríguez was a prominent Mexican painter born in Guanajuato, Guanajuato, an active communist, and husband of Frida Kahlo . His large wall works in fresco helped establish the Mexican Mural Movement in...
and
Rufino Tamayo
Rufino Tamayo
Rufino Tamayo was a Mexican painter of Zapotec heritage, born in Oaxaca de Juárez, Mexico. Tamayo was active in the mid-20th century in Mexico and New York, painting figurative abstraction with surrealist influences....
. The director of the museum has claimed that the total worth of the art it holds is over $700 million.
The museum's director, Alfonso Miranda has described its approach as "not a copy of the Occident; what we have is a whole new version of things." The museum notably includes some types of European art that have not been permanently displayed in
Latin America
Latin America
Latin America is a region of the Americas where Romance languages – particularly Spanish and Portuguese, and variably French – are primarily spoken. Latin America has an area of approximately 21,069,500 km² , almost 3.9% of the Earth's surface or 14.1% of its land surface area...
in the past. Mexican president
Felipe Calderón
Felipe Calderón
Felipe de Jesús Calderón Hinojosa is the current President of Mexico. He assumed office on December 1, 2006, and was elected for a single six-year term through 2012...
has praised the museum as a place where "Mexicans can learn about the great masters of all time". Slim has described the museum as his attempt to increase the "humanistic capital" of Mexico City. He has noted that since many Mexicans cannot afford to travel to Europe to view art collections there, it was important to house a prestigious collection of European art in Mexico itself. Some commentators, including
Larry King
Larry King
Lawrence Harvey "Larry" King is an American television and radio host whose work has been recognized with awards including two Peabodys and ten Cable ACE Awards....
, have predicted that the museum will cause an increase in the amount of tourists from the United States who visit Mexico City.
Carlos Slim bought a large number of sculptures by Rodin in the 1980s while their value was at a low ebb. The values of many pieces he bought for the collection have soared since then. Some critics have claimed that Slim valued quantity over quality when amassing his collection, however. In Mexican art circles, it is said, perhaps apocryphally, that he has calculated the average cost per kilogram of Rodin's works.
Building
The Museo Soumaya was originally located at the site of an old paper factory, in the Plaza Loreto of
San Ángel
San Ángel
San Ángel is a colonia or neighborhood of Mexico City, located in the southwest in Álvaro Óbregon borough. Historically, it was a rural community, called Tenanitla in the pre Hispanic period. Its current name is derived from the El Carmen monastery school called San Ángel Mártir...
, in the southern part of Mexico City. The building featured four distinct rooms each of which had a specific theme.
In 2011 the main collection moved to a new 16000 square metres (172,222.6 sq ft) building, constructed in the northern part of Mexico City. The new building is a 46 metres (150.9 ft) high six story building that is covered by 16,000 hexagonal aluminum tiles. The aluminum used in the project was supplied by a company that is also owned by Carlos Slim. The museum has a narrow entrance that opens into a large white gallery. The top floor of the building is opened so that it is illuminated by sunlight during the daytime. In addition to the art galleries, the new building contains a library, restaurant, and an auditorium that seats 350 people.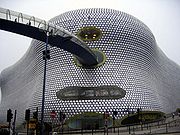 The style of the building has been compared to
Selfridges
Selfridges
Selfridges, AKA Selfridges & Co, is a chain of high end department stores in the United Kingdom. It was founded by Harry Gordon Selfridge. The flagship store in London's Oxford Street is the second largest shop in the UK and was opened on 15 March 1909.More recently, three other stores have been...
shop in
Birmingham, England
Birmingham
Birmingham is a city and metropolitan borough in the West Midlands of England. It is the most populous British city outside the capital London, with a population of 1,036,900 , and lies at the heart of the West Midlands conurbation, the second most populous urban area in the United Kingdom with a...
as well as the
Guggenheim Museum Bilbao
Guggenheim Museum Bilbao
The Guggenheim Museum Bilbao is a museum of modern and contemporary art, designed by Canadian-American architect Frank Gehry, built by Ferrovial, and located in Bilbao, Basque Country, Spain. It is built alongside the Nervion River, which runs through the city of Bilbao to the Atlantic Coast. The...
. Benjamin Genocchio in
Artinfo
ARTINFO
Artinfo is the web site of Louise Blouin Media, a cultural media group.Artinfo focuses on coverage of the art world and culture with daily updates of breaking news, artist profiles, stories about collectors and collecting, gallery round-ups from around the world, market trends and analysis, and...
described it as a "baldly derivative structure with the young architect taking open inspiration from Frank Lloyd Wright's Solomon R. Guggenheim Museum in New York for the interior and Frank Gehry's Guggenheim Museum in Bilbao for the exterior".
Slim and Romero discussed the design of the building extensively, even going over details of the planned construction during family gatherings. Slim, who was trained as an engineer, has referred to himself as a co-architect of the building. Romero has denied that nepotism was a factor in his selection as architect. Before being selected as the architect for the project he had won several international architecture awards, although this was the largest project that he had ever undertaken. Each of the six floors of the museum are distinctly shaped. The weight of the building is upheld by an exoskeleton of 28 curved steel vertical columns and seven beams encircling the structure built by a Slim owned company that manufactures offshore oil rigs. In addition, the roof is kept stable through its suspension from a cantilever. The floors are made of high quality marble that was imported from Greece.
The new location of the Museo Soumaya was officially inaugurated in February 28, 2011 with a large VIP gala that culminated in a ceremonial ribbon cutting. Notable guests that participated in the ribbon cutting included Felipe Calderón,
Gabriel García Márquez
Gabriel García Márquez
Gabriel José de la Concordia García Márquez is a Colombian novelist, short-story writer, screenwriter and journalist, known affectionately as Gabo throughout Latin America. He is considered one of the most significant authors of the 20th century. He was awarded the Nobel Prize in Literature in...
,
Evelyn Robert de Rothschild
Evelyn Robert de Rothschild
Sir Evelyn Robert Adrian de Rothschild is a British financier, and a member of the Rothschild family.-Early life:The son of Anthony Gustav de Rothschild and Yvonne Cahen d'Anvers , he was named after his uncle Evelyn Achille de Rothschild who was killed in action in World War I...
, and Larry King. The new building opened to the public on March 28, 2011. Admission to the museum is now free of charge and the operating costs are covered by Slim's fortune, which was the world's largest at the time the new location opened.
The museum is located next to a large commercial development project known as Plaza Carso in
Polanco
Polanco (Mexico)
Polanco is the name that usually refers to a group of seven official neighborhoods in Mexico City, located north of Chapultepec Park. The official names of the neighborhoods are: Los Morales , Del Bosque, Polanco Reforma, Polanco Chapultepec, Chapultepec Morales, Bosque de Chapultepec and...
. This project was also built by Carlos Slim and features many of his companies, as well as a luxury hotel and several apartment buildings. The entire development cost almost $800 million dollars to build.
Criticism
Headlines such as
"Carlos Slim's Xanadu?: Reactions to the World's Richest Man's Overweening New Museo Soumaya", "Carlos Slim's Museo Soumaya: Money Can't Buy Taste", "Emperor's New Museum", and "Photos: World's Richest Man Opens World's Flashiest Museum" reflect criticisms of Carlos Slim as a business man, the quality of the work exhibited, and the quality of the building. ,
External links