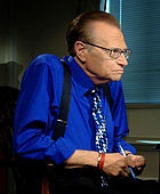 Larry King
Lawrence Harvey "Larry" King
(born November 19, 1933) is an American television and radio host whose work has been recognized with awards including two
Peabodys
Peabody Award
The George Foster Peabody Awards recognize distinguished and meritorious public service by radio and television stations, networks, producing organizations and individuals. In 1939, the National Association of Broadcasters formed a committee to recognize outstanding achievement in radio broadcasting...
and ten Cable ACE Awards.
King began as a local
Florida
Florida
Florida is a state in the southeastern United States, located on the nation's Atlantic and Gulf coasts. It is bordered to the west by the Gulf of Mexico, to the north by Alabama and Georgia and to the east by the Atlantic Ocean. With a population of 18,801,310 as measured by the 2010 census, it...
journalist and radio interviewer in the 1950s and 1960s and became prominent as an all-night national radio broadcaster starting in 1978. From 1985 to 2010, King hosted the nightly interview TV program
Larry King Live
Larry King Live
Larry King Live is an American talk show hosted by Larry King on CNN from 1985 to 2010. It was CNN's most watched and longest-running program, with over one million viewers nightly....
on
CNN
CNN
Cable News Network is a U.S. cable news channel founded in 1980 by Ted Turner. Upon its launch, CNN was the first channel to provide 24-hour television news coverage, and the first all-news television channel in the United States...
, a network for which he continues to host specials.
Early life
King was born in Brooklyn, New York City, to Edward Zeiger, a restaurant owner and defense plant worker, and his wife Jennie Gitlitz, a garment worker, who emigrated from
Belarus
Belarus
Belarus , officially the Republic of Belarus, is a landlocked country in Eastern Europe, bordered clockwise by Russia to the northeast, Ukraine to the south, Poland to the west, and Lithuania and Latvia to the northwest. Its capital is Minsk; other major cities include Brest, Grodno , Gomel ,...
. King grew up in a religious and observant Jewish home, but in adulthood became an agnostic. King's father died at 44 of
heart disease
Heart disease
Heart disease, cardiac disease or cardiopathy is an umbrella term for a variety of diseases affecting the heart. , it is the leading cause of death in the United States, England, Canada and Wales, accounting for 25.4% of the total deaths in the United States.-Types:-Coronary heart disease:Coronary...
, and his mother had to go on welfare to support her two sons. His father's death greatly affected King, and he lost interest in school. After graduating from high school, he worked to help support his mother. From an early age, however, he had wanted to go into radio.
Miami radio and television
A
CBS
CBS
CBS Broadcasting Inc. is a major US commercial broadcasting television network, which started as a radio network. The name is derived from the initials of the network's former name, Columbia Broadcasting System. The network is sometimes referred to as the "Eye Network" in reference to the shape of...
staff announcer, whom King met by chance, told him to go to
Florida
Florida
Florida is a state in the southeastern United States, located on the nation's Atlantic and Gulf coasts. It is bordered to the west by the Gulf of Mexico, to the north by Alabama and Georgia and to the east by the Atlantic Ocean. With a population of 18,801,310 as measured by the 2010 census, it...
, a growing media market where openings still existed for inexperienced broadcasters. King rode a bus to
Miami
Miami, Florida
Miami is a city located on the Atlantic coast in southeastern Florida and the county seat of Miami-Dade County, the most populous county in Florida and the eighth-most populous county in the United States with a population of 2,500,625...
. After initial setbacks, King persisted and got his first job in radio. The manager of a small station, WAHR (now
WMBM
WMBM
WMBM is a radio station broadcasting a Gospel format. Licensed to Miami Beach, Florida, USA, the station serves the Miami area. The station is currently owned by New Birth Broadcasting Corp. Inc. and features programing from Westwood One.-History:...
) in
Miami Beach
Miami Beach, Florida
Miami Beach is a coastal resort city in Miami-Dade County, Florida, United States, incorporated on March 26, 1915. The municipality is located on a barrier island between the Atlantic Ocean and Biscayne Bay, the latter which separates the Beach from Miami city proper...
, hired him to clean up and perform miscellaneous tasks. When one of their announcers quit, they put King on the air. His first broadcast was on May 1, 1957, when he worked as the
disc jockey
Disc jockey
A disc jockey, also known as DJ, is a person who selects and plays recorded music for an audience. Originally, "disc" referred to phonograph records, not the later Compact Discs. Today, the term includes all forms of music playback, no matter the medium.There are several types of disc jockeys...
from 9 a.m. to noon. He also did two afternoon newscasts and a sportscast. He was paid $55 a week. He acquired the name Larry King when the general manager Martial Cemen said that Zeiger was too ethnic and difficult to remember, so Larry chose the surname
King
, which he got from an ad in
The Miami Herald
The Miami Herald
The Miami Herald is a daily newspaper owned by The McClatchy Company headquartered on Biscayne Bay in the Omni district of Downtown Miami, Florida, United States...
for King's Wholesale Liquor, minutes before air. He started interviewing on a midmorning show for
WIOD
WIOD
WIOD is a news/talk formatted radio station in Miami, Florida. For over 80 years, it has been a major information station in South Florida...
, at Pumpernik's Restaurant in Miami Beach. He would interview anyone who walked in. His first interview was with a waiter at the restaurant. Two days later, singer
Bobby Darin
Bobby Darin
Bobby Darin , born Walden Robert Cassotto, was an American singer, actor and musician.Darin performed in a range of music genres, including pop, rock, jazz, folk and country...
, in Miami for a concert later that day, walked into Pumpernik's as a result of coming across King's show on his radio; Darin became King's first celebrity interview guest.
His Miami radio show launched him to local stardom. A few years later, in May 1960, he hosted
Miami Undercover,
airing Sunday nights at 11:30 p.m. on WPST-TV Channel 10 (now
WPLG
WPLG
WPLG, channel 10, is an ABC network affiliated television station located in Miami, Florida. WPLG is owned and operated by Post-Newsweek Stations, a subsidiary of the Washington Post Company. The station's studios are located in Pembroke Park, and its transmitter is located at the massive broadcast...
). On the show, he moderated debates on important issues of the time. King credits his success on local TV to the assistance of another showbiz legend, comedian
Jackie Gleason
Jackie Gleason
Jackie Gleason was an American comedian, actor and musician. He was known for his brash visual and verbal comedy style, especially by his character Ralph Kramden on The Honeymooners, a situation-comedy television series. His most noted film roles were as Minnesota Fats in the drama film The...
, whose national TV variety show was being filmed in Miami Beach during this period. "That show really took off because Gleason came to Miami," King said in a 1996 interview he gave when inducted into the Broadcasters' Hall of Fame. "He did that show and stayed all night with me. We stayed till five in the morning. He didn't like the set, so we broke into the general manager's office and changed the set. Gleason changed the set, he changed the lighting, and he became like a mentor of mine."
Jackie Gleason was instrumental in getting Larry a hard-to-get on air interview with
Frank Sinatra
Frank Sinatra
Francis Albert "Frank" Sinatra was an American singer and actor.Beginning his musical career in the swing era with Harry James and Tommy Dorsey, Sinatra became an unprecedentedly successful solo artist in the early to mid-1940s, after being signed to Columbia Records in 1943. Being the idol of the...
during this time.
During this period, WIOD gave King further exposure as a
color commentator
Color commentator
A color commentator is a sports commentator who assists the play-by-play announcer, often by filling in any time when play is not in progress. The color analyst and main commentator will often exchange comments freely throughout the broadcast, when the play-by-play announcer is not describing the...
for the
Miami Dolphins
Miami Dolphins
The Miami Dolphins are a Professional football team based in the Miami metropolitan area in Florida. The team is part of the Eastern Division of the American Football Conference in the National Football League...
of the
National Football League
National Football League
The National Football League is the highest level of professional American football in the United States, and is considered the top professional American football league in the world. It was formed by eleven teams in 1920 as the American Professional Football Association, with the league changing...
, during their 1970 season and most of their 1971 season. However, he was dismissed by both WIOD and television station
WTVJ
WTVJ
WTVJ, virtual channel 6 , is an owned-and-operated television station of the NBC television network, located in Broward County. WTVJ shares its TV studio and office facility with co-owned Telemundo station WSCV in Miramar, Florida, and its transmitter is located near Sun Life Stadium in north...
as a late-night radio host and sports commentator as of December 20, 1971, when he was arrested after being accused of grand larceny by a former business partner. Other staffers covered the Dolphins' games into their 24–3 loss to Dallas in
Super Bowl VI
Super Bowl VI
Super Bowl VI was an American football game played on January 16, 1972, at Tulane Stadium in New Orleans, Louisiana to decide the National Football League champion following the 1971 regular season...
. King also lost his weekly column at the
Miami Beach Sun
newspaper. The charges were dropped on March 10, 1972, and King spent the next several years in reviving his career, including a stint as the color announcer in Louisiana for the
Shreveport Steamer
Shreveport Steamer
The Shreveport Steamer were a professional American football team in the World Football League. The franchise began the 1974 season in Houston, Texas, as the Houston Texans, who are in no way related to the current NFL team of the same name, playing their home games at the Houston Astrodome...
of the
World Football League
World Football League
The World Football League was a short-lived gridiron football league that played in 1974 and part of 1975. Although the league's proclaimed ambition was to bring American football onto a worldwide stage, the farthest the WFL reached was placing a team – the Hawaiians – in Honolulu, Hawaii. The...
in 1974–75 on KWKH. Eventually, King was rehired by WIOD in Miami. For several years during the 1970s in South Florida, he hosted a sports talk-show called "Sports-a-la-King" that featured guests and callers.
National radio
In 1978, he went national, inheriting the nightly talk show slot on the
Mutual Broadcasting System
Mutual Broadcasting System
The Mutual Broadcasting System was an American radio network, in operation from 1934 to 1999. In the golden age of U.S. radio drama, MBS was best known as the original network home of The Lone Ranger and The Adventures of Superman and as the long-time radio residence of The Shadow...
, broadcast coast-to-coast, that had been "Long John" Nebel's until his death, and had been pioneered by
Herb Jepko
Herb Jepko
Herb Jepko was an influential radio talk show host in Salt Lake City from 1964 to 1990. He was the first radio talk show host to do a nationally syndicated, satellite-delivered program.-Early years:...
. One reason King got the Mutual job is that he had once been an announcer at WGMA-AM in Hollywood, Florida, which was then owned by C. Edward Little. Little went on to become president of Mutual and was the one who hired King when Nebel died. King's Mutual show developed a devoted audience.
It was broadcast live Monday through Friday from midnight to 5:30 a.m. Eastern Time. King would interview a guest for the first 90 minutes, with callers asking questions that continued the interview for another 90 minutes. At 3 a.m., he would allow callers to discuss any topic they pleased with him, until the end of the program, when he expressed his own political opinions. That segment was called "Open Phone America". Some of the regular callers used the pseudonyms "The Portland Laugher", "The Miami Derelict", "The Todd Cruz Caller", "The Scandal Scooper", "Mr. Radio" and "The Water Is Warm Caller". "Mr. Radio" made over 200 calls to King during Open Phone America. The show was successful, starting with relatively few affiliates and eventually growing to more than 500. It ran until 1994.
For its final year, the show was moved to afternoons, but, because most talk radio stations at the time had an established policy of local origination in the time-slot (3 to 6 p.m. Eastern Time) that Mutual offered the show, a very low percentage of King's overnight affiliates agreed to carry his daytime show and it was unable to generate the same audience size. The afternoon show was eventually given to
David Brenner
David Brenner
David Brenner is an American standup comedian, actor, author, and filmmaker.-Career:Born and raised in poor areas of Philadelphia, Brenner found comedy a major source of relief from the daily trials and tribulations he faced in his youth. His neighborhood has been one of the top-ranked crime...
and radio affiliates were given the option of carrying the audio of King's new CNN evening television program. The
Westwood One
Westwood One
Westwood One was an American radio network and was based in New York City. At one time, it was managed by CBS Radio, the radio arm of CBS Corporation, and Viacom and was later purchased by the private equity firm The Gores Group...
radio simulcast of the CNN show continued until December 31, 2009.
CNN
He started his
Larry King Live
Larry King Live
Larry King Live is an American talk show hosted by Larry King on CNN from 1985 to 2010. It was CNN's most watched and longest-running program, with over one million viewers nightly....
CNN show in June 1985, hosting a broad range of guests from controversial figures of
UFO conspiracy theories
UFO conspiracy theory
A UFO conspiracy theory is any one of many often overlapping conspiracy theories which argue that evidence of the reality of unidentified flying objects is being suppressed by various governments around the world...
and alleged
psychic
Psychic
A psychic is a person who professes an ability to perceive information hidden from the normal senses through extrasensory perception , or is said by others to have such abilities. It is also used to describe theatrical performers who use techniques such as prestidigitation, cold reading, and hot...
s, to prominent politicians and leading figures in the entertainment industry, often doing their first or only interview on breaking news stories on his show.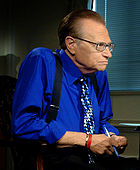 Unlike many interviewers, King has a direct, non-confrontational approach. His reputation for asking easy, open-ended questions has made him attractive to important figures who want to state their position while avoiding being challenged on contentious topics. His interview style is characteristically frank, but with occasional bursts of irreverence and humor. His approach attracts some guests who would not otherwise appear. King, who is known for his general lack of pre-interview preparation, once bragged that he never read the books of authors before making an appearance on his program.
In a show dedicated to the surviving Beatles, King asked
George Harrison
George Harrison
George Harrison, MBE was an English musician, guitarist, singer-songwriter, actor and film producer who achieved international fame as lead guitarist of The Beatles. Often referred to as "the quiet Beatle", Harrison became over time an admirer of Indian mysticism, and introduced it to the other...
's widow about the song "Something", which was written about George Harrison's first wife. He seemed surprised when she did not know very much about the song.
Throughout his career King has interviewed many of the leading figures of his time. CNN claimed during his final episode that he had performed 60,000 interviews in his career.
King also wrote a regular newspaper column in
USA Today
USA Today
USA Today is a national American daily newspaper published by the Gannett Company. It was founded by Al Neuharth. The newspaper vies with The Wall Street Journal for the position of having the widest circulation of any newspaper in the United States, something it previously held since 2003...
for almost 20 years, from shortly after that newspaper's origin in 1982 until September 2001. The column consisted of short "plugs, superlatives and dropped names" but was dropped when the newspaper redesigned its "Life" section. The column was resurrected in blog form in November 2008 and on
Twitter
Twitter
Twitter is an online social networking and microblogging service that enables its users to send and read text-based posts of up to 140 characters, informally known as "tweets".Twitter was created in March 2006 by Jack Dorsey and launched that July...
in April 2009.
Departure
On June 29, 2010, King announced that after 25 years, he would be stepping down from his nightly job hosting
Larry King Live
. However, he stated that he would remain with CNN to host occasional specials. The announcement came in the wake of speculation that CNN had approached
Piers Morgan
Piers Morgan
Piers Stefan Pughe-Morgan , known professionally as Piers Morgan, is a British journalist and television presenter. He is editorial director of First News, a national newspaper for children....
, the British television personality and journalist, as King's primetime replacement, speculation confirmed in September.
The final edition of
Larry King Live
aired on December 16, 2010. The show concluded with his last thoughts and a thank you to his audience for watching and supporting him over the years.
Other ventures
King was the
moderator
Moderator
Moderator often refers to the chairman of a meeting. Specifically, it may refer to:-Government:*Moderator , elected official who presides over the Town Meeting form of government-Internet:...
of the 6th KAZENERGY Eurasian Forum in
Astana
Astana
Astana , formerly known as Akmola , Tselinograd and Akmolinsk , is the capital and second largest city of Kazakhstan, with an officially estimated population of 708,794 as of 1 August 2010...
,
Kazakhstan
Kazakhstan
Kazakhstan , officially the Republic of Kazakhstan, is a transcontinental country in Central Asia and Eastern Europe. Ranked as the ninth largest country in the world, it is also the world's largest landlocked country; its territory of is greater than Western Europe...
, an annual forum for Kazakhstan's energy sector occurring in October 2011.
Charitable works
As a result of heart attacks, he established the Larry King Cardiac Foundation, an organization to which
David Letterman
David Letterman
David Michael Letterman is an American television host and comedian. He hosts the late night television talk show, Late Show with David Letterman, broadcast on CBS. Letterman has been a fixture on late night television since the 1982 debut of Late Night with David Letterman on NBC...
, through his
American Foundation for Courtesy and Grooming
American Foundation for Courtesy and Grooming
The American Foundation for Courtesy and Grooming is a private foundation whose president and primary contributor is David Letterman. The foundation's treasurer is Fred Nigro, who has appeared on Late Show with David Letterman where he has been identified as Letterman's accountant...
, has also contributed. King gave $1 million to
George Washington University
George Washington University
The George Washington University is a private, coeducational comprehensive university located in Washington, D.C. in the United States...
's School of Media and Public Affairs for scholarships to students from disadvantaged backgrounds. King serves as a member of the Board of Directors on the
Police Athletic League of New York City
Police Athletic League of New York City
The Police Athletic League, Inc. is an independent, non-profit youth development agency in New York City. PAL is funded by a combination of private donations and public funding sources and is a designated charity of the New York Police Department. Robert M. Morgenthau, retired District Attorney...
, a nonprofit youth development agency serving inner-city children and teenagers.
On September 3, 2005, following
Hurricane Katrina
Hurricane Katrina
Hurricane Katrina of the 2005 Atlantic hurricane season was a powerful Atlantic hurricane. It is the costliest natural disaster, as well as one of the five deadliest hurricanes, in the history of the United States. Among recorded Atlantic hurricanes, it was the sixth strongest overall...
, King aired "How You Can Help", a three-hour special designed to provide a forum and information clearinghouse for viewers to understand and join nationwide and global relief efforts. On January 18, 2010, in the wake the
2010 Haiti earthquake
2010 Haiti earthquake
The 2010 Haiti earthquake was a catastrophic magnitude 7.0 Mw earthquake, with an epicentre near the town of Léogâne, approximately west of Port-au-Prince, Haiti's capital. The earthquake occurred at 16:53 local time on Tuesday, 12 January 2010.By 24 January, at least 52 aftershocks...
, King aired "Haiti: How You Can Help", a special two-hour edition designed to show viewers how to take action and be a part of the global outreach. Following the
Deepwater Horizon explosion
Deepwater Horizon explosion
The Deepwater Horizon drilling rig explosion refers to the April 20, 2010 explosion and subsequent fire on the Deepwater Horizon semi-submersible Mobile Offshore Drilling Unit , which was owned and operated by Transocean and drilling for BP in the Macondo Prospect oil field about southeast of the...
, King aired "Disaster in the Gulf: How You Can Help", a special two-hour edition designed to show viewers how to take action in the clean-up efforts on the Gulf Coast.
On August 30, 2010, King served as the host of Chabad's 30th annual "
To Life
" telethon, in Los Angeles.
Controversial positions
On September 10, 1990, while on
The Joan Rivers Show,
Rivers asked King which contestant in the
Miss America
Miss America
The Miss America pageant is a long-standing competition which awards scholarships to young women from the 50 states plus the District of Columbia, Puerto Rico and the US Virgin Islands...
pageant was "the ugliest". King responded, "
Miss Pennsylvania
Miss Pennsylvania
The Miss Pennsylvania competition is the pageant that selects the representative for the state of Pennsylvania in the Miss America Pageant. Pennsylvania, including early years' city representatives, has won the Miss American crown on 5 occasions....
. She was one of the 10 finalists and she did a great ventriloquist bit [...] The dummy was prettier." King was a judge for the September 8, 1990 pageant. King later sent Miss Pennsylvania, Marla Wynne, a dozen long-stemmed roses and a telegram apologizing for saying she was the ugliest contestant in the pageant that year.
In 1997, King was one of 34 celebrities to sign an open letter to then-German Chancellor
Helmut Kohl
Helmut Kohl
Helmut Josef Michael Kohl is a German conservative politician and statesman. He was Chancellor of Germany from 1982 to 1998 and the chairman of the Christian Democratic Union from 1973 to 1998...
, published as a newspaper advertisement in the
International Herald Tribune
International Herald Tribune
The International Herald Tribune is a widely read English language international newspaper. It combines the resources of its own correspondents with those of The New York Times and is printed at 38 sites throughout the world, for sale in more than 160 countries and territories...
, which protested the treatment of
Scientologists in Germany
Scientology in Germany
The Church of Scientology has been present in Germany since 1970. German authorities estimate that there are 5,000–6,000 active Scientologists in Germany today; the Church of Scientology gives a membership figure of around 30,000...
, comparing it to the Nazis' oppression of Jews in the 1930s. Other signatories included
Dustin Hoffman
Dustin Hoffman
Dustin Lee Hoffman is an American actor with a career in film, television, and theatre since 1960. He has been known for his versatile portrayals of antiheroes and vulnerable characters....
and
Goldie Hawn
Goldie Hawn
Goldie Jeanne Hawn is an American actress, film director, producer, and occasional singer. Hawn is known for her roles in Rowan & Martin's Laugh-In, Private Benjamin, Foul Play, Overboard, Bird on a Wire, Death Becomes Her, The First Wives Club, and Cactus Flower, for which she won the 1969...
.
Personal life
King has been married eight times, to seven different women. He married high-school sweetheart Freda Miller in 1951 at age 18. The union ended the following year at the behest of their parents, who reportedly had the marriage annulled. King was later briefly married to Annette Kaye who gave birth to his son, Larry Jr., in November 1961. King did not meet Larry Jr. until the son was in his thirties. Larry Jr. and his wife, Shannon, have three children.
In 1961, King married his third wife, Alene Akins, a
Playboy
Playboy
Playboy is an American men's magazine that features photographs of nude women as well as journalism and fiction. It was founded in Chicago in 1953 by Hugh Hefner and his associates, and funded in part by a $1,000 loan from Hefner's mother. The magazine has grown into Playboy Enterprises, Inc., with...
bunny at one of the magazine's eponymous
nightclub
Nightclub
A nightclub is an entertainment venue which usually operates late into the night...
s. The couple had son Andy in 1962, and divorced the following year. In 1963, King married his fourth wife, Mary Francis "Mickey" Sutphin, who divorced King. He remarried Akins, with whom he had a second child, Chaia, in 1969. The couple divorced a second time in 1972. In 1997, Dove Books published a book written by King and Chaia,
Daddy Day, Daughter Day
. Aimed at young children, it tells each of their accounts of his divorce from Akins.
On September 25, 1976, King married his fifth wife, math teacher and production assistant Sharon Lepore. The couple divorced in 1983.
King met businesswoman Julie Alexander in summer 1989, and proposed to her on the couple's first date, on August 1, 1989. Alexander became King's sixth wife on October 7, 1989, when the two were married in
Washington, D.C.
Washington, D.C.
Washington, D.C., formally the District of Columbia and commonly referred to as Washington, "the District", or simply D.C., is the capital of the United States. On July 16, 1790, the United States Congress approved the creation of a permanent national capital as permitted by the U.S. Constitution....
The couple lived in different cities, however, with Alexander in Philadelphia,
Pennsylvania
Pennsylvania
The Commonwealth of Pennsylvania is a U.S. state that is located in the Northeastern and Mid-Atlantic regions of the United States. The state borders Delaware and Maryland to the south, West Virginia to the southwest, Ohio to the west, New York and Ontario, Canada, to the north, and New Jersey to...
, and King in Washington, D.C., where he worked. The couple separated in 1990 and divorced in 1992. He became engaged to actress
Deanna Lund
Deanna Lund
Deanna Lund is an American film and television actress best remembered for her role in the Irwin Allen television series Land of the Giants, where she played the character of Valerie Ames Scott.-Early life:...
in 1995, after five weeks of dating, but they never married.
He married his seventh wife,
Shawn Southwick
Shawn King (singer)
Shawn King is an American singer. She is the wife of television and radio personality Larry King. King has recorded one album, In My Own Backyard, for Lofton Creek Records.- Personal :...
, born in 1959 as Shawn Oro Engemann, a former singer and TV host, in King's
Los Angeles
Los Ángeles
Los Ángeles is the capital of the province of Biobío, in the commune of the same name, in Region VIII , in the center-south of Chile. It is located between the Laja and Biobío rivers. The population is 123,445 inhabitants...
,
California
California
California is a state located on the West Coast of the United States. It is by far the most populous U.S. state, and the third-largest by land area...
, hospital room three days before King underwent heart surgery to clear a clogged blood vessel. The couple have two children: Chance, born March 1999, and Cannon, born May 2000. He is stepfather to
Danny Southwick
Danny Southwick
Danny Southwick is an American football quarterback who is currently a member of the Tampa Bay Storm in the Arena Football League. He was signed by the Louisville Fire as a street free agent in 2008. He signed with the Oakland Raiders in May 2009 and was released before training camp of that same...
. On King and Southwick's 10th anniversary in September 2007, Southwick boasted she was "the only [wife] to have lasted into the two digits". On April 14, 2010, both Larry and Shawn King filed for divorce. but have since stopped the proceedings, claiming "We love our children, we love each other, we love being a family. That is all that matters to us".
On February 24, 1987, King suffered a major
heart attack
Myocardial infarction
Myocardial infarction or acute myocardial infarction , commonly known as a heart attack, results from the interruption of blood supply to a part of the heart, causing heart cells to die...
and then had quintuple-
bypass surgery
Coronary artery bypass surgery
Coronary artery bypass surgery, also coronary artery bypass graft surgery, and colloquially heart bypass or bypass surgery is a surgical procedure performed to relieve angina and reduce the risk of death from coronary artery disease...
. Since then, King has written two books about living with heart disease.
Mr. King, You're Having a Heart Attack: How a Heart Attack and Bypass Surgery Changed My Life
(1989, ISBN 0-440-50039-7) was written with New York's
Newsday
Newsday
Newsday is a daily American newspaper that primarily serves Nassau and Suffolk counties and the New York City borough of Queens on Long Island, although it is sold throughout the New York metropolitan area...
science editor B. D. Colen.
Taking On Heart Disease: Famous Personalities Recall How They Triumphed over the Nation's #1 Killer and How You Can, Too
(2004, ISBN 1-57954-820-2) features the experience of various celebrities with cardiovascular disease including
Peggy Fleming
Peggy Fleming
Peggy Gail Fleming is an American figure skater. She is the 1968 Olympic Champion in Ladies' singles and a three-time World Champion...
and
Regis Philbin
Regis Philbin
Regis Francis Xavier Philbin is an American media personality, actor and singer, known for hosting talk and game shows since the 1960s. Philbin is often called "the hardest working man in show business" and holds the Guinness World Record for the most time spent in front of a television camera...
.
In July 2009, King appeared on
The Tonight Show with Conan O'Brien
The Tonight Show with Conan O'Brien
The Tonight Show with Conan O'Brien is an American late-night talk show that featured Conan O'Brien as host from June 1, 2009 to January 22, 2010 as part of NBC's long-running Tonight Show franchise...
, where he told host O'Brien about his wishes to be
cryonically preserved
Cryonics
Cryonics is the low-temperature preservation of humans and animals who can no longer be sustained by contemporary medicine, with the hope that healing and resuscitation may be possible in the future. Cryopreservation of people or large animals is not reversible with current technology...
upon death, as he had revealed in his book
My Remarkable Journey
.
On February 12, 2010, Larry King revealed that he had undergone surgery five weeks earlier to place
stent
Stent
In the technical vocabulary of medicine, a stent is an artificial 'tube' inserted into a natural passage/conduit in the body to prevent, or counteract, a disease-induced, localized flow constriction. The term may also refer to a tube used to temporarily hold such a natural conduit open to allow...
s in his coronary artery to remove plaque from his heart. During the segment on
Larry King Live
Larry King Live
Larry King Live is an American talk show hosted by Larry King on CNN from 1985 to 2010. It was CNN's most watched and longest-running program, with over one million viewers nightly....
which discussed
Bill Clinton's
Bill Clinton
William Jefferson "Bill" Clinton is an American politician who served as the 42nd President of the United States from 1993 to 2001. Inaugurated at age 46, he was the third-youngest president. He took office at the end of the Cold War, and was the first president of the baby boomer generation...
similar procedure, King said he was "feeling great" and had been in hospital for just one day.
Awards
King has received many broadcasting awards. He won the
Peabody Award
Peabody Award
The George Foster Peabody Awards recognize distinguished and meritorious public service by radio and television stations, networks, producing organizations and individuals. In 1939, the National Association of Broadcasters formed a committee to recognize outstanding achievement in radio broadcasting...
for Excellence in broadcasting for both his radio (1982) and television (1992) shows. He has also won 10
CableACE awards
CableACE Award
The CableACE Award was an award that was given from 1978 to 1997 to honor excellence in American cable television programming...
for Best Interviewer and for Best Talk Show Series.
In 1989, King was inducted into the National Radio Hall of Fame, and in 1996 to the Broadcasters' Hall of Fame. In 2002, the industry magazine
Talkers
Talkers magazine
Talkers Magazine is a trade industry publication related to talk radio in the United States. Its slogan is "The Bible of Talk Radio and the New Talk Media"...
named King both the fourth-greatest radio talk show host of all time and the top television talk show host of all time.
in June 1998, King received an Honorary Degree from Brooklyn College, City University of New York, for his life achievements.
King was given the Golden Mike Award for Lifetime Achievement in January 2009, by the Radio & Television News Association of Southern California.
King is an honorary member of the Rotary Club of Beverly Hills. He is also a recipient of the President's Award honoring his impact on media from the Los Angeles Press Club in 2006.
King is the first recipient of the Arizona State University
Hugh Downs
Hugh Downs
Hugh Malcolm Downs is a long time American broadcaster, television host, news anchor, TV producer, author, game show host, and music composer; and is perhaps best known for his role as co-host the NBC News program Today from 1962 to 1971, host of the Concentration game show from 1958 to 1969, and...
Award for Communication Excellence, presented April 11, 2007, via satellite by Downs himself. Downs sported red suspenders for the event and turned the tables on King by asking "very tough questions" about King's best, worst and most influential interviews during King's 50 years in broadcasting.
External links