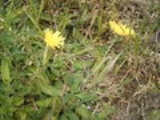 Mouse-ear Hawkweed
Mouse-ear Hawkweed
is a yellow-flowered species of
Asteraceae
Asteraceae
The Asteraceae or Compositae , is an exceedingly large and widespread family of vascular plants. The group has more than 22,750 currently accepted species, spread across 1620 genera and 12 subfamilies...
, native to
Europe
Europe
Europe is, by convention, one of the world's seven continents. Comprising the westernmost peninsula of Eurasia, Europe is generally 'divided' from Asia to its east by the watershed divides of the Ural and Caucasus Mountains, the Ural River, the Caspian and Black Seas, and the waterways connecting...
and northern
Asia
Asia
Asia is the world's largest and most populous continent, located primarily in the eastern and northern hemispheres. It covers 8.7% of the Earth's total surface area and with approximately 3.879 billion people, it hosts 60% of the world's current human population...
. It produces single, citrus-colored
inflorescence
Inflorescence
An inflorescence is a group or cluster of flowers arranged on a stem that is composed of a main branch or a complicated arrangement of branches. Strictly, it is the part of the shoot of seed plants where flowers are formed and which is accordingly modified...
s. It is an
allelopathic
Allelopathy
Allelopathy is a biological phenomenon by which an organism produces one or more biochemicals that influence the growth, survival, and reproduction of other organisms. These biochemicals are known as allelochemicals and can have beneficial or detrimental effects on the target organisms...
plant. Like most
hawkweed
Hawkweed
Hawkweed refers to any species in the very large genus Hieracium and its segregate genus Pilosella, in the sunflower family ....
species, it shows tremendous variation and is a complex of several dozens subspecies and hundreds of varieties and forms.
Description
It is a
hispid
Trichome
Trichomes are fine outgrowths or appendages on plants and certain protists. These are of diverse structure and function. Examples are hairs, glandular hairs, scales, and papillae.- Algal trichomes :...
(hairy)
perennial plant
Perennial plant
A perennial plant or simply perennial is a plant that lives for more than two years. The term is often used to differentiate a plant from shorter lived annuals and biennials. The term is sometimes misused by commercial gardeners or horticulturalists to describe only herbaceous perennials...
, with a basal rosette of
leaves
Leaf
A leaf is an organ of a vascular plant, as defined in botanical terms, and in particular in plant morphology. Foliage is a mass noun that refers to leaves as a feature of plants....
. The whole plant, with the exception of the flower parts, is covered in glandular hairs, usually whitish, sometimes reddish on the stem. The rosette leaves are entire, acute to blunt, and range from 1-12 cm long and 0.5-2 cm broad. Their underside is
tomentose
Tomentose
Tomentose is a term used to describe plant hairs that are flattened and matted, forming a woolly coating known as tomentum. Often the hairs are silver or gray-colored...
(covered with hair). The flowering stem (
scape
Scape
In biology, the term scape may refer to:* The first segment of an insect antenna* A finger-like appendage of the epigyne of a female spider* Scape , a flowering stemScape may also refer to:...
) is generally between 5 cm to 50 cm tall, and sprouts from the centre of the basal rosette. The
flower
Flower
A flower, sometimes known as a bloom or blossom, is the reproductive structure found in flowering plants . The biological function of a flower is to effect reproduction, usually by providing a mechanism for the union of sperm with eggs...
heads are borne singly on the scape and are a pale lemon-yellow colour, with the outermost ligules having a reddish underside. It flowers from May until August.
The plant favours dry, sunny areas. It grows well on sandy and similarly less fertile ground types. It produces
stolon
Stolon
In biology, stolons are horizontal connections between organisms. They may be part of the organism, or of its skeleton; typically, animal stolons are external skeletons.-In botany:...
s are which generate a new rosette at their extremity, each rosette has the possibility of developing into a new
clone
Clonal colony
A clonal colony or genet is a group of genetically identical individuals that have grown in a given location, all originating vegetatively from a single ancestor. In plants, an individual in such a population is referred to as a ramet...
forming dense mats in open space. It also propagates by
seed
Seed
A seed is a small embryonic plant enclosed in a covering called the seed coat, usually with some stored food. It is the product of the ripened ovule of gymnosperm and angiosperm plants which occurs after fertilization and some growth within the mother plant...
s.
Ecology
It is a known allelopathic plant, whose roots secrete several substances inhibiting root growth, including its own. It can be controlled through rotation with
clover
Clover
Clover , or trefoil, is a genus of about 300 species of plants in the leguminous pea family Fabaceae. The genus has a cosmopolitan distribution; the highest diversity is found in the temperate Northern Hemisphere, but many species also occur in South America and Africa, including at high altitudes...
and
grass
Grass
Grasses, or more technically graminoids, are monocotyledonous, usually herbaceous plants with narrow leaves growing from the base. They include the "true grasses", of the Poaceae family, as well as the sedges and the rushes . The true grasses include cereals, bamboo and the grasses of lawns ...
es where possible.
Recent research claims that Hieracium pilosella exhibits an
atavism
Atavism
Atavism is the tendency to revert to ancestral type. In biology, an atavism is an evolutionary throwback, such as traits reappearing which had disappeared generations before. Atavisms can occur in several ways...
by the reemergence of
sexual reproduction
Sexual reproduction
Sexual reproduction is the creation of a new organism by combining the genetic material of two organisms. There are two main processes during sexual reproduction; they are: meiosis, involving the halving of the number of chromosomes; and fertilization, involving the fusion of two gametes and the...
.
Similar species
Shetland Mouse Ear Hawkweed (Pilosella flagellaris ssp. bicapitata) is similar, but has two flowers per leaf stalk. Found in the
Shetland Islands
Shetland Islands
Shetland is a subarctic archipelago of Scotland that lies north and east of mainland Great Britain. The islands lie some to the northeast of Orkney and southeast of the Faroe Islands and form part of the division between the Atlantic Ocean to the west and the North Sea to the east. The total...
only, on rocky coastal grassland. It flowers from May to August..
Cultivation and uses
Mouse-ear Hawkweed has become a common introduced
invasive species
Invasive species
"Invasive species", or invasive exotics, is a nomenclature term and categorization phrase used for flora and fauna, and for specific restoration-preservation processes in native habitats, with several definitions....
in
North America
North America
North America is a continent wholly within the Northern Hemisphere and almost wholly within the Western Hemisphere. It is also considered a northern subcontinent of the Americas...
(where it is found in southern
Canada
Canada
Canada is a North American country consisting of ten provinces and three territories. Located in the northern part of the continent, it extends from the Atlantic Ocean in the east to the Pacific Ocean in the west, and northward into the Arctic Ocean...
and both northeast and northwest
U.S.
United States
The United States of America is a federal constitutional republic comprising fifty states and a federal district...
), and
New Zealand
New Zealand
New Zealand is an island country in the south-western Pacific Ocean comprising two main landmasses and numerous smaller islands. The country is situated some east of Australia across the Tasman Sea, and roughly south of the Pacific island nations of New Caledonia, Fiji, and Tonga...
. It is a level C noxious weed in the United States (with higher levels in the states of Washington and
Oregon
Oregon
Oregon is a state in the Pacific Northwest region of the United States. It is located on the Pacific coast, with Washington to the north, California to the south, Nevada on the southeast and Idaho to the east. The Columbia and Snake rivers delineate much of Oregon's northern and eastern...
), and a weed in
Quebec
Quebec
Quebec or is a province in east-central Canada. It is the only Canadian province with a predominantly French-speaking population and the only one whose sole official language is French at the provincial level....
. It does not have special designations in other locations of
Canada
Canada
Canada is a North American country consisting of ten provinces and three territories. Located in the northern part of the continent, it extends from the Atlantic Ocean in the east to the Pacific Ocean in the west, and northward into the Arctic Ocean...
. It is known to be strongly invasive in New Zealand's tussock fields, where there are no native species of hawkweed, and biological control measures are being undertaken to control it and other
hawkweed species
.
Joseph Pitton de Tournefort
Joseph Pitton de Tournefort
Joseph Pitton de Tournefort was a French botanist, notable as the first to make a clear definition of the concept of genus for plants.- Biography :...
mentions that blades covered in this plant's juices were believed to cut through stone as easily as through wood.
Medicinal uses
The Mouse-ear Hawkweed contains
umbelliferone
Umbelliferone
Umbelliferone, also known as 7-hydroxycoumarin, hydrangine, skimmetine, and beta-umbelliferone, is a widespread natural product of the coumarin family. It occurs in many familiar plants from the Apiaceae family such as carrot, coriander and garden angelica, as well plants from other families such...
, a compound similar to
coumarin
Coumarin
Coumarin is a fragrant chemical compound in the benzopyrone chemical class, found in many plants, notably in high concentration in the tonka bean , vanilla grass , sweet woodruff , mullein , sweet grass , cassia cinnamon and sweet clover...
and a known
antibiotic
Antibiotic
An antibacterial is a compound or substance that kills or slows down the growth of bacteria.The term is often used synonymously with the term antibiotic; today, however, with increased knowledge of the causative agents of various infectious diseases, antibiotic has come to denote a broader range of...
against
brucellosis
Brucellosis
Brucellosis, also called Bang's disease, Crimean fever, Gibraltar fever, Malta fever, Maltese fever, Mediterranean fever, rock fever, or undulant fever, is a highly contagious zoonosis caused by ingestion of unsterilized milk or meat from infected animals or close contact with their secretions...
, as well as a frequent active compound in
sunscreen
Sunscreen
Sunblock is a lotion, spray, gel or other topical product that absorbs or reflects some of the sun's ultraviolet radiation on the skin exposed to sunlight and thus helps protect against sunburn...
lotions. The plant is also a potent
diuretic
Diuretic
A diuretic provides a means of forced diuresis which elevates the rate of urination. There are several categories of diuretics. All diuretics increase the excretion of water from bodies, although each class does so in a distinct way.- Medical uses :...
.
Subspecies synonyms
Hieracium magyaricum subsp. bauhinii (Schult.) Nägeli & Peter
Hieracium praealtum subsp. bauhinii (Schult.) Petunn.
Hieracium bauhinii subsp. adenocladum (Rehmann) Zahn
Hieracium bauhinii subsp. adenocymoides Rohlena & Zahn
Hieracium bauhinii subsp. aeriostolonum Zahn
Hieracium bauhinii subsp. agathanthum (Rehmann) Zahn
Hieracium bauhinii subsp. arvorum (Nägeli & Peter) Zahn
Hieracium bauhinii subsp. auriculoidiforme Urum. & Zahn
Hieracium bauhinii subsp. auriculoidiforme Zahn
Hieracium bauhinii subsp. botrychodes Zahn
Hieracium bauhinii subsp. callicymum (Rehmann) Zahn
Hieracium bauhinii subsp. chaunocymum (Rehmann) Zahn
Hieracium bauhinii subsp. colorifilum K. Malý & Zahn
Hieracium bauhinii subsp. cryptomastix (Nägeli & Peter) Zahn
Hieracium bauhinii subsp. cymanthodes Koslovsky & Zahn
Hieracium bauhinii subsp. cymanthum (Nägeli & Peter) Zahn
Hieracium bauhinii subsp. dobromilense (Rehmann) Zahn
Hieracium bauhinii subsp. doiranicum Rech. f. & Zahn
Hieracium bauhinii subsp. empodistum (Nägeli & Peter) Zahn
Hieracium bauhinii subsp. erythriophyllum (Vuk.) Zahn
Hieracium bauhinii subsp. erythrophylloides Zahn
Hieracium bauhinii subsp. fastigiatum (Nägeli & Peter) Zahn
Hieracium bauhinii subsp. florentinifolium (Nägeli & Peter) Zahn
Hieracium bauhinii subsp. hispidissimum (Nägeli & Peter) Zahn
Hieracium bauhinii subsp. ingricum (Nägeli & Peter) Zahn
Hieracium bauhinii subsp. insolens (Norrl.) Zahn
Hieracium bauhinii subsp. macrocaule (Nägeli & Peter) Zahn
Hieracium bauhinii subsp. macrum (Nägeli & Peter) Zahn
Hieracium bauhinii subsp. melachaetum (Tausch) Zahn
Hieracium bauhinii subsp. melanocymum K. Malý & Zahn
Hieracium bauhinii subsp. metalitzae Zahn
Hieracium bauhinii subsp. mnoocladum (Rehmann) Zahn
Hieracium bauhinii subsp. nematomastix (Nägeli & Peter) Zahn
Hieracium bauhinii subsp. obscuribracteum (Nägeli & Peter) Zahn
Hieracium bauhinii subsp. parvistolonum (Nägeli & Peter) Zahn
Hieracium bauhinii subsp. plicatulum Zahn
Hieracium bauhinii subsp. polyanthemum (Nägeli & Peter) Zahn
Hieracium bauhinii subsp. pseudobauhinii (Nägeli & Peter) Zahn
Hieracium bauhinii subsp. pseudosparsum Zahn
Hieracium bauhinii subsp. pseudothaumasium Zahn
Hieracium bauhinii subsp. pseudotransgressum K. Malý & Zahn
Hieracium bauhinii subsp. radiocaule (Tausch) Zahn
Hieracium bauhinii subsp. sedutrix (Rehmann) Zahn
Hieracium bauhinii subsp. subauriculoidiforme Zahn
Hieracium bauhinii subsp. thaumasioides (Peter) Zahn
Hieracium bauhinii subsp. thaumasium (Peter) Zahn
Hieracium bauhinii subsp. transgressum (Nägeli & Peter) Zahn
Hieracium bauhinii subsp. varatinense (Wo\u0142.) Zahn
Hieracium bauhinii subsp. viscidulum (Tausch) Zahn
Hieracium magyaricum subsp. adenocladum Rehmann
Hieracium magyaricum subsp. agathanthum Rehmann
Hieracium magyaricum subsp. anisocladum Rehmann
Hieracium magyaricum subsp. arvorum Nägeli & Peter
Hieracium magyaricum subsp. callicymum Rehmann
Hieracium magyaricum subsp. chaetophorum Rehmann
Hieracium magyaricum subsp. chaunocymum Rehmann
Hieracium magyaricum subsp. cryptomastix Nägeli & Peter
Hieracium magyaricum subsp. cymanthum Nägeli & Peter
Hieracium magyaricum subsp. dobromilense Rehmann
Hieracium magyaricum subsp. effusum Nägeli & Peter
Hieracium magyaricum subsp. empodistum Nägeli & Peter
Hieracium magyaricum subsp. erythriophyllum (Vuk.) Nägeli & Peter
Hieracium magyaricum subsp. fastigiatum Nägeli & Peter
Hieracium magyaricum subsp. florentinifolium Nägeli & Peter
Hieracium magyaricum subsp. hispidissimum Nägeli & Peter
Hieracium magyaricum subsp. ingricum Nägeli & Peter
Hieracium magyaricum subsp. macedonicum Nägeli & Peter
Hieracium magyaricum subsp. macrocaule Nägeli & Peter
Hieracium magyaricum subsp. macrum Nägeli & Peter
Hieracium magyaricum subsp. melachaetum (Tausch) Nägeli & Peter
Hieracium magyaricum subsp. mnoocladum Rehmann
Hieracium magyaricum subsp. nematomastix Nägeli & Peter
Hieracium magyaricum subsp. obscuribracteum Nägeli & Peter
Hieracium magyaricum subsp. parvistolonum Nägeli & Peter
Hieracium magyaricum subsp. plicatum Nägeli & Peter
Hieracium magyaricum subsp. polyanthemum Nägeli & Peter
Hieracium magyaricum subsp. pseudobauhinii Nägeli & Peter
Hieracium magyaricum subsp. radiocaule (Tausch) Nägeli & Peter
Hieracium magyaricum subsp. rojowskii Rehmann
Hieracium magyaricum subsp. rojowskii (Rehmann) Zahn
Hieracium magyaricum subsp. sedutrix Rehmann
Hieracium magyaricum subsp. thaumasioides Peter
Hieracium magyaricum subsp. thaumasium Peter
Hieracium magyaricum subsp. transgressum Nägeli & Peter
Hieracium magyaricum subsp. viscidulum (Tausch) Nägeli & Peter
Hieracium praealtum subsp. thaumasium (Peter) P. D. Sell
Pilosella bauhinii subsp. adenoclada (Rehmann) Soják
Pilosella bauhinii subsp. anisoclada (Rehmann) Soják
Pilosella bauhinii subsp. arvorum (Nägeli & Peter) Soják
Pilosella bauhinii subsp. chaunocyma (Rehmann) Soják
Pilosella bauhinii subsp. cymantha (Nägeli & Peter) Soják
Pilosella bauhinii subsp. fastigiata (Nägeli & Peter) Soják
Pilosella bauhinii subsp. hispidissima (Nägeli & Peter) Soják
Pilosella bauhinii subsp. macra (Nägeli & Peter) Soják
Pilosella bauhinii subsp. melachaeta (Tausch) Soják
Pilosella bauhinii subsp. obscuribractea (Nägeli & Peter) Soják
Pilosella bauhinii subsp. plicata (Nägeli & Peter) Soják
Pilosella bauhinii subsp. polyanthema (Nägeli & Peter) Soják
Pilosella bauhinii subsp. thaumasioides (Peter) Soják
Pilosella bauhinii subsp. viscidula (Tausch) Soják
Pilosella praealta subsp. spraguei (Pugsley) P. D. Sell & C. West
Pilosella praealta subsp. thaumasia (Peter) P. D. Sell
Hieracium bauhinii var. limenyense Zahn
Hieracium bauhinii var. sparsum Hayek
Hieracium bauhinii var. viscidulum Tausch
Hieracium microcephalum f. erythriophyllum Vuk.
Pilosella bauhinii t.infr. thaumasia (Peter) Soják