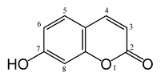 Umbelliferone
Umbelliferone, also known as 7-hydroxycoumarin, hydrangine, skimmetine, and beta-umbelliferone, is a widespread natural product of the
coumarin
Coumarin
Coumarin is a fragrant chemical compound in the benzopyrone chemical class, found in many plants, notably in high concentration in the tonka bean , vanilla grass , sweet woodruff , mullein , sweet grass , cassia cinnamon and sweet clover...
family. It occurs in many familiar plants from the
Apiaceae
Apiaceae
The Apiaceae , commonly known as carrot or parsley family, is a group of mostly aromatic plants with hollow stems. The family is large, with more than 3,700 species spread across 434 genera, it is the sixteenth largest family of flowering plants...
(Umbelliferae) family such as
carrot
Carrot
The carrot is a root vegetable, usually orange in colour, though purple, red, white, and yellow varieties exist. It has a crisp texture when fresh...
,
coriander
Coriander
Coriander is an annual herb in the family Apiaceae. Coriander is native to southern Europe and North Africa to southwestern Asia. It is a soft, hairless plant growing to tall. The leaves are variable in shape, broadly lobed at the base of the plant, and slender and feathery higher on the...
and
garden angelica
Garden Angelica
Angelica archangelica, commonly known as Garden Angelica, Holy Ghost, Wild Celery, and Norwegian angelica, is a biennial plant from the Apiaceae family Apiaceae family, formerly known as Umbelleferae...
, as well plants from other families such as the
mouse-ear hawkweed
Mouse-ear Hawkweed
Mouse-ear Hawkweed is a yellow-flowered species of Asteraceae, native to Europe and northern Asia. It produces single, citrus-colored inflorescences. It is an allelopathic plant...
. It is a yellowish-white crystalline solid that has a slight solubility in hot water, but high solubility in
ethanol
Ethanol
Ethanol, also called ethyl alcohol, pure alcohol, grain alcohol, or drinking alcohol, is a volatile, flammable, colorless liquid. It is a psychoactive drug and one of the oldest recreational drugs. Best known as the type of alcohol found in alcoholic beverages, it is also used in thermometers, as a...
. It absorbs
ultraviolet
Ultraviolet
Ultraviolet light is electromagnetic radiation with a wavelength shorter than that of visible light, but longer than X-rays, in the range 10 nm to 400 nm, and energies from 3 eV to 124 eV...
light strongly at several wavelengths.