 Mobile telephony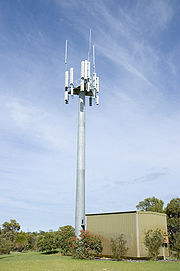 Mobile telephony
is the provision of
telephone service
Telecommunication
Telecommunication is the transmission of information over significant distances to communicate. In earlier times, telecommunications involved the use of visual signals, such as beacons, smoke signals, semaphore telegraphs, signal flags, and optical heliographs, or audio messages via coded...
s to
phones
Mobile phone
A mobile phone is a device which can make and receive telephone calls over a radio link whilst moving around a wide geographic area. It does so by connecting to a cellular network provided by a mobile network operator...
which may
move around freely
Roaming
In wireless telecommunications, roaming is a general term referring to the extension of connectivity service in a location that is different from the home location where the service was registered. Roaming ensures that the wireless device is kept connected to the network, without losing the...
rather than stay
fixed
Landline
A landline was originally an overland telegraph wire, as opposed to an undersea cable. Currently, landline refers to a telephone line which travels through a solid medium, either metal wire or optical fibre, as distinguished from a mobile cellular line, where transmission is via radio waves...
in one location. Mobile phones connect to a terrestrial
cellular network
Cellular network
A cellular network is a radio network distributed over land areas called cells, each served by at least one fixed-location transceiver known as a cell site or base station. When joined together these cells provide radio coverage over a wide geographic area...
of
base station
Base station
The term base station can be used in the context of land surveying and wireless communications.- Land surveying :In the context of external land surveying, a base station is a GPS receiver at an accurately-known fixed location which is used to derive correction information for nearby portable GPS...
s (
cell site
Cell site
A cell site is a term used to describe a site where antennas and electronic communications equipment are placed, usually on a radio mast, tower or other high place, to create a cell in a cellular network...
s), whereas
satellite phone
Satellite phone
A satellite telephone, satellite phone, or satphone is a type of mobile phone that connects to orbiting satellites instead of terrestrial cell sites...
s connect to orbiting
satellite
Satellite
In the context of spaceflight, a satellite is an object which has been placed into orbit by human endeavour. Such objects are sometimes called artificial satellites to distinguish them from natural satellites such as the Moon....
s. Both networks are interconnected to the
public switched telephone network
Public switched telephone network
The public switched telephone network is the network of the world's public circuit-switched telephone networks. It consists of telephone lines, fiber optic cables, microwave transmission links, cellular networks, communications satellites, and undersea telephone cables, all inter-connected by...
(PSTN) to allow any phone in the world to be dialed.
In 2010 there were estimated to be
five billion mobile cellular subscriptions in the world
.
History
According to internal memos,
American Telephone & Telegraph
American Telephone & Telegraph
AT&T Corp., originally American Telephone and Telegraph Company, is an American telecommunications company that provides voice, video, data, and Internet telecommunications and professional services to businesses, consumers, and government agencies. AT&T is the oldest telecommunications company...
discussed developing a wireless phone in 1915, but were afraid that deployment of the technology could undermine its monopoly on wired service in the U.S.
Public mobile phone systems were first introduced in the years after the Second World War and made use of technology developed before and during the conflict. The first system opened in St Louis, Missouri, USA in 1946 whilst other countries followed in the succeeding decades. The UK introduced its 'System 1' manual radiotelephone service as the South Lancashire Radiophone Service in 1958. Calls were made via an operator using handsets identical to ordinary phone handsets. The phone itself was a large box located in the boot (trunk) of the vehicle containing valves and other early electronic components. Although an uprated manual service ('System 3') was extended to cover most of the UK, automation did not arrive until 1981 with 'System 4'. Although this non-cellular service, based on German
B-Netz
B-Netz
B-Netz was an analog, commercial mobile radio telephone network that operated by the Deutsche Bundespost in Germany from 1972 until 1994. The system was also implemented in neighboring countries Austria, The Netherlands and Luxembourg...
technology, was expanded rapidly throughout the UK between 1982 and 1985 and continued in operation for several years before finally closing in Scotland, it was overtaken by the introduction in January 1985 of two cellular systems - the British Telecom/Securicor 'Cellnet' service and the Racal/Millicom/Barclays 'Vodafone' (from voice + data + phone) service. These cellular systems were based on US
Advanced Mobile Phone Service
Advanced Mobile Phone Service
Advanced Mobile Phone Service, Inc. was a subsidiary of AT&T prior to the Bell System Divestiture. Abbreviated AMPS, the company was created in 1978 to build and operate the new Advanced Mobile Phone System, also abbreviated AMPS. AMPS was developed by Bell Labs to replace older, severely limited...
(AMPS) technology, the modified technology being named
Total Access Communication System
Total Access Communication System
Total Access Communication System and ETACS are mostly-obsolete variants of AMPS which were used in some European countries . TACS was also used in Japan under the name Japanese Total Access Communication . It was also used in Hong Kong...
(TACS).
In 1947 Bell Labs was the first to propose a cellular radio telephone network. The primary innovation was the development of a network of small overlapping cell sites supported by a call switching infrastructure that tracks users as they move through a network and passes their calls from one site to another without dropping the connection. In 1956 the
MTA
MTD (mobile network)
MTD was a manual mobile phone system for the 450 MHz frequency band. It was introduced in 1971 in Sweden, and lasted until 1987, when it was made obsolete by the NMT automatic service...
system was launched in Sweden. The first call on a handheld mobile phone was made on April 3, 1973 by Martin Cooper, then of Motorola to his opposite number in Bell Labs who were also racing to be first. Bell Labs went on to install the first trial cellular network in Chicago in 1978. This trial system was licensed by the FCC to ATT for commercial use in 1982 and, as part of the divestiture arrangements for the breakup of ATT, the AMPS technology was distributed to local telcos. The first commercial system opened in Chicago in October 1983. A system designed by Motorola also operated in the Washington D.C./Baltimore area from summer 1982 and became a full public service later the following year. Japan's first commercial radiotelephony service was launched by NTT in 1978.
The first fully automatic
first generation
1G
1G refers to the first-generation of wireless telephone technology, mobile telecommunications. These are the analog telecommunications standards that were introduced in the 1980s and continued until being replaced by 2G digital telecommunications...
cellular system was the
Nordic Mobile Telephone
Nordic Mobile Telephone
NMT is the first fully automatic cellular phone system...
(NMT) system, simultaneously launched in 1981 in Denmark, Finland, Norway and Sweden. NMT was the first mobile phone network featuring international
roaming
Roaming
In wireless telecommunications, roaming is a general term referring to the extension of connectivity service in a location that is different from the home location where the service was registered. Roaming ensures that the wireless device is kept connected to the network, without losing the...
. The Swedish electrical engineer
Östen Mäkitalo
Östen Mäkitalo
Östen Mäkitalo was a Swedish electrical engineer. He is considered to be the father of the Nordic Mobile Telephone system and many times the father of cellular phone.-Education and occupation:...
started to work on this vision in 1966, and is considered as the father of the NMT system and some consider him also the father of the cellular phone.
The advent of cellular technology encouraged European countries to co-operate in the development of a pan-European cellular technology to rival those of the US and Japan. This resulted in the GSM system, the initials originally from the
Groupe Spécial Mobile
that was charged with the specification and development tasks but latterly as the 'Global System for Mobile Communications'. The GSM standard eventually spread outside Europe and is now the most widely used cellular technology in the world and the de facto standard. The industry association, the GSMA, now represents 219 countries and nearly 800 mobile network operators. There are now estimated to be over 5 billion phone subscriptions according to the "
List of countries by number of mobile phones in use
" (although some users have multiple subscriptions, or inactive subscriptions), which also makes the mobile phone the most widely spread technology and the most common electronic device in the world.
The first mobile phone to enable internet connectivity and wireless email, the
Nokia Communicator
Nokia Communicator
The Nokia Communicator is a brand name for a series of business-optimized smartphones marketed by Nokia Corporation, all of which appear as normal phones on the outside, and open in clamshell format to access a QWERTY keyboard and an LCD screen nearly the size of the device footprint.Nokia...
, was released in 1996, creating a new category of multi-use devices called smartphones. In 1999 the first mobile internet service was launched by NTT DoCoMo in Japan under the i-Mode service. By 2007 over 798 million people around the world accessed the internet or equivalent mobile internet services such as WAP and i-Mode at least occasionally using a mobile phone rather than a personal computer.
Cellular systems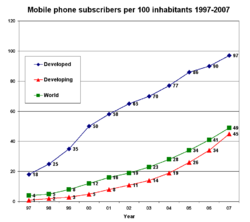 Mobile phones send and receive radio signals with any number of
cell site
Cell site
A cell site is a term used to describe a site where antennas and electronic communications equipment are placed, usually on a radio mast, tower or other high place, to create a cell in a cellular network...
base stations fitted with
microwave
Microwave
Microwaves, a subset of radio waves, have wavelengths ranging from as long as one meter to as short as one millimeter, or equivalently, with frequencies between 300 MHz and 300 GHz. This broad definition includes both UHF and EHF , and various sources use different boundaries...
antenna
Radio
Radio is the transmission of signals through free space by modulation of electromagnetic waves with frequencies below those of visible light. Electromagnetic radiation travels by means of oscillating electromagnetic fields that pass through the air and the vacuum of space...
s. These sites are usually mounted on a tower, pole or building, located throughout populated areas, then connected to a cabled communication network and switching system. The phones have a low-power
transceiver
Transceiver
A transceiver is a device comprising both a transmitter and a receiver which are combined and share common circuitry or a single housing. When no circuitry is common between transmit and receive functions, the device is a transmitter-receiver. The term originated in the early 1920s...
that transmits voice and data to the nearest cell sites, normally not more than 8 to 13 km (approximately 5 to 8 miles) away. In areas of low
coverage
Coverage (telecommunication)
In telecommunications, the coverage of a radio station is the geographic area where the station can communicate. Broadcasters and telecommunications companies frequently produce coverage maps to indicate to users the station's intended service area. Coverage depends on several factors, such as...
, a
cellular repeater
Cellular repeater
A cellular repeater, cell phone repeater, or wireless cellular signal booster, a type of bi-directional amplifier as commonly named in the wireless telecommunications industry, is a device used for boosting the cell phone reception to the local area by the usage of a reception antenna, a signal...
may be used, which uses a long distance high-gain dish antenna or
yagi antenna
Yagi antenna
A Yagi-Uda array, commonly known simply as a Yagi antenna, is a directional antenna consisting of a driven element and additional parasitic elements...
to communicate with a cell tower far outside of normal range, and a repeater to rebroadcast on a small short-range local antenna that allows any cellphone within a few meters to function properly.
When the mobile phone or data device is turned on, it registers with the mobile telephone exchange, or switch, with its unique identifiers, and can then be alerted by the mobile switch when there is an incoming telephone call. The handset constantly listens for the strongest signal being received from the surrounding base stations, and is able to
switch seamlessly
Mobility management
Mobility management is one of the major functions of a GSM ora UMTS network that allows mobile phones to work. The aim of mobility management is to track where the subscribers are, allowing calls, SMS and other mobile phone services to be delivered to them....
between sites. As the user moves around the network, the "handoffs" are performed to allow the device to switch sites without interrupting the call.
Cell site
Cell site
A cell site is a term used to describe a site where antennas and electronic communications equipment are placed, usually on a radio mast, tower or other high place, to create a cell in a cellular network...
s have relatively low-power (often only one or two watts) radio transmitters which broadcast their presence and relay communications between the mobile handsets and the switch. The switch in turn connects the call to another subscriber of the same wireless service provider or to the public telephone network, which includes the networks of other wireless carriers. Many of these sites are camouflaged to blend with existing environments, particularly in scenic areas.
The dialogue between the handset and the cell site is a stream of digital data that includes digitised audio (except for the first generation analog networks). The technology that achieves this depends on the system which the mobile phone operator has adopted. The technologies are grouped by generation. The first-generation systems started in 1979 with Japan, are all analog and include AMPS and NMT. Second-generation systems, started in 1991 in Finland, are all digital and include GSM, CDMA and
TDMA
Digital AMPS
IS-54 and IS-136 are second-generation mobile phone systems, known as Digital AMPS . It was once prevalent throughout the Americas, particularly in the United States and Canada. D-AMPS is considered end-of-life, and existing networks have mostly been replaced by GSM/GPRS or CDMA2000...
.
The nature of cellular technology renders many phones vulnerable to 'cloning': anytime a cell phone moves out of
coverage
Coverage (telecommunication)
In telecommunications, the coverage of a radio station is the geographic area where the station can communicate. Broadcasters and telecommunications companies frequently produce coverage maps to indicate to users the station's intended service area. Coverage depends on several factors, such as...
(for example, in a road tunnel), when the signal is re-established, the phone sends out a 're-connect' signal to the nearest cell-tower, identifying itself and signalling that it is again ready to transmit. With the proper equipment, it's possible to intercept the re-connect signal and encode the data it contains into a 'blank' phone—in all respects, the 'blank' is then an exact duplicate of the real phone and any calls made on the 'clone' will be charged to the original account. This problem was widespread with the first generation analogue technology, however the modern digital standards such as GSM greatly improve security and make cloning hard to achieve.
In an effort to limit the potential harm from having a transmitter close to the user's body, the first fixed/mobile cellular phones that had a separate transmitter, vehicle-mounted antenna, and handset (known as
car phones
and
bag phones
) were limited to a maximum 3 watts
Effective Radiated Power
Effective radiated power
In radio telecommunications, effective radiated power or equivalent radiated power is a standardized theoretical measurement of radio frequency energy using the SI unit watts, and is determined by subtracting system losses and adding system gains...
. Modern
handheld
cellphones which must have the transmission antenna held inches from the user's skull are limited to a maximum transmission power of 0.6 watts ERP. Regardless of the potential biological effects, the reduced transmission range of modern handheld phones limits their usefulness in rural locations as compared to car/bag phones, and handhelds require that cell towers be spaced much closer together to compensate for their lack of transmission power.
By civilians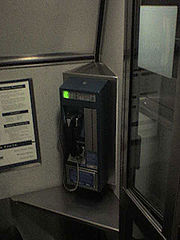 An increasing number of countries, particularly in Europe, now have more mobile phones than people. According to the figures from Eurostat, the European Union's in-house statistical office, Luxembourg had the highest
mobile phone penetration rate
Mobile phone penetration rate
Mobile phone penetration rate is a term generally used to describe the number of active mobile phone numbers within a specific population.- Penetration rates by region :*List of mobile network operators of the Americas...
at 158 mobile subscriptions per 100 people, closely followed by Lithuania and Italy. In Hong Kong the penetration rate reached 139.8% of the population in July 2007. Over 50 countries have mobile phone subscription penetration rates higher than that of the population and the Western European average penetration rate was 110% in 2007 (source Informa 2007). Canada currently has the lowest rates of mobile phone penetrations in the industrialised world at 58%.
There are over five hundred million active mobile phone accounts in China, as of 2007, but the total penetration rate there still stands below 50%. The total number of mobile phone subscribers in the world was estimated at 2.14 billion in 2005. The subscriber count reached 2.7 billion by end of 2006 according to Informa, and 3.3 billion by November, 2007, thus reaching an equivalent of over half the planet's population. Around 80% of the world's population has access to mobile phone coverage, as of 2006. This figure is expected to increase to 90% by the year 2010.
In some
developing countries
Developing country
A developing country, also known as a less-developed country, is a nation with a low level of material well-being. Since no single definition of the term developing country is recognized internationally, the levels of development may vary widely within so-called developing countries...
with little "landline" telephone
infrastructure
Infrastructure
Infrastructure is basic physical and organizational structures needed for the operation of a society or enterprise, or the services and facilities necessary for an economy to function...
, mobile phone use has quadrupled in the last decade. The rise of mobile phone technology in developing countries is often cited as an example of the leapfrog effect. Many remote regions in the third world went from having no telecommunications infrastructure to having satellite based communications systems. At present, Africa has the largest growth rate of cellular subscribers in the world, its markets expanding nearly twice as fast as Asian markets.
The availability of
prepaid
Prepaid telephone calls
Prepaid telephone calls are a popular way of making telephone calls which allow the caller to control spending without making a commitment with the telephone company....
or 'pay-as-you-go' services, where the subscriber is not committed to a long term contract, has helped fuel this growth in Africa as well as in other continents.
On a numerical basis, India is the largest growth market, adding about 6 million mobile phones every month. It currently has a mobile subscriber base of 687.71 million mobile phones.
Law enforcement
Law enforcement have used mobile phone evidence in a number of different ways. Evidence about the physical location of an individual at a given time can be obtained by triangulating the individual's cellphone between several cellphone towers. This triangulation technique can be used to show that an individual's cellphone was at a certain location at a certain time. The concerns over terrorism and terrorist use of technology prompted an inquiry by the
British House of Commons
British House of Commons
The House of Commons is the lower house of the Parliament of the United Kingdom, which also comprises the Sovereign and the House of Lords . Both Commons and Lords meet in the Palace of Westminster. The Commons is a democratically elected body, consisting of 650 members , who are known as Members...
Home Affairs Select Committee
Home Affairs Select Committee
The Home Affairs Select Committee is a Committee of the House of Commons in the Parliament of the United Kingdom.-Remit:The Home Affairs Committee is one of the House of Commons Select Committees related to government departments: its terms of reference are to examine "the expenditure,...
into the use of evidence from mobile phone devices, prompting leading mobile telephone forensic specialists to identify forensic techniques available in this area. NIST have published guidelines and procedures for the preservation, acquisition, examination, analysis, and reporting of digital information present on mobile phones can be found under the NIST Publication SP800-101.
In the UK in 2000 it was claimed that recordings of mobile phone conversations made on the day of the
Omagh bombing
Omagh bombing
The Omagh bombing was a car bomb attack carried out by the Real Irish Republican Army , a splinter group of former Provisional Irish Republican Army members opposed to the Good Friday Agreement, on Saturday 15 August 1998, in Omagh, County Tyrone, Northern Ireland. Twenty-nine people died as a...
were crucial to the police investigation. In particular, calls made on two mobile phones which were tracked from south of the Irish border to Omagh and back on the day of the bombing, were considered of vital importance.
Further example of criminal investigations using mobile phones is the initial location and ultimate identification of the terrorists of the 2004 Madrid train bombings. In the attacks, mobile phones had been used to detonate the bombs. However, one of the bombs failed to detonate, and the
SIM
Subscriber Identity Module
A subscriber identity module or subscriber identification module is an integrated circuit that securely stores the International Mobile Subscriber Identity and the related key used to identify and authenticate subscriber on mobile telephony devices .A SIM is held on a removable SIM card, which...
card in the corresponding mobile phone gave the first serious lead about the terrorists to investigators. By tracking the whereabouts of the SIM card and correlating other mobile phones that had been registered in those areas, police were able to locate the terrorists.
Disaster response
The Finnish government decided in 2005 that the fastest way to warn citizens of disasters was the mobile phone network. In Japan, mobile phone companies provide
immediate notification
J-Alert
is a nationwide warning system in Japan launched in February 2007. It is designed to quickly inform the public of various threats. The system was developed in the hope that early warnings would speed up evacuation times and help coordinate emergency response....
of earthquakes and other
natural disaster
Natural disaster
A natural disaster is the effect of a natural hazard . It leads to financial, environmental or human losses...
s to their customers free of charge. In the event of an emergency,
disaster response
Disaster response
Disaster response is a phase of the disaster management cycle. Its preceding cycles aim to reduce the need for a disaster response, or to avoid it altogether.The level of disaster response depends on a number of factors and particular situation awareness...
crews can locate trapped or injured people using the signals from their mobile phones. An interactive menu accessible through the phone's
Internet browser
Web browser
A web browser is a software application for retrieving, presenting, and traversing information resources on the World Wide Web. An information resource is identified by a Uniform Resource Identifier and may be a web page, image, video, or other piece of content...
notifies the company if the user is safe or in distress. In Finland rescue services suggest hikers carry mobile phones in case of emergency even when deep in the forests beyond cellular coverage, as the radio signal of a cellphone attempting to connect to a base station can be detected by overflying rescue aircraft with special detection gear. Also, users in the United States can sign up through their provider for free text messages when an
AMBER Alert
AMBER Alert
An AMBER Alert or a Child Abduction Emergency is a child abduction alert bulletin in several countries throughout the world, issued upon the suspected abduction of a child, since 1996...
goes out for a missing person in their area.
However, most mobile phone networks operate close to capacity during normal times and spikes in call volumes caused by widespread emergencies often overload the system just when it is needed the most. Examples reported in the media where this has occurred include the September 11, 2001 attacks, the
2003 Northeast blackouts
Northeast Blackout of 2003
The Northeast blackout of 2003 was a widespread power outage that occurred throughout parts of the Northeastern and Midwestern United States and Ontario, Canada on Thursday, August 14, 2003, just before 4:10 p.m....
, the 2005 London Tube bombings,
Hurricane Katrina
Hurricane Katrina
Hurricane Katrina of the 2005 Atlantic hurricane season was a powerful Atlantic hurricane. It is the costliest natural disaster, as well as one of the five deadliest hurricanes, in the history of the United States. Among recorded Atlantic hurricanes, it was the sixth strongest overall...
, the
2006 Hawaii earthquake
2006 Hawaii earthquake
The 2006 Hawaii earthquake was an offshore earthquake occurring southwest from Puakō and north of Kailua-Kona, Hawaii, just offshore of the Kona Airport, on Sunday October 15, 2006 at 7:07:49 AM local time . It measured 6.7 on the moment magnitude scale, and was located at , at a depth of...
, and the 2007 Minnesota bridge collapse.
Under FCC regulations, all mobile telephones must be capable of dialing
emergency telephone number
Emergency telephone number
Many countries' public telephone networks have a single emergency telephone number, sometimes known as the universal emergency telephone number or occasionally the emergency services number, that allows a caller to contact local emergency services for assistance. The emergency telephone number may...
s, regardless of the presence of a SIM card or the payment status of the account.
Human health
Since the introduction of mobile phones, concerns (both scientific and public) have been raised about the potential health impacts from regular use. But by 2008, American mobile phones transmitted and received more text messages than phone calls. Numerous studies have reported no significant relationship between mobile phone use and health, but the effect of mobile phone usage on health continues to be an area of public concern.
For example, at the request of some of their customers,
Verizon
Verizon Communications
Verizon Communications Inc. is a global broadband and telecommunications company and a component of the Dow Jones Industrial Average...
created usage controls that meter service and can switch phones off, so that children could get some sleep. There have also been attempts to limit use by persons operating moving trains or automobiles, coaches when writing to potential players on their teams, and movie theater audiences. By one measure, nearly 40% of automobile drivers aged 16 to 30 years old text while driving, and by another, 40% of teenagers said they could text blindfolded.
18 studies have been conducted on the link between cell phones and brain cancer; A review of these studies found that cell phone use of 10 years or more "give a consistent pattern of an increased risk for acoustic neuroma and glioma". The tumors are found mostly on the side of the head that the mobile phone is in contact with. In July 2008, Dr. Ronald Herberman, director of the
University of Pittsburgh Cancer Institute
University of Pittsburgh Cancer Institute
The University of Pittsburgh Cancer Institute is a National Cancer Institute -designated Comprehensive Cancer Center located in the Hillman Cancer Center in the Shadyside neighborhood of Pittsburgh, Pennsylvania, United States...
, warned about the radiation from mobile phones. He stated that there was no definitive proof of the link between mobile phones and brain tumors but there was enough studies that mobile phone usage should be reduced as a precaution. To reduce the amount of radiation being absorbed hands free devices can be used or texting could supplement calls. Calls could also be shortened or limit mobile phone usage in rural areas. Radiation is found to be higher in areas that are located away from mobile phone towers.
According to
Reuters
Reuters
Reuters is a news agency headquartered in New York City. Until 2008 the Reuters news agency formed part of a British independent company, Reuters Group plc, which was also a provider of financial market data...
, The British Association of Dermatologists is warning of a rash occurring on people's ears or cheeks caused by an allergic reaction from the nickel surface commonly found on mobile devices' exteriors. There is also a theory it could even occur on the fingers if someone spends a lot of time
text messaging
Text messaging
Text messaging, or texting, refers to the exchange of brief written text messages between fixed-line phone or mobile phone and fixed or portable devices over a network...
on metal menu buttons. In 2008, Lionel Bercovitch of
Brown University
Brown University
Brown University is a private, Ivy League university located in Providence, Rhode Island, United States. Founded in 1764 prior to American independence from the British Empire as the College in the English Colony of Rhode Island and Providence Plantations early in the reign of King George III ,...
in
Providence
Providence, Rhode Island
Providence is the capital and most populous city of Rhode Island and was one of the first cities established in the United States. Located in Providence County, it is the third largest city in the New England region...
, Rhode Island, and his colleagues tested 22 popular handsets from eight different manufacturers and found nickel on 10 of the devices.
Culture and customs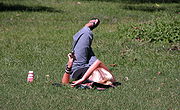 Between the 1980s and the 2000s, the mobile phone has gone from being an expensive item used by the business elite to a pervasive, personal communications tool for the general population. In most countries, mobile phones outnumber land-line phones, with fixed landlines numbering 1.3 billion but mobile subscriptions 3.3 billion at the end of 2007.
In many markets from Japan and South Korea , to Europe, to Malaysia, Singapore, Taiwan and Hong Kong, most children age 8-9 have mobile phones and the new accounts are now opened for customers aged 6 and 7. Where mostly parents tend to give hand-me-down used phones to their youngest children, in Japan already new cameraphones are on the market whose target age group is under 10 years of age, introduced by KDDI in February 2007. The USA also lags on this measure, as in the US so far, about half of all children have mobile phones. In many
young adult
Youth
Youth is the time of life between childhood and adulthood . Definitions of the specific age range that constitutes youth vary. An individual's actual maturity may not correspond to their chronological age, as immature individuals could exist at all ages.-Usage:Around the world, the terms "youth",...
s' households it has supplanted the land-line phone. Mobile phone usage is banned in some countries, such as North Korea and restricted in some other countries such as Burma.
Given the high levels of societal mobile phone service penetration, it is a key means for people to communicate with each other. The
SMS
Short message service
Short Message Service is a text messaging service component of phone, web, or mobile communication systems, using standardized communications protocols that allow the exchange of short text messages between fixed line or mobile phone devices...
feature spawned the "texting" sub-culture amongst younger users. In December 1993, the first person-to-person SMS text message was transmitted in Finland. Currently, texting is the most widely used data service; 1.8 billion users generated $80 billion of revenue in 2006 (source ITU). Many phones offer
Instant Messenger
Instant messaging
Instant Messaging is a form of real-time direct text-based chatting communication in push mode between two or more people using personal computers or other devices, along with shared clients. The user's text is conveyed over a network, such as the Internet...
services for simple, easy texting. Mobile phones have Internet service (e.g.
NTT DoCoMo
NTT DoCoMo
is the predominant mobile phone operator in Japan. The name is officially an abbreviation of the phrase, "do communications over the mobile network", and is also from a compound word dokomo, meaning "everywhere" in Japanese. Docomo provides phone, video phone , i-mode , and mail services...
's
i-mode
I-mode
NTT DoCoMo's i-mode is a mobile internet service popular in Japan. Unlike Wireless Application Protocol, i-mode encompasses a wider variety of internet standards, including web access, e-mail and the packet-switched network that delivers the data...
), offering text messaging via e-mail in Japan, South Korea, China, and India. Most mobile internet access is much different from computer access, featuring alerts, weather data, e-mail, search engines, instant messages, and game and music downloading; most mobile internet access is hurried and short.
The mobile phone can be a fashion
totem
Totem
A totem is a stipulated ancestor of a group of people, such as a family, clan, group, lineage, or tribe.Totems support larger groups than the individual person. In kinship and descent, if the apical ancestor of a clan is nonhuman, it is called a totem...
custom-decorated to reflect the owner's personality. This aspect of the mobile telephony business is, in itself, an industry, e.g. ringtone sales amounted to $3.5 billion in 2005.
Mobile phone use on aircraft
Mobile phones on aircraft
As of 2011, most airlines do not allow the use of mobile phones on aircraft, because it is thought they could adversely affect the navigational instruments in the cockpit...
is starting to be allowed with several airlines already offering the ability to use phones during flights. Mobile phone use during flights used to be prohibited and many airlines still claim in their in-plane announcements that this prohibition is due to possible interference with aircraft radio communications. Shut-off mobile phones do not interfere with aircraft avionics; the concern is partially based on the crash of
Crossair Flight 498
Crossair Flight 498
Crossair Flight LX498 was a commuter flight from Zurich, Switzerland to Dresden, Germany that crashed two minutes after takeoff in the Swiss municipality of Niederhasli on 10 January 2000. The seven passengers and three crewmembers aboard the two-turboprop engine Saab 340 aircraft all died on...
. The recommendation why phones should not be used during take-off and landing, even on planes that allow calls or messaging, is so that passengers pay attention to the crew for any possible accident situations, as most aircraft accidents happen on take-off and landing.
Etiquette
Mobile phone use can be an important matter of social discourtesy: phones ringing during funerals or weddings; in toilets, cinemas and theatres. Some book shops, libraries, bathrooms, cinemas, doctors' offices and
places of worship
Place of worship
A place of worship or house of worship is an establishment or her location where a group of people comes to perform acts of religious study, honor, or devotion. The form and function of religious architecture has evolved over thousands of years for both changing beliefs and architectural style...
prohibit their use, so that other patrons will not be disturbed by conversations. Some facilities install signal-jamming equipment to prevent their use, although in many countries, including the US, such equipment is illegal. Some new
auditorium
Auditorium
An auditorium is a room built to enable an audience to hear and watch performances at venues such as theatres. For movie theaters, the number of auditoriums is expressed as the number of screens.- Etymology :...
s have installed wire mesh in the walls to make a
Faraday cage
Faraday cage
A Faraday cage or Faraday shield is an enclosure formed by conducting material or by a mesh of such material. Such an enclosure blocks out external static and non-static electric fields...
, which prevents signal penetration without violating signal jamming laws.
Most schools in the United States and Europe and Canada have prohibited mobile phones in the classroom, or in school due to the large number of class disruptions that result from their use, and the potential for cheating via text messaging. In the UK, possession of a mobile phone in an examination can result in immediate disqualification from that subject or from all that student's subjects. This still applies even if the mobile phone was not turned on at the time. The JCQ also requires schools to display notices of the unauthorised use of mobiles, on both the inside and outside of exam rooms. Mobile phones can also be used for bullying and threats to other students, or displaying inappropriate material in school.
A working group made up of Finnish telephone companies, public transport operators and communications authorities has launched a campaign to remind mobile phone users of courtesy, especially when using mass transit—what to talk about on the phone, and how to. In particular, the campaign wants to impact loud mobile phone usage as well as calls regarding sensitive matters.
Many US cities with subway transit systems underground are studying or have implemented mobile phone reception in their underground tunnels for their riders. Boston, Massachusetts has investigated such usage in their tunnels, although there is a question of usage etiquette and also how to fairly award contracts to carriers.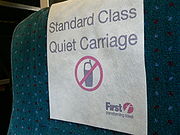 Trains, particularly those involving long-distance services, often offer a "quiet carriage" where phone use is prohibited, much like the designated non-smoking carriage of the past. In the UK however many users tend to ignore this as it is rarely enforced, especially if the other carriages are crowded and they have no choice but to go in the "quiet carriage". In Japan, it is generally considered impolite to talk using a phone on any train—e-mailing is generally the mode of mobile communication. Mobile phone usage on local public transport is also increasingly seen as a nuisance; the city of
Graz
Graz
The more recent population figures do not give the whole picture as only people with principal residence status are counted and people with secondary residence status are not. Most of the people with secondary residence status in Graz are students...
, for instance, has mandated a total ban of mobile phones on its tram and bus network in 2008 (though texting and emailing is still allowed).
The issue of mobile communication and etiquette has also become an issue of academic interest. The rapid adoption of the device has resulted in the intrusion of telephony into situations where it was previously not used. This has exposed the implicit rules of courtesy and opened them to reevaluation.
Use by drivers
The use of mobile phones by people who are driving has become increasingly common, for example as part of their job, as in the case of delivery drivers who are calling a client, or socially as for commuters who are chatting with a friend. While many drivers have embraced the convenience of using their cellphone while driving, some jurisdictions have made the practice against the law, such as Australia, the Canadian provinces of
Quebec
Quebec
Quebec or is a province in east-central Canada. It is the only Canadian province with a predominantly French-speaking population and the only one whose sole official language is French at the provincial level....
, Ontario,
Nova Scotia
Nova Scotia
Nova Scotia is one of Canada's three Maritime provinces and is the most populous province in Atlantic Canada. The name of the province is Latin for "New Scotland," but "Nova Scotia" is the recognized, English-language name of the province. The provincial capital is Halifax. Nova Scotia is the...
, and
Newfoundland and Labrador
Newfoundland and Labrador
Newfoundland and Labrador is the easternmost province of Canada. Situated in the country's Atlantic region, it incorporates the island of Newfoundland and mainland Labrador with a combined area of . As of April 2011, the province's estimated population is 508,400...
as well as the United Kingdom, consisting of a zero-tolerance system operated in Scotland and a warning system operated in England,
Wales
Wales
Wales is a country that is part of the United Kingdom and the island of Great Britain, bordered by England to its east and the Atlantic Ocean and Irish Sea to its west. It has a population of three million, and a total area of 20,779 km²...
, and
Northern Ireland
Northern Ireland
Northern Ireland is one of the four countries of the United Kingdom. Situated in the north-east of the island of Ireland, it shares a border with the Republic of Ireland to the south and west...
. Officials from these jurisdictions argue that using a mobile phone while driving is an impediment to vehicle operation that can increase the risk of road traffic accidents.
Studies have found vastly different
relative risk
Relative risk
In statistics and mathematical epidemiology, relative risk is the risk of an event relative to exposure. Relative risk is a ratio of the probability of the event occurring in the exposed group versus a non-exposed group....
s (RR). Two separate studies using case-crossover analysis each calculated RR at 4, while an epidemiological
cohort study
Cohort study
A cohort study or panel study is a form of longitudinal study used in medicine, social science, actuarial science, and ecology. It is an analysis of risk factors and follows a group of people who do not have the disease, and uses correlations to determine the absolute risk of subject contraction...
found RR, when adjusted for crash-risk exposure, of 1.11 for men and 1.21 for women.
A simulation study from the
University of Utah
University of Utah
The University of Utah, also known as the U or the U of U, is a public, coeducational research university in Salt Lake City, Utah, United States. The university was established in 1850 as the University of Deseret by the General Assembly of the provisional State of Deseret, making it Utah's oldest...
Professor David Strayer compared drivers with a
blood alcohol content
Blood alcohol content
Blood alcohol content , also called blood alcohol concentration, blood ethanol concentration, or blood alcohol level is most commonly used as a metric of alcohol intoxication for legal or medical purposes....
of 0.08% to those conversing on a cell phone, and after controlling for driving difficulty and time on task, the study concluded that cell phone drivers exhibited greater impairment than intoxicated drivers. Meta-analysis by The
Canadian Automobile Association
Canadian Automobile Association
The Canadian Automobile Association , commonly known as CAA, is a non-profit federation, founded in 1913, of nine clubs across Canada, providing roadside assistance service, a complete range of auto touring and leisure travel services, insurance services, and member discounts with preferred...
and The University of Illinois found that response time while using both hands-free and hand-held phones was approximately 0.5 standard deviations higher than normal driving (i.e., an average driver, while talking on a cell phone, has response times of a driver in roughly the 40th percentile).
Driving while using a hands-free device is not safer than driving while using a hand-held phone, as concluded by case-crossover studies. epidemiological studies, simulation studies, and meta-analysis. Even with this information, California recently passed a cell phone law that requires drivers who are 18 years of age or older to use a hands-free device while using the phone in the vehicle. Moreover, this law also restricts drivers under the age of 18 from using a mobile phone. This law went into effect on July 1, 2008 with a $20 fine for the first offense and $50 fines for each subsequent conviction. The consistency of increased crash risk between hands-free and hand-held phone use is at odds with legislation in over 30 countries that prohibit hand-held phone use but allow hands-free. Scientific literature is mixed on the dangers of talking on a phone versus those of talking with a passenger, with the Accident Research Unit at the
University of Nottingham
University of Nottingham
The University of Nottingham is a public research university based in Nottingham, United Kingdom, with further campuses in Ningbo, China and Kuala Lumpur, Malaysia...
finding that the number of utterances was usually higher for mobile calls when compared to blindfolded and non-blindfolded passengers, but the University of Illinois meta-analysis concluding that passenger conversations were just as costly to driving performance as cell phone ones.
Use on aircraft
As of 2007, several airlines are experimenting with base station and antenna systems installed to the aeroplane, allowing low power, short-range connection of any phones aboard to remain connected to the aircraft's base station. Thus, they would not attempt connection to the ground base stations as during take off and landing. Simultaneously, airlines may offer phone services to their travelling passengers either as full voice and data services, or initially only as SMS text messaging and similar services. The Australian airline
Qantas
Qantas
Qantas Airways Limited is the flag carrier of Australia. The name was originally "QANTAS", an initialism for "Queensland and Northern Territory Aerial Services". Nicknamed "The Flying Kangaroo", the airline is based in Sydney, with its main hub at Sydney Airport...
is the first airline to run a test aeroplane in this configuration in the autumn of 2007.
Emirates
Emirates Airline
Emirates is the airline based in the Emirate of Dubai part of the United Arab Emirates . Based at Dubai International Airport it is the largest airline in the Middle East, operating over 2,400 flights per week, from its hub at Terminal 3, to 111 cities in 62 countries across six continents...
has announced plans to allow limited mobile phone usage on some flights. However, in the past, commercial airlines have prevented the use of cell phones and laptops, due to the assertion that the frequencies emitted from these devices may disturb the radio waves contact of the airplane.
On March 20, 2008, an Emirates flight was the first time voice calls have been allowed in-flight on commercial airline flights. The breakthrough came after the European Aviation Safety Agency (EASA) and the United Arab Emirates-based General Civil Aviation Authority (GCAA) granted full approval for the AeroMobile system to be used on Emirates. Passengers were able to make and receive voice calls as well as use text messaging. The system automatically came into operation as the Airbus A340-300 reached cruise altitude. Passengers wanting to use the service received a text message welcoming them to the AeroMobile system when they first switched their phones on. The approval by EASA has established that GSM phones are safe to use on airplanes, as the AeroMobile system does not require the modification of aircraft components deemed "sensitive," nor does it require the use of modified phones.
In any case, there are inconsistencies between practices allowed by different airlines and even on the same airline in different countries. For example,
Northwest Airlines
Northwest Airlines
Northwest Airlines, Inc. was a major United States airline founded in 1926 and absorbed into Delta Air Lines by a merger approved on October 29, 2008, making Delta the largest airline in the world...
may allow the use of mobile phones immediately after landing on a domestic flight within the US, whereas they may state "not until the doors are open" on an international flight arriving in the Netherlands. In April 2007 the US
Federal Communications Commission
Federal Communications Commission
The Federal Communications Commission is an independent agency of the United States government, created, Congressional statute , and with the majority of its commissioners appointed by the current President. The FCC works towards six goals in the areas of broadband, competition, the spectrum, the...
officially prohibited passengers' use of cell phones during a flight.
In a similar vein, signs are put up in many countries, such as Canada, the UK and the U.S., at petrol stations prohibiting the use of mobile phones, due to possible safety issues. However, it unlikely that mobile phone use can cause any problems, and in fact "petrol station employees have themselves spread the rumour about alleged incidents."
Environmental impacts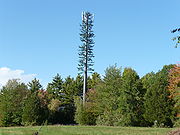 Like all high structures, cellular antenna masts pose a hazard to low flying aircraft. Towers over a certain height or towers that are close to airports or heliports are normally required to have
warning lights
Aircraft warning lights
Aircraft warning lights are high-intensity lighting devices that are attached to tall structures and are used as collision avoidance measures. Such devices make structures more visible to passing aircraft and are usually used at night, although they may be used during the day as well...
. There have been reports that warning lights on cellular masts, TV-towers and other high structures can attract and confuse birds. US authorities estimate that millions of birds are killed near communication towers in the country each year.
Some cellular antenna towers have been camouflaged to make them less obvious on the horizon, and make them look more like a tree.
An example of the way mobile phones and mobile networks have sometimes been perceived as a threat is the widely reported and later discredited claim that mobile phone masts are associated with the
Colony Collapse Disorder
Colony Collapse Disorder
Colony collapse disorder is a phenomenon in which worker bees from a beehive or European honey bee colony abruptly disappear. While such disappearances have occurred throughout the history of apiculture, the term colony collapse disorder was first applied to a drastic rise in the number of...
(CCD) which has reduced bee hive numbers by up to 75% in many areas, especially near cities in the US. The Independent newspaper cited a scientific study claiming it provided evidence for the theory that mobile phone masts
are
a major cause in the collapse of bee populations, with controlled experiments demonstrating a rapid and catastrophic effect on individual hives near masts.
Mobile phones were in fact not covered in the study, and the original researchers have since emphatically disavowed any connection between their research, mobile phones, and CCD, specifically indicating that the Independent article had misinterpreted their results and created "a horror story".
While the initial claim of damage to bees was widely reported, the corrections to the story were almost non-existent in the media.
There are more than 500 million used mobile phones in the US sitting on shelves or in landfills, and it is estimated that over 125 million will be discarded this year alone. The problem is growing at a rate of more than two million phones per week, putting tons of toxic waste into landfills daily. Several companies offer to buy back and recycle mobile phones from users. In the United States many unwanted but working mobile phones are donated to women's shelters to allow emergency communication.
Tariff models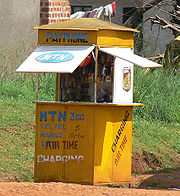 Payment methods
There are two principal ways to pay for mobile telephony: the 'pay-as-you-go' model where conversation time is purchased and added to a phone unit via an Internet account or in shops or ATMs, or the
contract model
Postpaid mobile phone
The post-paid mobile phone is a mobile phone for which service is provided by a prior arrangement with a carriage service provider . The user in this situation is billed after the fact according to their use of mobile services at the end of each month...
where bills are paid by regular intervals after the service has been consumed. It is increasingly common for a consumer to purchase a basic package and then bolt-on services and functionality to create a subscription customised to the users needs.
Pay as you go (also known as "pre-pay" or "prepaid") accounts were invented simultaneously in Portugal and Italy and today form more than half of all mobile phone subscriptions. USA, Canada, Costa Rica, Japan and Finland are among the rare countries left where most phones are still contract-based.
Incoming call charges
In the
early days of mobile telephony
History of mobile phones
The history of mobile phones charts the development of devices which connect wirelessly to the public switched telephone network. The transmission of speech by radio has a long and varied history going back to Reginald Fessenden's invention and shore-to-ship demonstration of radio telephony,...
, the operators (carriers) charged for all air time consumed by the mobile phone user, which included both outbound and inbound
telephone call
Telephone call
A telephone call is a connection over a telephone network between the calling party and the called party.-Information transmission:A telephone call may carry ordinary voice transmission using a telephone, data transmission when the calling party and called party are using modems, or facsimile...
s. As mobile phone adoption rates increased, competition between operators meant that some decided not to charge for incoming calls in some markets (also called "calling party pays").
The European market adopted a calling party pays model throughout the GSM environment and soon various other GSM markets also started to emulate this model.
In Hong Kong, Singapore, Canada, and the United States, it is common for the party receiving the call to be charged per minute, although a few carriers are beginning to offer unlimited received phone calls. This is called the "Receiving Party Pays" model. In China, it was reported that both of its two operators will adopt the caller-pays approach as early as January 2007.
One disadvantage of the receiving party pays systems is that phone owners keep their phones turned off to avoid receiving unwanted calls, which results in the total voice usage rates (and profits) in Calling Party Pays countries outperform those in Receiving Party Pays countries. To avoid the problem of users keeping their phone turned off, most Receiving Party Pays countries have either switched to Calling Party Pays, or their carriers offer additional incentives such as a large number of monthly minutes at a sufficiently discounted rate to compensate for the inconvenience.
Note that when a user
roaming
Roaming
In wireless telecommunications, roaming is a general term referring to the extension of connectivity service in a location that is different from the home location where the service was registered. Roaming ensures that the wireless device is kept connected to the network, without losing the...
in another country, international roaming tariffs apply to all calls received, regardless of the model adopted in the home country.