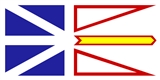 Newfoundland and Labrador
Newfoundland and Labrador
n is the easternmost
province
Provinces and territories of Canada
The provinces and territories of Canada combine to make up the world's second-largest country by area. There are ten provinces and three territories...
of
Canada
Canada
Canada is a North American country consisting of ten provinces and three territories. Located in the northern part of the continent, it extends from the Atlantic Ocean in the east to the Pacific Ocean in the west, and northward into the Arctic Ocean...
. Situated in the country's
Atlantic region
Atlantic Canada
Atlantic Canada is the region of Canada comprising the four provinces located on the Atlantic coast, excluding Quebec: the three Maritime provinces – New Brunswick, Prince Edward Island, and Nova Scotia – and Newfoundland and Labrador...
, it incorporates the island of
Newfoundland
and mainland
Labrador
Labrador
Labrador is the distinct, northerly region of the Canadian province of Newfoundland and Labrador. It comprises the mainland portion of the province, separated from the island of Newfoundland by the Strait of Belle Isle...
(located Northwest of the island) with a combined area of 405212 square kilometre. As of April 2011, the province's estimated population is 508,400. Approximately 94 percent of the province's population resides on the Island of Newfoundland (including its associated smaller islands), of which over half live on the
Avalon Peninsula
Avalon Peninsula
The Avalon Peninsula is a large peninsula that makes up the southeast portion of the island of Newfoundland.The peninsula is home to 257,223 people, which is approximately 51% of Newfoundland's population in 2009, and is the location of the provincial capital, St. John's. It is connected to the...
.