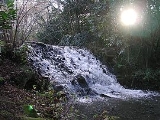 Marlay Park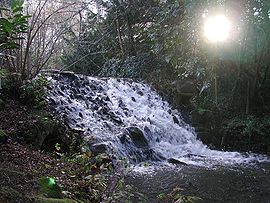 Marlay Park
is a 121 hectares (299 acre) suburban public park located in
Rathfarnham
Rathfarnham
Rathfarnham or Rathfarnam is a Southside suburb of Dublin, Ireland. It is south of Terenure, east of Templeogue, and is in the postal districts of Dublin 14 and 16. It is within the administrative areas of both Dun Laoghaire-Rathdown and South Dublin County Councils.The area of Rathfarnham...
in the administrative area of
Dún Laoghaire-Rathdown
Dun Laoghaire-Rathdown
Dún Laoghaire–Rathdown is a county in Ireland. It is one of three smaller counties into which County Dublin was divided in 1994. Located to the south-east of Dublin city, its county seat is the town of Dún Laoghaire. It is one of the four constituent parts of the Dublin Region...
, in
Co. Dublin
County Dublin
County Dublin is a county in Ireland. It is part of the Dublin Region and is also located in the province of Leinster. It is named after the city of Dublin which is the capital of Ireland. County Dublin was one of the first of the parts of Ireland to be shired by King John of England following the...
,
Ireland
Ireland
Ireland is an island to the northwest of continental Europe. It is the third-largest island in Europe and the twentieth-largest island on Earth...
. Lying about nine kilometres (5.5 miles) from
Dublin
city centre. The parkland comprises woodlands, ponds and walks. Recreational spaces include a nine hole par three
golf
Golf
Golf is a precision club and ball sport, in which competing players use many types of clubs to hit balls into a series of holes on a golf course using the fewest number of strokes....
course (reopened in 2010 after redesign and rebuild),
tennis
Tennis
Tennis is a sport usually played between two players or between two teams of two players each . Each player uses a racket that is strung to strike a hollow rubber ball covered with felt over a net into the opponent's court. Tennis is an Olympic sport and is played at all levels of society at all...
courts, six football pitches, five
GAA pitches
Gaelic football
Gaelic football , commonly referred to as "football" or "Gaelic", or "Gah" is a form of football played mainly in Ireland...
a cricket pitch, two children's
playground
Playground
A playground or play area is a place with a specific design for children be able to play there. It may be indoors but is typically outdoors...
s and a
miniature railway
Rail transport modelling
Railway modelling or model railroading is a hobby in which rail transport systems are modelled at a reduced scale...
run by the Dublin Society of Model and Experimental Engineers. There is also a craft courtyard with home craft shops and coffee shops.
Dublin County Council acquired the land in 1972 and developed it as a regional park. Opened in 1975, it is now administered by
Dún Laoghaire-Rathdown County Council
Dún Laoghaire-Rathdown County Council
Dún Laoghaire-Rathdown County Council is the local authority for the county of Dún Laoghaire–Rathdown in Ireland. It is one of three local authorities that comprised the former Dublin County Council before its abolition and one of four councils in the Dublin Region. It serves a population of...
.
Dublin Bus
Dublin Bus
Dublin Bus is a public transport operator in Ireland. It operates an extensive bus network of 172 radial, cross-city and peripheral routes and 18 night routes in the city of Dublin and the Greater Dublin Area. The company, established in 1987, is a subsidiary of Córas Iompair Éireann which is...
serves the park directly with the 16 bus, but the following buses are within walking distance: 14, 14A and 48A directly to the city centre. The 75 bus goes to
Dún Laoghaire
Dún Laoghaire
Dún Laoghaire or Dún Laoire , sometimes anglicised as "Dunleary" , is a suburban seaside town in County Dublin, Ireland, about twelve kilometres south of Dublin city centre. It is the county town of Dun Laoghaire-Rathdown County and a major port of entry from Great Britain...
. Since 2000 Marlay Park has become a popular
music venue
Music venue
A music venue is any location used for a concert or musical performance. Music venues range in size and location, from an outdoor bandshell or bandstand or a concert hall to an indoor sports stadium. Typically, different types of venues host different genres of music...
with a capacity of 32,000, featuring both renowned national and international performers.
The park's name is commonly misspelled as Marley, most notably in nearby housing developments (see below).
Marlay House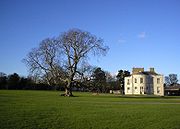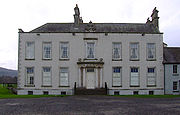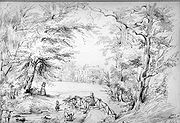 Marlay House was built by Thomas Taylor and was known as 'The Grange'. David La Touche, first governor of the newly established
Bank of Ireland
Bank of Ireland
The Bank of Ireland is a commercial bank operation in Ireland, which is one of the 'Big Four' in both parts of the island.Historically the premier banking organisation in Ireland, the Bank occupies a unique position in Irish banking history...
acquired and extended the house in 1764 and renamed it for his wife Elizabeth Marlay. The house, a fine example of
Georgian architecture
Georgian architecture
Georgian architecture is the name given in most English-speaking countries to the set of architectural styles current between 1720 and 1840. It is eponymous for the first four British monarchs of the House of Hanover—George I of Great Britain, George II of Great Britain, George III of the United...
, has many elaborate features including plasterwork by
Michael Stapleton
Michael Stapleton
Michael Stapleton is regarded as having been the most skilled stuccodore working in the neoclassical or "Adam" style that dominated Dublin interior decoration in the final decades of the 18th century.-Life:Stapleton was born in Dublin, the son of George Stapleton, who may have been a plasterer by...
. Marlay was sold in 1864 to Robert Tedcastle, a well known CoalMerchantsDublin. whose family lived there until 1925 when Philip Love bought the house for £8,325. Love, a market gardener who was once Ireland's largest tomato producers, was also a
racehorse
Horse racing
Horse racing is an equestrian sport that has a long history. Archaeological records indicate that horse racing occurred in ancient Babylon, Syria, and Egypt. Both chariot and mounted horse racing were events in the ancient Greek Olympics by 648 BC...
breeder whose famous horse Larkspur won the 1962
Epsom Derby
Epsom Derby
The Derby Stakes, popularly known as The Derby, internationally as the Epsom Derby, and under its present sponsor as the Investec Derby, is a Group 1 flat horse race in Great Britain open to three-year-old thoroughbred colts and fillies...
. He lived there until 1972 when it was donated to the Dublin County Council.
A 1.82 hectare (4.5 acre) walled garden was built near the house around 1794, and consists of a restored
regency
Regency architecture
The Regency style of architecture refers primarily to buildings built in Britain during the period in the early 19th century when George IV was Prince Regent, and also to later buildings following the same style...
ornamental and kitchen gardens. The ornamental garden boasts an extensive display of period plants, ranging from
herbaceous border
Herbaceous border
A herbaceous border is a collection of perennial herbaceous plants arranged closely together, usually to create a dramatic effect through colour, shape or large scale. The term herbaceous border is mostly in use in the United Kingdom and the Commonwealth...
s to shrub beds. The Head Gardener's house,
orangery
Orangery
An orangery was a building in the grounds of fashionable residences from the 17th to the 19th centuries and given a classicising architectural form. The orangery was similar to a greenhouse or conservatory...
,
arbour
Pergola
A pergola, arbor or arbour is a garden feature forming a shaded walkway, passageway or sitting area of vertical posts or pillars that usually support cross-beams and a sturdy open lattice, often upon which woody vines are trained...
and water features combine to create a distinctive atmosphere. Located just over the wall, the kitchen garden houses a fine collection of regency fruit trees, vegetables and associated
bothy
Bothy
A bothy is a basic shelter, usually left unlocked and available for anyone to use free of charge. It was also a term for basic accommodation, usually for gardeners or other workers on an estate. Bothies are to be found in remote, mountainous areas of Scotland, northern England, Ireland, and Wales....
s.
Daily tours of the gardens are available in the summer months and by appointment at other times. Tea, coffee and other refreshments are available, year round, in the former gardener's house.
Marlay Craft Centre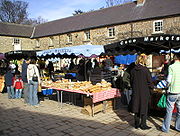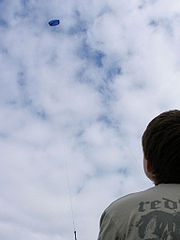 A number of small craft workshops are located in the courtyard adjacent to Marlay House including,
weaving
Weaving
Weaving is a method of fabric production in which two distinct sets of yarns or threads are interlaced at right angles to form a fabric or cloth. The other methods are knitting, lace making and felting. The longitudinal threads are called the warp and the lateral threads are the weft or filling...
,
glass cutting
Glazier
A Glazier is a construction professional who selects, cuts, installs, replaces, and removes residential, commercial, and artistic glass. Glaziers also install aluminum storefront frames and entrances, glass handrails and balustrades, shower enclosures, curtain wall framing and glass and mirror...
,
bookbinding
Bookbinding
Bookbinding is the process of physically assembling a book from a number of folded or unfolded sheets of paper or other material. It usually involves attaching covers to the resulting text-block.-Origins of the book:...
,
furniture restoration
Antiques restoration
Antiques restoration refers to either the practice of "restoration"- restoring an antique or work of art to a like-new condition , or "conservation"- the practice of preserving an antique or work of art against further deterioration.-Restoration:Restoration can be as simple as light cleaning to...
,
copper
Copper
Copper is a chemical element with the symbol Cu and atomic number 29. It is a ductile metal with very high thermal and electrical conductivity. Pure copper is soft and malleable; an exposed surface has a reddish-orange tarnish...
craft,
pottery
Pottery
Pottery is the material from which the potteryware is made, of which major types include earthenware, stoneware and porcelain. The place where such wares are made is also called a pottery . Pottery also refers to the art or craft of the potter or the manufacture of pottery...
,
jewellery
Jewellery
Jewellery or jewelry is a form of personal adornment, such as brooches, rings, necklaces, earrings, and bracelets.With some exceptions, such as medical alert bracelets or military dog tags, jewellery normally differs from other items of personal adornment in that it has no other purpose than to...
and
embroidery
Embroidery
Embroidery is the art or handicraft of decorating fabric or other materials with needle and thread or yarn. Embroidery may also incorporate other materials such as metal strips, pearls, beads, quills, and sequins....
.
One of these was originally the residence of
Evie Hone
Evie Hone
Evie Hone was a Dublin born Irish painter and stained glass artist.She was related to Nathaniel Hone and Nathaniel Hone the Younger. Her most important works are probably the East Window for the Chapel at Eton College, Windsor and My Four Green Fields, now located in Government Buildings...
whose stained-glass workshop was located in the library of Marlay House itself.
Wicklow Way
Marlay Park is the official starting point, of the 132 km
Wicklow Way
Wicklow Way
The Wicklow Way is a long-distance trail that crosses the Wicklow Mountains in Ireland. It runs from Marlay Park in the southern suburbs of Dublin through County Wicklow and ends in the village of Clonegal in County Carlow. It is designated as a National Waymarked Trail by the Irish Sports...
an Irish
long distance walking trail
Long-distance trail
Long-distance trails are the longer recreational trails mainly through rural areas, used for non-motorised recreational travelling ....
, that begins at the car park adjacent to Marlay House. The trail wanders through the delightful sylvan surroundings of the park, before tunnelling under the
M50
M50 motorway (Ireland)
The M50 motorway is a motorway in Ireland running in a C-shaped ring around the north-eastern, northern, western and southern sides of the capital city, Dublin. The northern end of the route is located at the entrance to the Dublin Port Tunnel. Anti-clockwise it heads northwest through the tunnel...
motorway to begin its first ascent southwards towards the Dublin hills and the first of several forest vistas on its way southward over the
Wicklow Mountains
Wicklow Mountains
The Wicklow Mountains form the largest continuous upland area in Ireland. They occupy the whole centre of County Wicklow and stretch outside its borders into Counties Carlow, Wexford and Dublin. Where the mountains extend into County Dublin, they are known locally as the Dublin Mountains...
to
Clonegal
Clonegal
Clonegal, officially Clonegall , is a village in the southeast of County Carlow, Ireland. It is in a rural setting, 5 km from Bunclody, County Wexford, 22 km from Carlow and 17 km from the proposed interchange of the N9 and N80 roads at Rathcrogue. It is just over a mile north of...
,
County Carlow
County Carlow
County Carlow is a county in Ireland. It is part of the South-East Region and is also located in the province of Leinster. It is named after the town of Carlow, which lies on the River Barrow. Carlow County Council is the local authority for the county...
. The Wicklow Way website estimates that walkers should allow 7 hours for the first 21-km section to Knockree.
Marley Grange
Marley Grange, developed in the 1970s, is one of several housing developments adjacent to Marlay Park and contains six roads named "
Marley
": Avenue, Drive, Walk, Close, Grove and Wood. Residents assume that the developer misspelled the name when naming the roads.
Concerts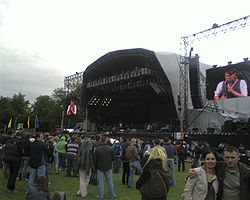 During the Summer the park holds many concerts and events, some of the more popular artists have been :
Green Day
Green Day
Green Day is an American punk rock band formed in 1987. The band consists of lead vocalist and guitarist Billie Joe Armstrong, bassist and backing vocalist Mike Dirnt, and drummer Tre Cool...
,
Muse
Muse (band)
Muse are an English alternative rock band from Teignmouth, Devon, formed in 1994. The band consists of school friends Matthew Bellamy , Christopher Wolstenholme and Dominic Howard...
,
Westlife
Westlife
Westlife are an Irish boy band established on 3 July 1998. They are to disband in 2012. The group's line-up was Nicky Byrne, Kian Egan, Mark Feehily, Shane Filan, and Brian McFadden . The group are the only act in British and Irish history to have their first seven singles peak at number one...
,
Van Morrison
Van Morrison
Van Morrison, OBE is a Northern Irish singer-songwriter and musician. His live performances at their best are regarded as transcendental and inspired; while some of his recordings, such as the studio albums Astral Weeks and Moondance, and the live album It's Too Late to Stop Now, are widely...
, Sting,
David Gray
David Gray (musician)
David Gray is an English singer-songwriter. He released his first studio album in 1993 and received worldwide attention after the release of White Ladder six years later...
,
Meat Loaf
Meat Loaf
Michael Lee Aday , better known by his stage name, Meat Loaf, is an American hard rock musician and actor...
,
UB40
UB40
UB40 are a British reggae/pop band formed in 1978 in Birmingham. The band has placed more than 50 singles in the UK Singles Chart, and has also achieved considerable international success. One of the world's best-selling music artists, UB40 have sold over 70 million records.Their hit singles...
,
The Waterboys
The Waterboys
The Waterboys are a band formed in 1983 by Mike Scott. The band's membership, past and present, has been composed mainly of musicians from Scotland, Ireland and England. Edinburgh, London, Dublin, Spiddal, New York, and Findhorn have all served as homes for the group. The band has played in a...
, R.E.M.,
Oasis
Oasis (band)
Oasis were an English rock band formed in Manchester in 1991. Originally known as The Rain, the group was formed by Liam Gallagher , Paul "Bonehead" Arthurs , Paul "Guigsy" McGuigan and Tony McCarroll , who were soon joined by Liam's older brother Noel Gallagher...
,
Coldplay
Coldplay
Coldplay are a British alternative rock band formed in 1996 by lead vocalist Chris Martin and lead guitarist Jonny Buckland at University College London. After they formed Pectoralz, Guy Berryman joined the group as a bassist and they changed their name to Starfish. Will Champion joined as a...
,
The Chemical Brothers
The Chemical Brothers
The Chemical Brothers are a British electronic music duo comprising Tom Rowlands and Ed Simons. Originating in Manchester in 1991, along with The Prodigy, Fatboy Slim, The Crystal Method, and fellow acts, they were pioneers at bringing the big beat genre to the forefront of pop culture.- Background...
,
Basement Jaxx
Basement Jaxx
Basement Jaxx are a British electronic dance music duo from London, England consisting of Felix Buxton born 1971 and Simon Ratcliffe born 1 December 1969. They first rose to popularity in the late 1990s...
,
Underworld
Underworld (band)
Underworld are a British electronic group, and principal name under which duo Karl Hyde and Rick Smith have recorded together since 1980.- Early years: 1979–1986 :...
,
Metallica
Metallica
Metallica is an American heavy metal band from Los Angeles, California. Formed in 1981 when James Hetfield responded to an advertisement that drummer Lars Ulrich had posted in a local newspaper. The current line-up features long-time lead guitarist Kirk Hammett and bassist Robert Trujillo ...
and many others.
The Coronas

The Coronas

The Coronas are an Irish rock and indie band. They have released three studio albums, Heroes or Ghosts , Tony Was An Ex-Con and "Closer to You"...


, Villagers

Villagers (band)

Villagers are an Irish band fronted by Conor J. O'Brien.They have performed at several music festivals and toured with Tracy Chapman, Bell X1, Tindersticks and Elbow. They have one EP, titled Hollow Kind...


, Joanna Newsom

Joanna Newsom

Joanna Newsom is an American harpist, pianist and singer-songwriter from Nevada City, California.- Early life :Newsom grew up in the small town of Nevada City, California...


, Roger Daltrey

Roger Daltrey

Roger Harry Daltrey, CBE , is an English singer and actor, best known as the founder and lead singer of English rock band The Who. He has maintained a musical career as a solo artist and has also worked in the film industry, acting in a large number of films, theatre and television roles and also...


, 2 Many DJ's, Rodrigo Y Gabriela

Rodrigo y Gabriela

Rodrigo y Gabriela , also known as "El Rodri y La Gabi", are a Mexican musical duo who specialize in playing fast, rhythmic acoustic guitars...


and Bell X1

Bell X1

Bell X1 are an Irish rock band from County Kildare in Ireland. They have released five albums which received much acclaim in Ireland.. They have represented Ireland in the Eurosonic Festival in Groningen, received several major award nominations and headlined several festivals in their own country...


will all perform under canvas in 2011.
External links