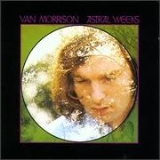 Van Morrison
Van Morrison
,
OBE
Order of the British Empire
The Most Excellent Order of the British Empire is an order of chivalry established on 4 June 1917 by George V of the United Kingdom. The Order comprises five classes in civil and military divisions...
(born
George Ivan Morrison
; 31 August 1945) is a
Northern Irish
Northern Ireland
Northern Ireland is one of the four countries of the United Kingdom. Situated in the north-east of the island of Ireland, it shares a border with the Republic of Ireland to the south and west...
singer-songwriter and musician. His live performances at their best are regarded as transcendental and inspired; while some of his recordings, such as the studio albums
Astral Weeks
Astral Weeks
Astral Weeks is the second solo album by Northern Irish singer-songwriter Van Morrison, released in November 1968 on Warner Bros. Records. It was Morrison's first album after Warner Bros. had been able to free him from his contract with Bang Records...
and
Moondance
Moondance
Moondance is the third solo album by Northern Irish singer-songwriter Van Morrison. It was released on Warner Bros. Records on 28 February 1970 and peaked at #29 on Billboard's Pop Albums chart....
, and the live album
It's Too Late to Stop Now
It's Too Late to Stop Now
It's Too Late to Stop Now is a live album by Northern Irish singer-songwriter Van Morrison, released in 1974 . Frequently named as one of the best live albums ever recorded, It's Too Late to Stop Now was recorded during what has often been said to be Morrison's greatest phase as a live...
, are widely viewed as among the greatest ever made.
Known as "Van the Man" to his fans, Morrison started his professional career when, as a teenager in the late 1950s, he played a variety of instruments including guitar, harmonica, keyboards and saxophone for various Irish showbands covering the popular hits of the day.
Like I say, the way I write songs is, you know, inspirational. I have to wait for it to happen. And when it happens I get lines, and I just write them down, you know. I'm not sort of a Tin Pan Alley sort of songwriter. I just sort of write down what I get - without censoring or questioning what it is and what it means, you know. Like later on I look at what it means, but not at the time.

Nights in Copenhagen with Van Morrison:1985 interview by Al Jones
The odd time something happens and you go into some kind of enchantment (on stage). But you have to work very hard to get that. Most of the time you're just playing and singing the songs, and there's no guarantee that you are going to get anywhere....

When I was fifteen, I became a professional musician. I got involved with people and did certain things which led me to start making records and touring. And leaving Belfast and going to London and America, one thing led to another and I got caught up in the life that I'm living now...I was very young and i followed something. (1993)

Heylin, Clinton (2003). Can You Feel the Silence? Van Morrison: A New Biography, Chicago Review Press ISBN 1-55652-542-7
Where I feel this has cost me is in the personality situation, where you're expected to be a personality. You not only have to write and record, but you have to go out and sell it. Well, I'm not a salesman, and I'm very bad at selling things. If I had to do that for a living, I'd probably be completely broke. I can't sell myself. And I don't even want to. That's something that's not going to change.

1987 Musician Magazine Interview
Music to me is spontaneous, writing is spontaneous and it's all based on not trying to do it. From beginning to end, whether it's writing a song, or playing guitar, or a particular chord sequence, or blowing a horn, it's based on improvisation and spontaneity.

March 1978 Hot Press Interview by Dermot Stokes
Someone once described me as a maverick and that's what I would say. I'm a maverick not by choice but by conviction.

Turner, Steve (1993). Too Late to Stop Now, Viking Penguin, ISBN 0-670-85147-7 Smith, Joe, Off The Record An Oral History of Popular Music, Warner Books, Inc., ISBN 0-446-51232-X
There is one thing I don't understand about Astral Weeks|Astral Weeks. Of all the records I have ever made that one is definitely not rock. You could throw that record at the wall, take it to music colleges, analyze it to death. Nobody is going to tell me that it is a rock album. Why they keep calling it one I have no idea.

People think I'm eccentric, cranky. If I'm eccentric because I've never been into mainstream things, then I am eccentric.