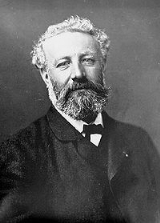 Jules Verne
Jules Gabriel Verne
was a
French
France
The French Republic , The French Republic , The French Republic , (commonly known as France , is a unitary semi-presidential republic in Western Europe with several overseas territories and islands located on other continents and in the Indian, Pacific, and Atlantic oceans. Metropolitan France...
author who pioneered the
science fiction
Science fiction
Science fiction is a genre of fiction dealing with imaginary but more or less plausible content such as future settings, futuristic science and technology, space travel, aliens, and paranormal abilities...
genre. He is best known for his novels
Twenty Thousand Leagues Under the Sea
Twenty Thousand Leagues Under the Sea
Twenty Thousand Leagues Under the Sea is a classic science fiction novel by French writer Jules Verne published in 1870. It tells the story of Captain Nemo and his submarine Nautilus as seen from the perspective of Professor Pierre Aronnax...
(1870),
A Journey to the Center of the Earth
(1864), and
Around the World in Eighty Days
Around the World in Eighty Days
Around the World in Eighty Days is a classic adventure novel by the French writer Jules Verne, first published in 1873. In the story, Phileas Fogg of London and his newly employed French valet Passepartout attempt to circumnavigate the world in 80 days on a £20,000 wager set by his friends at the...
(1873). Verne wrote about
space
Outer space
Outer space is the void that exists between celestial bodies, including the Earth. It is not completely empty, but consists of a hard vacuum containing a low density of particles: predominantly a plasma of hydrogen and helium, as well as electromagnetic radiation, magnetic fields, and neutrinos....
,
air
Aircraft
An aircraft is a vehicle that is able to fly by gaining support from the air, or, in general, the atmosphere of a planet. An aircraft counters the force of gravity by using either static lift or by using the dynamic lift of an airfoil, or in a few cases the downward thrust from jet engines.Although...
, and
underwater
Submarine
A submarine is a watercraft capable of independent operation below the surface of the water. It differs from a submersible, which has more limited underwater capability...
travel before air travel and practical submarines were invented, and before practical means of space travel had been devised. He is the second most translated author in the world (after
Agatha Christie
Agatha Christie
Dame Agatha Christie DBE was a British crime writer of novels, short stories, and plays. She also wrote romances under the name Mary Westmacott, but she is best remembered for her 66 detective novels and 14 short story collections , and her successful West End plays.According to...
).
Mais aux grandes douleurs le ciel mêle incessamment les grandes joies, et il réservait au professeur Lidenbrock une satisfaction égale à ses désespérants ennuis.

But Heaven never sends unmixed grief, and for Professor Liedenbrock there was a satisfaction in store proportioned to his desperate anxieties.
I would have bartered a diamond mine for a glass of pure spring water!

Ch. XVII: Vertical descent
Je ne puis peindre mon désespoir ; nul mot de la langue humaine ne rendrait mes sentiments. J'étais enterré vif, avec la perspective de mourir dans les tortures de la faim et de la soif.

To describe my despair would be impossible. No words could tell it. I was buried alive, with the prospect before me of dying of hunger and thirst.
La science, mon garçon, est faite d'erreurs, mais d'erreurs qu'il est bon de commettre, car elles mènent peu à peu à la vérité.

Science, my lad, has been built upon many errors; but they are errors which it was good to fall into, for they led to the truth.
Hunger, prolonged, is temporary madness! The brain is at work without its required food, and the most fantastic notions fill the mind. Hitherto I had never known what hunger really meant. I was likely to understand it now.

Ch. XLI: The great explosion and the rush down below