 Local Roads in Ireland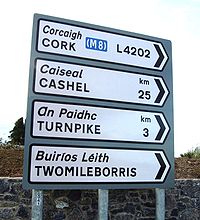 A
Local Road
in
Ireland
Republic of Ireland
Ireland , described as the Republic of Ireland , is a sovereign state in Europe occupying approximately five-sixths of the island of the same name. Its capital is Dublin. Ireland, which had a population of 4.58 million in 2011, is a constitutional republic governed as a parliamentary democracy,...
is a class of public road not classified as a National road (a
National primary road
National primary road
A national primary road is a road classification in the Republic of Ireland. National primary roads form the major routes between the major urban centres. There are over 2,700km of national primary roads. This category of road has the prefix "N" followed by one or two digits...
or
National secondary road
National secondary road
A national secondary road is a category of road in Ireland. These roads form an important part of the national route network, but are secondary to the main arterial routes which are classified as national primary roads. National secondary roads are designated with route numbers higher than those...
) or as a
Regional road
Regional road
A regional road in Ireland is a class of road not forming a major route , but nevertheless forming a link in the national route network. There are over 11,600 kilometres of regional roads. Regional roads are numbered with three digit route numbers, prefixed by "R" A regional road in Ireland is a...
but nevertheless forming a link in the
national network of roads
Roads in Ireland
The island of Ireland, comprising Northern Ireland and the Republic of Ireland, has an extensive network of tens of thousands of kilometres of public roads, usually surfaced. These roads have been developed and modernised over centuries, from trackways suitable only for walkers and horses, to...
. Local Roads are numbered with four- or five-digit route numbers, prefixed by "L" (for example, L3005 or L97476).
History
Until 1977, roads in Ireland were designated with one of two prefixes:
"T" for Trunk Roads and "L" for Link Roads
Trunk Roads in Ireland
Ireland has an extensive network of public roads which connect all parts of the country with each other. Roads in Ireland are currently classified as motorways, National Primary routes, National secondary routes, Regional roads and Local roads. The introduction of this classification system began...
. Older signs showing the former Trunk and Link road designations are still to be seen in some locations. The L (for Link Road) prefix on these signs is not connected to the existing network of Local Roads.
The
Local Government (Roads and Motorways) Act, 1974
authorised the designation of roads as National roads: in 1977, twenty-five National Primary roads (N1-N25) and thirty-three National Secondary roads (N51-N83) were initially designated under
Statutory Instrument S.I. No. 164/1977
.
Many of the remaining classified roads became Regional roads (formally authorised under the
Roads Act 1993
, route-numbers having been present on road signs on a non-statutory basis for some years previously) and their routes were designated under a
Statutory Instrument
Statutory Instrument
A Statutory Instrument is the principal form in which delegated or secondary legislation is made in Great Britain.Statutory Instruments are governed by the Statutory Instruments Act 1946. They replaced Statutory Rules and Orders, made under the Rules Publication Act 1893, in 1948.Most delegated...
in 1994.
All other public roads, except
motorways
Motorways in the Republic of Ireland
In Ireland, the highest category of road is a Motorway , indicated by the prefix M followed by one or two digits...
, became Local Roads under the 1993 Act which states that "a public road, other than a national road or a regional road, shall be a local road".
Local roads vary greatly in quality, from wide urban streets to very narrow, rural lanes, known as
boreen
Boreen
Boreen or bohereen is an anglicised, Hiberno-English term normally meaning a narrow, frequently unpaved, rural road in Ireland. "Boreen" also appears sometimes in names of minor urban roads such as Saint Mobhi Bóithrín , commonly known as Mobhi Boreen in Glasnevin, Dublin....
s in Ireland. There are three types of Local Road: Local Primary (local roads wider than 4 metres), Local Secondary (local roads narrower than 4 metres) and Local Tertiary (
cul-de-sac
Cul-de-sac
A cul-de-sac is a word of French origin referring to a dead end, close, no through road or court meaning dead-end street with only one inlet/outlet...
s and other minor roads). Local Roads are subject to a general
speed limit
Road speed limits in the Republic of Ireland
Road speed limits in the Republic of Ireland apply on all public roads in the country. These are signposted and legislated for in kilometres per hour. Speed limits are demarcated by regulatory road signs . These consist of white circular signs with a red outline. Speed limits are marked in black...
of 80 km/h (imperial equivalent: 50 mph) or 50 km/h (imperial equivalent: 31.25 mph) in built-up areas.
Local Road numbering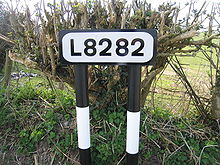 The Roads Act 1993 gives local authorities the duty to "assign a number or other identifying mark to each local road in respect of which it has responsibility". Local Road numbers have been used for administrative purposes since the Act came into effect, but Local Road numbers did not generally appear on directional
signposts
Road signs in the Republic of Ireland
Road signs in Ireland mostly differ from the traffic signs used elsewhere in Europe. Directional signage is similar to that of the United Kingdom, but is bilingual. Distances are in kilometres. Apart from directional signage, the basic prohibitory signs such as "no left turn" and "no right turn"...
until the late 2000s. Most road-maps do not show Local Road numbers, although some are marked on
OpenStreetMap
OpenStreetMap
OpenStreetMap is a collaborative project to create a free editable map of the world. Two major driving forces behind the establishment and growth of OSM have been restrictions on use or availability of map information across much of the world and the advent of inexpensive portable GPS devices.The...
.
Local roads are classified by the road authority for the area as Local Primary, Local Secondary or Local Tertiary roads. The Local Primary roads are numbered from L1000 - L4999. Local Secondary Roads are numbered from L5000 - L8999. Local Tertiary roads are numbered from L10001 - L89999, with the first four digits representing the Local Primary or Secondary Road it is off. Local Tertiary Roads which are unrelated to a Local Primary or Secondary Road are numbered from L90000 upwards. Local Roads are divided into segments of 2 kilometres to 3 kilometres maximum. For this reason they serve a limited function as the applicable L road number generally ends at junctions with other local roads. The numbering systems are not widely known to the public. However they must be made available to the public on request in accordance with section 10 of the Roads Act 1993.
Unlike National and Regional Roads in Ireland, Local Road numbers are not unique. For example, there is an L1001 in Inch, Co Wexford, another L1001 in Limerick and a third in Longford. There are various unrelated roads numbered L1002 across Wexford, Kildare and Meath.
See also