 List of islands of Denmark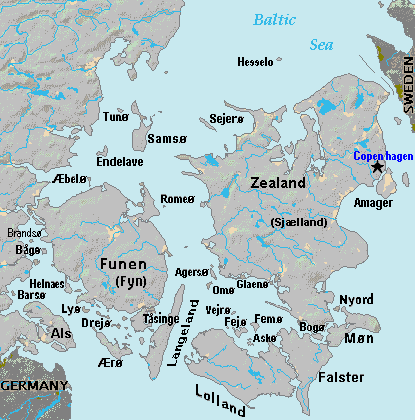 This is a
list of islands of Denmark
.
Overview
There are about 406 islands in Denmark, not including the
Faroe Islands
Faroe Islands
The Faroe Islands are an island group situated between the Norwegian Sea and the North Atlantic Ocean, approximately halfway between Scotland and Iceland. The Faroe Islands are a self-governing territory within the Kingdom of Denmark, along with Denmark proper and Greenland...
or
Greenland
Greenland
Greenland is an autonomous country within the Kingdom of Denmark, located between the Arctic and Atlantic Oceans, east of the Canadian Arctic Archipelago. Though physiographically a part of the continent of North America, Greenland has been politically and culturally associated with Europe for...
. Some 70 of them are populated but the remainder are uninhabited. Some of the uninhabited islands have only become uninhabited in recent decades, for economic reasons.
Definition
Different lists of Danish islands vary, depending on how the word "island" is defined. According to the official Danish Government definition, an "island" needs to be surrounded by water at least one-half metre deep and also have land vegetation growing on it to be recorded as such.
Another common criterion is that an "island" needs to be surrounded by free-flowing, natural water and not just an artificial, narrow canal. According to this criterion, places such as
Christianshavn
Christianshavn
Christianshavn is an artificial island neighbourhood located in Copenhagen, Denmark. It was founded in the early 17th century by Christian IV as part of his extension of the fortifications of Copenhagen. Originally it was laid out as an independent privileged merchant's town with inspiration from...
and
Holmen
Holmen, Copenhagen
Holmen is an area in central Copenhagen, Denmark. In spite of its name, deceptively in singular, Holmen is a congregation of small islands, forming a north-eastern extension of Christianshavn between Zealand and the northern tip of Amager....
in Copenhagen, although sometimes referred to as
artificial island
Artificial island
An artificial island or man-made island is an island or archipelago that has been constructed by people rather than formed by natural means...
s, are actually parts of the island of
Amager
Amager
Amager is a Danish island in the Øresund. The Danish capital, Copenhagen, is partly situated on Amager, which is connected to the much larger island of Zealand by five bridges.-History:...
.
Dynamic number
The number of islands in Denmark changes from time to time. New islands are occasionally formed by
sedimentation
Sedimentation
Sedimentation is the tendency for particles in suspension to settle out of the fluid in which they are entrained, and come to rest against a barrier. This is due to their motion through the fluid in response to the forces acting on them: these forces can be due to gravity, centrifugal acceleration...
. Several examples of these new islands are found in the waters around
Æbelø
Æbelø
Æbelø is a Danish island in the Kattegat, off Funen's north coast. The island covers 2,09 km², between the island and Funen there are 4 smaller islands. There are 2 inhabitants on the island in the summer, in the winter it is defacto uninhabited...
, north of
Funen
Funen
Funen , with a size of 2,984 km² , is the third-largest island of Denmark following Zealand and Vendsyssel-Thy, and the 163rd largest island of the world. Funen is located in the central part of the country and has a population of 454,358 inhabitants . The main city is Odense, connected to the...
, including
Drætlingen
which formed in the late 1990s, and a still unnamed islet that was registered in 2008. These new islands are generally less stable than larger,
morainic
Moraine
A moraine is any glacially formed accumulation of unconsolidated glacial debris which can occur in currently glaciated and formerly glaciated regions, such as those areas acted upon by a past glacial maximum. This debris may have been plucked off a valley floor as a glacier advanced or it may have...
islands, and may later disappear again. Other islands are created artificially.
Peberholm
Peberholm
Peberholm , Swedish Pepparholm, is a small artificial island located in the Danish part of the Øresund. It forms part of Tårnby municipality. It was created as part of the Øresund Bridge connecting Denmark with Sweden...
, formed in the process of construction of the Øresund Bridge, is a notable example. Other artificial Danish islands include a number of
marine fortresses
Fortification
Fortifications are military constructions and buildings designed for defence in warfare and military bases. Humans have constructed defensive works for many thousands of years, in a variety of increasingly complex designs...
off
Copenhagen
Copenhagen
Copenhagen is the capital and largest city of Denmark, with an urban population of 1,199,224 and a metropolitan population of 1,930,260 . With the completion of the transnational Øresund Bridge in 2000, Copenhagen has become the centre of the increasingly integrating Øresund Region...
, such as
Middelgrundsfortet
Middelgrundsfortet
Middelgrundsfortet is a sea fortress located in the Øresund between Copenhagen and Malmö. It was constructed 1890–94 as a part of Copenhagen's sea-fortifications, partly from material excavated from Frihavnen...
,
Trekroner Fort
Trekroner Fort
Trekroner Søfort is a fortification at the entrance to the Copenhagen harbour. It was part of Copenhagen's fortifications....
and
Flakfortet
Flakfortet
Flakfortet is a sea fortress located on the artificially built island, Saltholmreb, in Øresund between Copenhagen and Malmö. The island and fort are simply known as Flakfortet, the name of the island, Saltholmreb, is seldom used....
.
Islands may also disappear. An example of this is
Jordsand
Jordsand
Jordsand was a small Danish hallig located in the Wadden Sea southeast of the Danish island Rømø and east of the German island Sylt. The island was first known by the name Hiortsand and was possibly connected to both the mainland and the island of Sylt...
, one of the
Danish Wadden Sea Islands
Danish Wadden Sea Islands
The Danish Wadden Sea Islands are a group of islands on the western coast of Jutland, Denmark. They belong to the new region of Southern Denmark since January 1, 2007...
. According to records from 1231, the island then had an area of about 2000
hectare
Hectare
The hectare is a metric unit of area defined as 10,000 square metres , and primarily used in the measurement of land. In 1795, when the metric system was introduced, the are was defined as being 100 square metres and the hectare was thus 100 ares or 1/100 km2...
s (8 square miles). After a series of bad storms during that century, its area had decreased to around 41 hectares, and by 1763 to around 18 hectares. By 1895 Jordsand had ceased to exist.
In other cases, islands are absorbed by larger neighbouring masses of dry land, as a result of either natural sedimentation or artificial
land reclamation
Land reclamation
Land reclamation, usually known as reclamation, is the process to create new land from sea or riverbeds. The land reclaimed is known as reclamation ground or landfill.- Habitation :...
in the channels separating them. Sometimes this means that an island becomes a cape or headland.
Denmark's second largest island, the North Jutlandic Island, was not always an island. A storm on February 3, 1825 penetrated the narrow land mass, Agger Tange, and thus separated Northern Jutland from the rest of Jutland. The area had earlier been an island, when a strait at Vust had been open prior to the 12th century.
List of 100 largest Danish islands
This is a list of the largest islands of Denmark (Press the symbol after the headings in the table to rearrange the list according to population size, location or alphabetically):
Rank
Island's name
Area
km2
Population
(2010)
Location
1
Zealand
7,031
2,164,217
Baltic Sea

Baltic Sea

The Baltic Sea is a brackish mediterranean sea located in Northern Europe, from 53°N to 66°N latitude and from 20°E to 26°E longitude. It is bounded by the Scandinavian Peninsula, the mainland of Europe, and the Danish islands. It drains into the Kattegat by way of the Øresund, the Great Belt and...


/ Kattegat

Kattegat

The Kattegat , or Kattegatt is a sea area bounded by the Jutland peninsula and the Straits islands of Denmark on the west and south, and the provinces of Västergötland, Scania, Halland and Bohuslän in Sweden on the east. The Baltic Sea drains into the Kattegat through the Øresund and the Danish...


/ Øresund / Great Belt

Great Belt

The Great Belt is a strait between the main Danish islands of Zealand and Funen . Effectively dividing Denmark in two, the Belt was served by the Great Belt ferries from the late 19th century until the islands were connected by the Great Belt Fixed Link in 1997–98.-Geography:The Great Belt is the...



2
North Jutlandic Island
4,685
302,546
North Sea

North Sea

In the southwest, beyond the Straits of Dover, the North Sea becomes the English Channel connecting to the Atlantic Ocean. In the east, it connects to the Baltic Sea via the Skagerrak and Kattegat, narrow straits that separate Denmark from Norway and Sweden respectively...



3
Funen

Funen

Funen , with a size of 2,984 km² , is the third-largest island of Denmark following Zealand and Vendsyssel-Thy, and the 163rd largest island of the world. Funen is located in the central part of the country and has a population of 454,358 inhabitants . The main city is Odense, connected to the...



2,985
454,358
Great Belt

Great Belt

The Great Belt is a strait between the main Danish islands of Zealand and Funen . Effectively dividing Denmark in two, the Belt was served by the Great Belt ferries from the late 19th century until the islands were connected by the Great Belt Fixed Link in 1997–98.-Geography:The Great Belt is the...


/ Little Belt

Little Belt

The Little Belt is a strait between the Danish island of Funen and the Jutland Peninsula.The belt is about 50 km long and 800m to 28 km wide, the maximum depth is approximately 75 m, and contains numerous small Danish islands....



4
Lolland

Lolland

Lolland is the fourth largest island of Denmark, with an area of 1,243 square kilometers . Located in the Baltic sea, it is part of Region Sjælland...



1,243
65,764
Baltic Sea

Baltic Sea

The Baltic Sea is a brackish mediterranean sea located in Northern Europe, from 53°N to 66°N latitude and from 20°E to 26°E longitude. It is bounded by the Scandinavian Peninsula, the mainland of Europe, and the Danish islands. It drains into the Kattegat by way of the Øresund, the Great Belt and...



5
Bornholm

Bornholm

Bornholm is a Danish island in the Baltic Sea located to the east of the rest of Denmark, the south of Sweden, and the north of Poland. The main industries on the island include fishing, arts and crafts like glass making and pottery using locally worked clay, and dairy farming. Tourism is...



588
42,154
Baltic Sea

Baltic Sea

The Baltic Sea is a brackish mediterranean sea located in Northern Europe, from 53°N to 66°N latitude and from 20°E to 26°E longitude. It is bounded by the Scandinavian Peninsula, the mainland of Europe, and the Danish islands. It drains into the Kattegat by way of the Øresund, the Great Belt and...



6
Falster

Falster

Falster is an island in south-eastern Denmark with an area of 514 km² and 43,398 inhabitants as of 1 January 2010. Located in the Baltic sea, it is part of Region Sjælland and is administered by Guldborgsund Municipality...



514
43,398
Baltic Sea

Baltic Sea

The Baltic Sea is a brackish mediterranean sea located in Northern Europe, from 53°N to 66°N latitude and from 20°E to 26°E longitude. It is bounded by the Scandinavian Peninsula, the mainland of Europe, and the Danish islands. It drains into the Kattegat by way of the Øresund, the Great Belt and...



7
Mors

Mors (island)

Mors or Morsø is a 367.7 km2 land locked island in the shallow sound called Limfjorden in Denmark. As of 1 January 2010, it has a population of 21,800. The main town on the island is called Nykøbing Mors. Geologically Mors is unique...



368
21,800
Limfjord

Limfjord

The Limfjord is a shallow sound in Denmark that separates the island of Vendsyssel-Thy from the rest of the Jutland Peninsula. It extends from Thyborøn Channel on the North Sea to Hals on the Kattegat. It is approximately 180 kilometres long and of an irregular shape with several bays, narrowings,...



8
Als
312
51,322
Little Belt

Little Belt

The Little Belt is a strait between the Danish island of Funen and the Jutland Peninsula.The belt is about 50 km long and 800m to 28 km wide, the maximum depth is approximately 75 m, and contains numerous small Danish islands....



9
Langeland

Langeland

Langeland is a Danish island located between the Great Belt and Bay of Kiel. The island measures 285 km² and, as of 1 January 2010, has a population of 13,277. The island produces grain and is known as a recreational area. A bridge connects it to Tåsinge via Siø - a small island with a...



284
13,277
Great Belt

Great Belt

The Great Belt is a strait between the main Danish islands of Zealand and Funen . Effectively dividing Denmark in two, the Belt was served by the Great Belt ferries from the late 19th century until the islands were connected by the Great Belt Fixed Link in 1997–98.-Geography:The Great Belt is the...



10
Møn

Møn

-Location:Møn is located just off the south-eastern tip of Zealand from which it is separated by the waters of the Hølen strait between Kalvehave and the island of Nyord, at the northern end of Møn. Further south is Stege Bugt...



218
9,909
Baltic Sea

Baltic Sea

The Baltic Sea is a brackish mediterranean sea located in Northern Europe, from 53°N to 66°N latitude and from 20°E to 26°E longitude. It is bounded by the Scandinavian Peninsula, the mainland of Europe, and the Danish islands. It drains into the Kattegat by way of the Øresund, the Great Belt and...



11
Rømø

Rømø

Rømø is a Danish island in the Wadden Sea. Rømø is part of Tønder municipality. The island has 650 inhabitants as of 1 January 2011 and covers an area of 129 km². Rømø is a popular tourist spot each year....



129
680
Wadden Sea

Wadden Sea

The Wadden Sea is an intertidal zone in the southeastern part of the North Sea. It lies between the coast of northwestern continental Europe and the range of Frisian Islands, forming a shallow body of water with tidal flats and wetlands. It is rich in biological diversity...


, North Sea

North Sea

In the southwest, beyond the Straits of Dover, the North Sea becomes the English Channel connecting to the Atlantic Ocean. In the east, it connects to the Baltic Sea via the Skagerrak and Kattegat, narrow straits that separate Denmark from Norway and Sweden respectively...



12
Samsø

Samsø

Samsø is a Danish island in the Kattegat off the Jutland Peninsula. Samsø is located in Samsø municipality. The community has 4,300 inhabitants called Samsingers and is 114 km² in area. Due to its central location, the island was used during the Viking Age as a meeting place...



112
4,010
Kattegat

Kattegat

The Kattegat , or Kattegatt is a sea area bounded by the Jutland peninsula and the Straits islands of Denmark on the west and south, and the provinces of Västergötland, Scania, Halland and Bohuslän in Sweden on the east. The Baltic Sea drains into the Kattegat through the Øresund and the Danish...



13
Læsø

Læsø

Læsø is the largest island in the North Sea bay of Kattegat, and is located off the northeast coast of the Jutland Peninsula, the Danish mainland. Læsø is also the name of the municipality on that island...



101
1,969
Kattegat

Kattegat

The Kattegat , or Kattegatt is a sea area bounded by the Jutland peninsula and the Straits islands of Denmark on the west and south, and the provinces of Västergötland, Scania, Halland and Bohuslän in Sweden on the east. The Baltic Sea drains into the Kattegat through the Øresund and the Danish...



14
Amager

Amager

Amager is a Danish island in the Øresund. The Danish capital, Copenhagen, is partly situated on Amager, which is connected to the much larger island of Zealand by five bridges.-History:...



95.3
171,210
Øresund
15
Ærø

Ærø

Ærø is one of the Danish Baltic Sea islands, and part of Region of Southern Denmark. The western portion of the island was the municipality of Ærøskøbing; the eastern portion of the island was the municipality of Marstal...



88
6,669
South Funen Archipelago

South Funen Archipelago

The South Funen Archipelago is the popular name for the part of the Baltic Sea south of the ports of Faaborg and Svendborg on the Danish island of Funen. The depth of the sea is typically between 20 and 30 meters. The archipelago includes some 55 low-lying Danish islands, including Ærø, Tåsinge,...



16
Tåsinge

Tåsinge

Tåsinge is a Danish island south of Funen, at Svendborg. The island covers an area of 70 km² and has 6,111 inhabitants.Tåsinge was once called Thorsinge or Thorsenge, which in the Danish means "Thor's Bed" or "Thor's Meadow"...



70
6,187
South Funen Archipelago

South Funen Archipelago

The South Funen Archipelago is the popular name for the part of the Baltic Sea south of the ports of Faaborg and Svendborg on the Danish island of Funen. The depth of the sea is typically between 20 and 30 meters. The archipelago includes some 55 low-lying Danish islands, including Ærø, Tåsinge,...



17
Fanø

Fanø

Fanø is a Danish island in the North Sea off the coast of southwestern Denmark, and is the very northernmost of the Danish Wadden Sea Islands...



56
3,219
Wadden Sea

Wadden Sea

The Wadden Sea is an intertidal zone in the southeastern part of the North Sea. It lies between the coast of northwestern continental Europe and the range of Frisian Islands, forming a shallow body of water with tidal flats and wetlands. It is rich in biological diversity...


, North Sea

North Sea

In the southwest, beyond the Straits of Dover, the North Sea becomes the English Channel connecting to the Atlantic Ocean. In the east, it connects to the Baltic Sea via the Skagerrak and Kattegat, narrow straits that separate Denmark from Norway and Sweden respectively...



18
Fur

Fur (island)

Fur is a small Danish island in the Limfjord at the northern tip of the Salling peninsula. Fur has under 900 inhabitants. The island covers an area of 22 km². It is located at ....



22
856
Limfjorden
19
Anholt

Anholt (Denmark)

Anholt is a Danish island in the Kattegat, midway between Jutland and Sweden, with 171 permanent residents as of 1 January 2010. It is seven miles long and about four miles wide at its widest and covers an area of 21,75 km². Anholt is part of Norddjurs municipality in Region Midtjylland...



22
171
Kattegat

Kattegat

The Kattegat , or Kattegatt is a sea area bounded by the Jutland peninsula and the Straits islands of Denmark on the west and south, and the provinces of Västergötland, Scania, Halland and Bohuslän in Sweden on the east. The Baltic Sea drains into the Kattegat through the Øresund and the Danish...



20
Fejø

Fejø

Fejø is a Danish island north of Lolland. It covers an area of and has 611 inhabitants . Fejø has two villages: Vesterby and Østerby...



16
543
Smålandsfarvandet

Smålandsfarvandet

Smålandsfarvandet is a body of water in Denmark. It connects Storebælt in the west with Storstrømmen and Guldborgsund in the east and serves as a waterway for coastal traffic, yachts, and other small craft. It is bordered by Zealand in the north and Falster and Lolland in the south...



21
Saltholm

Saltholm

Saltholm is a Danish island in the Øresund, the strait that separates Denmark and Sweden. It is located to the east of the Danish island of Amager in Tårnby municipality and lies just to the west of the sea border between Denmark and Sweden. It is 7 km long and 3 km wide, covering an...



16.0
4
Øresund
22
Orø

Orø

Orø is a small island in Denmark located in the Isefjord.It covers and has a population of 867 .Administratively the island belongs to Holbæk Municipality....



15
881
Isefjorden
23
Endelave

Endelave

Endelave is a Danish island in the Kattegat, north of Odense, off the coast of Funen, and west of Samsø. The island covers an area of and has 185 inhabitants.- See also :* Nearby islands: Hjarnø, Tunø, Samsø, Æbelø, Alrø....



13.1
187
Kattegat

Kattegat

The Kattegat , or Kattegatt is a sea area bounded by the Jutland peninsula and the Straits islands of Denmark on the west and south, and the provinces of Västergötland, Scania, Halland and Bohuslän in Sweden on the east. The Baltic Sea drains into the Kattegat through the Øresund and the Danish...



24
Bogø

Bogø

Bogø is a Danish island in the Baltic Sea, just west of Møn. The population is 1,135 with 873 living in the largest town, Bogø By. The island is approximately 7 km long by 3 km wide at the largest points, with a total area of 13 km²...



13.0
1,101
Storstrømmen

Storstrømmen

Storstrømmen is a strait in Denmark separating the island Falster from the island Zealand. Its maximum depth is approximately 36 metres and the length is around 10 km. Smålandsfarvandet sound is situated to the west and Grønsund lies to the east. Storstrøm Bridge crosses Storstrømmen between...



25
Sejerø

Sejerø

Sejerø is a Danish island in the Kattegat close to Zealand.The island covers an area of and has 400 inhabitants. The largest village on Sejerø is Sejerby, with half of the island's population.-References:...



12.4
370
Kattegat

Kattegat

The Kattegat , or Kattegatt is a sea area bounded by the Jutland peninsula and the Straits islands of Denmark on the west and south, and the provinces of Västergötland, Scania, Halland and Bohuslän in Sweden on the east. The Baltic Sea drains into the Kattegat through the Øresund and the Danish...



26
Femø

Femø

Femø is a Danish island north of Lolland. The island covers an area of 11.38 km². Femø has 154 inhabitants .-Women's camp:Every year since 1971 women have met and spent their holiday together in the north-east corner of the island...



11.0
146
Smålandsfarvandet

Smålandsfarvandet

Smålandsfarvandet is a body of water in Denmark. It connects Storebælt in the west with Storstrømmen and Guldborgsund in the east and serves as a waterway for coastal traffic, yachts, and other small craft. It is bordered by Zealand in the north and Falster and Lolland in the south...



27
Jegindø

Jegindø

Jegindø is a Danish island in the western part of the Limfjord. The island is 6 km long and 3 km wide. Jegindø covers an area of 7,91 km² and has 507 inhabitants ....



7.9
486
Limfjord

Limfjord

The Limfjord is a shallow sound in Denmark that separates the island of Vendsyssel-Thy from the rest of the Jutland Peninsula. It extends from Thyborøn Channel on the North Sea to Hals on the Kattegat. It is approximately 180 kilometres long and of an irregular shape with several bays, narrowings,...



28
Mandø

Mandø

Mandø is one of the Danish Wadden Sea islands off the southwest coast of Jutland, Denmark in the Wadden Sea, part of the North Sea. The island covers an area of 7.63 km² and has 62 inhabitants...



7.6
46
Wadden Sea

Wadden Sea

The Wadden Sea is an intertidal zone in the southeastern part of the North Sea. It lies between the coast of northwestern continental Europe and the range of Frisian Islands, forming a shallow body of water with tidal flats and wetlands. It is rich in biological diversity...


, North Sea

North Sea

In the southwest, beyond the Straits of Dover, the North Sea becomes the English Channel connecting to the Atlantic Ocean. In the east, it connects to the Baltic Sea via the Skagerrak and Kattegat, narrow straits that separate Denmark from Norway and Sweden respectively...



29
Thurø

Thurø

Thurø is a small Danish island in the south-east of Funen and belongs to the Svendborg municipality. Connected to Svendborg proper by a small bridge, Thurø has around 3699 inhabitants....



7.5
3,725
South Funen Archipelago

South Funen Archipelago

The South Funen Archipelago is the popular name for the part of the Baltic Sea south of the ports of Faaborg and Svendborg on the Danish island of Funen. The depth of the sea is typically between 20 and 30 meters. The archipelago includes some 55 low-lying Danish islands, including Ærø, Tåsinge,...



30
Alrø

Alrø

Alrø is a small Danish island in Horsens Fjord on the east coast of Jutland within Odder Municipality. With an area of 7.5 km2, as of 1 January 2010 it has a population of 160. The island is 7 km long and 4 km wide at the widest point. It can be reached by road over the dam which connects it to the...



7.5
160
Horsens Fjord

Horsens Fjord

Horsens Fjord is a Danish fjord in the east of Jutland which stretches from the islands of Alrø and Hjarnø in the east to the town of Horsens on the mainland. It is some long. The navigational channel to Horsens has a depth of ....



31
Agersø

Agersø

Agersø is a Danish island in the Great Belt close to Zealand. The island covers an area of 6.84 km² and has 233 inhabitants .-See also:* Nearby islands: Sjælland, Omø, Funen, Langeland, Vejrø, Fejø, Femø, Lolland....



7.0
207
Great Belt

Great Belt

The Great Belt is a strait between the main Danish islands of Zealand and Funen . Effectively dividing Denmark in two, the Belt was served by the Great Belt ferries from the late 19th century until the islands were connected by the Great Belt Fixed Link in 1997–98.-Geography:The Great Belt is the...



32
Venø

Venø

Venø is a small Danish island located in Limfjorden in the north of Jutland, 3 km north of Struer. It is 7.5 km long and has a maximum width of 1.5 km. With an area of 6.5 km2, it has a population of 197 as of 1 January 2010. Since 1958, there has been a ferry service from Venø Odde, the island's...



6.5
197
Limfjord

Limfjord

The Limfjord is a shallow sound in Denmark that separates the island of Vendsyssel-Thy from the rest of the Jutland Peninsula. It extends from Thyborøn Channel on the North Sea to Hals on the Kattegat. It is approximately 180 kilometres long and of an irregular shape with several bays, narrowings,...



33
Bågø

Bågø

Bågø is a small Danish island located in the Little Belt 5 km north-west of Assens on the island of Funen belonging to Assens Municipality. With an area of 6.2 km2, as of 1 January 2010 it has a population of 35. The island is divided into three low slopes reaching a maximum height of 8...



6.2
35
Little Belt

Little Belt

The Little Belt is a strait between the Danish island of Funen and the Jutland Peninsula.The belt is about 50 km long and 800m to 28 km wide, the maximum depth is approximately 75 m, and contains numerous small Danish islands....



34
Lyø

Lyø

Lyø is a Danish island south of Funen. The island covers an area of and has 140 inhabitants. The island can be reached by ferry from Faaborg and Avernakø....



6.0
108
South Funen Archipelago

South Funen Archipelago

The South Funen Archipelago is the popular name for the part of the Baltic Sea south of the ports of Faaborg and Svendborg on the Danish island of Funen. The depth of the sea is typically between 20 and 30 meters. The archipelago includes some 55 low-lying Danish islands, including Ærø, Tåsinge,...



35
Egholm

Egholm

Egholm is a Danish island in the Limfjord close to Aalborg. The island covers an area of 6.05 km² and has 50 inhabitants. Egholm can be reached by ferry from Aalborg within 5 minutes.-External links:* http://www.sitecenter.dk/oesammenslutningen/egholm/...



6
54
Limfjord

Limfjord

The Limfjord is a shallow sound in Denmark that separates the island of Vendsyssel-Thy from the rest of the Jutland Peninsula. It extends from Thyborøn Channel on the North Sea to Hals on the Kattegat. It is approximately 180 kilometres long and of an irregular shape with several bays, narrowings,...



36
Avernakø

Avernakø

Avernakø is a Danish island south of Funen. The island covers an area of 6 km² and has about 100 inhabitants. The island can be reached by ferry from Faaborg and Lyø ....



5.9
110
South Funen Archipelago

South Funen Archipelago

The South Funen Archipelago is the popular name for the part of the Baltic Sea south of the ports of Faaborg and Svendborg on the Danish island of Funen. The depth of the sea is typically between 20 and 30 meters. The archipelago includes some 55 low-lying Danish islands, including Ærø, Tåsinge,...



37
Årø
5.7
164
Little Belt

Little Belt

The Little Belt is a strait between the Danish island of Funen and the Jutland Peninsula.The belt is about 50 km long and 800m to 28 km wide, the maximum depth is approximately 75 m, and contains numerous small Danish islands....



38
Glænø

Glænø

Glænø is a small Danish island off the west coast of Zealand between Basnæs Nor and Karrebæksminde Bugt. With an area of 5.6 km2, as of 1 January 2010 it has a population of 57. Now part of Slagelse Municipality, it is connected to Stubberup, Zealand, by road over a dam some 100 meters long...



5.6
57
Smålandsfarvandet

Smålandsfarvandet

Smålandsfarvandet is a body of water in Denmark. It connects Storebælt in the west with Storstrømmen and Guldborgsund in the east and serves as a waterway for coastal traffic, yachts, and other small craft. It is bordered by Zealand in the north and Falster and Lolland in the south...



49
Gavnø

Gavnø

Gavnø is a small Danish island off the west coast of Zealand in Næstved Municipality. Located some 6 km south-west of Næstved, it has an area of 5.6 km2, and, as of 1 January 2010, it has a population of 57...



5.5
37
Great Belt

Great Belt

The Great Belt is a strait between the main Danish islands of Zealand and Funen . Effectively dividing Denmark in two, the Belt was served by the Great Belt ferries from the late 19th century until the islands were connected by the Great Belt Fixed Link in 1997–98.-Geography:The Great Belt is the...



40
Strynø

Strynø

Strynø is a small Danish island in the southern Funen archipelago and is part of Langeland municipality. Lying south of Tåsinge, north-east of Ærø, and west of Langeland, Strynø covers an area of 4.88 km²....



4.9
215
South Funen Archipelago

South Funen Archipelago

The South Funen Archipelago is the popular name for the part of the Baltic Sea south of the ports of Faaborg and Svendborg on the Danish island of Funen. The depth of the sea is typically between 20 and 30 meters. The archipelago includes some 55 low-lying Danish islands, including Ærø, Tåsinge,...



41
Nyord

Nyord

Nyord is a Danish island in the Baltic Sea, southeast of Zealand, just north of Møn island.Nyord covers an area of approximately 5 km², although only 1.2 km² is cultivatable moraine, while the remaining 4 km² is salt-meadow which is used for summer grazing, but is flooded during the...



4.8
40
Baltic Sea

Baltic Sea

The Baltic Sea is a brackish mediterranean sea located in Northern Europe, from 53°N to 66°N latitude and from 20°E to 26°E longitude. It is bounded by the Scandinavian Peninsula, the mainland of Europe, and the Danish islands. It drains into the Kattegat by way of the Øresund, the Great Belt and...



42
Omø

Omø

Omø is a Danish island in the Great Belt. The island covers an area of , with a 12-kilometre coastline, and has 168 inhabitants, of which the majority inhabit Omø village, which has a church, and Kirkehavn, a small harbour with a ferry boat berth, along with a newly built marina, made for the...



4.5
171
Great Belt

Great Belt

The Great Belt is a strait between the main Danish islands of Zealand and Funen . Effectively dividing Denmark in two, the Belt was served by the Great Belt ferries from the late 19th century until the islands were connected by the Great Belt Fixed Link in 1997–98.-Geography:The Great Belt is the...



43
Drejø

Drejø

Drejø is a Danish island south of Funen with 72 inhabitants, located in Svendborg municipality. The island covers an area of 4.26 km², and is 5 km long and 2 km wide at the widest place. A ferry plies between Svendborg, Skarø and Drejø....



4.3
66
South Funen Archipelago

South Funen Archipelago

The South Funen Archipelago is the popular name for the part of the Baltic Sea south of the ports of Faaborg and Svendborg on the Danish island of Funen. The depth of the sea is typically between 20 and 30 meters. The archipelago includes some 55 low-lying Danish islands, including Ærø, Tåsinge,...



44
Fænø

Fænø

Fænø is a small Danish island in the Little Belt off the west coast of Funen in Middelfart Municipality. With an area of 3.9 km2, as of 1 January 2010 it has a population of just 2. Reaching a height of 39 metres above sea level at its highest point, the island is privately owned...



3.9
2
Little Belt

Little Belt

The Little Belt is a strait between the Danish island of Funen and the Jutland Peninsula.The belt is about 50 km long and 800m to 28 km wide, the maximum depth is approximately 75 m, and contains numerous small Danish islands....



45
Agerø

Agerø

Agerø is a small Danish island in Limfjorden located in the waters between the larger island of Mors, to which it is connected by a dam and a bridge, and the Thyholm Peninsula. With an area of 3.8 km2, it has a population of 38 as of 1 January 2010...



3.8
33
South Funen Archipelago

South Funen Archipelago

The South Funen Archipelago is the popular name for the part of the Baltic Sea south of the ports of Faaborg and Svendborg on the Danish island of Funen. The depth of the sea is typically between 20 and 30 meters. The archipelago includes some 55 low-lying Danish islands, including Ærø, Tåsinge,...



46
Tunø

Tunø

Tunø is a Danish island in the Kattegat, approximately 4 km from Samsø. The island covers an area of 3.52km² and has 113 inhabitants, as of 2005. It comes under the administration of Odder municipality. The island's premier town is known as Tunø By, the secondary town is Løkkegårde.Tunø...



3.5
118
Kattegat

Kattegat

The Kattegat , or Kattegatt is a sea area bounded by the Jutland peninsula and the Straits islands of Denmark on the west and south, and the provinces of Västergötland, Scania, Halland and Bohuslän in Sweden on the east. The Baltic Sea drains into the Kattegat through the Øresund and the Danish...



47
Enø

Enø

Enø is a small Danish island off the west coast of Zealand between Karrebæk Fjord and Karrebæksminde Bugt. With an area of 3.4 km2, as of 1 January 2010 it has a population of 297. It is some 5 km long and up to 11 meters above sea level. Now part of Næstved Municipality, it is connected...



3.4
297
Smålandsfarvandet

Smålandsfarvandet

Smålandsfarvandet is a body of water in Denmark. It connects Storebælt in the west with Storstrømmen and Guldborgsund in the east and serves as a waterway for coastal traffic, yachts, and other small craft. It is bordered by Zealand in the north and Falster and Lolland in the south...



48
Livø

Livø

Livø is an island of approx. 320 acres with approx. 10 year-round residents. The island is situated in the Limfjord and is located approx. 20 minutes by boat from Roenbjerg middle of the Limfjord. The island is located midway between Nykøbing Mors, Løgstør, Fjerritslev and Thisted...



3.3
9
Limfjord

Limfjord

The Limfjord is a shallow sound in Denmark that separates the island of Vendsyssel-Thy from the rest of the Jutland Peninsula. It extends from Thyborøn Channel on the North Sea to Hals on the Kattegat. It is approximately 180 kilometres long and of an irregular shape with several bays, narrowings,...



59
Hjarnø

Hjarnø

Hjarnø is a small Danish island at the mouth of Horsens Fjord on the east coast of Jutland in Hedensted Municipality. With an area of 3.2 km2, as of 1 January 2010 it has a population of 98. A regular ferry service connects the island with Snaptun on the mainland. Most of the buildings are farms,...



3.2
98
Kattegat

Kattegat

The Kattegat , or Kattegatt is a sea area bounded by the Jutland peninsula and the Straits islands of Denmark on the west and south, and the provinces of Västergötland, Scania, Halland and Bohuslän in Sweden on the east. The Baltic Sea drains into the Kattegat through the Øresund and the Danish...



50
Askø

Askø

Askø is a Danish island north of Lolland. It covers an area of 2.82 km² and has 55 inhabitants .-References:* Tageo.com, "VESTSJAELLAND DENMARK Geography Population" , 2007, webpage: ....



2.82
43
Smålandsfarvandet

Smålandsfarvandet

Smålandsfarvandet is a body of water in Denmark. It connects Storebælt in the west with Storstrømmen and Guldborgsund in the east and serves as a waterway for coastal traffic, yachts, and other small craft. It is bordered by Zealand in the north and Falster and Lolland in the south...



51
Æbelø

Æbelø

Æbelø is a Danish island in the Kattegat, off Funen's north coast. The island covers 2,09 km², between the island and Funen there are 4 smaller islands. There are 2 inhabitants on the island in the summer, in the winter it is defacto uninhabited...



2.50
-
Kattegat

Kattegat

The Kattegat , or Kattegatt is a sea area bounded by the Jutland peninsula and the Straits islands of Denmark on the west and south, and the provinces of Västergötland, Scania, Halland and Bohuslän in Sweden on the east. The Baltic Sea drains into the Kattegat through the Øresund and the Danish...



52
Barsø

Barsø

Barsø is a small island which is part of the Aabenraa municipality in South Jutland County on the east coast of the Jutland peninsula in south Denmark.-See also:* Nearby islands: Als, Funen, Bågø, Lyø, Drejø....



2.50
22
Little Belt

Little Belt

The Little Belt is a strait between the Danish island of Funen and the Jutland Peninsula.The belt is about 50 km long and 800m to 28 km wide, the maximum depth is approximately 75 m, and contains numerous small Danish islands....



53
Nekselø

Nekselø

Nekselø is a small Danish island in the Kattegat off the west coast of Zealand. It forms part of Kalundborg Municipality. With an area of 2.2 km2, as of 1 January 2010 it has a population of 20.-The island today:...



2.20
20
Kattegat

Kattegat

The Kattegat , or Kattegatt is a sea area bounded by the Jutland peninsula and the Straits islands of Denmark on the west and south, and the provinces of Västergötland, Scania, Halland and Bohuslän in Sweden on the east. The Baltic Sea drains into the Kattegat through the Øresund and the Danish...


(Sejrøbugten)
54
Brandsø

Brandsø

Brandsø is a small, uninhabited Danish island located in Little Belt between Jutland and Funen, 15 km to the north-west of Assens. It has an area of 2.0 km2 it lies in Middelfart Municipality and belongs to the Wedellsborg estate. The hilly island is formed by glacial morains and has a large bog...



2.00
-
Little Belt

Little Belt

The Little Belt is a strait between the Danish island of Funen and the Jutland Peninsula.The belt is about 50 km long and 800m to 28 km wide, the maximum depth is approximately 75 m, and contains numerous small Danish islands....



55
Skarø

Skarø

Skarø is a Danish island south of Funen. The island covers an area of 1.97 km² and has 20 inhabitants. The island can be reached by ferry from Svendborg and Drejø....



1.97
35
South Funen Archipelago

South Funen Archipelago

The South Funen Archipelago is the popular name for the part of the Baltic Sea south of the ports of Faaborg and Svendborg on the Danish island of Funen. The depth of the sea is typically between 20 and 30 meters. The archipelago includes some 55 low-lying Danish islands, including Ærø, Tåsinge,...



56
Tærø

Tærø

Tærø is a small Danish island in the Ulvsund Strait between Zealand and Møn, not far from Bogø and the Farø Bridges. Located in Vordingborg Municipality, the island has an area of 173 hectares. As of 1 January 2010 there was only one inhabitant registered on the island.The island is formed by two...



1.73
1
Storstrømmen

Storstrømmen

Storstrømmen is a strait in Denmark separating the island Falster from the island Zealand. Its maximum depth is approximately 36 metres and the length is around 10 km. Smålandsfarvandet sound is situated to the west and Grønsund lies to the east. Storstrøm Bridge crosses Storstrømmen between...



57
Masnedø

Masnedø

Masnedø is a Danish island between Zealand and Falster. The island covers an area of 1.68 km² and has 156 inhabitants. Masnedø can be reached by the Masnedsund Bridge from Zealand or the Storstrøm Bridge from Falster...



1.68
126
Storstrømmen

Storstrømmen

Storstrømmen is a strait in Denmark separating the island Falster from the island Zealand. Its maximum depth is approximately 36 metres and the length is around 10 km. Smålandsfarvandet sound is situated to the west and Grønsund lies to the east. Storstrøm Bridge crosses Storstrømmen between...



58
Vejrø

Vejrø

Vejrø is a Danish island north of Lolland. It covers an area of 1.57 km² and has two inhabitants .The island is private property; for tourists, it offers a marina, an airfield, and some cottages for rent.-External links:*...



1.57
-
Storstrømmen

Storstrømmen

Storstrømmen is a strait in Denmark separating the island Falster from the island Zealand. Its maximum depth is approximately 36 metres and the length is around 10 km. Smålandsfarvandet sound is situated to the west and Grønsund lies to the east. Storstrøm Bridge crosses Storstrømmen between...



59
Bjørnø

Bjørnø

Bjørnø is a Danish island south of Funen. The island covers an area of 1.5 km² and has 40 inhabitants. The island can be reached by ferry from Faaborg....



1.50
37
South Funen Archipelago

South Funen Archipelago

The South Funen Archipelago is the popular name for the part of the Baltic Sea south of the ports of Faaborg and Svendborg on the Danish island of Funen. The depth of the sea is typically between 20 and 30 meters. The archipelago includes some 55 low-lying Danish islands, including Ærø, Tåsinge,...



60
Sprogø

Sprogø

Sprogø is a small, protected Danish island, which is located in the Great Belt, the strait that separates the main islands of Funen and Zealand...



1.50
-
Great Belt

Great Belt

The Great Belt is a strait between the main Danish islands of Zealand and Funen . Effectively dividing Denmark in two, the Belt was served by the Great Belt ferries from the late 19th century until the islands were connected by the Great Belt Fixed Link in 1997–98.-Geography:The Great Belt is the...



61
Eskilsø
1.39
3
Roskilde Fjord

Roskilde Fjord

Roskilde Fjord is the fjord north of Roskilde, Denmark, and is located at . It is a long branch of the Isefjord.-Cities:The cities Frederiksværk, Frederikssund, Jægerspris, Jyllinge and Roskilde, , all have coastline at Roskilde Fjord...



62
Dybsø
1.34
-
Smålandsfarvandet

Smålandsfarvandet

Smålandsfarvandet is a body of water in Denmark. It connects Storebælt in the west with Storstrømmen and Guldborgsund in the east and serves as a waterway for coastal traffic, yachts, and other small craft. It is bordered by Zealand in the north and Falster and Lolland in the south...



63
Vigelsø

Vigelsø

Vigelsø is a small, uninhabited island in Odense Fjord, off the coast of Funen, Denmark. With an area of 132 hectares, it is the largest island in the fjord and an important breeding ground for watergowl and rest stop for migratory birds. It is part of the Special Area of Conservation No...



1.32
-
Odense Fjord

Odense Fjord

Odense Fjord is a 13 km long fjord on the northern part of the Danish island of Funen.It covers an area of about 63 km².- Geography :The city of Odense is connected with the fjord through the Odense Canal. The Odense River ends in the fjord at Stige and Seden.The main islands in the fjord are...



64
Siø

Siø

Siø is a small Danish island in the South Funen Archipelago between Tåsinge and Langeland. It is part of Langeland Municipality. With an area of 1.3 km2, as of 1 January 2010 it has a population of 18. Since 1681, a system of dykes has expanded it to include the former islands of Skovø and...



1.31
18
South Funen Archipelago

South Funen Archipelago

The South Funen Archipelago is the popular name for the part of the Baltic Sea south of the ports of Faaborg and Svendborg on the Danish island of Funen. The depth of the sea is typically between 20 and 30 meters. The archipelago includes some 55 low-lying Danish islands, including Ærø, Tåsinge,...



65
Langø

Langø

Langø is an island in Denmark. It is situated in the Ulvsund between Sjælland und Møn...



1.30
3
Storstrømmen

Storstrømmen

Storstrømmen is a strait in Denmark separating the island Falster from the island Zealand. Its maximum depth is approximately 36 metres and the length is around 10 km. Smålandsfarvandet sound is situated to the west and Grønsund lies to the east. Storstrøm Bridge crosses Storstrømmen between...



66
Peberholm

Peberholm

Peberholm , Swedish Pepparholm, is a small artificial island located in the Danish part of the Øresund. It forms part of Tårnby municipality. It was created as part of the Øresund Bridge connecting Denmark with Sweden...



1.3
-
Øresund
67
Romsø

Romsø

Romsø is a Danish island in the Great Belt off the coast of Funen. It has an area of 1.09 km² and has, since 1996, no permanent residents. A defunct lighthouse and a few houses are located on the island; a substantial part of its area is covered by forest....



1.09
-
Great Belt

Great Belt

The Great Belt is a strait between the main Danish islands of Zealand and Funen . Effectively dividing Denmark in two, the Belt was served by the Great Belt ferries from the late 19th century until the islands were connected by the Great Belt Fixed Link in 1997–98.-Geography:The Great Belt is the...



68
Skalø
1.06
6
Smålandsfarvandet

Smålandsfarvandet

Smålandsfarvandet is a body of water in Denmark. It connects Storebælt in the west with Storstrømmen and Guldborgsund in the east and serves as a waterway for coastal traffic, yachts, and other small craft. It is bordered by Zealand in the north and Falster and Lolland in the south...



69
Enehøje
1.04
-
Nakskov Fjord
70
Langli

Langli

Langli is a small marsh island in the Ho Bugt near Esbjerg on the Danish North Sea Coast.It is 0.8 km long and is accessible from Ho over a 3 km long causeway at low tide. Langli was up to the flood of 1634 part of a peninsula...



1.00
-
Wadden Sea

Wadden Sea

The Wadden Sea is an intertidal zone in the southeastern part of the North Sea. It lies between the coast of northwestern continental Europe and the range of Frisian Islands, forming a shallow body of water with tidal flats and wetlands. It is rich in biological diversity...


, North Sea

North Sea

In the southwest, beyond the Straits of Dover, the North Sea becomes the English Channel connecting to the Atlantic Ocean. In the east, it connects to the Baltic Sea via the Skagerrak and Kattegat, narrow straits that separate Denmark from Norway and Sweden respectively...



71
Hjortø

Hjortø

Hjortø is a Danish island south of Funen. The island covers an area of 0.9 km² and has 15 inhabitants. The island can be reached by ferry from Svendborg, maximum 12 passengers....



0.90
8
South Funen Archipelago

South Funen Archipelago

The South Funen Archipelago is the popular name for the part of the Baltic Sea south of the ports of Faaborg and Svendborg on the Danish island of Funen. The depth of the sea is typically between 20 and 30 meters. The archipelago includes some 55 low-lying Danish islands, including Ærø, Tåsinge,...



72
Farø

Farø

Farø is an island in Denmark, located between the islands of Sjælland and Falster. It has an area of 0.93 km² and has a population of four people . Administratively it is part of Vordingborg Municipality....



0.93
3
Storstrømmen

Storstrømmen

Storstrømmen is a strait in Denmark separating the island Falster from the island Zealand. Its maximum depth is approximately 36 metres and the length is around 10 km. Smålandsfarvandet sound is situated to the west and Grønsund lies to the east. Storstrøm Bridge crosses Storstrømmen between...



73
Birkholm

Birkholm

Birkholm is a small Danish island off the southern coast of Funen in Ærø Municipality. With an area of just 0.9 km2, as of 1 January 2010 it has a population of 10. The flat, low-lying island is just over 2 km long and 2 meters above sea level at its highest point, though the protective dykes are...



0.92
10
South Funen Archipelago

South Funen Archipelago

The South Funen Archipelago is the popular name for the part of the Baltic Sea south of the ports of Faaborg and Svendborg on the Danish island of Funen. The depth of the sea is typically between 20 and 30 meters. The archipelago includes some 55 low-lying Danish islands, including Ærø, Tåsinge,...



74
Illumø
0.90
-
South Funen Archipelago

South Funen Archipelago

The South Funen Archipelago is the popular name for the part of the Baltic Sea south of the ports of Faaborg and Svendborg on the Danish island of Funen. The depth of the sea is typically between 20 and 30 meters. The archipelago includes some 55 low-lying Danish islands, including Ærø, Tåsinge,...


(Helnæsbugten)
75
Lilleø
0.86
5
Storstrømmen

Storstrømmen

Storstrømmen is a strait in Denmark separating the island Falster from the island Zealand. Its maximum depth is approximately 36 metres and the length is around 10 km. Smålandsfarvandet sound is situated to the west and Grønsund lies to the east. Storstrøm Bridge crosses Storstrømmen between...



76
Rågø
0.80
-
Smålandsfarvandet

Smålandsfarvandet

Smålandsfarvandet is a body of water in Denmark. It connects Storebælt in the west with Storstrømmen and Guldborgsund in the east and serves as a waterway for coastal traffic, yachts, and other small craft. It is bordered by Zealand in the north and Falster and Lolland in the south...



77
Hesselø

Hesselø

Hesselø is a small island of Denmark, belonging to Halsnæs Municipality, in Region Hovedstaden. The island is situated in the Kattegat, about 25 km north of Sjælland, and has an area of 0.71 km²....



0.71
-
Kattegat

Kattegat

The Kattegat , or Kattegatt is a sea area bounded by the Jutland peninsula and the Straits islands of Denmark on the west and south, and the provinces of Västergötland, Scania, Halland and Bohuslän in Sweden on the east. The Baltic Sea drains into the Kattegat through the Øresund and the Danish...



78
Store Egholm
0.70
-
South Funen Archipelago

South Funen Archipelago

The South Funen Archipelago is the popular name for the part of the Baltic Sea south of the ports of Faaborg and Svendborg on the Danish island of Funen. The depth of the sea is typically between 20 and 30 meters. The archipelago includes some 55 low-lying Danish islands, including Ærø, Tåsinge,...



89
Hjelm

Hjelm (island)

Hjelm is a small Danish island located in the Kattegat south-east from Ebeltoft....



0.63
-
Kattegat

Kattegat

The Kattegat , or Kattegatt is a sea area bounded by the Jutland peninsula and the Straits islands of Denmark on the west and south, and the provinces of Västergötland, Scania, Halland and Bohuslän in Sweden on the east. The Baltic Sea drains into the Kattegat through the Øresund and the Danish...



80
Vorsø
0.6
-
Horsens Fjord

Horsens Fjord

Horsens Fjord is a Danish fjord in the east of Jutland which stretches from the islands of Alrø and Hjarnø in the east to the town of Horsens on the mainland. It is some long. The navigational channel to Horsens has a depth of ....



81
Halmø
0.50
-
South Funen Archipelago

South Funen Archipelago

The South Funen Archipelago is the popular name for the part of the Baltic Sea south of the ports of Faaborg and Svendborg on the Danish island of Funen. The depth of the sea is typically between 20 and 30 meters. The archipelago includes some 55 low-lying Danish islands, including Ærø, Tåsinge,...



82
Strynø Kalv
0.50
-
South Funen Archipelago

South Funen Archipelago

The South Funen Archipelago is the popular name for the part of the Baltic Sea south of the ports of Faaborg and Svendborg on the Danish island of Funen. The depth of the sea is typically between 20 and 30 meters. The archipelago includes some 55 low-lying Danish islands, including Ærø, Tåsinge,...


(Helnæsbugten )
83
Fjendø
0.40
-
Nissum Fjord

Nissum Fjord

Nissum Fjord is a inlet located in West Jutland, west of Vemb and is demarcated from the North Sea by a 13 km wide isthmus, Bøvling Klit, and passes through a lock in Thorsminde. The inlet has a water area of 70 km² or 7.000 ha. but the average water depth is only about 1 meter, and the deepest...



84
Vejlø
0.37
-
Nakskov Fjord
85
Mejlø
0.34
-
Kattegat

Kattegat

The Kattegat , or Kattegatt is a sea area bounded by the Jutland peninsula and the Straits islands of Denmark on the west and south, and the provinces of Västergötland, Scania, Halland and Bohuslän in Sweden on the east. The Baltic Sea drains into the Kattegat through the Øresund and the Danish...


/ Great Belt

Great Belt

The Great Belt is a strait between the main Danish islands of Zealand and Funen . Effectively dividing Denmark in two, the Belt was served by the Great Belt ferries from the late 19th century until the islands were connected by the Great Belt Fixed Link in 1997–98.-Geography:The Great Belt is the...



86
Draget
0.28
-
Kattegat

Kattegat

The Kattegat , or Kattegatt is a sea area bounded by the Jutland peninsula and the Straits islands of Denmark on the west and south, and the provinces of Västergötland, Scania, Halland and Bohuslän in Sweden on the east. The Baltic Sea drains into the Kattegat through the Øresund and the Danish...


(off Bogense

Bogense

]Bogense is a town in central Denmark, located on Funen in Nordfyn municipality, Region of Southern Denmark. The town has a population of 3,679 .The city is connected to Odense and Middelfart via busses operated by Fynbus....


)
87
Store Svelmø
0.27
-
South Funen Archipelago

South Funen Archipelago

The South Funen Archipelago is the popular name for the part of the Baltic Sea south of the ports of Faaborg and Svendborg on the Danish island of Funen. The depth of the sea is typically between 20 and 30 meters. The archipelago includes some 55 low-lying Danish islands, including Ærø, Tåsinge,...



88
Christiansø
0.25
101
Baltic Sea

Baltic Sea

The Baltic Sea is a brackish mediterranean sea located in Northern Europe, from 53°N to 66°N latitude and from 20°E to 26°E longitude. It is bounded by the Scandinavian Peninsula, the mainland of Europe, and the Danish islands. It drains into the Kattegat by way of the Øresund, the Great Belt and...



89
Kalvø, Guldborgsund
0.22
-
Baltic Sea

Baltic Sea

The Baltic Sea is a brackish mediterranean sea located in Northern Europe, from 53°N to 66°N latitude and from 20°E to 26°E longitude. It is bounded by the Scandinavian Peninsula, the mainland of Europe, and the Danish islands. It drains into the Kattegat by way of the Øresund, the Great Belt and...


(Guldborgsund

Guldborgsund

Guldborgsund is the strait between the Danish islands of Lolland and Falster that connects Smålandsfarvandet in the north with Bay of Mecklenburg in the south. It is navigable for craft of up to 6 metres draught in its northern part and is used for commercial traffic to Nykøbing Falster...


)
90
Slotsholmen

Slotsholmen

Slotsholmen is an island in the harbour of Copenhagen, Denmark, and part of Copenhagen Inner City. Bishop Absalon constructed the city's first castle on the island in 1166-67 at the site where Christiansborg Palace, the seat of the Danish Parliament lies today...



0.21
14
Øresund
91
Tornø
0.21
4
Odense Fjord

Odense Fjord

Odense Fjord is a 13 km long fjord on the northern part of the Danish island of Funen.It covers an area of about 63 km².- Geography :The city of Odense is connected with the fjord through the Odense Canal. The Odense River ends in the fjord at Stige and Seden.The main islands in the fjord are...



92
Græsholm

Hirsholmene

Hirsholmene is a group of six small Danish islands in the Kattegat; Hirsholm, Græsholm, Lilleholm, Tyvholm, Kølpen and Deget, located approximately 7 km to the northeast of Frederikshavn...


, Hirsholmene

Hirsholmene

Hirsholmene is a group of six small Danish islands in the Kattegat; Hirsholm, Græsholm, Lilleholm, Tyvholm, Kølpen and Deget, located approximately 7 km to the northeast of Frederikshavn...



0.21
2
Kattegat

Kattegat

The Kattegat , or Kattegatt is a sea area bounded by the Jutland peninsula and the Straits islands of Denmark on the west and south, and the provinces of Västergötland, Scania, Halland and Bohuslän in Sweden on the east. The Baltic Sea drains into the Kattegat through the Øresund and the Danish...



93
Vigø
0.20
-
South Funen Archipelago

South Funen Archipelago

The South Funen Archipelago is the popular name for the part of the Baltic Sea south of the ports of Faaborg and Svendborg on the Danish island of Funen. The depth of the sea is typically between 20 and 30 meters. The archipelago includes some 55 low-lying Danish islands, including Ærø, Tåsinge,...


(Helnæsbugten)
94
Slotø
0.20
-
Nakskov Fjord
95
Hjælmshoved
0.20
-
South Funen Archipelago

South Funen Archipelago

The South Funen Archipelago is the popular name for the part of the Baltic Sea south of the ports of Faaborg and Svendborg on the Danish island of Funen. The depth of the sea is typically between 20 and 30 meters. The archipelago includes some 55 low-lying Danish islands, including Ærø, Tåsinge,...



96
Kalvø, Germer Bugt
0.17
11
Little Belt

Little Belt

The Little Belt is a strait between the Danish island of Funen and the Jutland Peninsula.The belt is about 50 km long and 800m to 28 km wide, the maximum depth is approximately 75 m, and contains numerous small Danish islands....



97
Hirsholm

Hirsholmene

Hirsholmene is a group of six small Danish islands in the Kattegat; Hirsholm, Græsholm, Lilleholm, Tyvholm, Kølpen and Deget, located approximately 7 km to the northeast of Frederikshavn...



0.17
2
Kattegat

Kattegat

The Kattegat , or Kattegatt is a sea area bounded by the Jutland peninsula and the Straits islands of Denmark on the west and south, and the provinces of Västergötland, Scania, Halland and Bohuslän in Sweden on the east. The Baltic Sea drains into the Kattegat through the Øresund and the Danish...



98
Ejlinge

Ejlinge

Ejlinge is a small, currently uninhabited Danish island located close to Æbelø off the north coast of Funen, 8 km north-east of Bogense. It has an area of 16 hectares and only reaches a height of 4 metres above sea level...



0.16
-
Kattegat

Kattegat

The Kattegat , or Kattegatt is a sea area bounded by the Jutland peninsula and the Straits islands of Denmark on the west and south, and the provinces of Västergötland, Scania, Halland and Bohuslän in Sweden on the east. The Baltic Sea drains into the Kattegat through the Øresund and the Danish...



99
Møgelø
0.14
-
Julsø
Other populated islands
Frederiksø - see Christiansø above
Store Okseø, 3 inhabitants
Trekroner, 1 inhabitant
Areas sometimes referred to as islands
Other small unpopulated islands
Lindholm, Stege Bugt (which has a medical research facility)
External links
Danish Wikipedia List of inhabited islands