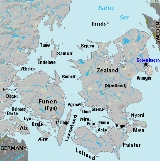 Amager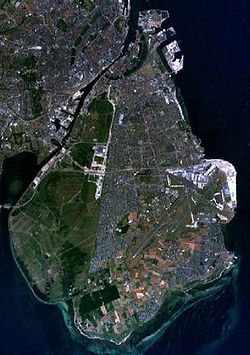 Amager
(ˈɑmɑːˀ or, especially among older speakers, ˈɑmæːɪ̯ˀɐ) is a
Danish
Denmark
Denmark is a Scandinavian country in Northern Europe. The countries of Denmark and Greenland, as well as the Faroe Islands, constitute the Kingdom of Denmark . It is the southernmost of the Nordic countries, southwest of Sweden and south of Norway, and bordered to the south by Germany. Denmark...
island in the Øresund. The Danish capital,
Copenhagen
Copenhagen
Copenhagen is the capital and largest city of Denmark, with an urban population of 1,199,224 and a metropolitan population of 1,930,260 . With the completion of the transnational Øresund Bridge in 2000, Copenhagen has become the centre of the increasingly integrating Øresund Region...
, is partly situated on Amager, which is connected to the much larger island of Zealand by five bridges.
History
Amager has long been populated, and well used, thanks to its rich soil and proximity to Copenhagen. In 1521, Christian II invited some
Dutch
Dutch people
The Dutch people are an ethnic group native to the Netherlands. They share a common culture and speak the Dutch language. Dutch people and their descendants are found in migrant communities worldwide, notably in Suriname, Chile, Brazil, Canada, Australia, South Africa, New Zealand, and the United...
farmers to move to Amager and grow vegetables to supply the Danish Court and Copenhagen. It was only in the late 19th century that Copenhagen began to expand onto the island (Sundbyerne), and in 1902 these built-up areas were incorporated into Copenhagen.
During the Second World War, high unemployment in Copenhagen led authorities to drain a large part of the sea, west of the island, and build a dam to hold out the water, effectively adding one half of Amager's previous area to the island.
The reclaimed area is currently known as
Kalvebod Fælled
Kalvebod Fælled
Kalvebod Fælled , also known as Vestamager , takes up roughly one fourth of the island of Amager near Copenhagen, Denmark....
, and was originally a military area, but today it is part of a major construction area called the
Ørestad
Ørestad
Ørestad is a developing city area in Copenhagen, Denmark, on the island of Amager. It is expected that 20,000 people will live in Ørestad, 20,000 will study, and 80,000 people will be employed in the area...
, being thought of as an extension to central Copenhagen. The area houses such major facilities as the
Bella Center
Bella Center
Bella Center is Scandinavia's largest exhibition and conference center, located in Copenhagen, Denmark. Located in Ørestad between the city centre and Copenhagen Airport, it offers an indoor area of 121.800 m² and has a capacity of 20,000 peopleAmong the larger annual events are the Copenhagen...
, a
convention and exposition center
Convention center
A convention center is a large building that is designed to hold a convention, where individuals and groups gather to promote and share common interests. Convention centers typically offer sufficient floor area to accommodate several thousand attendees...
, and
Field's
Field's
Field's is the biggest shopping centre in Denmark and one of the largest in Scandinavia.It is located in Ørestad, Copenhagen, close to the E20 motorway and Ørestad station on the Copenhagen Metro. It takes 10 minutes from Ørestad station to the city centre...
, the second-largest shopping center in
Scandinavia
Scandinavia
Scandinavia is a cultural, historical and ethno-linguistic region in northern Europe that includes the three kingdoms of Denmark, Norway and Sweden, characterized by their common ethno-cultural heritage and language. Modern Norway and Sweden proper are situated on the Scandinavian Peninsula,...
. This project was initiated by the Danish government.
The beach area to the east of the island, known as
Amager Strandpark
Amager Strandpark
Amager Strandpark is a seaside public park in Copenhagen, Denmark. It is located on the island of Amager and includes an artificial island and offers a total of of beaches. Amager Strandpark is a Blue Flag beach and the adjacent Kastrup Marina as well as the nearby Dragør Marina also enjoy Blue...
(Amager Beach Park), which had fallen into disrepair since its inception in the 1930s, was extensively redeveloped between May 2004 and August 2005. A 2-km-long artificial island was constructed just off the mainland, which narrows to the southeast, creating a small lagoon.
During the 1970s, Amager was used as a place to dump
litter
Litter
Litter consists of waste products such as containers, papers, wrappers or faeces which have been disposed of without consent. Litter can also be used as a verb...
; this led to a slang term for the island 'Lorteøen' (The Shit Island). See
Renholdningsselskabet af 1898
Renholdningsselskabet af 1898
Renholdningsselskabet af 1898 , commonly known as R98, is a Danish company owned by Copenhagen and Frederiksberg municipalities...
.
Amenities
Large parts of Kalvebod Fælled are rich in nature and have many grazing cows and horses. This area allows the citizens of Copenhagen to experience nature, without travelling far from the city.
The seaward-facing side of the island has a wide sandy bathing beach, while the lagoon-facing side is mainly made up of low dunes. There is another beach on the mainland side of the lagoon, which runs alongside the beach road. Ice-cream kiosks, coffee shops, a marina and two small recreational parks can also be found in the Strandpark area. The lagoon is popular, and regularly used, for water sports – such as kayaking or wind-surfing.
Amager is also home to the Amager Bio, a cinema, concert and cultural venue. Top bands from the last 40 years have played there, both those of international origin (
Prince
Prince (musician)
Prince Rogers Nelson , often known simply as Prince, is an American singer, songwriter, musician, and actor. Prince has produced ten platinum albums and thirty Top 40 singles during his career. Prince founded his own recording studio and label; writing, self-producing and playing most, or all, of...
,
Aimee Mann
Aimee Mann
Aimee Mann is an American rock singer-songwriter, guitarist and bassist.-Early life:Aimee Mann grew up in Bon Air, Virginia, graduated from Open High School in 1978 and attended the Berklee College of Music in Boston, but dropped out to sing with her first punk rock band, the Young Snakes...
,
Uriah Heep
Uriah Heep (band)
Uriah Heep are an English rock band formed in London in 1969 and regarded as a seminal classic hard rock act of the 1970s. Uriah Heep's progressive/art rock/heavy metal fusion's distinctive features have always been massive keyboards sound, strong vocal harmonies and David Byron's operatic vocals...
,
King Crimson
King Crimson
King Crimson are a rock band founded in London, England in 1969. Often categorised as a foundational progressive rock group, the band have incorporated diverse influences and instrumentation during their history...
,
Cradle of Filth
Cradle of Filth
Cradle of Filth are an English extreme metal band, formed in Suffolk in 1991. The band's musical style evolved from black metal to a cleaner and more "produced" amalgam of gothic metal, symphonic black metal, and other extreme metal styles, while their lyrical themes and imagery are heavily...
, John Mayall and the Bluesbreakers,
Jethro Tull
Jethro Tull (band)
Jethro Tull are a British rock group formed in 1967. Their music is characterised by the vocals, acoustic guitar, and flute playing of Ian Anderson, who has led the band since its founding, and the guitar work of Martin Barre, who has been with the band since 1969.Initially playing blues rock with...
,
The Moody Blues
The Moody Blues
The Moody Blues are an English rock band. Among their innovations was a fusion with classical music, most notably in their 1967 album Days of Future Passed....
,
MGMT
MGMT
MGMT is an American alternative rock band founded by Benjamin Goldwasser and Andrew VanWyngarden. After the release of their first album, the members of their live band, Matthew Asti, James Richardson and Will Berman, joined the core band in the studio...
,
Nas
Nas
Nasir bin Olu Dara Jones, who performs under the name Nas , formerly Nasty Nas, is an American rapper and actor. He is regarded as one of the most important figures in hip hop and one of the most skilled and influential rappers of all-time...
) and from Denmark (
D.A.D
D-A-D
D-A-D is a Danish rock band previously known as "Disneyland After Dark", a name that had to be changed after a threatening lawsuit from The Walt Disney Company. Their style of music is often categorized as melodic heavy rock...
,
Dodo and the Dodos
Dodo and the Dodos
Dodo And The Dodos is a Danish pop band that became a hit with Danish radio stations in the 1980s with its songs "Vågner i natten" , "Sømand af verden" , "Vi gør det vi ka' li" , "Lev livet nu" , and "Pigen med det røde hår"...
,
Johnny Deluxe
Johnny Deluxe
Johnny Deluxe is a Danish music band. Formed in London by the lead singer Noam Halby, bassist Jakob S. Glæsner and guitarist Søren Itenov in 2000, the group was later joined by Morten Lynggaard in 2002....
,
Big Fat Snake
Big Fat Snake
Big Fat Snake is a Danish pop/rock music group that was founded in 1990.Peter Viskinde and Anders Blichfeldt first met in 1988 for the recording of a demo tape for the band "The Werners" that later changed name to "Verners Verdensorkester" . The band soon fell apart due to lack of audience...
).
Communities
Various communities are located on Amager, including
Islands Brygge
Islands Brygge
Islands Brygge is a harbourfront area in central Copenhagen, Denmark, located on the north-western coast of Amager. The neighbourhood is noted for its waterfront park Havneparken, which is one of the most popular areas along the Copenhagen harbourfront and the location of one of the Copenhagen...
, and the towns of
Dragør
Dragør
Dragør Kommune is a municipality in Copenhagen County on the southern coast of the island of Amager just east of Zealand in eastern Denmark. The municipality covers an area of 18 km², and has a total population of 13,411...
,
Kastrup
Kastrup
Kastrup is a suburb of Copenhagen, on the east coast of Amager in the Tårnby Municipality.Kastrup is best known as the site of Copenhagen Airport. In Danish, the airport is often called Kastrup Lufthavn or Københavns Lufthavn, Kastrup .Scandinavian Airlines System has its Denmark offices in Kastrup...
, and
Tårnby
Tårnby
Tårnby Kommune is a municipality bordering Copenhagen on the island of Amager just south of Zealand in eastern Denmark. The municipality includes the islands of Saltholm and Peberholm, and covers an area of 65 km². It has a total population of 40,214...
.
Transport
The
Øresund Bridge
Oresund Bridge
The Øresund or Öresund Bridge is a combined twin-track railway and dual carriageway bridge-tunnel across the Øresund strait.The bridge connects Sweden and Denmark, and it is the longest road and rail bridge in Europe. The Øresund Bridge also connects two major Metropolitan Areas: those of the...
connects
Sweden
Sweden
Sweden , officially the Kingdom of Sweden , is a Nordic country on the Scandinavian Peninsula in Northern Europe. Sweden borders with Norway and Finland and is connected to Denmark by a bridge-tunnel across the Öresund....
to Denmark on Amager. The construction of the bridge has had a large impact on the physical geography of the island, largely due to the construction of new highways.
The
Copenhagen Metro
Copenhagen Metro
Copenhagen Metro is a rapid transit system serving Copenhagen, Frederiksberg and Tårnby in Denmark. The system opened between 2002 and 2007, and has two lines, M1 and M2. The driverless light metro supplements the larger S-train rapid transit system, and is integrated with DSB local trains and...
connects Amager to central Copenhagen. The metro line from Vanløse to Amager divides into M1 and M2 lines at Christianshavn and then continue to Vestamager and Lufthavnen (Copenhagen Airport).
Copenhagen Airport
Copenhagen Airport
Copenhagen Airport is the main international airport serving Copenhagen, Denmark and the Oresund Region. It is located on the island of Amager, south of Copenhagen city centre, and west of Malmö city centre on the other side of the Oresund Bridge. The airport lies mainly in the municipality...
is located on the eastern part of Amager. It is linked by the train, Metro and bus.
Notable people
External links