 List of extinct mammals
A large number of prehistoric mammals are extinct, such as Megafauna

Megafauna

In terrestrial zoology, megafauna are "giant", "very large" or "large" animals. The most common thresholds used are or...


. See List of prehistoric mammals.
This is an incomplete list of historically known
extinct
Extinction
In biology and ecology, extinction is the end of an organism or of a group of organisms , normally a species. The moment of extinction is generally considered to be the death of the last individual of the species, although the capacity to breed and recover may have been lost before this point...
mammal
Mammal
Mammals are members of a class of air-breathing vertebrate animals characterised by the possession of endothermy, hair, three middle ear bones, and mammary glands functional in mothers with young...
s, their dates of extinction, and former range. Mammals included are organisms which have been described by science, but which have subsequently become extinct. Many of these animals have become extinct as a result of human hunting, for food or sport, or through the destruction of
habitat
Habitat
* Habitat , a place where a species lives and grows*Human habitat, a place where humans live, work or play** Space habitat, a space station intended as a permanent settlement...
.
Marsupials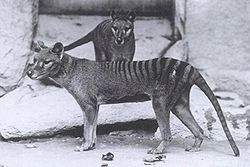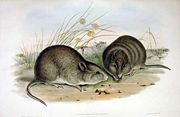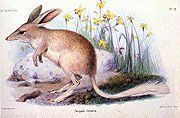 Broad-faced Potoroo

Broad-faced Potoroo

The Broad-faced Potoroo is an extinct species of marsupial that once lived in Australia. The first specimen was collected in 1839 and described by John Gould in 1844, but even then it was rare and only a handful of specimens were ever collected, the last in 1875...


(1875, Australia

Australia

Australia , officially the Commonwealth of Australia, is a country in the Southern Hemisphere comprising the mainland of the Australian continent, the island of Tasmania, and numerous smaller islands in the Indian and Pacific Oceans. It is the world's sixth-largest country by total area...


)
Eastern Hare Wallaby (1890, Australia)
Lake Mackay Hare-wallaby

Lake Mackay Hare-wallaby

The Lake Mackay Hare-wallaby , also known as the Central Hare-wallaby or Kuluwarri, is an extinct species of macropod formerly found in central Australia. Very little is known about it....


(1932, Australia)
Desert Rat-kangaroo

Desert Rat-kangaroo

The Desert Rat-kangaroo , also called the Buff-nosed Rat-kangaroo or the Plains Rat-kangaroo, is an extinct marsupial that lived in a sand ridge and gibber plain habitat in southwestern Queensland and northeastern South Australia. It was the size of a small rabbit...


(1935, Australia)
Thylacine

Thylacine

The thylacine or ,also ;binomial name: Thylacinus cynocephalus, Greek for "dog-headed pouched one") was the largest known carnivorous marsupial of modern times. It is commonly known as the Tasmanian tiger or the Tasmanian wolf...


(1936, Tasmania

Tasmania

Tasmania is an Australian island and state. It is south of the continent, separated by Bass Strait. The state includes the island of Tasmania—the 26th largest island in the world—and the surrounding islands. The state has a population of 507,626 , of whom almost half reside in the greater Hobart...


, Australia)
Toolache Wallaby

Toolache Wallaby

The Toolache Wallaby or Grey's Wallaby is an extinct species of wallaby from south-eastern South Australia and South-western Victoria. Many people considered it to be the most elegant, graceful and swift species of kangaroo. It had fine fur with alternating bands of darker and lighter grey across...


(1943, Australia)
Desert Bandicoot

Desert Bandicoot

The Desert Bandicoot is an extinct bandicoot of the arid country in the centre of Australia. The last known specimen was collected in 1943 on the Canning Stock Route in Western Australia...


(1943, Australia)
Lesser Bilby

Lesser Bilby

The Lesser Bilby , also known as the Yallara, the Lesser Rabbit-eared Bandicoot or the White-tailed Rabbit-eared Bandicoot, was a rabbit-like marsupial. The species was first described by Oldfield Thomas as "Peregale leucura" in 1887 from a single specimen from a collection of mammals of the...


(1950s, Australia)
Pig-footed Bandicoot

Pig-footed Bandicoot

The Pig-footed Bandicoot, Chaeropus ecaudatus, was a small marsupial of the arid and semi-arid plains of Australia. The distribution range of the species was later reduced to an inland desert region, where it was last recorded in the 1950s, and is now presumed to be extinct.-Classification:This...


(1950s, Australia)
Crescent Nailtail Wallaby (1956, Australia)
Red-bellied Gracile Opossum

Red-bellied Gracile Opossum

The Red-bellied Gracile Opossum is an extinct species of opossum that was native to Jujuy Province, Argentina. Its forest habitat has been destroyed, and it was last seen in 1962....


(1962, Argentina

Argentina

Argentina , officially the Argentine Republic , is the second largest country in South America by land area, after Brazil. It is constituted as a federation of 23 provinces and an autonomous city, Buenos Aires...


)
Rodents
Oriente Cave Rat

Oriente Cave Rat

The Oriente Cave Rat was a species of rodent in the Echimyidae family.It was endemic to Cuba.Its natural habitat was subtropical or tropical moist lowland forests. It is known from recent fossil records, and may have become extinct with the introduction of other rats.-References:*Woods, C. A. and...


(?, Cuba

Cuba

The Republic of Cuba is an island nation in the Caribbean. The nation of Cuba consists of the main island of Cuba, the Isla de la Juventud, and several archipelagos. Havana is the largest city in Cuba and the country's capital. Santiago de Cuba is the second largest city...


)
Torre's Cave Rat

Torre's Cave Rat

Torre's Cave Rat was a species of rodent in the Echimyidae family.It was endemic to Cuba.Its natural habitat was subtropical or tropical moist lowland forests.-References:...


(?, Cuba)
Imposter Hutia

Imposter Hutia

The Imposter Hutia is an extinct species of rodent in the family Capromyidae. It is monotypic within the genus Hexolobodon and subfamily Hexolobodontinae. It was found in the Dominican Republic and Haiti....


(?, Hispaniola)
Montane Hutia

Montane Hutia

The Montane Hutia is an extinct species of rodent in the family Capromyidae. It was found in the Dominican Republic and Haiti....


(?, Hispaniola)
Lagostomus crassus

Lagostomus crassus

Lagostomus crassus is an extinct species of chinchilla that was native to Peru. It is known from a single skull found in southern Peru....


(?, Peru)
Megaoryzomys curioi (?, Galápagos Islands)
Flores Cave Rat

Flores Cave Rat

The Flores Cave Rat lived on Flores Island, Indonesia. MacPhee and Flemming assessed this species to be extinct in 1996, but believed it probably died out before 1500. This specimen is only known from a few subfossil fragments. It is the only member of the genus Spelaeomys....


(1500, Indonesia

Indonesia

Indonesia , officially the Republic of Indonesia , is a country in Southeast Asia and Oceania. Indonesia is an archipelago comprising approximately 13,000 islands. It has 33 provinces with over 238 million people, and is the world's fourth most populous country. Indonesia is a republic, with an...


)
Verhoeven's Giant Tree Rat

Verhoeven's Giant Tree Rat

Verhoeven's Giant Tree Rat is an extinct rat of subfamily Murinae that lived on Flores in Indonesia. It was assessed as being extinct in 1996. However, experts believed that it died out before 1500 AD. The species is known only from several subfossil fragments. It was named after Dutch priest...


(1500, Indonesia)
Cuban Coney

Cuban Coney

The Cuban Coney is an extinct species of rodent in the Capromyidae family. It was endemic to Cuba.Its natural habitats were lowland moist forests, xeric shrublands and rocky areas...


(1500, Cuba)
Hispaniolan Edible Rat

Hispaniolan Edible Rat

The Hispaniolan Edible Rat is an extinct species of rodent in the family Echimyidae. It was found in the Dominican Republic and Haiti...


(~1546, Hispaniola

Hispaniola

Hispaniola is a major island in the Caribbean, containing the two sovereign states of the Dominican Republic and Haiti. The island is located between the islands of Cuba to the west and Puerto Rico to the east, within the hurricane belt...


)
Puerto Rican Hutia

Puerto Rican Hutia

The Puerto Rican Hutia is an extinct species of rodent in the Capromyidae family. It was found in the Dominican Republic, Haiti, and Puerto Rico....


(?, Puerto Rico)
Big-eared Hopping Mouse

Big-eared Hopping Mouse

The big-eared hopping mouse is an extinct species of mouse, which lived in the Moore River area of south-western Australia. The big-eared hopping mouse was a small, rat-sized animal resembling a tiny kangaroo. It moved by bounding upon its enlarged hind feet.Hopping mice are vulnerable to...


(1843, Australia)
Darling Downs Hopping Mouse

Darling Downs Hopping Mouse

The Darling Downs hopping mouse is an extinct species of rodent in the family Muridae. It is known from a single skull found at Darling Downs, Queensland, Australia. Introduced predators such as foxes and domestic cats may have forced this species into extinction....


(1846, Australia)
White-footed Rabbit-rat

White-footed rabbit-rat

The White-footed Rabbit-rat is an extinct species of rodent, which was originally found in woodlands from Adelaide to Sydney, but became restricted to south-eastern Australia. It was kitten-sized and was one of Australia's largest native rodents. It was nocturnal and lived among trees...


(1870s, Australia)
St Lucy Giant Rice Rat (1881), Saint Lucia

Saint Lucia

Saint Lucia is an island country in the eastern Caribbean Sea on the boundary with the Atlantic Ocean. Part of the Lesser Antilles, it is located north/northeast of the island of Saint Vincent, northwest of Barbados and south of Martinique. It covers a land area of 620 km2 and has an...


)
Short-tailed Hopping Mouse

Short-tailed Hopping Mouse

The Short-tailed Hopping Mouse is an extinct species of mouse from open stony plains with desert grasses, low shrubs and sand ridges in the area around Charlotte Waters, near Alice Springs in Central Australia. It weighed 80 grams. The last record is from June 1896. Only two complete specimens...


(1896, Australia)
Nelson's Rice Rat

Nelson's Rice Rat

Oryzomys nelsoni is an extinct rodent of María Madre Island, Nayarit, Mexico. Within the genus Oryzomys of the family Cricetidae, it may have been most closely related to the mainland species O. albiventer...


(1897, Islas Marias

Islas Marías

The Islas Marías are an archipelago of four islands that belong to Mexico. They are located in the Pacific Ocean, some off the coast of the state of Nayarit. They are part of the municipality of San Blas, Nayarit...


)
Guadalcanal Rat

Guadalcanal Rat

The Guadalcanal Rat is a species of rodent in the family Muridae.It was found only in the Solomon Islands. Since this species was collected between 1886 and 1888 it has not been seen again.. It is possibly extinct.-References:...


(1899, Solomon Islands

Solomon Islands

Solomon Islands is a sovereign state in Oceania, east of Papua New Guinea, consisting of nearly one thousand islands. It covers a land mass of . The capital, Honiara, is located on the island of Guadalcanal...


)
Long-Tailed Hopping Mouse

Long-tailed Hopping Mouse

The long-tailed hopping mouse is an extinct species of rodent in the family Muridae. It was found only in Australia. It is known from a handful of specimens, the last of which was collected in 1901 or possibly 1902...


(1901, Australia)
Martinique Giant Rice Rat (1902), Martinique

Martinique

Martinique is an island in the eastern Caribbean Sea, with a land area of . Like Guadeloupe, it is an overseas region of France, consisting of a single overseas department. To the northwest lies Dominica, to the south St Lucia, and to the southeast Barbados...


)
Bulldog Rat

Bulldog Rat

The Bulldog Rat was a species of rat endemic to the Christmas Island in the Indian Ocean. The rats lived on the higher hills and denser forests of the island. They had short tails and their backs were covered in a two centimetre thick layer of fat. They lived in small colonies, in burrows among...


(1903, Christmas Island

Christmas Island

The Territory of Christmas Island is a territory of Australia in the Indian Ocean. It is located northwest of the Western Australian city of Perth, south of the Indonesian capital, Jakarta, and ENE of the Cocos Islands....


)
Maclear's Rat

Maclear's Rat

The Maclear's Rat was a large rat which lived on Christmas Island in the Indian Ocean. Abundant, unfamiliar with and seemingly unafraid of humans, large numbers of the creatures emerged and foraged in all directions at night...


(1903, Christmas Island)
Martinique muskrat (1903, Martinique

Martinique

Martinique is an island in the eastern Caribbean Sea, with a land area of . Like Guadeloupe, it is an overseas region of France, consisting of a single overseas department. To the northwest lies Dominica, to the south St Lucia, and to the southeast Barbados...


)
Darwin's Galapagos Mouse (1930, Galapagos Islands

Galápagos Islands

The Galápagos Islands are an archipelago of volcanic islands distributed around the equator in the Pacific Ocean, west of continental Ecuador, of which they are a part.The Galápagos Islands and its surrounding waters form an Ecuadorian province, a national park, and a...


)
Gould's Mouse

Gould's Mouse

Gould's Mouse lived in eastern inland Australia, and was named after John Gould's wife, Elizabeth. It was slightly smaller than a black rat, and quite social, living in small family groups that sheltered by day in a nest of soft, dry grass in a burrow. It usually dug burrows at a depth of 15 cm...


(1930, Australia)
Pemberton's Deer Mouse

Pemberton's Deer Mouse

Pemberton's Deer Mouse lived on San Pedro Nolasco Island in the Gulf of California. The last 12 specimens were collected on 26 December 1931.-Etymology:...


(1931), San Pedro Island

San Pedro Island

San Pedro Island is applied to several islands throughout the world, usually having been applied by Spanish explorers in honor of Saint Peter.*Philippines: Hinunangan, Southern Leyte - see also Romblon, Romblon...


)
Lesser Stick Nest Rat (1933, Australia)
Indefatigable Galapagos Mouse

Indefatigable Galapagos Mouse

Nesoryzomys indefessus, also known as the Santa Cruz Nesoryzomys or Indefatigable Galápagos Mouse, is a rodent of the genus Nesoryzomys of family Cricetidae from Galápagos Islands of Ecuador. It contains two subspecies: one formerly lived on Santa Cruz Island, but is now extinct, probably due to...


(1934, Galapagos Islands)
Chadwick Beach Cotton Mouse

Chadwick Beach Cotton Mouse

The Chadwick Beach Cotton Mouse is a presumed extinct subspecies of the Cotton Mouse from the genus Peromyscus. It was confined to a small area on the Manasota Key peninsula in Florida....


(1938, Florida)
Ilin Island Cloudrunner

Ilin island cloudrunner

The Ilin Island Cloudrunner is a critically endangered, possibly extinct cloud rat from Ilin Island in the Philippines. It is a fluffy-coated, bushy-tailed rat and may have emerged from tree hollows at night to feed on fruits and leaves...


(1953) Ilin Island)
Little Swan Island hutia

Little Swan Island hutia

The Little Swan Island Hutia is an extinct species of rodent that lived on the Swan Islands, off north-eastern Honduras in the Caribbean...


(1955, Swan Islands

Swan Islands, Honduras

The Swan Islands, or Islas Santanilla, are a chain of three islands located in the northwestern Caribbean Sea, approximately ninety miles off the coastline of Honduras, with a land area of .-Detailed location and features:...


)
Blue-Gray Mouse

Blue-Gray Mouse

The Blue-gray Mouse or Blue-grey Mouse is an extinct species of rodent in the family Muridae. It was found only in Queensland and New South Wales, Australia....


(1956) Australia)
Pallid Beach Mouse

Pallid Beach Mouse

The Pallid beach mouse or Ponce de Leon Beach Mouse was known from two locations in Florida, Ponce Park, Volusia County and Bulow, Flagler County. No individuals have been seen since 1959. The average Pallid Beach mouse was anywhere from 4 to 8 centimeters in length...


(1959, Florida)
Emperor Rat

Emperor Rat

The Emperor Rart is an extinct species of rodent in the family Muridae.It was found only in Solomon Islands. Or, William Harris.-References:* Gippoliti, S. 2002. . Downloaded on 20 July 2007....


(1960s, Solomon Islands)
Soricimorphs
Bats
Cetaceans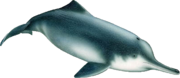 Baiji

Baiji

Baiji may refer to:* The Baiji or Yangtze River Dolphin * Baiji, Iraq, a city of northern Iraq.* "Baiji" is the pinyin Romanization for Baekje....


(2006, China

China

Chinese civilization may refer to:* China for more general discussion of the country.* Chinese culture* Greater China, the transnational community of ethnic Chinese.* History of China* Sinosphere, the area historically affected by Chinese culture...


) (officially listed as functionally extinct

Functional extinction

Functional extinction is the extinction of a species or other taxon such that:#it disappears from the fossil record, or historic reports of its existence cease;#the reduced population no longer plays a significant role in ecosystem function; or...


; it is possible that a few aging individuals still survive)
Artiodactyls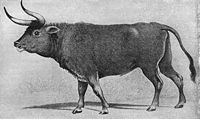 Carnivores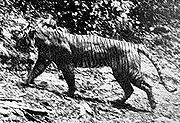 Subspecies
Perissodactyls
Subspecies