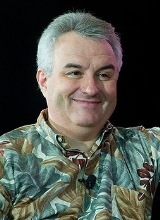 Leo Laporte
Léo Gordon Laporte
is an
Emmy Award
Emmy Award
An Emmy Award, often referred to simply as the Emmy, is a television production award, similar in nature to the Peabody Awards but more focused on entertainment, and is considered the television equivalent to the Academy Awards and the Grammy Awards .A majority of Emmys are presented in various...
winning, American
technology
Technology
Technology is the making, usage, and knowledge of tools, machines, techniques, crafts, systems or methods of organization in order to solve a problem or perform a specific function. It can also refer to the collection of such tools, machinery, and procedures. The word technology comes ;...
broadcaster
Broadcasting
Broadcasting is the distribution of audio and video content to a dispersed audience via any audio visual medium. Receiving parties may include the general public or a relatively large subset of thereof...
,
author
Author
An author is broadly defined as "the person who originates or gives existence to anything" and that authorship determines responsibility for what is created. Narrowly defined, an author is the originator of any written work.-Legal significance:...
, and
entrepreneur
Entrepreneur
An entrepreneur is an owner or manager of a business enterprise who makes money through risk and initiative.The term was originally a loanword from French and was first defined by the Irish-French economist Richard Cantillon. Entrepreneur in English is a term applied to a person who is willing to...
. A former resident of
Providence
Providence, Rhode Island
Providence is the capital and most populous city of Rhode Island and was one of the first cities established in the United States. Located in Providence County, it is the third largest city in the New England region...
,
Rhode Island
Rhode Island
The state of Rhode Island and Providence Plantations, more commonly referred to as Rhode Island , is a state in the New England region of the United States. It is the smallest U.S. state by area...
, he now lives in
Petaluma, California
Petaluma, California
Petaluma is a city in Sonoma County, California, in the United States. In the 2010 Census the population was 57,941.Located in Petaluma is the Rancho Petaluma Adobe, a National Historic Landmark. It was built beginning in 1836 by General Mariano Guadalupe Vallejo, then Commandant of the San...
with his wife Jennifer and two children, Abby and Henry.
Background
Laporte studied
Chinese History
History of China
Chinese civilization originated in various regional centers along both the Yellow River and the Yangtze River valleys in the Neolithic era, but the Yellow River is said to be the Cradle of Chinese Civilization. With thousands of years of continuous history, China is one of the world's oldest...
at
Yale University
Yale University
Yale University is a private, Ivy League university located in New Haven, Connecticut, United States. Founded in 1701 in the Colony of Connecticut, the university is the third-oldest institution of higher education in the United States...
before dropping out in his junior year to pursue his career in radio broadcasting, where his early radio names were Dave Allen and Dan Hayes. He began his association with computers with his first home
PC
Personal computer
A personal computer is any general-purpose computer whose size, capabilities, and original sales price make it useful for individuals, and which is intended to be operated directly by an end-user with no intervening computer operator...
, an
Atari 400
Atari 8-bit family
The Atari 8-bit family is a series of 8-bit home computers manufactured from 1979 to 1992. All are based on the MOS Technology 6502 CPU and were the first home computers designed with custom coprocessor chips...
. Leo has often told his radio and internet audience about how he purchased his first Macintosh in 1984, for $2000, from Macy's. He operated one of the first Macintosh-only
bulletin board
Bulletin board system
A Bulletin Board System, or BBS, is a computer system running software that allows users to connect and log in to the system using a terminal program. Once logged in, a user can perform functions such as uploading and downloading software and data, reading news and bulletins, and exchanging...
systems, MacQueue, from 1985 to 1988.
Television and radio
Laporte has created, hosted, and contributed to a number of technology-related broadcasting projects. He created and co-hosted
Dvorak On Computers
in January 1991 (co-hosted with computer pundit John Dvorak), and hosted
Laporte On Computers
on
KGO Radio
KGO (AM)
KGO is a news/talk-format radio station radio with offices and studios in San Francisco, California. Unlike most other American news/talk stations, KGO originates nearly all of its own programming locally. Since 1978, KGO radio has received Arbitron's number-one ranking in the Bay Area...
and
KSFO
KSFO (AM)
KSFO is a conservative talk radio station in San Francisco, California, USA, broadcasting on 560 kHz AM. It is owned by Cumulus Media.The content of the KSFO's talk programming is solidly conservative, which is in stark contrast to the rather liberal San Francisco area, with show hosts such as Rush...
in San Francisco. In addition, Laporte also hosted
Internet!
on PBS, and
The Personal Computing Show
on
CNBC
CNBC
CNBC is a satellite and cable television business news channel in the U.S., owned and operated by NBCUniversal. The network and its international spinoffs cover business headlines and provide live coverage of financial markets. The combined reach of CNBC and its siblings is 390 million viewers...
. In 1997, he earned an
Emmy Award
Emmy Award
An Emmy Award, often referred to simply as the Emmy, is a television production award, similar in nature to the Peabody Awards but more focused on entertainment, and is considered the television equivalent to the Academy Awards and the Grammy Awards .A majority of Emmys are presented in various...
for his work on
MSNBC's
MSNBC
MSNBC is a cable news channel based in the United States available in the US, Germany , South Africa, the Middle East and Canada...
The Site
The Site
The Site, hosted by Soledad O'Brien, was an hour-long TV program devoted to the Internet revolution. It debuted in July 1996 with MSNBC's launch and aired Monday through Saturday, reaching 35 million homes...
, a daily Monday through Saturday hour-long newsmagazine he helped create and appeared on in the role of a
computer-generated
Computer graphics
Computer graphics are graphics created using computers and, more generally, the representation and manipulation of image data by a computer with help from specialized software and hardware....
character
Fictional character
A character is the representation of a person in a narrative work of art . Derived from the ancient Greek word kharaktêr , the earliest use in English, in this sense, dates from the Restoration, although it became widely used after its appearance in Tom Jones in 1749. From this, the sense of...
named
Dev Null
Dev Null
Dev Null was an animated virtual reality character created in 1996 by Leo Laporte for MSNBC's computer and technology TV series, The Site. Espresso barista Dev talked with host Soledad O'Brien each weeknight in a five-minute segment...
.
In 1998, he created and co-hosted
The Screen Savers
The Screen Savers
The Screen Savers was a live American TV show on TechTV. The show launched concurrently with the channel ZDTV on May 11, 1998. The Screen Savers originally centered around computers, new technologies, and their adaptations in the world...
and the original version of
Call for Help
on the
cable
Cable television
Cable television is a system of providing television programs to consumers via radio frequency signals transmitted to televisions through coaxial cables or digital light pulses through fixed optical fibers located on the subscriber's property, much like the over-the-air method used in traditional...
and
satellite
Satellite television
Satellite television is television programming delivered by the means of communications satellite and received by an outdoor antenna, usually a parabolic mirror generally referred to as a satellite dish, and as far as household usage is concerned, a satellite receiver either in the form of an...
network ZDTV (later
TechTV
). Laporte left
The Screen Savers
in 2004, and then later left the network following a dispute with TechTV's then-outgoing owner, Vulcan Ventures, over stock ownership and the cancellation of
Call for Help
. His contract ended on March 31, and his absence from
The Screen Savers
on April 1 was originally believed to be an April Fool's Day joke.
Laporte has also pursued acting, playing Uncle Charlie in the movie
Phoenix Rising
.
Laporte was the host of the daily
television show
Television program
A television program , also called television show, is a segment of content which is intended to be broadcast on television. It may be a one-time production or part of a periodically recurring series...
The Lab with Leo Laporte
The Lab with Leo Laporte
The Lab with Leo Laporte was a technology-based television program hosted by Leo Laporte. Episode #1 debuted on April 23, 2007 on G4techTV Canada and HOW TO Channel Australia. The program was produced by Greedy Productions in Vancouver, BC. Production was overseen by the show's producer, Matt...
, recorded in
Vancouver
Vancouver
Vancouver is a coastal seaport city on the mainland of British Columbia, Canada. It is the hub of Greater Vancouver, which, with over 2.3 million residents, is the third most populous metropolitan area in the country,...
, Canada. The program had formerly been known as
Call for Help
when it was recorded in the U.S. and
Toronto
Toronto
Toronto is the provincial capital of Ontario and the largest city in Canada. It is located in Southern Ontario on the northwestern shore of Lake Ontario. A relatively modern city, Toronto's history dates back to the late-18th century, when its land was first purchased by the British monarchy from...
. The series aired on
G4techTV Canada
G4techTV Canada
G4 Canada is a Canadian English language Category A specialty channel owned by Rogers Media. The name is licensed from NBCUniversal, who formerly owned a stake in the channel...
, on the
HOW TO Channel
HOW TO Channel
HOW TO Channel was an Australian cable and satellite television channel. It was carried on the Foxtel Digital, Optus TV featuring Foxtel Digital and Austar Digital platforms. It was owned by Premier Media Group, a 50/50 joint venture of Publishing and Broadcasting Limited and News Corporation.The...
in
Australia
Australia
Australia , officially the Commonwealth of Australia, is a country in the Southern Hemisphere comprising the mainland of the Australian continent, the island of Tasmania, and numerous smaller islands in the Indian and Pacific Oceans. It is the world's sixth-largest country by total area...
, on several of Canada's
Citytv
Citytv
Citytv is a Canadian English language television system owned and operated by Rogers Communications under its Rogers Broadcasting Ltd. division...
affiliates, and on
Google Video
Google Video
Google Videos is a video search engine, and formerly a free video sharing website, from Google Inc. Before removing user-uploaded content, the service allowed selected videos to be remotely embedded on other websites and provided the necessary HTML code alongside the media, similar to YouTube...
some weeks after initial broadcast. On March 5, 2008, Laporte confirmed on
net@nite
that The Lab with Leo Laporte had been canceled by
Rogers Communications
Rogers Communications
Rogers Communications Inc. is one of Canada's largest communications companies, particularly in the field of wireless communications, cable television, home phone and internet with additional telecommunications and mass media assets...
. The
HOW TO Channel
HOW TO Channel
HOW TO Channel was an Australian cable and satellite television channel. It was carried on the Foxtel Digital, Optus TV featuring Foxtel Digital and Austar Digital platforms. It was owned by Premier Media Group, a 50/50 joint venture of Publishing and Broadcasting Limited and News Corporation.The...
refused to air the remaining episodes after it was announced the show had been canceled.
He also hosts a weekend technology-oriented
talk radio
Talk radio
Talk radio is a radio format containing discussion about topical issues. Most shows are regularly hosted by a single individual, and often feature interviews with a number of different guests. Talk radio typically includes an element of listener participation, usually by broadcasting live...
program show titled
Leo Laporte: The Tech Guy

The Tech Guy

The Tech Guy is a US-wide syndicated radio show, hosted by Leo Laporte formerly of TechTV and now TWiT.tv fame. The show, which was first exclusively broadcast on KFI AM 640 in Los Angeles, California, was picked up for syndication by Premiere Radio Networks in February 2007...


.
The show, once an exclusive to KFI AM 640 (Los Angeles), is now syndicated on nearly 140 North American radio stations through
Premiere Radio Networks
Premiere Radio Networks
Premiere Networks is an American radio network. It is the largest syndication company in the United States based on popularity of programming...
, and on
XM Satellite Radio
XM Satellite Radio
XM Satellite Radio is one of two satellite radio services in the United States and Canada, operated by Sirius XM Radio. It provides pay-for-service radio, analogous to cable television. Its service includes 73 different music channels, 39 news, sports, talk and entertainment channels, 21 regional...
. Laporte appears semi-regularly on
Showbiz Tonight
Showbiz Tonight
Showbiz Tonight is an American entertainment news program on HLN .Showbiz Tonight is hosted by A.J. Hammer at CNN New York. The show reports and debates celebrity entertainment news stories and controversies, along with social networking segments involving viewer interaction via social networks and...
,
Live with Regis and Kelly
Live with Regis and Kelly
Live! with Kelly is a syndicated American television morning talk show, hosted by Kelly Ripa. The show has aired since 1983 in New York City and 1988 nationwide. Tony Pigg has been the show's announcer since its inception...
,
World News Now
World News Now
World News Now is an American overnight news program broadcast on American Broadcasting Company's television network. Its tone is often lighthearted, irreverent and humorous...
, and briefly with
Bill Handel
Bill Handel
William Wolf Handel is the director and founder of the Center for Surrogate Parenting and an AM radio personality in Los Angeles, California....
on Friday mornings on KFI. He has also been a guest technology expert on numerous talk radio programs in local markets across the U.S. and Canada.
Books
Laporte has authored a number of technology-oriented books such as
101 Computer Answers You Need to Know
,
Leo Laporte's 2005 Gadget Guide
,
Leo Laporte's Guide to TiVo
,
Leo Laporte's Guide to Mac OS X Tiger
and
Leo Laporte's PC Help Desk
. Laporte has also published a yearly series of technology almanacs:
Leo Laporte's Technology Almanac
and
Poor Leo's Computer Almanac
. Laporte's latest and last book is Leo Laporte's 2006 Technology Almanac.
Throughout his career, he has contributed to a number of
periodicals
Magazine
Magazines, periodicals, glossies or serials are publications, generally published on a regular schedule, containing a variety of articles. They are generally financed by advertising, by a purchase price, by pre-paid magazine subscriptions, or all three...
such as
BYTE
Byte
The byte is a unit of digital information in computing and telecommunications that most commonly consists of eight bits. Historically, a byte was the number of bits used to encode a single character of text in a computer and for this reason it is the basic addressable element in many computer...
,
InfoWorld
InfoWorld
InfoWorld is an information technology online media and events business operating under the umbrella of InfoWorld Media Group, a division of IDG...
, and
MacUser
MacUser
MacUser is a biweekly computer magazine published by Dennis Publishing Ltd. and licensed by Felden in the UK.In 1985 Felix Dennis' Dennis Publishing, the creators of MacUser in the UK, licensed the name and "mouse-rating" symbol for MacUser to Ziff-Davis Publishing for use in the rest of the world....
. Laporte announced in October 2006 that he will not renew his contract with Que Publishing and has retired from publishing his long series of books. He said, "Writing books is hard work and, love-starved groupies aside, the compensations are scant. I'll put my energies into something I love to do, talking for a living."
In 2008, Laporte did the voice narration for the fable
The True History of Little Golden-hood
by Andrew Lang which was made available through
Audible
Audible.com
Audible.com is an Internet provider of spoken audio entertainment, information, and educational programming.Audible sells digital audiobooks, radio and TV programs, and audio versions of magazines and newspapers....
.
Netcasting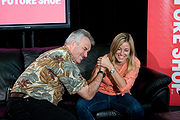 Laporte currently owns and operates a netcast network,
TWiT.tv
TWiT.tv (network)
The TWiT Netcast Network, which is the operating trade name of TWiT LLC, is a podcast network run by technology broadcaster and author Leo Laporte. The network began operation in April 2005 with the launch of This Week in Tech. Security Now was the second podcast on the network, debuting in...
. The name is derived from the network's award-winning flagship podcast
This Week in Tech
This Week in Tech
This Week in Tech–casually referred to as TWiT, and formerly known as Revenge of the Screen Savers–is the weekly flagship podcast of the TWiT.tv network...
, or TWiT, which is hosted by Laporte along with a rotating panel of guests often made up of several other former
TechTV
TechTV
TechTV was a 24-hour cable and satellite channel based in San Francisco featuring news and shows about computers, technology, and the Internet. In 2004, it merged with the G4 gaming channel which ultimately dissolved TechTV programming...
employees. This show remains one of the most popular podcasts on
iTunes
ITunes
iTunes is a media player computer program, used for playing, downloading, and organizing digital music and video files on desktop computers. It can also manage contents on iPod, iPhone, iPod Touch and iPad....
and other podcast subscription services, as evidenced by winning an award at the November 2005 Podcasting Expo in California for the year's best podcast and by its over 280,000 weekly downloads. Laporte claims TWiT earns $1.5 million annually on a production cost of only $350,000.
Laporte prefers to call his shows "netcasts," saying "I've never liked the word podcast. It causes confusion … people have told me that they can't listen to my shows because they 'don't own an iPod' … I propose the word 'netcast.' It's a little clearer that these are broadcasts over the
Internet
Internet
The Internet is a global system of interconnected computer networks that use the standard Internet protocol suite to serve billions of users worldwide...
. It's catchy and even kind of a
pun
Pun
The pun, also called paronomasia, is a form of word play which suggests two or more meanings, by exploiting multiple meanings of words, or of similar-sounding words, for an intended humorous or rhetorical effect. These ambiguities can arise from the intentional use and abuse of homophonic,...
." With the addition of TWiT.tv's live video feed, the shows are no longer audio-only.
TWiT network "netcast" formats include
Security: Security Now!

Security Now

Security Now! is a weekly podcast hosted by Leo Laporte and Steve Gibson. The first episode was released on 19 August 2005.Released each Thursday, Security Now! consists of a discussion between Gibson and Laporte of issues of computer security and, conversely, insecurity...


with Steve Gibson
Macintosh: MacBreak

MacBreak

MacBreak is an internet TV show hosted by Leo Laporte, Kendra Arimoto, Alex Lindsay, Justine Ezarik and Emery Wells from the TWiT.tv network and the Pixel Corps. The podcast is dedicated to Apple's Mac computers and other Apple products such as the iPod....


and MacBreak Weekly
Windows: Windows Weekly with Paul Thurrott

Paul Thurrott

Paul Brian Thurrott is a technology reporter, published author, podcaster, and the news editor for Windows IT Pro magazine...



Open Source software: FLOSS Weekly

FLOSS Weekly

FLOSS Weekly is a free software / open source themed podcast from the TWiT Network. The show premiered on April 7, 2006, and features prominent guests from the free software/open source community. It was originally hosted by Leo Laporte; his cohost for the first seventeen episodes was Chris DiBona...



Google and the cloud: TWiG (This Week in Google) with Jeff Jarvis

Jeff Jarvis

Jeff Jarvis is an American journalist. Previously he was a television critic for TV Guide and People magazine, creator of Entertainment Weekly, Sunday editor and associate publisher of the New York Daily News, and a columnist on the San Francisco Examiner.-Career:Until recently Jarvis was...


and Gina Trapani

Gina Trapani

Gina Marie Trapani is an American tech blogger, web developer, and writer.Trapani founded the Lifehacker blog in January 2005, and led it until January 2009. She co-hosts a netcast on the TWiT.tv network called with Leo Laporte and Jeff Jarvis. She also hosted twelve episodes of Work Smart, a...



Android: All About Android
Daily tech news: Tech News Today
iPad: iPad Today
Amateur Radio: HamNation with Bob Heil

Bob Heil

Bob Heil is an American sound and radio engineer most well-known for creating the template for modern rock sound systems. He founded the company Heil Sound in 1966, which went on to create unique touring sound systems for bands such as The Grateful Dead and The Who...


(K9EID), Leo Laporte

Leo Laporte

Léo Gordon Laporte is an Emmy Award winning, American technology broadcaster, author, and entrepreneur. A former resident of Providence, Rhode Island, he now lives in Petaluma, California with his wife Jennifer and two children, Abby and Henry....


(W6TWT) & guests.
others: The Weekly Daily Giz Wiz

Daily Giz Wiz

Weekly Daily Giz Wiz is a daily Podcast featuring Dick DeBartolo and Leo Laporte and is part of the TWiT.tv Network. It is a short, daily discussion about one technology or gadget. A shorter version of The Weekly Daily Giz Wiz also appears on Laporte's syndicated radio show The Tech Guy...


(formerly known as The Daily Giz Wiz) with Dick DeBartolo

Dick DeBartolo

Dick DeBartolo is an American writer. He has most notably written for Mad. He is occasionally referred to as "Mads Maddest Writer," this being a twist on Don Martin's former status as "Mads Maddest Artist." DeBartolo served as the magazine's "Creative Consultant" from 1984 to 2009.Mad has long...


, The Social Hour with Amber MacArthur

Amber MacArthur

Amber Dawn MacArthur is a Canadian television and netcasting personality. MacArthur is currently the co-host of BNN's App Central....


, Roz Rows The Pacific

Roz Savage

Rosalind Savage is a British ocean rower and amateur runner, now pursuing a career as an environmental advocate, writer and motivational speaker.-Background:Savage was born in Cheshire...


, and the NSFW Show with Brian Brushwood

Brian Brushwood

Brian Brushwood is an American magician who performs nationwide. He is especially well known for his display of bizarre magic. He is known to perform fire-eating, escapes, breaking a cinder block over his head, sticking nails in his eyes and nose, sticking needles through his palm, reading minds,...


and Justin Robert Young

Justin Robert Young

Justin Robert Young is the editor-in-chief of iTricks.com, the foremost magic news site on the web, editor of WeirdThings.com, and is a podcaster for the TWiT.tv network, co-hosting the weekly show NSFW.-Early career:...


.
By December 2010, his 23 shows were downloaded over 5,000,000 times a month.
Recent publicized events
On March 14, 2010, Leo Laporte made the World Record for the longest live-streamed Crowd-Surf, as recognized by URDB World Records, which he performed during a live episode of
Diggnation
Diggnation
Diggnation is Revision3's flagship video podcast produced weekly. It is hosted by Kevin Rose and Alex Albrecht, who had previously hosted TechTV's The Screen Savers together. Its main purpose is to discuss some of the top stories from Digg, the social news and bookmarking website developed by Rose...
at the SXSW Interactive event in Austin Texas.
In May 2010, Leo publicly deleted his
Facebook
Facebook
Facebook is a social networking service and website launched in February 2004, operated and privately owned by Facebook, Inc. , Facebook has more than 800 million active users. Users must register before using the site, after which they may create a personal profile, add other users as...
account live on the air after frequent recommendations from other co-hosts. Laporte later re-activated his Facebook account to try out Facebook Places. He frequently pointed out in his shows that his attitude towards Facebook did not change, but that for being a journalist he needs to know what is happening on this important platform.
TWiT Live
Leo now hosts an online tech-oriented video stream
TWiT Live
. It is currently broadcast through two BitGravity streams, as well as an audio only stream, a
Justin.tv
Justin.tv
Justin.tv is a website created by Justin Kan, Emmett Shear, Michael Seibel and Kyle Vogt in 2007 that allows anyone to broadcast video online. Justin.tv user accounts are called "channels", and users are encouraged to broadcast a wide variety of user-generated live video content, called...
channel and a
Ustream
Ustream
Ustream is a website which consists of a network of diverse channels providing a platform for lifecasting and live video streaming of events online. Established in March 2007, the site has over 2,000,000 registered users who generate 1,500,000+ hours of live streamed content per month with over ten...
channel which are all live every day from about 11AM to 7 PM
PST
Pacific Time Zone
The Pacific Time Zone observes standard time by subtracting eight hours from Coordinated Universal Time . The clock time in this zone is based on the mean solar time of the 120th meridian west of the Greenwich Observatory. During daylight saving time, its time offset is UTC-7.In the United States...
. A complete, official programming schedule can be found on
Google Calendar for TWiT Live
On July 11, 2008 Laporte produced a special 24-hour show about the release of the
iPhone 3G
IPhone 3G
The iPhone 3G is the second generation of iPhone designed and marketed by Apple Inc.. It was the successor to the original iPhone, and is succeeded by the iPhone 3GS. Introduced on June 9, 2008 at the WWDC 2008 at the Moscone Center, San Francisco...
. It received 500,733 views, with a peak of over 100,000 concurrent viewers.
The TWiT network's broadcast content was added in November 2009 as a free channel on the new
Roku
Roku
Roku , is an American, privately held, consumer electronics company that sells home digital media products. The Company is based in Saratoga, California.- Company profile and products :...
streaming media device and can also be viewed on many internet-enabled televisions.
On January 27, 2010 Laporte hosted over 180,000 concurrent viewers as he provided in-depth coverage including live video and audio feeds from Apple's January 27 Event, where Apple's
iPad
IPad
The iPad is a line of tablet computers designed, developed and marketed by Apple Inc., primarily as a platform for audio-visual media including books, periodicals, movies, music, games, and web content. The iPad was introduced on January 27, 2010 by Apple's then-CEO Steve Jobs. Its size and...
was first revealed by
Steve Jobs
Steve Jobs
Steven Paul Jobs was an American businessman and inventor widely recognized as a charismatic pioneer of the personal computer revolution. He was co-founder, chairman, and chief executive officer of Apple Inc...
.
In January 2011 Laporte signed a new lease for a warehouse space in downtown Petaluma which became the new TWiT headquarters in July of 2011. This former furniture factory is a large facility that has more room for various studio setups and audience seating. The facility that houses the new TWiT Studios has been many former businesses including a drug store (one that Leo once even took his children to), a furniture factory, and the main building for Bias Audio. The first broadcast of TWiT from there took place on July 24, 2011 and featured
John C. Dvorak
John C. Dvorak
John C. Dvorak is an American columnist and broadcaster in the areas of technology and computing. His writing extends back to the 1980s, when he was a mainstay of a variety of magazines. Dvorak is also the Vice-President of Mevio and well known for his work for Tech TV...
,
Kevin Rose
Kevin Rose
Kevin Rose is an American Internet entrepreneur who co-founded Revision3, Digg, Pownce, and Milk...
,
Patrick Norton
Patrick Norton
Patrick Norton is most commonly known as the former co-host and managing editor of The Screen Savers, an interactive television program on TechTV geared toward the technology enthusiast...
, and Steve Gibson.
Website Hacked
On Sept 15, 2011, Laporte's site, http://www.twit.tv was maliciously hacked. It was restored within a day.
External links
leolaporte Twitter

Twitter

Twitter is an online social networking and microblogging service that enables its users to send and read text-based posts of up to 140 characters, informally known as "tweets".Twitter was created in March 2006 by Jack Dorsey and launched that July...


feed