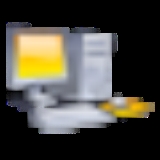 Personal computer
A
personal computer
is any general-purpose
computer
Computer
A computer is a programmable machine designed to sequentially and automatically carry out a sequence of arithmetic or logical operations. The particular sequence of operations can be changed readily, allowing the computer to solve more than one kind of problem...
whose size, capabilities, and original sales price make it useful for individuals, and which is intended to be operated directly by an
end-user
End-user
Economics and commerce define an end user as the person who uses a product. The end user or consumer may differ from the person who purchases the product...
with no intervening computer operator. In contrast, the batch processing or time-sharing models allowed large expensive
mainframe
Mainframe computer
Mainframes are powerful computers used primarily by corporate and governmental organizations for critical applications, bulk data processing such as census, industry and consumer statistics, enterprise resource planning, and financial transaction processing.The term originally referred to the...
systems to be used by many people, usually at the same time. Large data processing systems require a full-time staff to operate efficiently.
Software applications for personal computers include, but are not limited to,
word processing
Word processing
Word processing is the creation of documents using a word processor. It can also refer to advanced shorthand techniques, sometimes used in specialized contexts with a specially modified typewriter.-External links:...
, spreadsheets, databases,
Web browser
Web browser
A web browser is a software application for retrieving, presenting, and traversing information resources on the World Wide Web. An information resource is identified by a Uniform Resource Identifier and may be a web page, image, video, or other piece of content...
s and
e-mail
E-mail
Electronic mail, commonly known as email or e-mail, is a method of exchanging digital messages from an author to one or more recipients. Modern email operates across the Internet or other computer networks. Some early email systems required that the author and the recipient both be online at the...
clients,
digital media
Digital media
Digital media is a form of electronic media where data is stored in digital form. It can refer to the technical aspect of storage and transmission Digital media is a form of electronic media where data is stored in digital (as opposed to analog) form. It can refer to the technical aspect of...
playback,
games
Personal computer game
A PC game, also known as a computer game, is a video game played on a personal computer, rather than on a video game console or arcade machine...
, and myriad personal productivity and special-purpose software applications.