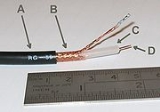 Cable television
Cable television
is a system of providing
television program
Television program
A television program , also called television show, is a segment of content which is intended to be broadcast on television. It may be a one-time production or part of a periodically recurring series...
s to consumers via
radio frequency
Radio frequency
Radio frequency is a rate of oscillation in the range of about 3 kHz to 300 GHz, which corresponds to the frequency of radio waves, and the alternating currents which carry radio signals...
(RF) signals transmitted to televisions through
coaxial cable
Coaxial cable
Coaxial cable, or coax, has an inner conductor surrounded by a flexible, tubular insulating layer, surrounded by a tubular conducting shield. The term coaxial comes from the inner conductor and the outer shield sharing the same geometric axis...
s or digital light pulses through fixed
optical fiber
Optical fiber
An optical fiber is a flexible, transparent fiber made of a pure glass not much wider than a human hair. It functions as a waveguide, or "light pipe", to transmit light between the two ends of the fiber. The field of applied science and engineering concerned with the design and application of...
s located on the subscriber's property, much like the over-the-air method used in traditional broadcast television (via
radio waves
Radio waves
Radio waves are a type of electromagnetic radiation with wavelengths in the electromagnetic spectrum longer than infrared light. Radio waves have frequencies from 300 GHz to as low as 3 kHz, and corresponding wavelengths from 1 millimeter to 100 kilometers. Like all other electromagnetic waves,...
) in which a
television antenna
Television antenna
A television antenna, or TV aerial, is an antenna specifically designed for the reception of over the air broadcast television signals, which are transmitted at frequencies from about 41 to 250 MHz in the VHF band, and 470 to 960 MHz in the UHF band in different countries...
is required. FM radio programming, high-speed Internet,
telephony
Telephony
In telecommunications, telephony encompasses the general use of equipment to provide communication over distances, specifically by connecting telephones to each other....
, and similar non-television services may also be provided.