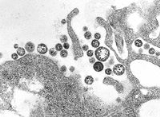 Lassa fever
Lassa fever
is an acute
viral
Virus
A virus is a small infectious agent that can replicate only inside the living cells of organisms. Viruses infect all types of organisms, from animals and plants to bacteria and archaea...
hemorrhagic fever caused by the
Lassa virus
and first described in 1969 in the town of Lassa, in
Borno State
Borno State
Borno State is a state in north-eastern Nigeria. Its capital is Maiduguri. The state was formed in 1976 from the split of the North-Eastern State...
,
Nigeria
Nigeria
Nigeria , officially the Federal Republic of Nigeria, is a federal constitutional republic comprising 36 states and its Federal Capital Territory, Abuja. The country is located in West Africa and shares land borders with the Republic of Benin in the west, Chad and Cameroon in the east, and Niger in...
, in the Yedseram river valley at the south end of
Lake Chad
Lake Chad
Lake Chad is a historically large, shallow, endorheic lake in Africa, whose size has varied over the centuries. According to the Global Resource Information Database of the United Nations Environment Programme, it shrank as much as 95% from about 1963 to 1998; yet it also states that "the 2007 ...
. Clinical cases of the disease had been known for over a decade but had not been connected with a viral pathogen. The infection is
endemic
Endemic (epidemiology)
In epidemiology, an infection is said to be endemic in a population when that infection is maintained in the population without the need for external inputs. For example, chickenpox is endemic in the UK, but malaria is not...
in
West Africa
West Africa
West Africa or Western Africa is the westernmost region of the African continent. Geopolitically, the UN definition of Western Africa includes the following 16 countries and an area of approximately 5 million square km:-Flags of West Africa:...
n countries, and causes 300,000–500,000 cases annually, with approximately 5,000 deaths. Outbreaks of the disease have been observed in
Nigeria
Nigeria
Nigeria , officially the Federal Republic of Nigeria, is a federal constitutional republic comprising 36 states and its Federal Capital Territory, Abuja. The country is located in West Africa and shares land borders with the Republic of Benin in the west, Chad and Cameroon in the east, and Niger in...
,
Liberia
Liberia
Liberia , officially the Republic of Liberia, is a country in West Africa. It is bordered by Sierra Leone on the west, Guinea on the north and Côte d'Ivoire on the east. Liberia's coastline is composed of mostly mangrove forests while the more sparsely populated inland consists of forests that open...
,
Sierra Leone
Sierra Leone
Sierra Leone , officially the Republic of Sierra Leone, is a country in West Africa. It is bordered by Guinea to the north and east, Liberia to the southeast, and the Atlantic Ocean to the west and southwest. Sierra Leone covers a total area of and has an estimated population between 5.4 and 6.4...
,
Guinea
Guinea
Guinea , officially the Republic of Guinea , is a country in West Africa. Formerly known as French Guinea , it is today sometimes called Guinea-Conakry to distinguish it from its neighbour Guinea-Bissau. Guinea is divided into eight administrative regions and subdivided into thirty-three prefectures...
, and the
Central African Republic
Central African Republic
The Central African Republic , is a landlocked country in Central Africa. It borders Chad in the north, Sudan in the north east, South Sudan in the east, the Democratic Republic of the Congo and the Republic of the Congo in the south, and Cameroon in the west. The CAR covers a land area of about ,...
, but it is believed that human infections also exist in
Democratic Republic of the Congo
Democratic Republic of the Congo
The Democratic Republic of the Congo is a state located in Central Africa. It is the second largest country in Africa by area and the eleventh largest in the world...
,
Mali
Mali
Mali , officially the Republic of Mali , is a landlocked country in Western Africa. Mali borders Algeria on the north, Niger on the east, Burkina Faso and the Côte d'Ivoire on the south, Guinea on the south-west, and Senegal and Mauritania on the west. Its size is just over 1,240,000 km² with...
, and
Senegal
Senegal
Senegal , officially the Republic of Senegal , is a country in western Africa. It owes its name to the Sénégal River that borders it to the east and north...
. The primary animal host of the Lassa virus is the
Natal Multimammate Mouse
Natal Multimammate Mouse
The Natal Multimammate Mouse is a species of rodent in the family Muridae. It is also known as the Natal Multimammate Rat, the Common African Rat, or the African Soft-furred Rat.-Range:...
(
Mastomys natalensis
), an animal indigenous to most of
Sub-Saharan Africa
Sub-Saharan Africa
Sub-Saharan Africa as a geographical term refers to the area of the African continent which lies south of the Sahara. A political definition of Sub-Saharan Africa, instead, covers all African countries which are fully or partially located south of the Sahara...
. The virus is probably transmitted by contact with the feces or urine of animals accessing
grain
Cereal
Cereals are grasses cultivated for the edible components of their grain , composed of the endosperm, germ, and bran...
stores in residences.
Genome
Lassa fever is caused by the
Lassa virus
, a member of the Arenaviridae family; it is an enveloped, single-stranded, bisegmented
RNA
RNA
Ribonucleic acid , or RNA, is one of the three major macromolecules that are essential for all known forms of life....
virus.
Replication for Lassa virus is very rapid, while also demonstrating temporal control in replication. There are two
genome
Genome
In modern molecular biology and genetics, the genome is the entirety of an organism's hereditary information. It is encoded either in DNA or, for many types of virus, in RNA. The genome includes both the genes and the non-coding sequences of the DNA/RNA....
segments. The first replication step is transcription of
mRNA
Messenger RNA
Messenger RNA is a molecule of RNA encoding a chemical "blueprint" for a protein product. mRNA is transcribed from a DNA template, and carries coding information to the sites of protein synthesis: the ribosomes. Here, the nucleic acid polymer is translated into a polymer of amino acids: a protein...
copies of the negative- or minus-
sense
Sense (molecular biology)
In molecular biology and genetics, sense is a concept used to compare the polarity of nucleic acid molecules, such as DNA or RNA, to other nucleic acid molecules...
genome. This ensures an adequate supply of viral proteins for subsequent steps of replication, as proteins known as N and L are translated from the mRNA. The positive- or plus-sense genome then makes viral complementary RNA (vcRNA) copies of itself, which are + sense. The vcRNA is a template for producing − sense progeny but mRNA is also synthesized from it. The mRNA synthesized from vcRNA are translated to make the G (spike) proteins and Z proteins. Thus, with this temporal control, the spike proteins, which are on the outside of the virus particle, are produced last, making the infection more difficult for the host immune system to detect.
Nucleotide studies of the genome have shown that Lassa has four lineages: three found in Nigeria and the fourth in Guinea, Liberia, and Sierra Leone. The Nigerian strains seem likely to have been ancestral to the others but additional work is required to confirm this.
Receptors
The Lassa virus gains entry into the host cell by means of the cell-surface receptor the alpha-dystroglycan (alpha-DG), a versatile receptor for proteins of the
extracellular matrix
Extracellular matrix
In biology, the extracellular matrix is the extracellular part of animal tissue that usually provides structural support to the animal cells in addition to performing various other important functions. The extracellular matrix is the defining feature of connective tissue in animals.Extracellular...
. It shares this receptor with the prototypic arenavirus lymphocytic choriomeningitis virus. Receptor recognition depends on a specific sugar modification of alpha-dystroglycan by a group of
glycosyltransferase
Glycosyltransferase
Glycosyltransferases are enzymes that act as a catalyst for the transfer of a monosaccharide unit from an activated nucleotide sugar to a glycosyl acceptor molecule, usually an alcohol....
s known as the LARGE proteins. Specific variants of the genes encoding these proteins appear to be under positive selection in
West Africa
West Africa
West Africa or Western Africa is the westernmost region of the African continent. Geopolitically, the UN definition of Western Africa includes the following 16 countries and an area of approximately 5 million square km:-Flags of West Africa:...
where Lassa is endemic. Alpha-dystroglycan is also used as a receptor by viruses of the New World clade C arenaviruses (Oliveros and Latino viruses). In contrast, the New World areanviruses of clades A and B, which include the important viruses Machupo, Guanarito,
Junin
Junin virus
-Morphology and genome structure:The Junin virus virion is enveloped with a variable diameter of between 50 and 300 nm. The surface of the particle encompasses a layer of T-shaped glycoprotein extensions, extending up to 10 nm from the envelope, which are important for mediating...
, and
Sabia
Brazilian hemorrhagic fever
Brazilian hemorrhagic fever is an infectious disease caused by the Sabiá virus, an Arenavirus. The Sabiá virus is an enveloped RNA virus and is highly infectious and lethal....
in addition to the non pathogenic Amapari virus, use the
transferrin receptor 1
Transferrin receptor
Transferrin receptor is a carrier protein for transferrin. It is needed for the import of iron into the cell and is regulated in response to intracellular iron concentration...
. A small aliphatic
amino acid
Amino acid
Amino acids are molecules containing an amine group, a carboxylic acid group and a side-chain that varies between different amino acids. The key elements of an amino acid are carbon, hydrogen, oxygen, and nitrogen...
at the GP1 glycoprotein amino acid position 260 is required for high-affinity binding to alpha-DG. In addition, GP1 amino acid position 259 also appears to be important, since all arenaviruses showing high-affinity alpha-DG binding possess a bulky aromatic amino acid (tyrosine or phenylalanine) at this position.
Unlike most enveloped viruses which use
clathrin
Clathrin
Clathrin is a protein that plays a major role in the formation of coated vesicles. Clathrin was first isolated and named by Barbara Pearse in 1975. It forms a triskelion shape composed of three clathrin heavy chains and three light chains. When the triskelia interact they form a polyhedral lattice...
coated pits for cellular entry and bind to their receptors in a pH dependent fashion, Lassa and lymphocytic choriomeningitis virus instead use an endocytotic pathway independent of clathrin,
caveolin
Caveolin
Caveolins are a family of integral membrane proteins which are the principal components of caveolae membranes and involved in receptor-independent endocytosis. Caveolins may act as scaffolding proteins within caveolar membranes by compartmentalizing and concentrating signaling molecules...
,
dynamin
Dynamin
Dynamin is a GTPase responsible for endocytosis in the eukaryotic cell. Dynamins are principally involved in the scission of newly formed vesicles from the membrane of one cellular compartment and their targeting to, and fusion with, another compartment, both at the cell surface as well as at the...
and
actin
Actin
Actin is a globular, roughly 42-kDa moonlighting protein found in all eukaryotic cells where it may be present at concentrations of over 100 μM. It is also one of the most highly-conserved proteins, differing by no more than 20% in species as diverse as algae and humans...
. Once within the cell the viruses are rapidly delivered to
endosome
Endosome
In biology, an endosome is a membrane-bound compartment inside eukaryotic cells. It is a compartment of the endocytic membrane transport pathway from the plasma membrane to the lysosome. Molecules internalized from the plasma membrane can follow this pathway all the way to lysosomes for...
s via vesicular trafficking albeit one that is largely independent of the small
GTPase
GTPase
GTPases are a large family of hydrolase enzymes that can bind and hydrolyze guanosine triphosphate . The GTP binding and hydrolysis takes place in the highly conserved G domain common to all GTPases.-Functions:...
s Rab5 and Rab7. On contact with the endosome pH-dependent membrane fusion occurs mediated by the envelope glycoprotein.
Pathogenesis
Lassa virus will infect almost every tissue in the human body. It starts with the mucosa, intestine, lungs and urinary system, and then progresses to the vascular system.
Vectors
Lassa virus is
zoonotic
Zoonosis
A zoonosis or zoonoseis any infectious disease that can be transmitted from non-human animals to humans or from humans to non-human animals . In a study of 1415 pathogens known to affect humans, 61% were zoonotic...
(transmitted from animals), in that it spreads to man from
rodent
Rodent
Rodentia is an order of mammals also known as rodents, characterised by two continuously growing incisors in the upper and lower jaws which must be kept short by gnawing....
s, specifically multi-mammate rats (
Mastomys natalensis
). This is probably the most common rodent in equatorial Africa, ubiquitous in human households and eaten as a delicacy in some areas. In these rats infection is in a persistent
asymptomatic
Asymptomatic
In medicine, a disease is considered asymptomatic if a patient is a carrier for a disease or infection but experiences no symptoms. A condition might be asymptomatic if it fails to show the noticeable symptoms with which it is usually associated. Asymptomatic infections are also called subclinical...
state. The virus is shed in their excreta (urine and feces), which can be aerosolized. In fatal cases, Lassa fever is characterized by impaired or delayed cellular immunity leading to
fulminant
Fulminant
Fulminant is any event or process that occurs suddenly and quickly, and is intense and severe to the point of lethality, i.e., it has an explosive character. The word comes from Latin fulmināre, to strike with lightning...
viremia
Viremia
Viremia is a medical condition where viruses enter the bloodstream and hence have access to the rest of the body. It is similar to bacteremia, a condition where bacteria enter the bloodstream.- Primary versus Secondary :...
.
Infection in
human
Human
Humans are the only living species in the Homo genus...
s typically occurs via exposure to animal excrement through the
respiratory
Respiratory tract
In humans the respiratory tract is the part of the anatomy involved with the process of respiration.The respiratory tract is divided into 3 segments:*Upper respiratory tract: nose and nasal passages, paranasal sinuses, and throat or pharynx...
or
gastrointestinal
Gastrointestinal tract
The human gastrointestinal tract refers to the stomach and intestine, and sometimes to all the structures from the mouth to the anus. ....
tracts. Inhalation of tiny particles of infective material (aerosol) is believed to be the most significant means of exposure. It is possible to acquire the infection through broken
skin
Human skin
The human skin is the outer covering of the body. In humans, it is the largest organ of the integumentary system. The skin has multiple layers of ectodermal tissue and guards the underlying muscles, bones, ligaments and internal organs. Human skin is similar to that of most other mammals,...
or
mucous membrane
Mucous membrane
The mucous membranes are linings of mostly endodermal origin, covered in epithelium, which are involved in absorption and secretion. They line cavities that are exposed to the external environment and internal organs...
s that are directly exposed to infective material. Transmission from person to person has also been established, presenting a disease risk for healthcare workers. Frequency of transmission via sexual contact has not been established.
Prevalence
The dissemination of the infection can be assessed by prevalence of antibodies to the virus in populations of:
Sierra Leone 8–52%
Guinea 4–55%
Nigeria approx. 21%
Studies show up to half a million cases of Lassa fever per year in West Africa, with 5000 resulting in death.
Like other
hemorrhagic fevers
Viral hemorrhagic fever
The viral hemorrhagic fevers are a diverse group of animal and human illnesses that are caused by four distinct families of RNA viruses: the families Arenaviridae, Filoviridae, Bunyaviridae, and Flaviviridae. All types of VHF are characterized by fever and bleeding disorders and all can progress...
, Lassa fever can be transmitted directly from one human to another. It can be contracted by an airborne route or with direct contact with infected human blood, urine, or semen. Transmission through
breast milk
Breast milk
Breast milk, more specifically human milk, is the milk produced by the breasts of a human female for her infant offspring...
has also been observed.
Prevention
Control of the
Mastomys
rodent population is impractical, so measures are limited to keeping rodents out of homes and food supplies, as well as maintaining effective personal hygiene. Gloves, masks, laboratory coats, and goggles are advised while in contact with an infected person.
Researchers at the USAMRIID facility, where military biologists study infectious diseases, have a promising vaccine candidate. They have developed a replication-competent vaccine against Lassa virus based on recombinant vesicular
stomatitis
Stomatitis
Stomatitis is an inflammation of the mucous lining of any of the structures in the mouth, which may involve the cheeks, gums, tongue, lips, throat, and roof or floor of the mouth...
virus
Vesicular stomatitis virus
Vesicular stomatitis Indiana virus is a virus in the family Rhabdoviridae; the well-known Rabies virus belongs to the same family. VSIV can infect insects, cattle, horses, pigs and humans. It has particular importance to farmers in certain regions of the world where it can infect cattle...
vectors expressing the Lassa virus glycoprotein. After a single intramuscular injection, test primates have survived lethal challenge, while showing no clinical symptoms.
Symptoms
In 80% of cases the disease is inapparent, but in the remaining 20% it takes a complicated course. It is estimated that the virus is responsible for about 5,000 deaths annually. The fever accounts for up to one third of deaths in hospitals within the affected regions and 10 to 16% of total cases.
After an
incubation period
Incubation period
Incubation period is the time elapsed between exposure to a pathogenic organism, a chemical or radiation, and when symptoms and signs are first apparent...
of six to twenty-one days, an acute illness with multiorgan involvement develops. Non-specific symptoms include
fever
Fever
Fever is a common medical sign characterized by an elevation of temperature above the normal range of due to an increase in the body temperature regulatory set-point. This increase in set-point triggers increased muscle tone and shivering.As a person's temperature increases, there is, in...
, facial swelling, and muscle fatigue, as well as
conjunctivitis
Conjunctivitis
Conjunctivitis refers to inflammation of the conjunctiva...
and mucosal bleeding. The other symptoms arising from the affected organs are:
Clinically, Lassa fever infections are difficult to distinguish from other viral hemorrhagic fevers such as
Ebola
Ebola
Ebola virus disease is the name for the human disease which may be caused by any of the four known ebolaviruses. These four viruses are: Bundibugyo virus , Ebola virus , Sudan virus , and Taï Forest virus...
and
Marburg
Marburg virus
Marburg virus disease is the name for the human disease caused by any of the two marburgviruses Marburg virus and Ravn virus...
, and from more common febrile illnesses such as
malaria
Malaria
Malaria is a mosquito-borne infectious disease of humans and other animals caused by eukaryotic protists of the genus Plasmodium. The disease results from the multiplication of Plasmodium parasites within red blood cells, causing symptoms that typically include fever and headache, in severe cases...
.
The virus is excreted in urine for three to nine weeks and in semen for three months.
Diagnosis
There is a range of laboratory investigations that are performed to diagnose the disease and assess its course and complications. ELISA test for antigen and
IgM
IGM
IGM as an acronym or abbreviation can refer to:* Immunoglobulin M , the primary antibody against A and B antigens on red blood cells* International Grandmaster, a chess ranking* intergalactic medium* Intragroup medium - see: Intracluster medium...
antibodies gives 88% sensitivity and 90% specificity for the presence of the infection. Other laboratory findings in Lassa fever include lymphopenia (low white blood cell count),
thrombocytopenia
Thrombocytopenia
Thrombocytopenia is a relative decrease of platelets in blood.A normal human platelet count ranges from 150,000 to 450,000 platelets per microliter of blood. These limits are determined by the 2.5th lower and upper percentile, so values outside this range do not necessarily indicate disease...
(low platelets), and elevated aspartate aminotransferase (AST) levels in the blood.
Prognosis
About 15%-20% of hospitalized Lassa fever patients will die from the illness. It is estimated that the overall mortality rate is 1%, however during
epidemic
Epidemic
In epidemiology, an epidemic , occurs when new cases of a certain disease, in a given human population, and during a given period, substantially exceed what is expected based on recent experience...
s mortality can climb as high as 50%. The mortality rate is greater than 80% when it occurs in pregnant women during their third trimester; fetal death also occurs in nearly all those cases. Abortion decreases the risk of death to the mother.
Thanks to treatment with
Ribavirin
Ribavirin
Ribavirin is an anti-viral drug indicated for severe RSV infection , hepatitis C infection and other viral infections. Ribavirin is a prodrug, which when metabolised resembles purine RNA nucleotides...
, fatality rates are continuing to decline. Work on a vaccine is continuing, with multiple approaches showing positive results in animal trials.
Treatment
All persons suspected of Lassa fever infection should be admitted to isolation facilities and their body fluids and excreta properly disposed of.
Early and aggressive treatment using
Ribavirin
Ribavirin
Ribavirin is an anti-viral drug indicated for severe RSV infection , hepatitis C infection and other viral infections. Ribavirin is a prodrug, which when metabolised resembles purine RNA nucleotides...
was pioneered by
Joe McCormick
Joseph B. McCormick
Joseph B. McCormick is the author of Level 4: Virus Hunters of the CDC.-Bibliography:...
in 1979. After extensive testing, it was determined that early administration is critical to success. Additionally, Ribavirin is almost twice as effective when given intravenously as when taken by mouth. Ribavirin is a
prodrug
Prodrug
A prodrug is a pharmacological substance administered in an inactive form. Once administered, the prodrug is metabolised in vivo into an active metabolite, a process termed bioactivation. The rationale behind the use of a prodrug is generally for absorption, distribution, metabolism, and...
which appears to interfere with viral replication by inhibiting RNA-dependent
nucleic acid synthesis
DNA replication
DNA replication is a biological process that occurs in all living organisms and copies their DNA; it is the basis for biological inheritance. The process starts with one double-stranded DNA molecule and produces two identical copies of the molecule...
, although the precise
mechanism of action
Mechanism of action
In pharmacology, the term mechanism of action refers to the specific biochemical interaction through which a drug substance produces its pharmacological effect...
is disputed. The drug is relatively inexpensive, but the cost of the drug is still very high for many of those in poverty-stricken West African states. Fluid replacement, blood transfusion and fighting hypotension are usually required. Intravenous
interferon
Interferon
Interferons are proteins made and released by host cells in response to the presence of pathogens—such as viruses, bacteria, or parasites—or tumor cells. They allow communication between cells to trigger the protective defenses of the immune system that eradicate pathogens or tumors.IFNs belong to...
therapy has also been used.
When Lassa fever infects pregnant women late in their third trimester, it is necessary to induce delivery for the mother to have a good chance of survival. This is because the virus has an affinity for the placenta and other highly vascular tissues. The fetus has only a one in ten chance of survival no matter what course of action is taken; hence focus is always on saving the life of the mother. Following delivery, women should receive the same treatment as other Lassa fever patients.
Siga Technologies is developing an
antiviral drug
Antiviral drug
Antiviral drugs are a class of medication used specifically for treating viral infections. Like antibiotics for bacteria, specific antivirals are used for specific viruses...
that has been shown effective in treating experimentally infected guinea pigs. In a study conducted at the U.S. Army Medical Research Institute of Infectious Diseases (USAMRIID), treatment with ST-193 once a day for 14 days resulted in significant reduction in mortality (71% of the animals survived at the low dose), whereas all untreated animals and those treated with
ribavirin
Ribavirin
Ribavirin is an anti-viral drug indicated for severe RSV infection , hepatitis C infection and other viral infections. Ribavirin is a prodrug, which when metabolised resembles purine RNA nucleotides...
died within 20 days of the infection.
External links