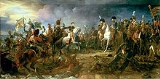 Napoleonic Wars
The
Napoleonic Wars
were a series of wars declared against Napoleon's
French Empire
First French Empire
The First French Empire , also known as the Greater French Empire or Napoleonic Empire, was the empire of Napoleon I of France...
by opposing coalitions that ran from 1803 to 1815. As a continuation of
the wars
French Revolutionary Wars
The French Revolutionary Wars were a series of major conflicts, from 1792 until 1802, fought between the French Revolutionary government and several European states...
sparked by the
French Revolution
French Revolution
The French Revolution , sometimes distinguished as the 'Great French Revolution' , was a period of radical social and political upheaval in France and Europe. The absolute monarchy that had ruled France for centuries collapsed in three years...
of 1789, they revolutionised European armies and played out on an unprecedented scale, mainly due to the application of modern
mass conscription
Levée en masse
Levée en masse is a French term for mass conscription during the French Revolutionary Wars, particularly for the one from 16 August 1793.- Terminology :...
. French power rose quickly as Napoleon's armies conquered much of Europe but collapsed rapidly after France's disastrous
invasion of Russia in 1812
French invasion of Russia
The French invasion of Russia of 1812 was a turning point in the Napoleonic Wars. It reduced the French and allied invasion forces to a tiny fraction of their initial strength and triggered a major shift in European politics as it dramatically weakened French hegemony in Europe...
.