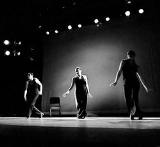 Jazz dance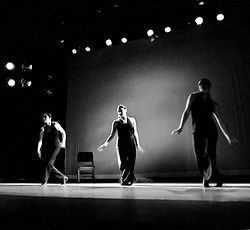 Jazz dance
is a classification shared by a broad range of dance styles. Before the 1950s, jazz dance referred to dance styles that originated from African American vernacular dance. In the 1950s, a new genre of jazz dance—
modern jazz dance
—emerged, with roots in Caribbean traditional dance. Every individual style of jazz dance has roots traceable to one of these two distinct origins.
Traditional
Until the mid 1920s jazz dance referred to the dance styles that originated from the
African American vernacular dance
African American vernacular dance
African-American cultural dance has developed within African American communities in everyday spaces, rather than in studios, schools or companies. These dances are usually centered on folk and social dance practice, though performance dance often supply complementary aspects to this...
of the late 19th century to mid-20th century. Jazz dance often referred to
tap dance
Tap dance
Tap dance is a form of dance characterized by using the sound of one's tap shoes hitting the floor as a percussive instrument. As such, it is also commonly considered to be a form of music. Two major variations on tap dance exist: rhythm tap and Broadway tap. Broadway tap focuses more on the...
because tap dancing, set to
jazz music
Jazz
Jazz is a musical style that originated at the beginning of the 20th century in African American communities in the Southern United States. It was born out of a mix of African and European music traditions. From its early development until the present, jazz has incorporated music from 19th and 20th...
, was one of the predominant dances of the era. Jazz dance evolved over time to spawn a diverse range of
social
Social dance
Social dance is a major category or classification of danceforms or dance styles, where sociability and socializing are the primary focuses of the dancing...
and
concert dance
Concert dance
Concert dance is dance performed for an audience. It is frequently performed in a theatre setting, though this is not a requirement, and it is usually choreographed and performed to set music.By contrast, social dance and participation dance may be performed without an audience and, typically, these...
styles. During the later
jazz age
Jazz Age
The Jazz Age was a movement that took place during the 1920s or the Roaring Twenties from which jazz music and dance emerged. The movement came about with the introduction of mainstream radio and the end of the war. This era ended in the 1930s with the beginning of The Great Depression but has...
, popular forms of jazz dance included the
Cakewalk
Cakewalk
The Cakewalk dance was developed from a "Prize Walk" done in the days of slavery, generally at get-togethers on plantations in the Southern United States. Alternative names for the original form of the dance were "chalkline-walk", and the "walk-around"...
,
Black Bottom
Black Bottom (dance)
Black Bottom refers to a dance. which became popular in the 1920s, during the period known as the Flapper era.The dance originated in New Orleans in the 1900s. The theatrical show Dinah brought the Black Bottom dance to New York in 1924, and the George White's Scandals featured it at the Apollo...
,
Charleston
Charleston (dance)
The Charleston is a dance named for the harbor city of Charleston, South Carolina. The rhythm was popularized in mainstream dance music in the United States by a 1923 tune called "The Charleston" by composer/pianist James P. Johnson which originated in the Broadway show Runnin' Wild and became one...
, Jitterbug, Boogie Woogie,
swing
Swing (dance)
"Swing dance" is a group of dances that developed with the swing style of jazz music in the 1920s-1950s, although the earliest of these dances predate swing jazz music. The best known of these dances is the Lindy Hop, a popular partner dance that originated in Harlem and is still danced today...
and the related
Lindy Hop
Lindy Hop
The Lindy Hop is an American social dance, from the swing dance family. It evolved in Harlem, New York City in the 1920s and '30s and originally evolved with the jazz music of that time. Lindy was a fusion of many dances that preceded it or were popular during its development but is mainly based...
. Today, many of these dance styles are still popular and continue to be practiced and taught.
Modern
After the 1950s pioneers such as
Katherine Dunham
Katherine Dunham
Katherine Mary Dunham was an American dancer, choreographer, songwriter, author, educator, and activist...
took the essence of
Caribbean
Caribbean
The Caribbean is a crescent-shaped group of islands more than 2,000 miles long separating the Gulf of Mexico and the Caribbean Sea, to the west and south, from the Atlantic Ocean, to the east and north...
traditional dance and made it into a performing art. With the growing domination of other forms of entertainment music, jazz dance evolved on
Broadway
Broadway theatre
Broadway theatre, commonly called simply Broadway, refers to theatrical performances presented in one of the 40 professional theatres with 500 or more seats located in the Theatre District centered along Broadway, and in Lincoln Center, in Manhattan in New York City...
into the new, smooth style that is taught today and known as modern jazz, while tap dance branched off to follow its own, separate evolutionary path. The performance style of jazz dance was popularized to a large extent by
Bob Fosse
Bob Fosse
Robert Louis "Bob" Fosse was an American actor, dancer, musical theater choreographer, director, screenwriter, film editor and film director. He won an unprecedented eight Tony Awards for choreography, as well as one for direction...
's work, which is exemplified by Broadway shows such as
Chicago
Chicago (musical)
Chicago is a musical set in Prohibition-era Chicago. The music is by John Kander with lyrics by Fred Ebb and a book by Ebb and Bob Fosse. The story is a satire on corruption in the administration of criminal justice and the concept of the "celebrity criminal"...
,
Cabaret
Cabaret (film)
Cabaret is a 1972 musical film directed by Bob Fosse and starring Liza Minnelli, Michael York and Joel Grey. The film is set in Berlin during the Weimar Republic in 1931, under the ominous presence of the growing National Socialist Party....
,
Damn Yankees
Damn Yankees
Damn Yankees is a musical comedy with a book by George Abbott and Douglass Wallop and music and lyrics by Richard Adler and Jerry Ross. The story is a modern retelling of the Faust legend set during the 1950s in Washington, D.C., during a time when the New York Yankees dominated Major League...
, and
The Pajama Game
The Pajama Game
The Pajama Game is a musical based on the novel 7½ Cents by Richard Bissell. It features a score by Richard Adler and Jerry Ross. The story deals with labor troubles in a pajama factory, where worker demands for a seven-and-a-half cents raise are going unheeded...
. Modern jazz dance continues to be an important element of
musical theatre
Musical theatre
Musical theatre is a form of theatre combining songs, spoken dialogue, acting, and dance. The emotional content of the piece – humor, pathos, love, anger – as well as the story itself, is communicated through the words, music, movement and technical aspects of the entertainment as an...
, and it can often be seen in music videos and
competitive dance
Competitive dance
Competitive dance is a popular, widespread activity in which competitors perform dances in any of several permitted dance styles—such as acro, ballet, jazz, hip-hop, lyrical, modern, and tap—before a common group of judges...
.
Modern jazz dance
Jazz dancers often wear leather
jazz shoe
Jazz shoe
Jazz shoes are a kind of dancing shoes. While the name suggests they are intended for jazz dance, they are used in other styles of dancing: acrobatic rock'n'roll, hip hop, aerobics, acro dance, etc....
s, to help them move smoothly when executing turns (e.g. pirouette).
Prior to dancing, dancers typically perform exercises in order to warm up and stretch muscles so as to prevent injuries. In addition, core strengthening exercises are often used for conditioning.
Technique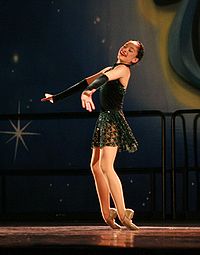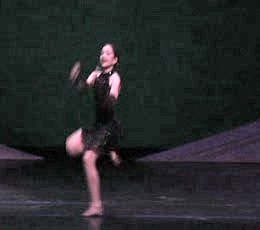 Modern jazz dance is frequently influenced by other dance styles such as
acro
Acro dance
Acro dance is a style of dance that combines classical dance technique with precision acrobatic elements. It is defined by its athletic character, its unique choreography, which seamlessly blends dance and acrobatics, and its use of acrobatics in a dance context...
,
ballet
Ballet
Ballet is a type of performance dance, that originated in the Italian Renaissance courts of the 15th century, and which was further developed in France and Russia as a concert dance form. The early portions preceded the invention of the proscenium stage and were presented in large chambers with...
,
contemporary
Contemporary dance
Contemporary dance is a genre of concert dance that employs compositional philosophy, rather than choreography, to guide unchoreographed movement...
,
lyrical
Lyrical dance
Lyrical dance is a fusion of ballet with jazz and contemporary dance techniques.You can also get lyrical gymnastics which is gymnastics to music. It has a dance influence to it....
, and hip-hop. In turn, many other dance styles are influenced by jazz dance.
As in most forms of dance, technique is the foundation for all modern jazz dance movement. In particular, jazz dancers benefit from a sound working knowledge of ballet technique and, consequently, hip hop dance curriculum commonly includes ballet training.
Modern jazz dance encompasses various techniques, including:
Center control: By treating the center of balance as the point from which movements emanate, it becomes possible to maintain balance and control while executing movements that would otherwise take the dancer off balance.
Spotting: This enables dancers to maintain balance and control while executing turns such as pirouettes and fouettés, by reducing the dizzying effect of repeated rotation.
Pointing: When pointing, dancers stretch their ankles and point their toes so as to align their feet with the leg lines in an aesthetically pleasing manner.
Notable directors, dancers, and choreographers
Michael Jackson

Michael Jackson

Michael Joseph Jackson was an American recording artist, entertainer, and businessman. Referred to as the King of Pop, or by his initials MJ, Jackson is recognized as the most successful entertainer of all time by Guinness World Records...


, or "The King Of Pop" revolutionized the dance, introducing the moonwalk,the tip toes and the spin.
Katherine Dunham

Katherine Dunham

Katherine Mary Dunham was an American dancer, choreographer, songwriter, author, educator, and activist...


, a pioneer in Black theatrical dance.
Jack Cole

Jack Cole (choreographer)

Jack Cole was an American dancer, choreographer, and theatre director known as the father of theatrical jazz dance.-Early life:...


, considered the father of jazz dance technique. He was a key inspiration to Matt Mattox, Bob Fosse, Jerome Robbins, Gwen Verdon, and many other choreographers.
Eugene Louis Facciuto (aka "Luigi"), an accomplished dancer who, after suffering a crippling automobile accident in the 1950s, created a new style of jazz dance based on the warm-up exercises he invented to circumvent his physical handicaps.
Bob Fosse

Bob Fosse

Robert Louis "Bob" Fosse was an American actor, dancer, musical theater choreographer, director, screenwriter, film editor and film director. He won an unprecedented eight Tony Awards for choreography, as well as one for direction...


, a noted jazz choreographer who created a new form of jazz dance that was inspired by Fred Astaire

Fred Astaire

Fred Astaire was an American film and Broadway stage dancer, choreographer, singer and actor. His stage and subsequent film career spanned a total of 76 years, during which he made 31 musical films. He was named the fifth Greatest Male Star of All Time by the American Film Institute...


and the burlesque

American burlesque

American Burlesque is a genre of variety show. Derived from elements of Victorian burlesque, music hall and minstrel shows, burlesque shows in America became popular in the 1860s and evolved to feature ribald comedy and female striptease...


and vaudeville

Vaudeville

Vaudeville was a theatrical genre of variety entertainment in the United States and Canada from the early 1880s until the early 1930s. Each performance was made up of a series of separate, unrelated acts grouped together on a common bill...


styles.
Gus Giordano

Gus Giordano

Gus Giordano was an American jazz dancer. He was a performer on and off Broadway, in television, film and stage, and he is a master teacher, a gifted choreographer, founder of his company , creator of the Jazz Dance World Congress and the author of Anthology of American Jazz Dance, the first book...


, an influential jazz dancer and choreographer.
Jerome Robbins

Jerome Robbins

Jerome Robbins was an American theater producer, director, and choreographer known primarily for Broadway Theater and Ballet/Dance, but who also occasionally directed films and directed/produced for television. His work has included everything from classical ballet to contemporary musical theater...


, choreographer for a number of hit musicals, including Peter Pan, The King and I, Fiddler on the Roof, Gypsy, Funny Girl, and West Side Story.
Gwen Verdon

Gwen Verdon

Gwenyth Evelyn "Gwen" Verdon was an actress and dancer who won four Tony awards for her musical comedy performances. With flaming red hair and an endearing quaver in her voice, Verdon was a critically acclaimed dancer on Broadway in the 1950s and 1960s...


, known for her roles in Damn Yankees, Chicago, and Sweet Charity.
David Winters

David Winters (choreographer)

David Winters is an English-born American dancer, choreographer, producer, director, screenwriter, and actor. Winters has participated in, directed and produced over 400 television series, specials, and motion pictures...


known for his role as A-Rab in West Side Story

West Side Story

West Side Story is an American musical with a script by Arthur Laurents, music by Leonard Bernstein, lyrics by Stephen Sondheim, and choreographed by Jerome Robbins...


and as an award winning choreographer for movies and TV programs.