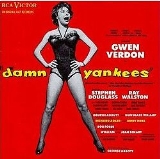 Damn Yankees
Damn Yankees
is a musical comedy with a book by
George Abbott
George Abbott
George Francis Abbott was an American theater producer and director, playwright, screenwriter, and film director and producer whose career spanned more than nine decades.-Early years:...
and
Douglass Wallop
Douglass Wallop
John Douglass Wallop III was an American novelist and playwright.-Early life:John Douglass Wallop III was born on March 8, 1920 to John Douglass, Jr., an insurance agent, and Marjorie Wallop ....
and music and lyrics by
Richard Adler
Richard Adler
Richard Adler is an American lyricist, composer and producer of several Broadway shows.-Biography:Born in New York City, Adler had a musical upbringing, his father being a concert pianist. After serving in the Navy he began his career as a lyricist, teaming up with Jerry Ross in 1950...
and
Jerry Ross
Jerry Ross (composer)
Jerry Ross was an American lyricist and composer whose works with Richard Adler for the musical theater include The Pajama Game and Damn Yankees, winners of Tony Awards in 1955 and 1956 respectively in both the "Best Musical" and "Best Composer and Lyricist" categories.-Biography:Ross was born...
. The story is a
modern retelling
Works based on Faust
Faust has inspired artistic and cultural works for over four centuries. The following lists cover various media to include items of historic interest, enduring works of high art, and recent representations in popular culture...
of the
Faust
Faust
Faust is the protagonist of a classic German legend; a highly successful scholar, but also dissatisfied with his life, and so makes a deal with the devil, exchanging his soul for unlimited knowledge and worldly pleasures. Faust's tale is the basis for many literary, artistic, cinematic, and musical...
legend set during the 1950s in
Washington, D.C.
Washington, D.C.
Washington, D.C., formally the District of Columbia and commonly referred to as Washington, "the District", or simply D.C., is the capital of the United States. On July 16, 1790, the United States Congress approved the creation of a permanent national capital as permitted by the U.S. Constitution....
, during a time when the
New York Yankees
New York Yankees
The New York Yankees are a professional baseball team based in the The Bronx, New York. They compete in Major League Baseball in the American League's East Division...
dominated
Major League Baseball
Major League Baseball
Major League Baseball is the highest level of professional baseball in the United States and Canada, consisting of teams that play in the National League and the American League...
. The musical is based on Wallop's novel
The Year the Yankees Lost the Pennant
The Year the Yankees Lost the Pennant
The Year the Yankees Lost the Pennant is a 1954 novel by Douglass Wallop. It adapts the Faust theme to the world of American baseball in the 1950s.-Plot summary:...
.
Damn Yankees ran for 1,019 performances in its original 1955
Broadway
Broadway theatre
Broadway theatre, commonly called simply Broadway, refers to theatrical performances presented in one of the 40 professional theatres with 500 or more seats located in the Theatre District centered along Broadway, and in Lincoln Center, in Manhattan in New York City...
production. Adler and Ross's success with
The Pajama Game
The Pajama Game
The Pajama Game is a musical based on the novel 7½ Cents by Richard Bissell. It features a score by Richard Adler and Jerry Ross. The story deals with labor troubles in a pajama factory, where worker demands for a seven-and-a-half cents raise are going unheeded...
and Damn Yankees seemed to point to a bright future for them, but Ross suddenly died of chronic
bronchiectasis
Bronchiectasis
Bronchiectasis is a disease state defined by localized, irreversible dilation of part of the bronchial tree caused by destruction of the muscle and elastic tissue. It is classified as an obstructive lung disease, along with emphysema, bronchitis, asthma, and cystic fibrosis...
, at the age of twenty-nine, a few months after Damn Yankees opened.
The producers Harold Prince, Robert Griffith, and
Frederick Brisson
Rosalind Russell
Rosalind Russell was an American actress of stage and screen, perhaps best known for her role as a fast-talking newspaper reporter in the Howard Hawks screwball comedy His Girl Friday, as well as the role of Mame Dennis in the film Auntie Mame...
had decided that the lead actress for the part of "Lola" had to be a dancer.
Wham! One long ball hitter, that's what we need! Honest to God, I'd sell my soul for one long ball hitter!

Hold me, Meg-quick! Put your arms around me, and don't let me go-no matter what! (After failing to hit the ball a few times at his tryout)

Do you mind if I try it one more time-with my shoes off?

God, I love this job! (On a telephone)

Hello, Hell? It's me...what do you mean, 'who?' Who else gets to leave? ---- Category:Broadway Category:Musicals