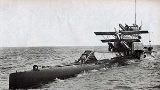 HMS M2
HMS M2 was a
Royal Navy
Royal Navy
The Royal Navy is the naval warfare service branch of the British Armed Forces. Founded in the 16th century, it is the oldest service branch and is known as the Senior Service...
aircraft
Aircraft
An aircraft is a vehicle that is able to fly by gaining support from the air, or, in general, the atmosphere of a planet. An aircraft counters the force of gravity by using either static lift or by using the dynamic lift of an airfoil, or in a few cases the downward thrust from jet engines.Although...
-carrying
submarine
Submarine
A submarine is a watercraft capable of independent operation below the surface of the water. It differs from a submersible, which has more limited underwater capability...
shipwreck
Shipwreck
A shipwreck is what remains of a ship that has wrecked, either sunk or beached. Whatever the cause, a sunken ship or a wrecked ship is a physical example of the event: this explains why the two concepts are often overlapping in English....
ed in
Lyme Bay
Lyme Bay
Lyme Bay is an area of the English Channel situated in the southwest of England between Torbay in the west and Portland in the east. The counties of Devon and Dorset front onto the bay,-Geology:...
,
Dorset
Dorset
Dorset , is a county in South West England on the English Channel coast. The county town is Dorchester which is situated in the south. The Hampshire towns of Bournemouth and Christchurch joined the county with the reorganisation of local government in 1974...
,
Britain
United Kingdom
The United Kingdom of Great Britain and Northern IrelandIn the United Kingdom and Dependencies, other languages have been officially recognised as legitimate autochthonous languages under the European Charter for Regional or Minority Languages...
, on 26 January 1932. She was one of three
M-class
British M class submarine
The British Royal Navy M-class submarines were a small class of diesel electric submarine built during World War I. The unique feature of the class was a 12-inch gun mounted in a turret forward of the conning tower.-Background:...
boats completed.
Four M-class submarines replaced the order for the last four
K-class
British K class submarine
The K class submarines were a class of steam-propelled submarines of the Royal Navy designed in 1913. Intended as large, fast vessels which had the endurance and speed to operate with the battle fleet, they gained notoriety, and the nickname of Kalamity class, for being involved in many accidents....
, K17-K21. Although they were similar in size, the M-class was an entirely different design from the K-class, although it is possible that some material ordered for the K-boats went into them. In any event, the end of the
First World War
World War I
World War I , which was predominantly called the World War or the Great War from its occurrence until 1939, and the First World War or World War I thereafter, was a major war centred in Europe that began on 28 July 1914 and lasted until 11 November 1918...
meant that only three were completed.
M2 was laid down at
Vickers
Vickers
Vickers was a famous name in British engineering that existed through many companies from 1828 until 1999.-Early history:Vickers was formed in Sheffield as a steel foundry by the miller Edward Vickers and his father-in-law George Naylor in 1828. Naylor was a partner in the foundry Naylor &...
shipyard at Barrow in Furness in 1916, and launched in 1919. Like the other members of her class, she was armed with a single 12-inch (305mm) gun as well as
torpedo tube
Torpedo tube
A torpedo tube is a device for launching torpedoes. There are two main types of torpedo tube: underwater tubes fitted to submarines and some surface ships, and deck-mounted units installed aboard surface vessels...
s. The Mark IX gun was taken from spares held for the
Formidable-class
Formidable class battleship
The Royal Navy's Formidable class battleships was an eight-ship class of pre-dreadnoughts designed by Sir William White and built in the late 1890s...
battleship
Battleship
A battleship is a large armored warship with a main battery consisting of heavy caliber guns. Battleships were larger, better armed and armored than cruisers and destroyers. As the largest armed ships in a fleet, battleships were used to attain command of the sea and represented the apex of a...
s.
The M-class submarines were very large for the time at 296 feet (90.2 m) long. They were designed to operate as submarine
monitors
Monitor (warship)
A monitor was a class of relatively small warship which was neither fast nor strongly armoured but carried disproportionately large guns. They were used by some navies from the 1860s until the end of World War II, and saw their final use by the United States Navy during the Vietnam War.The monitors...
or
cruiser
Cruiser
A cruiser is a type of warship. The term has been in use for several hundreds of years, and has had different meanings throughout this period...
s. They displaced 1600 LT (1,625.7 t) on the surface and 1950 LT (1,981.3 t) when submerged. Two 12-cylinder
diesel engine
Diesel engine
A diesel engine is an internal combustion engine that uses the heat of compression to initiate ignition to burn the fuel, which is injected into the combustion chamber...
s producing 2400 hp drove them on the surface; underwater, they were driven by electric motors producing 1500 hp.
After the accidental sinking of in 1925, M2 and her sister were taken out of service and reassigned for experimental use. Her 12-inch gun was removed, replaced by a small aircraft
hangar
Hangar
A hangar is a closed structure to hold aircraft or spacecraft in protective storage. Most hangars are built of metal, but other materials such as wood and concrete are also sometimes used...
, the work being completed in 1928. This could carry a small
Parnall Peto
Parnall Peto
|-See also:-External links:**** article Popular Mechanics...
seaplane
Seaplane
A seaplane is a fixed-wing aircraft capable of taking off and landing on water. Seaplanes that can also take off and land on airfields are a subclass called amphibian aircraft...
, specially designed for the M2, which could be launched by hydraulic catapult within a few minutes of surfacing. The aircraft would land alongside the submarine on completion of its sortie and be winched aboard using a
crane
Crane (machine)
A crane is a type of machine, generally equipped with a hoist, wire ropes or chains, and sheaves, that can be used both to lift and lower materials and to move them horizontally. It uses one or more simple machines to create mechanical advantage and thus move loads beyond the normal capability of...
. The submarine was to operate ahead of the battle fleet in a reconnaissance role, flying off her seaplane as a scout.
The concept of a submarine cruiser was pursued with , but was not a success and was later abandoned.
The accident
M2 left her base at
Portland
Isle of Portland
The Isle of Portland is a limestone tied island, long by wide, in the English Channel. Portland is south of the resort of Weymouth, forming the southernmost point of the county of Dorset, England. A tombolo over which runs the A354 road connects it to Chesil Beach and the mainland. Portland and...
on 26 January 1932, for an exercise in West Bay, Dorset, carrying
Parnall Peto
Parnall Peto
|-See also:-External links:**** article Popular Mechanics...
serial N255. Her last communication was a radio message at 10:11 to her submarine depot ship, , to announce that she would dive at 10:30. The captain of a passing merchant ship, the
Newcastle
Newcastle upon Tyne
Newcastle upon Tyne is a city and metropolitan borough of Tyne and Wear, in North East England. Historically a part of Northumberland, it is situated on the north bank of the River Tyne...
coaster
Coastal trading vessel
Coastal trading vessels, also known as coasters, are shallow-hulled ships used for trade between locations on the same island or continent. Their shallow hulls mean that they can get through reefs where deeper-hulled sea-going ships usually cannot....
Tynesider, mentioned that he had seen a large submarine dive stern first at around 11:15. Unaware of the significance of this, he only reported it in passing once he reached port.
Her entire crew of 60 was killed in the accident. The submarine was found on 3 February, eight days after her loss.
Ernest Cox
Ernest Cox
Ernest Frank Guelph Cox was an electrical and mechanical engineer and marine salvage expert from Wolverhampton. Between 1924 and 1931 his Cox & Danks Shipbreaking Co. successfully raised 35 of the German fleet that had been scuttled at Gutter Sound, Scapa Flow in 1919. He eventually sold the...
, the salvage expert who had raised the
German
Germany
Germany , officially the Federal Republic of Germany , is a federal parliamentary republic in Europe. The country consists of 16 states while the capital and largest city is Berlin. Germany covers an area of 357,021 km2 and has a largely temperate seasonal climate...
battleships at
Scapa Flow
Scapa Flow
right|thumb|Scapa Flow viewed from its eastern endScapa Flow is a body of water in the Orkney Islands, Scotland, United Kingdom, sheltered by the islands of Mainland, Graemsay, Burray, South Ronaldsay and Hoy. It is about...
, was hired to salvage the M2. In an operation lasting nearly a year and 1,500 dives, on 8 December 1932, she was lifted to within 20 ft (6.1 m) of the surface before a
gale
Gale
A gale is a very strong wind. There are conflicting definitions of how strong a wind must be to be considered a gale. The U.S. government's National Weather Service defines a gale as 34–47 knots of sustained surface winds. Forecasters typically issue gale warnings when winds of this strength are...
sprang up, sending her down to her final resting place.
The hangar door was found open and the aircraft still in it. The accident was believed to be due to water entering the submarine through the hangar door, which had been opened to launch the aircraft shortly after surfacing.
Two explanations have been advanced. The first is that since the crew were always trying to beat their record time for launching the aircraft, they had opened the hangar door on surfacing while the deck was still awash. The other theory is that the flooding of the hangar was due to failure of the stern hydroplanes. High pressure air tanks were used to bring the boat to the surface in an awash condition, but to conserve compressed air compressors were then started to completely clear the ballast tanks of water by blowing air into them. This could take as long as 15 minutes to complete. The normal procedure for launching the aircraft was therefore to hold the boat on the surface using the hydroplanes whilst the hangar door was opened and the aircraft launched. Failure of the rear hydroplanes would have sent the stern down as observed by the merchant officers and water would have eventually entered the hangar.
The aftermath
The submarine currently lies upright on the sea bed at (50°34.6′N 2°33.93′W). Her keel is about 100 ft (30.5 m) below the surface at low tide, and her highest point at the top of the conning tower at around 66 ft (20.1 m). She is a popular dive for
scuba
Scuba diving
Scuba diving is a form of underwater diving in which a diver uses a scuba set to breathe underwater....
divers. The wreck is designated as a "protected place" under the
Protection of Military Remains Act 1986
Protection of Military Remains Act 1986
The Protection of Military Remains Act 1986 is an Act of Parliament in the United Kingdom which provides protection for the wreckage of military aircraft and designated military vessels. The Act provides for two types of protection: protected places and controlled sites. Military aircraft are...
.
After the loss of M2, the Royal Navy abandoned submarine-launched aircraft, although other navies experimented with the concept in the inter-war years.
External links
Gulls of War, October 1931 article Popular Mechanics

Popular Mechanics

Popular Mechanics is an American magazine first published January 11, 1902 by H. H. Windsor, and has been owned since 1958 by the Hearst Corporation...